Whether you are a beginner or a seasoned runner, there are certain places that are ideal for you and your dog to walk. But what about running with your dog? Is it okay to go running with your dog? This post explores the topic, including tips!
Whether you are an avid off-road or on-leash runner, there are places that you can take your dog that will suit your needs and provide you with a great off-road run, especially during fall season.
Off-Road Running With Your Dog
Whether you're a seasoned runner or a newbie, there are plenty of ways to enjoy off-road running with your dog.
While there are many advantages to running with your dog, there are also many risks. A dog can become overheated, suffer from joint problems, or get injured.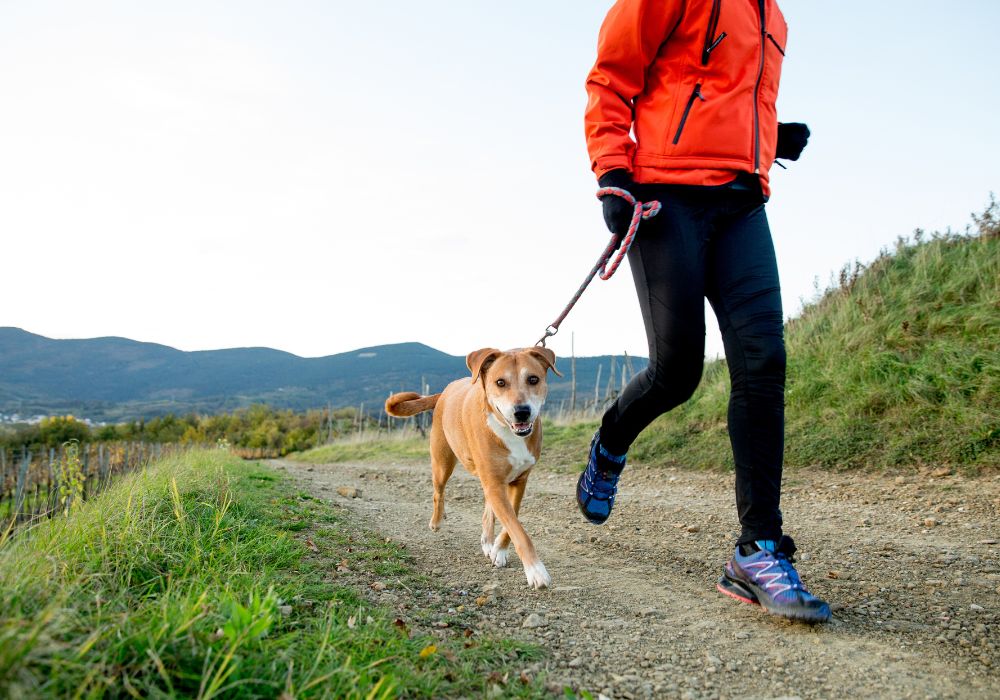 Do Dogs Like Trail Running?
This of course depends on the dog, but if your dog is used to running with you already, then the answer is yes. He will love to run with you on trails and enjoy the ruggedness of the new route. If your dog is 13 years old, suffering from arthritis, and recovering from surgery, then no. If your dog has physical limitations, walking him on sidewalks or at the dog park will probably be more appropriate. Check with your Vet; most likely it is pure common sense (and Veterinarian confirmation) coupled with an understanding of your dog's physical condition.
Even if your dog is young and spry, you still need to be careful with running him on trails. There are lots of ways to keep him safe so you both can get fresh air and exercise!
Keeping Your Dog Safe During Off-Road Runs
Luckily, you can take the necessary precautions to ensure you and your canine companion have a safe and happy autumn running experience. The most important ways to keep your dog safe durning off-road runs are not allowing him to get overly cold or hot, using a proper leash and harness, and carrying a first-aid kit.
Think about the weather when off-road running with your dog
First, make sure that your dog is adequately warmed up. Many dogs have a tendency to overheat, especially those with short snouts. For this reason, it's recommended that you give your dog at least five minutes of walking to get warmed up.
Once your dog is warmed up, you can then introduce him to running for one minute before walking for another. This helps teach your dog how to run at a safe pace.
One thing as a rule of thumb is – dogs should never run on hot days.
Choose an easy leash when off-road running with your dog
Also, make sure that your dog has a comfortable leash etiquette. If you plan on running with your dog on a trail, make sure that it has the correct collar and is wearing the proper colors.
You can also add reflective trim to your dog's collar and harness. These items can help increase your visibility and ensure that your companion can always be found.
Use a hands-free leash so you can enjoy your run and your hands are free for keeping good balance. There are lots of hands-free leashes available now; SparklyPets makes one that comes with a carrying case and offered in several colors.
Carry a small first-aid kit
It's also a good idea to carry a first aid kit with you. If your dog needs to stop, you can always carry him or her with you.
At first it may sound like an extra load to carry a first-aid kit, but if anything were to happen, you will be so happy to have one. If you are hiking, I recommend putting your kit with supplies right in your back-pack.
If you are running and want to take as little as possible, consider a first-aid kit that attaches to your water bottle belt.
Have enough water
Lastly, you'll want to make sure that your dog has plenty of water. Running without water can cause your dog to overheat. Also, be sure to drink plenty of water, as well.
Whether you run with your dog or have a dog that runs with you, on-leash running is a great exercise for both of you.
However, it does require some considerations. If you're not sure how to prepare for your first run with your canine, here are a few tips to get you started.
For starters, consider the type of terrain you want to run on. The best choices are grassy fields and dirt paths.
Do some research about the local wildlife. There are a variety of creatures to look for, and some to watch out for.
Runs with dogs are interesting — like checking out your dog's reaction to certain sights. Some animals are more sensitive to exertion than others, but things shouldn't be unpredictable if you know your dog's personality.
Do at least some light research about the routes you want to take. If you're going to run on a trail, check out if there are any posted signs along the way.
If you're going to run with your dog, the best way to get the most out of your time is to consider the distance you want to cover.
Hiking In The Fall With Your Dog
Fall is a great time of year to get outdoors with your four-legged friend. The cooler temperatures provide a welcome respite from the summer heat and the leaves provide stunning views of nature's colors.
Before you start off, make sure to check for ticks, as they are more prevalent in the fall months.
Once you're all set, there are lots of fun activities to enjoy with your pup. Short hikes are a great way to explore the area and get in some exercise.
Look for trails with plenty of room for your dog to roam, or if you have a large dog, find trails that are less crowded.
Make sure to bring plenty of treats and water for your pup. Carry them in a lightweight backpack so you don't strain your shoulders. Stop every now and then to let your dog explore and sniff around.
And most importantly, don't forget to pick up after your pup and leave no trace of your visit.
Fun Colorful Fall Excursions With Your Dog
Fall is a great time to visit apple orchards, pumpkin patches, and other festive venues. To make sure your pup can join in on the fun, call ahead to see if they allow dogs. Many places will be happy to accommodate well-behaved pets.
The colors of the season provide a great backdrop for taking photos with your pup. Have them pose in front of vibrant red and yellow trees or dress them up in seasonal costumes—the possibilities are endless!
While you're out and about, take time to appreciate the beauty of nature as it transitions into autumn.
Concluding Wags
You and your dog will have a great time running or fast walking outside. It is a great time to bond, exercise and release built-up energy you no doubt have. Running together will also improve your sleep schedules (and hopefully put you on the same one).
When beginning, try to take it slow so you can get an idea of what works for the two of you. As you continue to run together, you will develop a rhythm and know the exact type of trails you like the most.
If you live in an area where there are changing seasons, it seems that Fall will be the best of all of them for off-road running with your dog. Not only will the backdrop be very pretty and colorful, you will not have to deal with snow or super hot weather.
Always keep a camera/phone in your car for photo ops! Most of all, have fun and enjoy those trails!