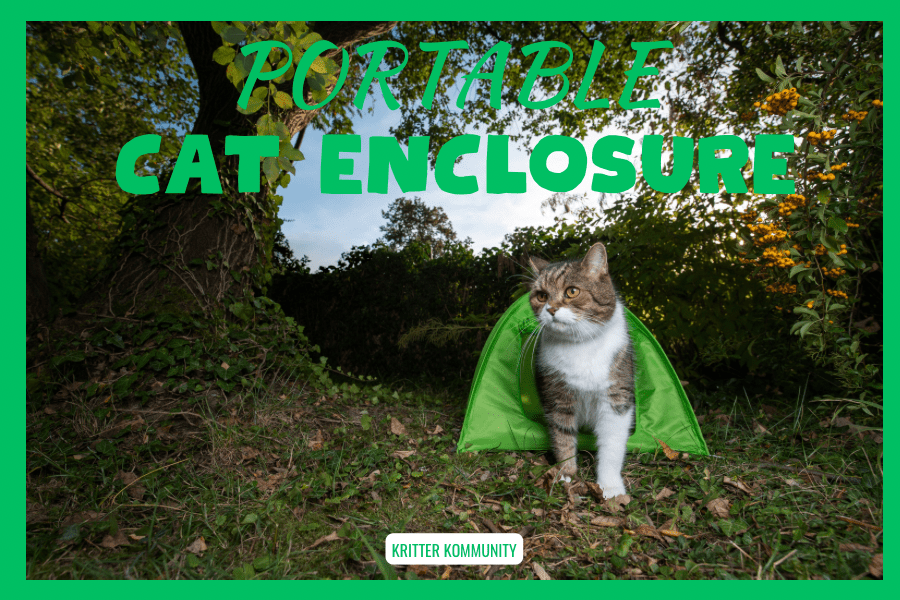 Portable outdoor cat enclosures, catios, cat pens and cat houses are all the craze among owners of indoor kitty cats. Felines have been longing to spend time outside and people finally figured out ways to make it happen. So what's the big deal? This post is all about a portable cat enclosure: the perfect solution for fresh air and sunshine.
Portable Outdoor Cat Enclosures: Must-Haves
If you are shopping for a new (or used) portable cat enclosure, there are several features to look for.
Mobility
Make sure it can be moved around as needed.
Even if you just want to move the cat enclosure around in your yard, it should be easy for you to relocate.
Mobility is one of the key differences between having a custom catio attached to your cat-friendly home. Although it is nice for some situations, your cat will be located in the same spot all the time.
A portable cat enclosure is great for on-the-go-pets!
Easy to Set-Up
A portable outdoor cat enclosure should be easy to set-up.
When it comes to a portable cat enclosure, portability and ease of setup are key factors to consider. Portable enclosures allow you to take your cats with you on outdoor adventures or move the enclosure around your yard to give your cats a different view. In addition, easy setup means that you can quickly and easily assemble and disassemble the enclosure as needed.
There are many options available for portable outdoor cat enclosures, from collapsible tents to modular systems that can be customized to fit your space. When choosing an enclosure, look for one that is lightweight, easy to carry, and comes with clear instructions for setup.
Sturdy Cat Enclosure Mesh
One important consideration is the material of the enclosure. Look for a sturdy material that can withstand outdoor conditions and is safe for your cats. Mesh or wire enclosures are a popular choice, as they provide ventilation and visibility while keeping your cats safe and contained.
Benefits of Portable Outdoor Cat Enclosures
The obvious and key benefits of a portable cat enclosure is that it allows your cat to experience the benefits of being outside without the risks associated with free roaming. Cats allowed to roam freely outdoors are at risk of being hit by cars, attacked by other animals, or exposed to dangerous toxins. A portable outdoor enclosure provides a safe space for your cat to enjoy the outdoors without these risks.
Cat Tents for Outside
One of our absolute favorite portable outdoor cat enclosures is by Habitat Haven. They are a custom catio builder, but also offer cat tents for outside.
Looking for a way to take your feline friend on a camping trip?
The Purrfect PlayTent is a portable cat enclosure that can be set up and taken down in just 15 seconds.
Measuring at 79″ Wide x 66″ Deep x 42″ Tall, this durable mesh cat tent can easily fit multiple cats, small dogs, and even their humans.
It's perfect for RV cat enclosure, tent camping with cats or simply giving your cat a chance to enjoy fresh air and an outdoor view right in your own backyard.
The Flashset locking hub at the top of the tent ensures easy setup and take down.
Many pet parents have raved about the Purrfect PlayTent's durability and versatility, making it a great investment for cat owners who love to travel or simply want to give their pets a taste of the great outdoors.
If you are traveling with your cat, a RV cat enclosure can be an essential item to bring along.
RV cat enclosures are specifically designed for use in recreational vehicles and can help keep your cat safe and secure while you are on the road.
Additionally, a portable cat litter box can make it easier to travel with your cat, as it provides a designated space for your cat to do their business.
When selecting a portable cat enclosure, choosing one made from high-quality materials, such as sturdy cat enclosure mesh, is vital. This will ensure that the chamber is durable and long-lasting, providing your cat with a safe and secure space to enjoy the outdoors for years to come.
Cat Enclosures Needed For Indoor Use Too
So cat playpens are not just for outside. Basking in the sun and watching butterflies and birds is fun for your cat, but cat lovers agree; cat enclosures are also a top commodity in the home.
When a cat falls ill, sustains an injury, or is recovering from surgery, it is best to confine the fragile kitty to a cat pen for safety. This is most important in homes where there are other cats or pets. The cat pen helps the sick or recovering cat get enough rest as it doesn't get to move about much or play with other pets, if there are any.
RELEVANT: Cute Cardboard Cat Houses
Recap Portable Cat Enclosure Tips
Things you might want to consider when shopping for cat enclosures that will make the experience pleasing for both you and your favorite feline:
Ease of assembly and set-up
Is it big enough for your cat to stand up, stretch and turn around in?
Is it tall enough for your cat to stand up and even stretch?
Is there a way to protect your kitty from too much sunshine? Is there a roof or shade canopy?
Do the doors securely close?
Is the cost reasonable?
Can you store it easily when you are not using it?
Does it have a carrying case in case you want to travel with the cat enclosure?
Are there pockets for your cat's toys, food, blanket or whatever else you might need?
Will it be stable if you decide to take it outside?
Can two cats fit in the cat pen comfortably?
Can you return it if it does not work out for you?
Portable outdoor cat enclosures, such as RV cat enclosures, cat pens, catios, and cat houses, have become increasingly popular among cat owners looking to provide their indoor feline companions with fresh air and sunshine. A portable cat enclosure, along with a portable cat litter box, can be the perfect solution for cat owners who want to give their cats a taste of the outdoors while keeping them safe and secure. So, if you're looking for a way to provide your cat with some outdoor time, a portable cat enclosure might be just what you need!