This post was updated January, 2023
Cat scratchers are a hot topic among cat owners. We know well our feline's natural instinctive needs to scrape their claws down carpet, sisal, cardboard or our favorite sofa. This post is all about where to read up on the absolute best cat scratchers for 2023.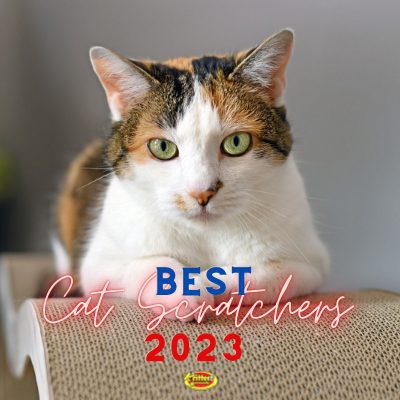 Scratching is an essential activity for cats, allowing them to stretch, sharpen their claws and mark their territory. With so many types of cat scratchers available, it can be difficult to find the right one for your furry friend. To help you choose the best scratcher for your kitty, we've broken down the three main materials – sisal, cardboard and carpet – and what they have to offer. 
This article is filled with images that link to the Amazon website. If you click on an image, you can immediately go to the buy page to conveniently read more about the product. If you make a purchase, Kritter Kommunity will receive a small commission. Thank you for your support!
Best Types of Cat Scratchers in 2023

Sisal Rope Cat Scratcher
Sisal rope is a hard natural fiber that is rich with value. It's main features are very similar to manila rope, yet sisal rope is less expensive. Designers like sisal because it holds a knot very well and is super sturdy.
Sisal rope holds up against sunlight.
Sisal fabric can be used in flat scratchers, and cats love it!
Sisal rope is biodegradable. Since your feline friend loves sisal and it is inexpensive and biodegradable, we highly suggest adding a scratching post or two to your home, per pet. The best scratching posts are made of this material.
There are even flat, tall, vertical scratching posts that are great for kitties to hug and squeeze.
Sisal is a popular scratching material because it's durable and long-lasting. If you have multiple cats or a senior cat, sisal scratchers are a great choice, as they provide a tough scratching surface that can stand up to even the most enthusiastic cats. Sisal scratchers usually come with a scratching pad, which is perfect for cats who like to dig their claws in deeply. Look for a scratcher that's tall enough for your cat to stretch out on, and make sure the scratching pad is securely attached to the post.
Sisal scratchers also come in scratching posts, which are shaped differently than a traditional flat one. My cat loves both, and I highly recommend incorporating both types into your pet's playground.
This product is biodegradable, economic and super sturdy. We especially love it for these reasons and so do designers!
Cardboard Cat Scratcher
Cardboard scratchers are a great way to save money and provide your kitty with a less abrasive scratching surface. Cardboard scratchers come in a variety of shapes and sizes, and they are fairly easy to replace when they start to wear down.
They are also lightweight, making them easy to move around the house. If you have more than one cat, you may want to opt for a taller cardboard scratcher to give each of your kitties enough room to scratch. Make sure you replace your cardboard scratcher regularly, as cats can quickly wear down the cardboard with their sharp claws.
Cardboard is basically strong paper board. Cats love cardboard and so do we!
Cardboard becomes sturdier the thicker it is. Designers love how rigid it is. Cardboard is used for material in making indoor cat houses, dog houses, cat toys and of course scratching apparatus.
You can paint on cardboard, add adhesives and even print on cardboard. Cat owners all over the internet make DIY cardboard cat stuff all the time.
Corrugated cardboard is very popular among kitty cats because the texture makes for a fine cat scratcher, and cat bed too!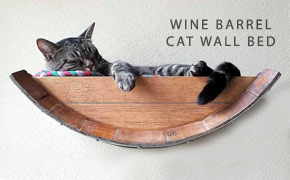 Carpet Cat Scratcher
Your feline friend will love a carpet cat scratcher!
Some of the best scratching posts come in carpet.
Carpet scratchers are a great choice if you want to give your cat a softer scratching surface. Carpet scratchers come in a variety of colors and styles, and they usually have a scratching pad attached at the top. Carpet scratchers may not be as tough as sisal scratchers, but they are ideal for cats who prefer a gentler scratching experience. Make sure you choose a carpet scratcher that is wide enough for your kitty's paws to stretch out on, and replace it often to make sure your cat always has a comfortable place to scratch. 
Carpeting has at least two layers, one padding and one topical. Carpet started out as only wool but over time has evolved into a host of materials that include polypropylene, nylon and polyester.
Carpet comes in all styles and features. Cat product manufacturing companies have heat-treating process so that carpet keeps its rigidity and shape.
Carpeted cat scratchers are very popular and were one of the first types for felines. Over time, less expensive and more modern materials are found in cat scratchers although carpeted ones are still very popular.
Carpet is also found in cat condos, cat trees and indoor dog houses.
A carpet condo typically has a sisal or carpet cat scratching post too!
Sometimes a cat tree has a scratching post made of carpet too.
Shapes
Scratching is an important part of your feline friend's daily routine. It helps them to keep their claws in top condition, as well as providing them with exercise and mental stimulation. But not all scratching posts are created equal; there are a variety of different shapes and sizes to choose from. To help you decide which scratching post is best for your most cats, we've put together a guide to the different types of cat scratcher shapes.
Horizontal
The first type of scratcher is the horizontal scratching post. This type of post is perfect for cats who like to stretch out and scratch their back. It usually has a wide, flat surface that is easy for cats to dig their claws into.
Vertical
The second type of scratcher is the vertical scratching post. This type of post is popular with cats who like to reach up and scratch their back and sides. It usually has a tall, narrow surface that cats can use to sharpen their claws.
Inclined
The third type of scratcher is the inclined scratching post. This type of post is designed for cats who like to scratch at an angle. It usually has a sloped surface that cats can use to get the perfect angle for scratching.
Curved
The fourth type of scratcher is the curved scratching post. This type of post is perfect for cats who like to scratch around their bodies. It usually has a curved surface that cats can use to scratch all the way around their body.
Corner
Finally, the fifth type of scratcher is the corner scratching post. This type of post is great for cats who like to scratch in tight spaces. It usually has a small, angled surface that cats can use to easily access tight spots.
No matter which type of scratcher you choose for your cat, it's important to make sure that it has a durable scratching surface. Some cats can be quite vigorous when they scratch, so make sure the post is strong enough to handle their claws. You should also make sure that the post is tall enough, so cats can stretch out and scratch without having to strain.
Feline scratching apparatus come in all shapes and sizes. Some cat scratchers are nothing more than flat structures for your feline to easily walk on top of and begin their paw work. Others are actual pieces of cat furniture that can be integrated into your existing habitat. The hottest themes on the market right now are modern, contemporary, eco-friendly and bohemian.
Summary
In order to provide a variety of options, we went out on the internet and found all the best cat scratcher reviews in 2023. This list should give you and your kitty cat plenty of variety and taste for the rest of the year. No matter what type of scratcher you choose, make sure it's high enough for your cat to stretch out and that it's securely attached to the floor or wall.
Save Your Sofa With This Wildly Effective Couch Cat Scratcher
9 Insanely Cute Cardboard Cat Houses Your Cat Will Obsess Over
Best Vertical Wall Cat Scratchers