I love these kitty cat slippers! I just put these in my Amazon shopping cart and then hopped on to tell you all about them too. Especially with Mother's Day coming up, they make purrrrrrrr fect gifts for cat lovers! Their cute little pink ears, stunning green eyes and fuzzy warm coats are so nice to slip tired feet into.
A few ideas these tuxedo cat slippers:
Holiday gift
Birthday gift
Mother's Day gift
Christmas gift
Hospital stays
Winter slippers
Cat party giveaway
Pet fundraiser gift idea
Black and white tuxedo cat slippers are the perfect combination of style and fun. These slippers are not only adorable but also comfortable, making them an ideal choice for traveling, lounging around the house, or simply keeping your feet warm on a chilly night.
RELATED: Can Persian Cats Be Tuxedo Cats?
One of the best things about these slippers is that they are perfect for cat lovers. They come in a black and white tuxedo cat design with green eyes, pink noses, and whiskers, making them look just like your favorite feline companion.
RELATED: From Calico to Tabby to Tuxedo: A Guide to Cat Colours And Patterns
These slippers are ideal for cat lover guests, as a gift for a cat lover, or for anyone who just adores cats.
For those who have just gotten out of the hospital, these slippers can be a thoughtful and comforting gift. They are machine washable, making them easy to clean and care for, which is ideal for anyone who is recovering from an illness or surgery.
Black and white tuxedo kitty cat slippers are stylish, fun, and perfect for cat lovers. They are ideal for traveling, lounging around the house, and for keeping your feet warm on chilly nights.
These slippers are also a thoughtful and comforting gift for anyone who loves cats, especially for those who have just gotten out of the hospital.
Lisa Illman is the Founder of Kritter Kommunity, LLC. She has a tuxedo adult cat and has had him since he was a baby kitten. Before her cat Finnegan, Lisa had had two FIV-positive cats for over a decade. They inspired Lisa to invent a cat enclosure and a portable catio so they could safely sit outside and enjoy fresh air and sunshine. Lisa had a Poodle and a parakeet growing up. She currently loves to pet-sit for her neighbors' dogs and cats.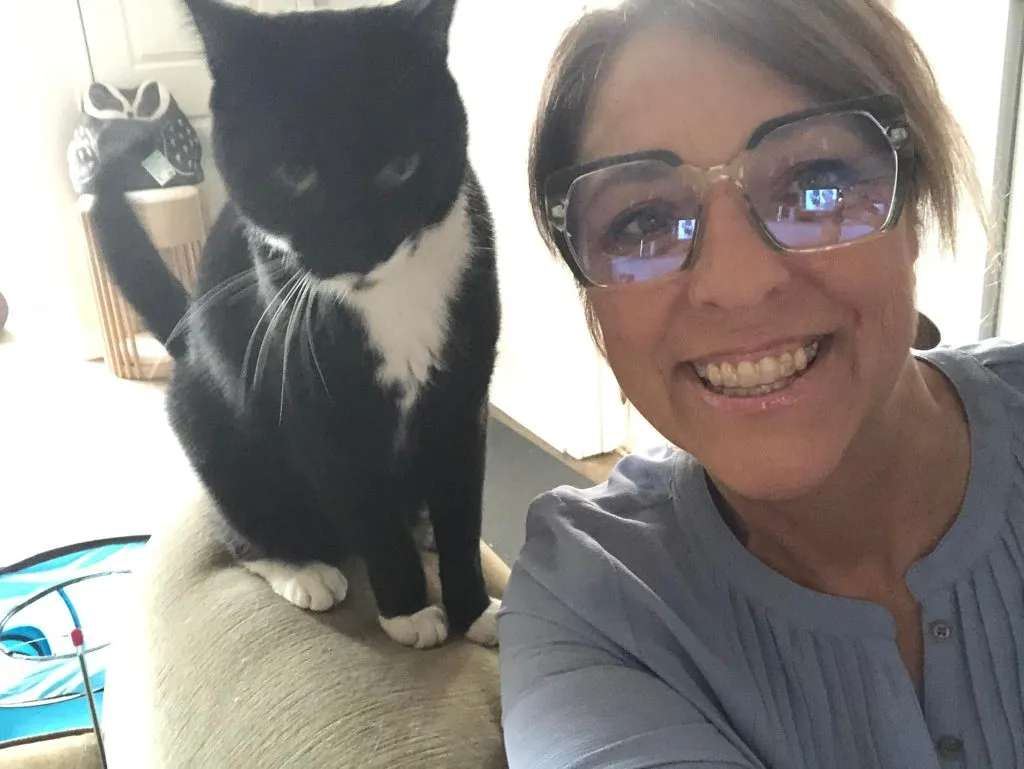 Why is Kritter Kommunity Your Trusted Partner?
Our mission at Kritter Kommunity is to promote happy and healthy lives for pets and their owners. We specialize in Barkitecture and designing tips for pet-friendly homes, utilizing the natural instincts of cats, dogs, and small critters to create a home life that pets and people love. From tips on pet care to reviews on pet toys and furniture, we are a go-to source for all things cats, dogs and small critters. Join us in celebrating the joys of pet ownership and providing the best possible lives for our furry friends.