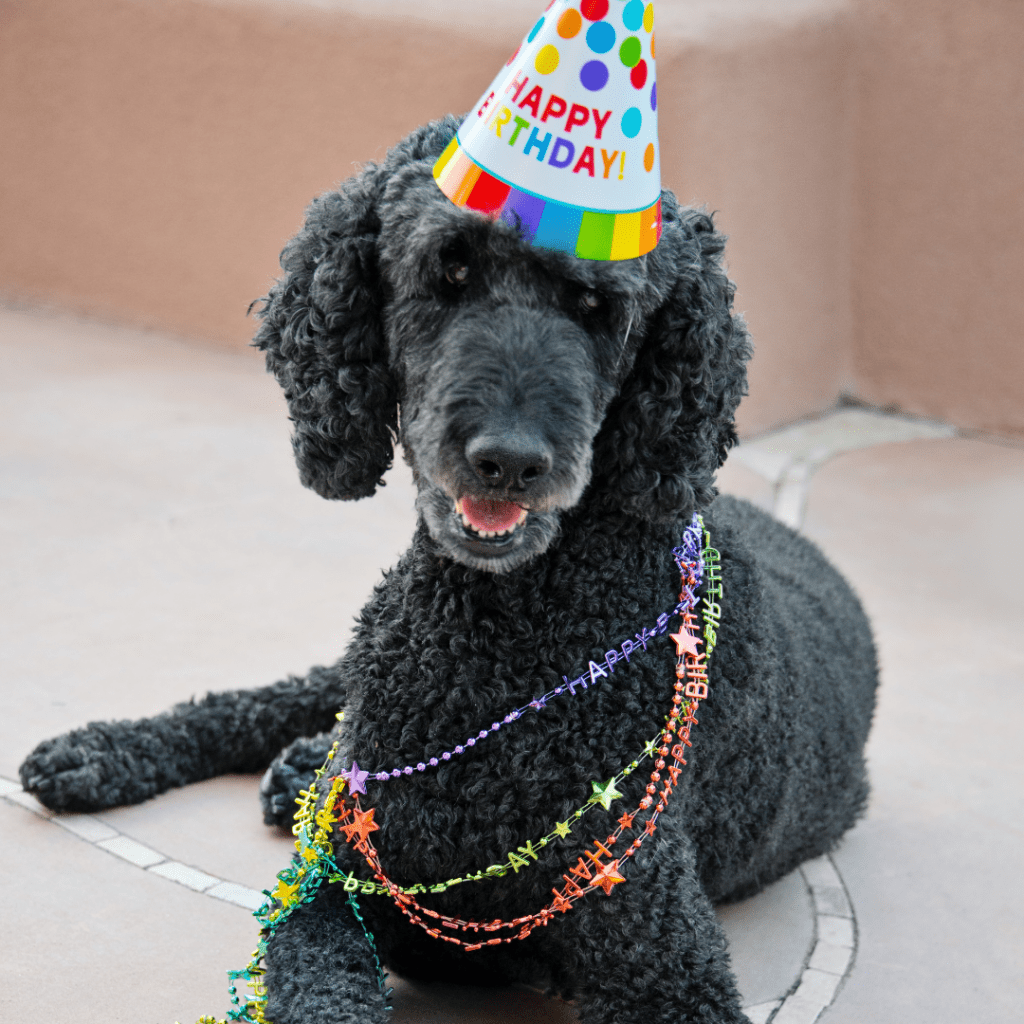 Every dog has a birthday!
But not every dog is lucky enough to have parents that celebrate his birthday, right?
But your dog is a poodle and poodles are known for their suave demeanors. They have an air about them that boasts elegance, even royalty. You and your poodle have an understanding; only the best for this dog!
And just like humans, dogs of all breeds have complex emotions. Does this mean your furry companion can sniff when you have forgotten his birthday? Most certainly! His feelings might be hurt if you totally forget him on his special day.
So now that we know celebrating your dog's birthday is not over the top or 'taking it too far', let's explore all the ways you can enjoy the day your canine was brought into this world.
A well-arranged birthday for your poodle can do wonders that no dog whisperer can touch!
Dog Birthday Party
Have you ever wondered why dogs get excited whenever an event is coming up?
They love to see people come together and share moments of happiness. Their tails go into overdrive and they are overcome with so much joy they release it through their barks and licks. Dancing around in circles as each guest arrives so everyone has their own personal welcoming ceremony. Ahhh the joys of dog parenting.
Why not host a traditional birthday party, such as a "doggie birthday party" for your poodle?
Invite your friends, family, and neighbors along with their furry companions, to give your poodle a reason to give you hugs with furry paws and sloppy kisses. Nose taps are the best ever!
However, as excited as dogs are, things can get a bit noisy and messy. If your dog is the excitable type or easily overwhelmed, hosting a small get together might be better. Do what is most appropriate for you and your dog, after all, it is HIS big day! So be sure to accommodate to what makes him the happiest.
If you have never arranged a doggie birthday party, here are some ideas to get you started. We also have an in depth step by step party guide for canines on our blog, Tips For Planning A Dog Birthday Party.
Tips On Hosting Your Poodle's Special Birthday Event
Invite a small or large group of loved ones with their poodles.
Bake a dog friendly cake (and make sure to keep it out of your poodle's sight if you wish to keep the cake intact before the party begins).
Make appointment to have your dog groomed so he looks AH-MAY-ZING for photos!
Additional Information: How Often Should Poodles Be Groomed?
You can even have a poodle shaped cake topper for a posh touch. For a small fee of $7.99, Amazon can deliver your poodle cake topper within 48 hours via Prime!
Use bone shaped cake pans and bake a cake for your Poodle on his birthday!
Peanut butter and banana flavored are all the rage in pup-cakes!
Handout goodie bags filled with poodle themed giveaways
Amazon has a variety of goodie bags to choose from. You can get a package deal of 20 pieces for approximately $16.00.
I especially like the Puppy Dog brand goody bags because this kit comes with a dog party checklist. The entire kit is only $12.99 and you can click this image below to take you straight to the Amazon buy page.
Arrange some cold popsicles for the dogs, or shall we say pupsicles?
If you live in a warm climate area or the season permits, offering thirst quenching treats will be a real hit for your Poodle and his friends. Here is a step by step tutorial that includes the dog-friendly recipe for your party pupsicles.
Royalty For The Day
Have you ever wondered how your poodle feels when you are not around, and your poodle has no one to nudge its nose against?
Let us tell you, it's not a feeling you ever want to experience.
Poodles are known for being a bit, ahem…. needy. Separation anxiety creeps in even when you make a quick trip to the bathroom.
So one good way to spoil your poodle and eliminate the separation anxiety your BFF usually feels when you go to work, is to take the day off and enjoy it together. Binge Netflix together, eat junk food and let him have his favorite bones, all day long. Nothing but belly rubs and playtime, all day.
Your love, care, and presence will mean the world to your furry pal. And more than likely will be a great way for you to unwind and unplug too.
To make the day memorable for you and your poodle, you can order dog treats and play games with your dog, coupled with some nice cuddle time together
If the day gets monotonous and outdoor adventure seems luring, you can take your poodle to the beach and play catch while the sun shines blissfully, and a paw-some day comes to an end.
If it's a birthday and you don't sing a song, is it even a birthday worth having? Create a song for your four-legged, furry friend and see it jump with pure joy.
Poodle Photo Shoot
Would it not be a perfect idea to book a pup-arazzi and give a photoshoot to your poodle?
Dogs are known to get excited and bark with excitement whenever pictures are clicked. Having a little photo shoot with your poodle and his buds can be super fun for him and a great way for you to include others in his celebration. Everyone loves adorable pet pictures so be sure to post them on Facebook and Instagram!
Be sure to put your photos in a poodle dog frame, you'll cherish it for years to come.
Dog Friendly Restaurant
What do you do on your birthdays? Go to a fancy restaurant, right?
We don't see why you cannot celebrate your poodle's birthday or even an anni-fur-sary by arranging a visit to a dog-friendly restaurant.
Just like humans, our canine friends need some yappymeals too!
If you want to see if your city is known as a dog-friendly city, check out our post 5 Cities That Love Dogs.
Poodle's Day Out
You don't have to look so sad if there is not a dog friendly restaurant near your area.
Your poodle will be equally mesmerized by the nearby dog-friendly park.
A brief swim in the neighborhood pond or a ride on the merry-go-around, a park can make every day awesome, especially when it's our Poodle's b-day.
Shopping Therapy
If you believe only humans love to shop, you can't be more wrong!
Dogs love splurging on their new toys and chew toys.
It would be a stupendous idea to take your poodle to a gift shop, let him stroll like a king or a queen in the aisles, and pick out a gift of his choice. Since it would undoubtedly be toys, toys and more toys you might limit the aisle browsing to one or two so he doesn't get too carried away.
Unpacking Awesomeness Inside
Dogs love unpacking. Whether it's a beautifully wrapped gift box or a milk carton, there is not any box your poodle is not going to love unwrapping (or might we say tearing?).
Let your dog pick a few gifts for itself from a dog-friendly pet shop, get it wrapped in fun wrappers, and un-leashyour Poodle to open its big surprise and enjoy in delight. Be sure to use poodle wrapping paper and take a video. Your dog loving friends will love to see how happy gift day is for your BFF.
A Week Of Fun
What if we take birthday celebration a step further?
A day a year does not suffice to pay tribute to our life-long companions.
It might get difficult to pack all the awesomeness in one day; instead, you can declare a game week to celebrate the birth-week of your beloved poodle.
Let us walk you through a list of fun-filled gamed that might give you a leg cramp, but the happiest moments for your poodle:
Schedule A Doggy Playdate
Whenever our friends are going through a rough patch in their dating lives, we help them set up a date, right?
Similarly, playdates are organized to help children make friends. Why not do the same for our poodle and let the pet find a pet-ential best friend?
A doggie playdate is an easy idea to execute, but equally exhilarating and exhausting as your poodle will find it hard to call for a timeout.
Poodle Cut
Getting a shower, nails trimmed, and a poodle cut can be fun for your special canine. The smell of the snow cone topped heads after an hour with your favorite Groomer can be the perfect way to prepare for the photo shoot you have planned. Poodles always seem to prance a little bit lighter with their heads held up just a tad higher when they just got their poodle cut.
Pool Party
If you read our post, "Poodles Like Water, But Can Poodles Swim?" than you know Poodles just might love a water party! You can take your Poodle to the beach for a day of splash fetch or invite all his friends over to your pool for a pool party. A Poodle is the perfect breed for hosting a really fun lake or pool party.
Conclusion
Having a posh poodle celebration on your dog's birthday is fun, and can even be a great way for you to get social with other poodle lovers. Celebrating his birthday and dedicating a day to your furry-friend will do wonders for the bond you share with your poodle.
For other posts on our site you may like, check out:
Calico Cat VS. Chimera Cat: Are They The Same
For information and content on Poodles, check out our other blog posts.
How Often Do Poodles Need To Be Groomed?
Poodles Like Water, But Can Poodles Swim?
How To Throw Your Poodle A Posh Birthday Party
10 Ways To Make Your Poodle's Birthday Awesome
Do Poodles Get Along With Rabbits?
Why Do Poodles Have Tear Stains?
Insanely Cute Poodle Cake Ideas For Hosting An Amazing Dog Party
Why Is Kritter Kommunity Your Trusted Pet Partner?
Lisa Illman is the Founder of Kritter Kommunity, LLC. Not only does she have one tuxedo male adult cat currently, she has had him since he was a baby kitten; so she knows well the kitten life cycle, the teenage cat life cycle and the adult cat life cycle (he is currently 11 years old). Prior to her cat Finnegan, Lisa had two FIV positive cats for over a decade. Lisa's love for animals her entire life (she also had a poodle and parakeet growing up plus was a caretaker for her roommate's 3 pets including a poodleduring college) and networking with the pet community for over a decade, enable her to find top content for her readers. Lisa currently pet sits for her neighbor's 1 year old red poodle.
New Blog Posts