For decades the concept of outdoor space for cats, was often impractical for the average feline parent. But thanks to builders like The Catio Company, outdoor cat enclosures are popping up all over the place. This post is all about The Catio Company and their specialized building of feline porches, window catios, tunnels and custom catios.
Once upon a time, only over-the-top catios offered in customized designs were available for people who had massive space availability; plus the time and resources to build extravagant feline fortresses. Fortunately, catios and outdoor cat enclosures are available to everyone even if you have very little outdoor space, live in a condo, or even an apartment. There is something for everyone and the trend keeps growing!
I was able to catch up with The Catio Company and learn how they offer services to folks wanting to build a feline outdoor sanctuary.
Located in Portland, Oregon this husband and wife business is passionate about two things: construction and animals, especially cats! Can it be anymore obvious why they make the purrfect catio?
RELATED: Your First Catio: 10 Essential Steps To Success
Small Catios
The Catio Company website touts high-end catio construction and from the images I agree!
The good mews is this dynamic duo also caters to smaller cat enclosure jobs too.
Small catio pricing can start at $2,500.00 and go up from there, however an even better rule of thumb is to use $185.00 per sq ft as your factor. If you know your sq footage, you can plug in the average price of $185.00 and get a budgetary number. This will at least help you determine if you can afford the catio size you have in mind, or if you need to go even smaller.
Obviously the best way to get an accurate price is to email The Catio Company direct. Once you know if you can move forward with your project from the budgetary price above, gather your catio vision details together, and they can provide you price with details and specifications. Are totally excited yet?!?
RELATED: Building Your Cat A Window Catio For Less Than $100
What Do You Put On The Floor Of A Catio?
According to The Catio Company, located in Portland Oregon, the absolute best flooring for a catio is regular grass. Cats love to roll around on the real stuff, and it is a cost saver too. But having access to the real thing is not always possible so The Catio Company recommends two other fantastic catio floor alternatives; turf and pebbles.
As you can see from this image below, TCC flawlessly executed for two felines in Portland, and has a turf floor.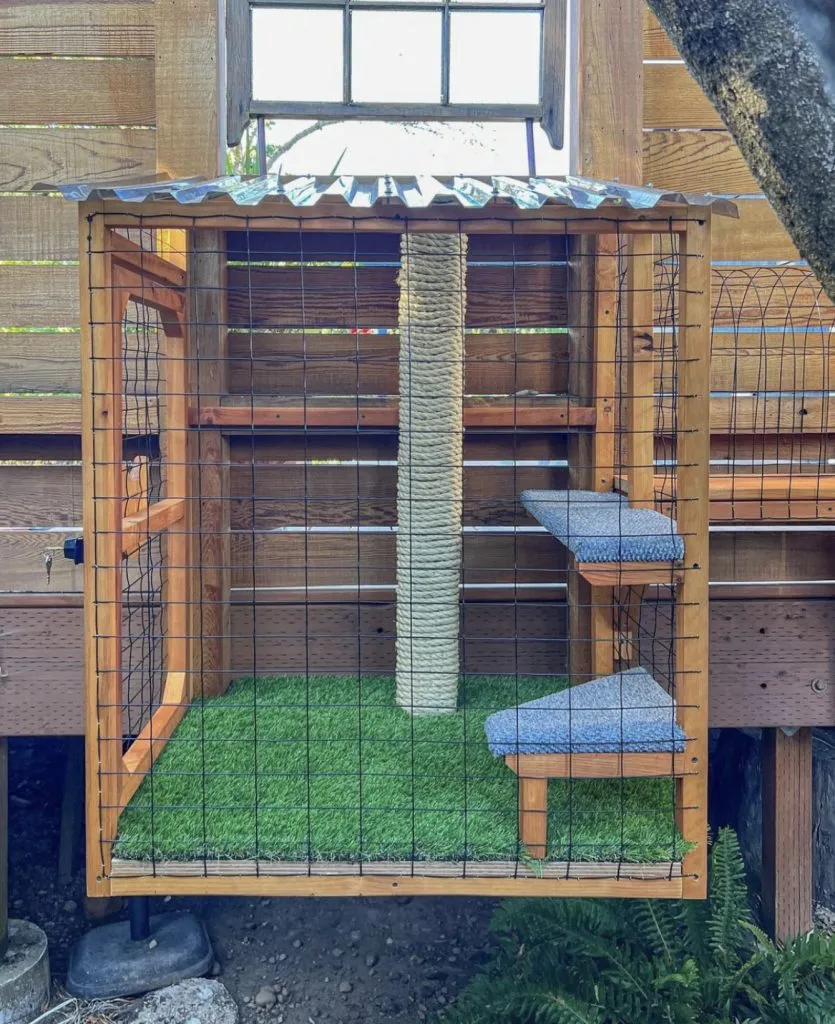 Even though the catio is small, it definitely provides outdoor space safely to kitty cats. Limited space maybe, but that didn't prevent the cat owners from getting a tunnel to cat-a-purr their felines from the west wing to the east wing.
A cat tunnel is another way to satisfy the natural feline instinct to climb, walk, strut and claw their way from one area to the next.
The floor on the tunnels of this catio are made from deck boards. The floor boards can easily be removed and cleaned; they thought of everything!
RELATED: 5 Amazing Benefits Of Building A Catio For Your Cat
Large Catios
Although The Catio Company has plenty of experience and interest in building small but mighty catios, they also have expertise building large catios too!
Large catios are becoming increasingly popular. There are still unique features to catios vs. general building and construction though, so hiring a Catio Builder who has feline outdoor house experience can be important.
There are many things to consider for your feline like materials on the floor, roof, and siding. If your cat is older and suffers from arthritis, having shelves that are closer to the ground might make sense.
These are all considerations an experienced professional such as The Catio Company, will manage.
RELATED: Clever Cat Catio Builder's Directory
What Is The Best Material For A Catio?
The Catio Company, a preferred Catio Builder located in Portland, OR, uses only grade A cedar for their enclosures. There are several reasons for this choice, and they all make sense for building an outdoor cat enclosure. The most important reason behind using cedar is that it is so durable and long-lasting. Cedar should last you and your felines 30 years or more! Not only will it sustain the outdoor elements, cedar smells amazing! Even though cedar smells great, bugs do not like it.
Concluding Purrs
More and more builders are becoming specialized in catio building. As pet parents continue to strengthen the notion, pets are family, they will find ways to enhance their feline's livelihood. Outdoor cat enclosures, tunnels, cat houses, and climbing apparatus are all ways the feline senses will be fulfilled. For more information about The Catio Company, visit them on Instagram where they have an entire portfolio of completed catio projects!
If you are looking for an inexpspensive cat scratcher for your catio or window catio, check out our blog post, Literally The Cheapest Cardboard Cat Scratchers You Can Buy On Amazon Right Now.
RELEVANT: 9 Insanely Cute Cardboard Cat Houses
Why Is Kritter Kommunity Your Trusted Pet Partner?
Lisa Illman is the Founder of Kritter Kommunity, LLC. She has a tuxedo male adult cat currently and she has had him since he was a baby kitten; so Lisa knows well the kitten lifecycle, the teenage cat lifecycle and the adult cat lifecycle (he is currently 11 years old). Prior to her cat Finnegan, Lisa had two FIV positive cats for a decade. They inspired Lisa to invent a cat enclosure so they could safely sit outside and enjoy fresh air and sunshine. She brought the product to market and eventually designed a line of portable catios; they sold on Amazon, Skymall Catalogue, Wayfair and countless other websites. Her experience being a cat parent coupled with her business development and product management experience make her a trusted cat enthusiast partner. She and Finnegan (her tuxedo cat) test, research and review pet products to give readers the best feedback possible.
This Company Is Devoted To Building Outdoor Cat Enclosures, Tunnels And Catios In Portland, OR
Should A Catio Have Litter Box?
10 Tips For Choosing The Best Cat Enclosure Furniture For Your Catio
When Building Catios Is Not An Option [2021 Updated]
Building Your Cat A Catio For Less Than $100
Your First Catio: 10 Essential Steps To Success
Catio Accessories: The Essential Guide to Making Your Catio Purr-fect
Catio Accessories: The Essential Guide to Making Your Catio Purr-fect
Everything You Need To Know About Outdoor Cat Tunnels In 2023