Welcome to our blog post, "Catio Builders List", where we will be discussing some of the best catio builders across the nation, including Oregon, Los Angeles, Florida, and beyond. While we have curated a list of reputable builders, it's important to note that we cannot guarantee the quality of every company or individual. Therefore, we encourage all outdoor cat enclosure seekers to conduct their own research before selecting a builder for their feline friend's catio.
What is a Catio?
For those who may be unfamiliar, a catio is an outdoor enclosure designed specifically for cats, providing them with a safe and stimulating environment to enjoy the great outdoors. And catio builders are those who specialize in the design and construction of a catio!
Building a quality catio so your cat is safe while spending part of the day outside is an investment in your cat's happiness and wellbeing.
More and more cat owners are choosing to add a catio to their homes so they know their cat can experience outdoor living while staying safe and out of harms way.
This post is all about cat catio builders.
Choosing the Perfect Catio Builder for Your Feline Friends: A Comprehensive Guide

For feline enthusiasts, providing a safe and stimulating outdoor environment for their beloved cats is a top priority. A catio, a clever combination of "cat" and "patio," offers the ideal solution, allowing cats to experience the outdoors while remaining protected from potential dangers. However, choosing the right catio builder can be a challenging task. In this blog post, we will delve into the essential factors to consider when selecting a catio builder for your feline companions. We'll provide a checklist of questions to ask potential builders, ensuring you make an informed decision that meets both your cats' needs and your own.
Determine Your Requirements

Before initiating the search for a catio builder, it's crucial to establish your specific needs and preferences. Consider the following factors:
Size
Determine the available space and the size of the catio you desire, keeping in mind the number of cats it should accommodate comfortably.
Design
Decide on the style, shape, and materials you prefer for your catio. Consider factors such as aesthetics, durability, and integration with your home's architecture.
Budget
Set a realistic budget that aligns with your financial capabilities. Keep in mind that a well-constructed and functional catio is a long-term investment.
Research Potential Catio Builders

Conduct thorough research to identify reputable catio builders in your area. Consider the following sources:
Recommendations
Seek recommendations from friends, family, and local cat-related communities or groups.
Online directories: Utilize online directories and review platforms to find catio builders with positive customer feedback.
Websites and social media
Explore the websites and social media pages of catio builders to assess their workmanship and client testimonials.
Evaluate the Catio Builder

Once you have shortlisted potential catio builders, conduct a comprehensive evaluation to assess their suitability. Use the following checklist of questions to guide your assessment:
RELEVANT: Cat Approved Portable Catios Of 2023
| Key Questions | Yes | No | Not Sure |
| --- | --- | --- | --- |
| Is the catio builder licensed and insured? | | | |
| How many years of experience do they have? | | | |
| Can they provide references or customer reviews? | | | |
| Do they offer customized catio designs? | | | |
| What materials do they use for construction? | | | |
| Do they consider your cats' specific needs? | | | |
| Will they handle any necessary permits? | | | |
| Can they provide a detailed cost estimate? | | | |
| Do they offer any warranties or guarantees? | | | |
| Are they familiar with local building codes? | | | |
| Will they handle the installation process? | | | |
| What is their estimated timeline for completion? | | | |
Request and Compare Quotes

Contact the catio builders you are considering and request detailed quotes for your desired catio project. Ensure that the quotes include the following aspects:
Breakdown of costs
Understand the cost distribution for materials, labor, permits, and any additional services.
Timeline
Verify the estimated start and completion dates for the project.
Inclusions and exclusions
Confirm what is included in the quote, such as design, construction, and installation, and ensure there are no hidden costs.
Review Past Work and Client Testimonials

Take the time to review the previous work of the catio builders you are considering. Request to see photos or videos of completed projects, or if possible, visit some of their installations. Additionally, read through client testimonials and reviews to gain insights into their customers' satisfaction levels.
Conduct an Interview
RELEVANT: Keeping Cool Cats: The Role of Shade in Your Cat's Catio
Arrange a meeting or phone call with the shortlisted catio builders to ask further questions and discuss your project in detail. During the interview, consider the following:
Communication skills
Assess their responsiveness, willingness to address your concerns, and ability to understand your requirements.
Knowledge and expertise
Determine their understanding of feline behavior, outdoor cat safety, and their ability to offer practical solutions.
Professionalism
Evaluate their overall professionalism, including punctuality, clarity in explanations, and commitment to the project.

Selecting the right catio builder is crucial for creating a safe and enjoyable outdoor environment for your feline companions. By following the steps outlined in this guide and utilizing the checklist of questions, you'll be well-equipped to make an informed decision. Remember, investing in a well-designed and expertly constructed catio will provide your cats with endless hours of joy and enrichment while ensuring their safety and well-being.
Most catio builders work in one area, where their business is headquartered for obvious reasons. It can be very challenging to drive or travel all over the country with tools, designing an outdoor cat enclosure, working hard on building a catio and then getting back to your home base.
It would probably increase the price of a catio so much that it would be hard for most people to afford. For that reason, we got to work and put together a table that is alphabetical by state (and lists the main city) with your catio builders website information.
Just click on their company name, it will take you right to their information. This 'Catio Builders Near Me Table' will be updated regularly as we anticipate many more of these specialized purrfessionals to be popping up all over! In the meantime, keep scrolling for a description of each catio builder below!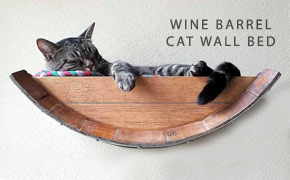 Catio Builders Near Me
There is a whole world of catio designers, builders and carpenters who specialize in making outdoor cat enclosures attached to your home and fancy she-sheds for felines. These screened in cat patios definitely enrich the lives of cats.
RELEVANT: Window Catio
Many catio builders are cat lovers who got into the business after making catios for their own pets first. They are a dedicated bunch of savvy business people who know a cat's needs.
This niche market is big for catio makers who have found a way to combine work with their love of making animals happy.
Catio Builders in the United States
Here is a list of reputable and skilled creative clever cats who make cool and functional catios all across America.
Meet David Murphy, a crafty builder who designs and builds catios in Austin and central Texas. This cat-loving carpenter makes custom-made, one-of-a-kind cat enclosures with quality materials, a load of passion and heaps of creativity. With an impressive portfolio full of designs it is easy to see he is very experienced and knowledgable when it comes to building catios. "A catio can give them access to all that nature has to offer in your back yard while keeping them safe and protected," says David. His catio creations are study and strong with hand-crafted doors.
Architect Mario and builder Benedito have created some stunning bespoke catios for clients. They describe their work as having a sense of whimsy and kindly donate 10% of net profits to agencies dedicated to animal rescue and refuge.
Get ready to be inspired when you see some of their unique workmanship including a very special Japanese-inspired catio. "We take iconic elements, whether architectural, utilitarian, sculptural, or natural, and we fashion them in a form that pets can interact with. It's in this tongue-in-cheek way that our customers feel engaged with their animals in a totally new way," says Mario.
Backed by the support of local veterinarians, Habitat Haven is a company offering durable and attractive custom-made catios for every budget in the Michigan area. They also offer kit sets if you prefer to assemble the catio yourself.
Kritter Kommunity is an active affiliate for Habitat Haven!
This catio builders business was inspired by two furry adoptees called Ching and Cuddles. They always tried to get outside and showed signs of longing for outdoor life so their owner built them a catio. The cats loves the catio and were much happier instantly. Before long the project turned into a full-time catio business.
This Los Angeles handy catio builders couple started Custom Catios after they made their own catio on their balcony in 2006 because Monkey and Cooper weren't being friends. They built a second catio and then a business that is today very successful. They will visit your home to access the space, design the catio and then build it for you.
David Carnaghe is the expert builder behind Bay Area Catios that services the areas of San Francisco South Bay, Monterey Bay, and Santa Cruz. With 30 years of building experience under his belt you can see he makes quality structures with some creative flair.
A look on his Facebook page and you can see catios stylishly decorated with ramps, scratching posts and shelves on different levels to finish off the cool Catio Spaces. He describes his work as minimalist.
One of the catio builders in our directory is Affordable Catios. This professional catio designer and builder from Austin, Texas is Bob Powell. Bob has made catios in many themes including rustic, modern, elegant, whimsical and even Tuscan. Check out the interesting before and after photographs on Facebook to see some amazing transformations.
With a catchy name, Casey's Catios is creating cat havens in the form of catios based out of Sandy, Oregon. He uses a lot of natural elements such as trees and branches sourced from the local area to incorporate a natural and rustic vibe into his work.
Animal lovers and catio crafters Jennifer and Jonathan Elwing of Elwing Works have gained huge popularity by matching catios to the houses they are joining onto. A seamless blend of the two architectures is a luxurious touch appreciated by many cat owners who hire them to make catios in and around Bend, Oregon.
You can read inspiring stories and see photos of their work on the Facebook page. They also make innovative catio-ettes – small catios for pet owners who are short on space. This cat-crazy couple have a solid reputation and their services are in strong demand in the Oregon area.
Armed with a cool business name and bucket loads of creativity this catio builder, John Kuepper, has been busy making catios since 2005. He's based in Denver, Colorado but has done destination jobs in Cheyene, Wyoming and Colorado Springs, Pueblo and Montrose, Colorado. So if you need a catio builder and can't find one near you, he may be willing to go to you. You can find lots of positive testimonials on the website from happy cat owners.
You will find Cynthis Chomos, also knows as the Catio Queen, in Seattle, doing what she loves most – designing and building catios. She places a strong focus on cat safety and Feng Shui. If you are not in her area you can still hope to have one of her zen catios by purchasing on of her DIY kits.
"Catios are the latest trend in cat wellbeing. From simple to sublime, we design and build catios to complement your home and suit a feline's fancy." She has a pet cat called Serena which inspires her catios designs.
RELEVANT: Keeping Cool Cats: The Role of Shade in Your Cat's Catio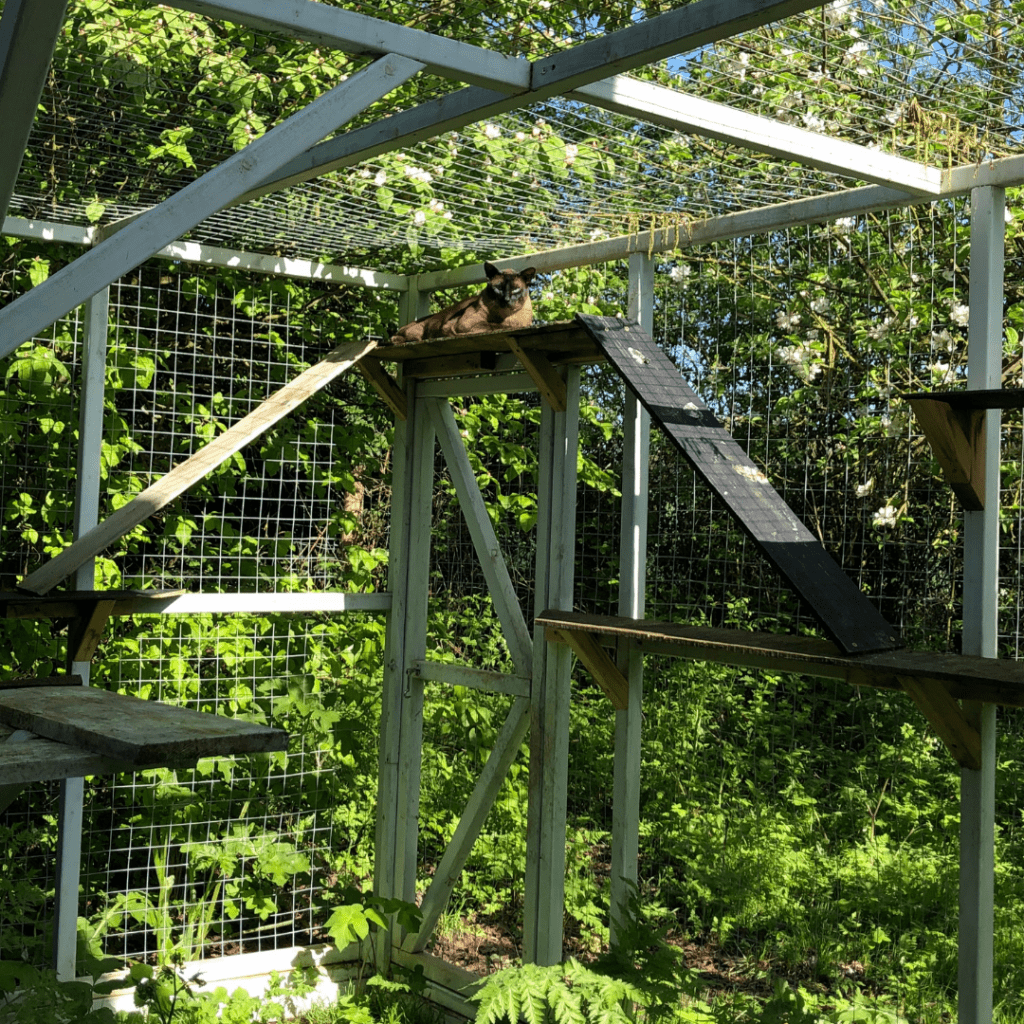 Ventura County is the location for Cat Man Dan who makes catios with shelves, ramps and (he's clever with names) even catwalks. Not fashion cat walks, but boards cats can walk on. Clever. He also offers free in home catsultations. Funny. Influenced by growing up with cats and cat rescuers he is a true animal lover with a business that reflects his love of nature and witty personality.
Catio Bob is based in Athens, Georgia and is a qualified and experienced catio builder. He is a talented craftsman and posts lots of useful cat info on his Facebook page. Catio Bob has 17 years of experience in making commercial and residential animal and pet enclosures. He has a program to give back including a "reffurral" program.
CDE Animal Cages make all kinds of cages including catios in a range of services including custom-made. They make study and long-lasting catios as well as cages for dogs, rabbits and even monkeys. Good to know in case you are thinking of getting a pet monkey to keep you cat company.
Purrrfect Catio in Charlotte, NC is the proud owner of 10, yes 10, cats! Building catios is a part-time weekend job that offers a custom-made service as well as DIY kits.
In close consultation with cat owners, Purrfect Catio will construct a catio that is safe, durable and attractive. They also have loads of cool ideas featured on the website such as tunnels and bridges to connect a maze of satellite catios to satisfy a cat's adventurous side. There are many positive reviews on the website from happy clients.
All the cool cats have a catio from Cat Topia. If you are from Denver, Colorado you can get your cat one too. With free onsite visits and a 1 year warranty for all their catios you can be assured you and you pet cat are in safe hands with Cat Topia. They give a percentage of profits to animal shelters too. The website is full of useful and entertaining cat info including videos.
Rich makes affordable cat enclosures in the Holyoke, Massachusetts area. He also is very active in helping homeless and stray kittens and cats find forever homes. A true animal lover, he has many positive reviews about his custom-made catios.
All Critters Great And Small
As well as making custom-made cages for cats and other animals All Critters Great And Small also offers pet sitting and boarding services in Katy, Texas.
They seem to make smaller-sized cat enclosures but have some interesting designs made for past clients including a police box design and another one on wheels.
Catbitats, with a thoughtful name that takes a bit of practice and is explained fully on the website, makes catios and also small dog enclosures in the region of Phoenix, Arizona.
The owners of the catio builders family business, Dwayne and Kelly, started the business after building their own catio at home for their pets. Their portfolio is overflowing with all kinds of wonderful catio designs. The website is full of interesting information about catios, cat health and wellness and fun cat facts.
Summary Of Catio Builders
As you can see there is a huge collection of cat lovers who have wild skills in building catios with creative flair. You could easily become a little catio-obsessed after scrolling through their portfolios of amazing work.
If you are hiring a builder to make a custom-made catio then you can draw inspiration from anywhere and personalize the catio to reflect your cat's personality and nature.
Work with your builder to make a dream catio that is quirky, cool, themed, stylish or plain wacky. The options are endless.
When choosing a catio builder be sure to check out testimonials, portfolio and ask questions about important issues that might include insurance, time frames, payment terms and any possible extra costs. While the builders on this list all specialize in catios you can also hire a regular builder to make your kitty catio.
Many of these catio builders are super busy and even have waiting lists with animal-loving clients who want to make their cats happier and healthier by adding a catio to their home.
Other articles on this site that you might be interested in if you enjoyed this include:
Your First Catio: 10 Essential Steps
Building Your Cat A Window Catio For Less Than $100.00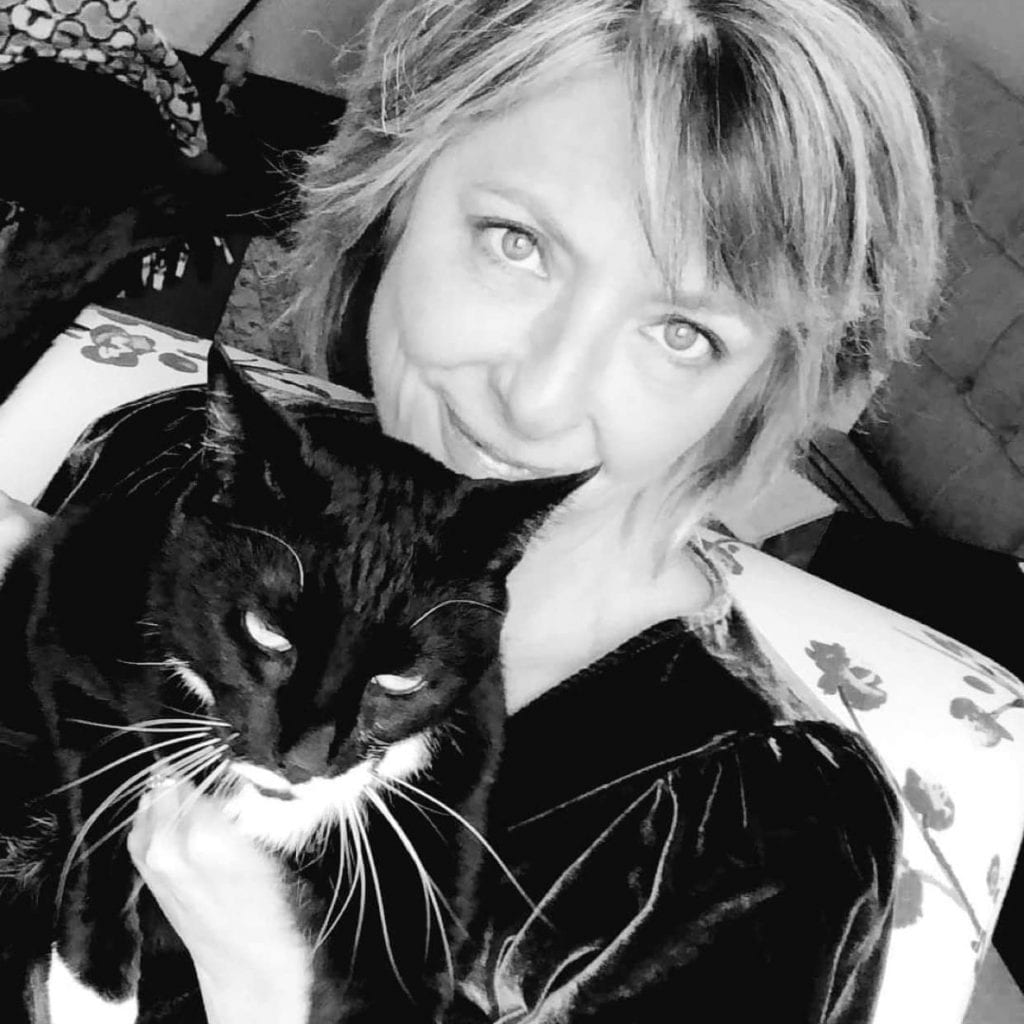 Lisa is the Founder of Kritter Kommunity and the Inventor of the Kritter Kondo, an outdoor portable catio. She also designed the Pet Lodge, an outdoor pet pen for traveling cats and dogs. Lisa writes for Kritter Kommunity frequently and is also a regular contributor at Catington Post. Lisa is owned by her Tuxedo male cat Finnegan who also has his own Facebook page.
The latest blog posts are below.