A cat's claws are unlike human nails, even though they are both of Keratin. The feet of cats can be extended and retracted with the aid of specialized muscles, ligaments, and tendons within the body of cats. This explains why a cat's claws are barely visible most of the time. This post is all about the anatomy of a cat claw.
In this article, you'll learn:
What happens when claws come out?
Should you declaw your cat?
Overview
A normal cat seldom extends her cat claws except when she needs to grab something or she is in a full-out stretch. A cat will also release the little daggers when he is purring!
Cat Claw Diagram
Here is a rough cat diagram for you to see a good understanding of your cat. The cat nail (white area, AKA cat claw), the quick (pink area), and the claw's cuticle are the basics of the cat claw structure, as seen on any average house cat.
Contrary to what most people think, a cat's claws aren't entirely out of sight even when retracted, the tip of her claws never go in, they're always there, just hidden under her fur.
What Happens When Claws Come Out?
If and when a cat chooses to use her claws, she pulls a tendon that immediately extends her feet to full length. The movement of the nails of a cat extending and retracting is quite similar to when humans stretch out or fold their fingers. The foot bone of a cat – its phalanges and metacarpal bone are equivalent to the bones in the hands of humans.
The cat's claw, or Talons, is a scythe-shaped appendage attached to the toe's end bone. Looking closely at a cat's claw, you should be able to notice the pink interior of its claw – this area is known as the quick. The quick supplies blood to a cat's claws and comprises nerves, tissues, and blood vessels. Unlike humans' nails, cats' claws grow directly from their bones. The cat's claws help perform the following functions: climbing, scratching, digging, walking, balance, self-defense, and clutching down on prey.
Should You Declaw Your Cat?
Declawing your cat will have a terrible effect on the feline as she's a digitigrade. When cats walk, they do so on the tip of their toes/claws. Cats that are declawed will have a hard time balancing typically and walking correctly.
Other serious problems associated with declawing are Bleeding, Infection, Bone protrusion into the pad of the cat paw, Lameness, and Behavioral problems such as litter box lapses and biting.
And by the way, you should consider better alternatives to declawing. It may cost you a few dollars to get any of these tools but trust me, you and your cat will greatly benefit from them: You can get your cat a scratching post and work to encourage your kitty to use the tool for scratching instead of your costly furniture. A cat scratcher lounge is also a perfect alternative, providing your kitty with a comfortable resting place.
A cat's claws are an essential part of her body.
There is no point declawing your cat's nails, but if you feel something needs to be done to save your furniture, then trimming should be done instead and only once in a while, as the claws of cats get worn out on their own from constant walking and claw chewing.
A cat has feet to help her play and enjoy her scratching instinct. Understanding the anatomy of your kitty cat's claws can help you understand why she acts the way she does and has such feline tendencies!
Conclusion
This article discusses the unique anatomy of a cat's claws in comparison to human nails. Both are made of Keratin, but a cat's claws can be extended and retracted with specialized muscles, ligaments, and tendons within their body. This is why a cat's claws are often not visible. The post focuses on explaining the anatomy of a cat claw.
Lisa Illman is the Founder of Kritter Kommunity, LLC. She has a tuxedo adult cat and has had him since he was a baby kitten. Before her cat Finnegan, Lisa had had two FIV-positive cats for over a decade. They inspired Lisa to invent a cat enclosure and a portable catio so they could safely sit outside and enjoy fresh air and sunshine. Lisa had a Poodle and a parakeet growing up. She currently loves to pet-sit for her neighbors' dogs and cats.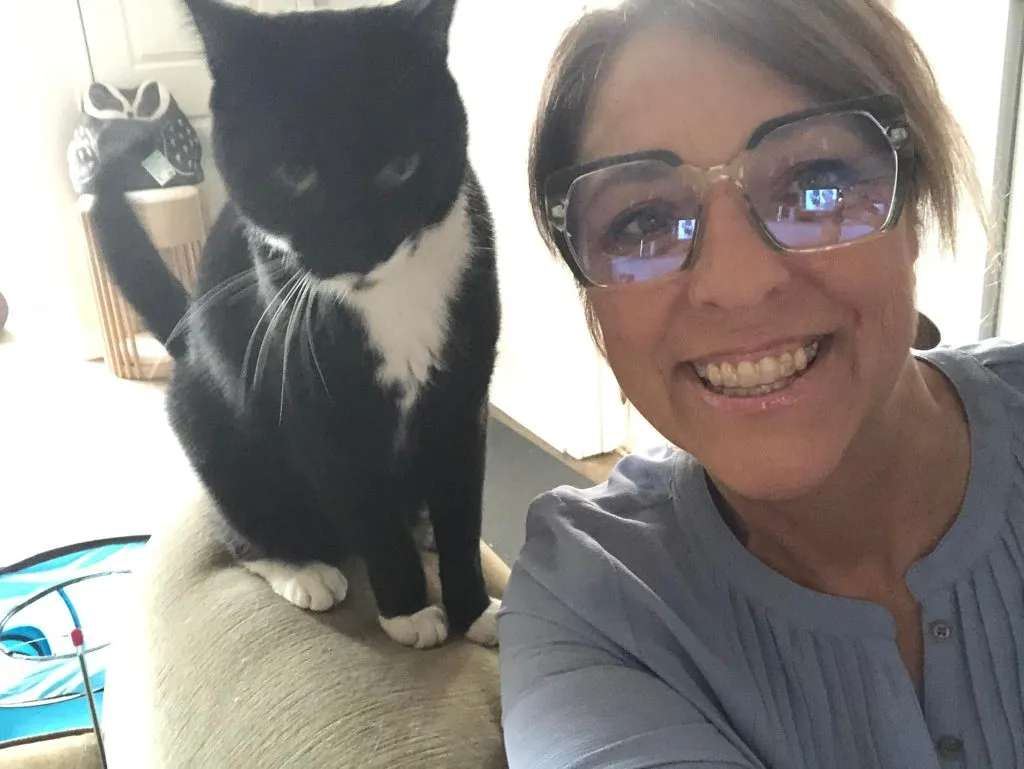 Why is Kritter Kommunity Your Trusted Partner?
Our mission at Kritter Kommunity is to promote happy and healthy lives for pets and their owners. We specialize in Barkitecture and designing tips for pet-friendly homes, utilizing the natural instincts of cats, dogs, and small critters to create a home life that pets and people love. From tips on pet care to reviews on pet toys and furniture, we are a go-to source for all things cats, dogs and small critters. Join us in celebrating the joys of pet ownership and providing the best possible lives for our furry friends.