🐱🏡 The 2023 Catio Tour: A Cat Lover's Dream Event! 🏡🐱
Calling all cat lovers! Are you ready for an adventure-filled day exploring the wonderful world of catios? Look no further than the 2023 Catio Tour! Get ready to embark on a feline-friendly journey like no other, discovering a variety of catios that cater to every cat's whim and fancy. From DIY creations to professionally built masterpieces, this tour promises to be a delightful experience for both you and your furry friends.
The Catio Tour offers two distinct experiences: an In-Person Tour and an Online Video Tour. Both options have their own unique charm, and each guarantees a purr-fectly good time! So, grab your fellow cat enthusiasts and let's dive into the exciting details of this year's Catio Tour!
CATIO TOUR POEM PORTLAND
🐾🌟 Come, Cat Lovers, one and all,
To the 2023 Catio Tour's grand call!
A feline adventure like never before,
With catios and kitties to adore!
🐱🏡 Cat lovers unite, don't delay,
In-Person or Online, choose your way!
Touring catios of dreams come true,
Built with love, just for me and you!
🏠🎥 Explore DIY and pro-built sites,
Witness kitties' joy, their feline delights!
From cozy nooks to climbing trees,
Each catio a haven, a true cat's tease!
🐾💫 At Alberta Abbey, gather 'round,
More catios to see, they'll astound!
Adventure Cats and tales of might,
Join the movement, take flight!
👕📚 Grab a tee shirt, wear it proud,
A memento, cheering aloud!
With Guidebook in hand, we'll learn and play,
Planning our catios, come what may!
🎟️🐾 Register now, secure your spot,
A cat lover's dream, don't be a dot!
September's surprise, the Guidebook's gleam,
Catios galore, in this cat paradise dream!
🐱🎉 So come, my friends, let's meow and cheer,
The 2023 Catio Tour is finally here!
A day of joy, laughter, and fun,
For cats and cat lovers under the sun!
🌞🏡 See you there, with hearts full of glee,
In a world of catios, wild and free!
An unforgettable adventure we'll share,
On the Catio Tour, with love and care! 🐾💕
🏠 The In-Person Tour 🏠
On the In-Person Tour, you'll visit six different catio sites spread across the charming neighborhoods of NE and SE Portland. As you make your way from one catio to another, you'll have the pleasure of meeting the homeowners who have lovingly designed these feline paradises for their beloved cats.
Catio Stories
Listen to their stories and gain valuable insights into their catio-building experiences. You'll get to ask questions about the challenges they faced, the materials they used, and even what they'd do differently if they were to build another catio. These firsthand accounts will surely inspire you to create your own slice of feline heaven at home.
Catio Photo Shoot
But that's not all! As you snap photos and take notes, you'll gather ideas and inspiration to improve your existing catio or plan a brand-new one for your cat. Whether it's adding more climbing opportunities, cozy hideouts, or playful toys, the possibilities are endless!
Meet & Greet
And of course, the highlight of the In-Person Tour is meeting the star residents themselves – the adorable cats! Witness them gracefully roam their private domains, showcasing their favorite spots and playfully interacting with their human companions. Be warned, feline participation can never be guaranteed, but their presence will undoubtedly warm your heart.
🎥 The Online Video Tour 🎥
If you prefer a more laid-back approach, the Online Video Tour is the perfect choice. Discover a whole new set of catios, different from those on the In-Person Tour, all from the comfort of your home. Immerse yourself in a virtual experience that brings the magic of catios right to your screen!
Video Catio Tour
Through a curated selection of videos, you'll get an exclusive peek into these extraordinary catio creations. Marvel at the ingenuity behind each design and get inspired by the variety of ideas you can incorporate into your own cat paradise.
Q & A
But that's not all – the Online Video Tour will be followed by an engaging Q&A session with the homeowners and even a seasoned catio builder! This is your chance to dive deeper into the design process, understand the materials used, and gather valuable tips and tricks to turn your catio dreams into reality.
🎉 The Alberta Abbey Stop 🎉
The Alberta Abbey stop is the cherry on top of this cat-tastic adventure. Here, you'll be treated to an expanded Catio Tour experience, with even more catios to ogle over. Witness some of the amazing catios showcased on the Online Video Tour and indulge in more Q&A sessions with the experts.
Portable Catios
Are you unsure about committing to a permanent catio structure? No worries! The Alberta Abbey will have a collection of portable and prefabricated catios for you to explore. Discover flexible options that suit your needs and cater to your cat's ever-changing preferences. (Pssst, the Kritter Kommunity Pet Lodge will be there!)
Meet the builders and gather insights from seasoned experts who specialize in crafting the ultimate cat-friendly spaces. You'll also get a chance to examine a display of catio fencing materials, complete with the pros and cons of each type, helping you make informed decisions when building your own catio.
Purrfect Pots For Catios: A Guide To Choosing The Right Material
This Company Is Devoted To Building Catio Cat Enclosures
Should A Catio Have Litter Box?
10 Tips For Choosing The Best Cat Enclosure Furniture For Your Catio
When Building Catios Is Not An Option [2021 Updated]
Building Your Cat A Catio For Less Than $100
Your First Catio: 10 Essential Steps To Success
Everything You Need To Know About Outdoor Cat Tunnels In 2023
The Essential Directory For Jaw-Dropping Window Catio Kits
Adventure Cats Lewis and Clark
But wait, there's more! Adventure Cats Lewis and Clark will be making a special appearance. These fearless feline pioneers have embarked on numerous outdoor escapades, proving that adventure knows no bounds for our furry friends. Learn about the Adventure Cat movement and see if you and your feline companion are ready to join this exciting trend.
💫 The Catio Tour Afternoon Extravaganza 💫
In the afternoon, the festivities continue with an array of captivating activities. Join your fellow catio admirers as you indulge in snacks and drinks available for purchase. Let the camaraderie of fellow cat lovers fill the air as you exchange stories and experiences, bonding over your shared love for these fascinating felines.
At 1 PM, get ready to be blown away by an exclusive Adventure Cats video and a lively Q&A session with a local cat dad and his two fearless Adventure Cats. Witness their thrilling journeys and perhaps gather inspiration for future escapades with your own four-legged companion.
The afternoon will also feature more videos and Q&A sessions with homeowners and a catio builder. Delve deeper into the world of catios as you learn from those who have already experienced the joys and challenges of creating these fantastic feline habitats.
👕 Catio Tour Tee Shirt 👕
Don't forget to snag a limited-edition Catio Tour tee shirt! Show off your love for all things catios and wildlife-friendly by proudly wearing this stylish shirt. The tee shirt will serve as a cherished memento of your unforgettable Catio Tour experience.
📚 The 2023 Guidebook 📚
Worry not about forgetting any of the fantastic details. You'll receive the 2023 Guidebook, complete with all the catio locations and pertinent information. This guidebook will be your go-to resource, featuring Quick Facts that include catio materials, cost, and everything you need to know to build your dream catio.
🎟️ Registration Details 🎟️
Registration for this unforgettable event is non-refundable, so mark your calendars and make sure to secure your spot early. The Catio Tour is a self-guided experience, giving you the freedom to explore at your own pace and fully immerse yourself in the world of catios.
Remember to double-check your email address while registering, as you'll receive important updates and the Guidebook link via email at the beginning of September.
🐾 The 2023 Catio Tour: A Celebration of Cat-Enriched Lives! 🐾
Join us on this cat lover's dream journey, where every catio tells a unique story and every cat finds a safe and stimulating haven. Whether you're a seasoned catio enthusiast or a curious beginner, the 2023 Catio Tour promises to be an enriching and enlightening experience.
Don't miss the chance to explore stunning catios, learn from experts, and celebrate the joy of cats and wildlife living in harmony. Mark your calendars, grab your fellow cat lovers, and get ready for an unforgettable day of purr-fection!
So, are you ready to embark on this feline adventure? Register now for the 2023 Catio Tour and be a part of the most thrilling cat lover's event of the year! Meow-velous memories await! 🐾🏡🐱
Lisa Illman is the Founder of Kritter Kommunity, LLC. She has a tuxedo adult cat and has had him since he was a baby kitten. Before her cat Finnegan, Lisa had had two FIV-positive cats for over a decade. They inspired Lisa to invent a cat enclosure and a portable catio so they could safely sit outside and enjoy fresh air and sunshine. Lisa had a Poodle and a parakeet growing up. She currently loves to pet-sit for her neighbors' dogs and cats.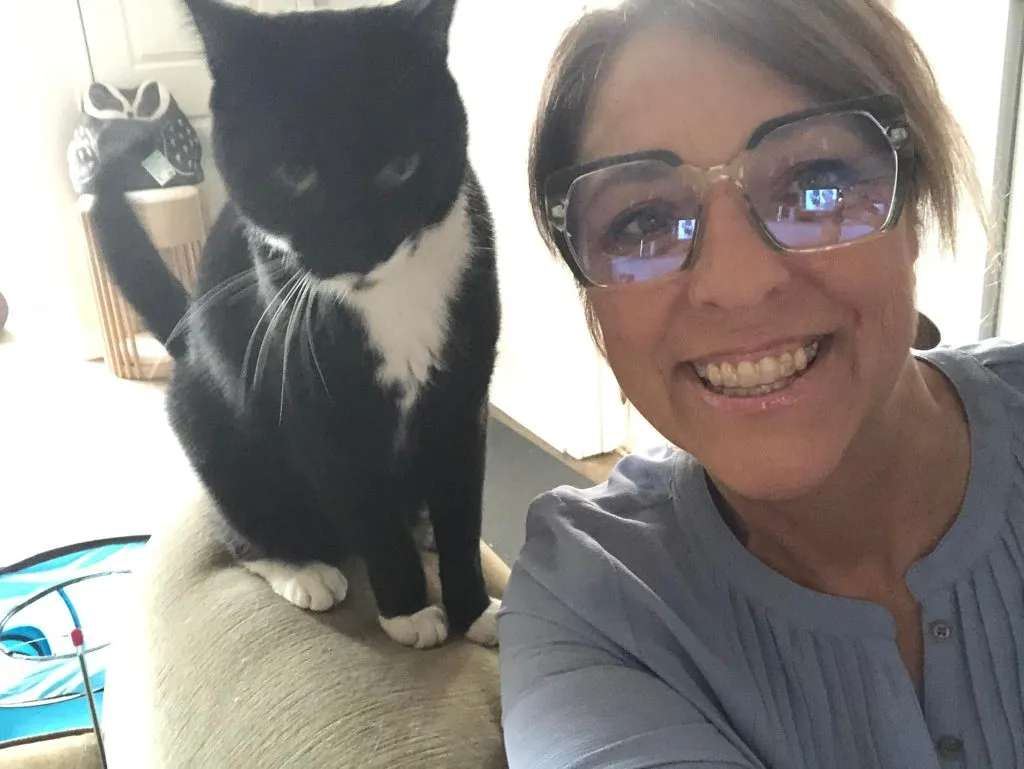 Why is Kritter Kommunity Your Trusted Partner?
Our mission at Kritter Kommunity is to promote happy and healthy lives for pets and their owners. We specialize in Barkitecture and designing tips for pet-friendly homes, utilizing the natural instincts of cats, dogs, and small critters to create a home life that pets and people love. From tips on pet care to reviews on pet toys and furniture, we are a go-to source for all things cats, dogs and small critters. Join us in celebrating the joys of pet ownership and providing the best possible lives for our furry friends.