Cat trees that look like real trees, often referred to as realistic cat trees, are becoming increasingly popular among pet owners as they provide a more natural and aesthetically pleasing option for their cats' climbing and lounging needs. Not only do these trees provide cats with a stimulating and comfortable environment, but they can also be used to create a biophilic style in the home. This post is all about bringing nature inside with Biophilic design techniques and realistic cat trees.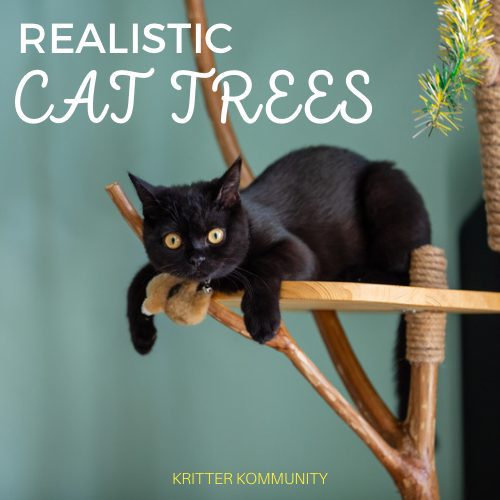 What is Biophilic Design?
Biophilic design is a concept derived from the study of biophilia, which states that humans have an innate connection to nature and the natural environment.
By incorporating elements of nature into the home, such as a realistic cat tree, it is believed that people can form a stronger connection with their environment, promoting physical and mental wellbeing.
What are the Benefits of Biophilic Design?
Biophilic design seeks to bring the natural elements of the outdoors into our homes, offices, and other spaces. This type of design has been proven to have numerous benefits, such as improving mood, increasing productivity, and reducing stress.
It's no wonder that cats, who have a natural affinity for nature, love these natural elements as well.
Incorporating Realistic Cat Trees
Realistic cat trees provide an ideal way to bring a sense of nature into the home.
Although they are not the real thing, just the look of a tree gives you and your feline an outdoor feel. Artificial cat trees can be aesthetically pleasing, naturally stylish and you do not have to worry they are poisonous to your cat.
Not only do they provide cats with a stimulating environment in which to play, they also look great, with their realistic leaves and branches.
When selecting a realistic cat tree, it is important to consider the size of the tree in relation to the size of the room. For example, a small tree would be ideal for a small room, whereas a larger model would be better suited to a larger space.
It is also important to consider the particular needs of the cat when selecting a realistic cat tree. Some models may have more levels and perches, or be taller, than others.
On2 Pets Realistic Cat Tree Made in USA
This Cat Activity Tree is the perfect way to give your cat an area of exploration, exercise, and relaxation. Designed with love and care in the USA, our cat tree is made with a combination of state-of-the-art CNC machines and the skilled hand of local artisans, ensuring the highest quality of craftsmanship.
Realistic cat trees can also be used to create a biophilic style in the home. Natural materials such as wood, stone and bamboo are often used, which can help to create a calming and comfortable atmosphere in the home. Neutral tones and muted colors, such as greens, browns and greys, are also often used to create a more natural feel.
Autumn On2 Pets 4ft Cat Tree with Leaves Made in USA
In addition to creating a biophilic style, realistic cat trees can be a great way to add interest to a room. They can be placed in a corner or used to create a feature wall or corner for example. They can also be used to add some height to a room, providing a nice standalone or accentuated with pictures and wall art.
When designing a cat-friendly home, it's important to incorporate elements that will make cats feel safe and comfortable. Cat trees that mimic the look of a real tree are a great way to do this.
They provide cats with a safe place to climb and explore, while also giving them the feeling of being outdoors. Not only do these cat trees help cats to feel secure, but they also look great in any home.
Other Cat-Friendly Design Elements
In addition to cat trees, there are also eco-friendly cat toys and cat nests available. Eco-friendly cat toys are made from natural materials, such as cardboard, which are free from toxic chemicals and are safe for cats to play with. Eco-friendly cat nests are also a great way to give cats a cozy place to sleep that is both comfortable and environmentally friendly.
Concluding Purrs
Overall, biophilic design is a great way to bring the natural elements of the outdoors into your home while also providing your cats with a safe and comfortable environment. With cat trees that look like a tree, eco-friendly cat toys, and eco-friendly cat nests, you can create a cat-friendly home that looks great and allows your cats to enjoy the natural elements of the outdoors.
For other cat furniture design reading material, here is our list for you!
For designing with cat shelf ideas, check out our suggested reading list:
Cat Shelves With Feeding Stations: The Perfect Place To Feed Your Kitty Cat
How Biophilia Designing Can Improve Your Pet's Well-Being
Floating Cat Shelves: Elevating Your Feline's Comfort And Style!
Cat Window Perch Ideas Your Cat Will Obsess Over
Rock Your Cat's World: Curved Cat Shelves
The Prettiest Macrame Cat Hammocks I Have Ever Seen
<