Description
Kritter Kondo Deluxe by Kritter Kommunity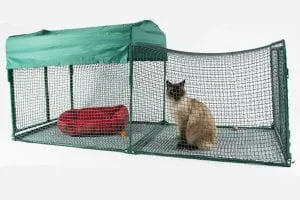 While the Kritter Kondo Deluxe is out of stock, be sure to have a look at these cat enclosure alternatives.
Additional Information
This Company Is Devoted To Building Outdoor Cat Enclosures, Tunnels And Catios In Portland, OR
Should A Catio Have Litter Box?
10 Tips For Choosing The Best Cat Enclosure Furniture For Your Catio
When Building Catios Is Not An Option [2021 Updated]
Building Your Cat A Catio For Less Than $100
Your First Catio: 10 Essential Steps To Success
Catio Accessories: The Essential Guide to Making Your Catio Purr-fect 
When I lived in Center City Philadelphia, I desperately wanted my kitty cats to come outside on the patio and enjoy fresh air and sunshine. Even though there was an iron gate surrounding our back courtyard, they could slip under and run out into the busy street. I just didn't want to risk it. I looked into having a catio built on which would have been my ideal. City codes prevented me from being able to do this. It got to the point being outside in my awesome courtyard was no fun because my cats would meow at me from the window. So I got to work. I started investigated my options.
This was before catios were all the rage and there were only a few options on the market. I tried an outdoor cat enclosure that I found online and I loved it (so did my kitty cats). There was one problem though. I broke out in a sweat trying to put it together. There were stakes and poles that I had a really hard time assembling. It also came with stakes to put in the ground, but I had a patio setting. I was always a little concerned about the sturdiness and foundation without the stakes.
Wanting to get it 'right' with the cat playpen, I started to design my own. I knew what I wanted. An outdoor cat enclosure my cats would love and I could easily set-up and take down. A portable catio that would fold up and fit into it's own carrying case for traveling. I could articulate the features of my portable catio dream, but I needed help building it. With the assistance of an engineer, I finally had something that would work better than the original cat enclosure I had bought online. The engineer even built it for me. When I put it in my courtyard with my cats inside, people who walked by went crazy wondering how they could get one too. This is when I knew other cat lovers might need a portable catio too and a year later that cat playpen ended being the first prototype of an entire product line, the Kritter Kondo.
I hope you and your cats enjoy the Kritter Kondo portable catio as much as we do! –Lisa Illman
The Kritter Kondo Deluxe is an outdoor pet enclosure ideal for indoor cats and small dogs. The Kritter Kondo Deluxe collapses flat with the simple release of a few pins; no assembly required. A shade canopy is built-in to offer a shady side and a sunny side for your pet to enjoy. The Kondo comes with its own carrying case which has a shoulder strap and handles for easy mobility and storage. The interior of the carrying case has three pockets and a zipper pouch for toys, food, blanket, and bed.
FEATURES
Collapsible pet enclosure
Outdoor safe and water-resistant
Collapsible shade canopy (attached to Kondo)
Very little assembly
No stakes for the ground
Lightweight and mobile
Removable double french doors
Door on either end for easy access to pet
Great for cats and dogs 35lbs and less too
Ideal for patios, yards, courtyards, and balconies
Includes carrying case
Set-Up Dimensions: 2'H x 2.5W x 6'L
Safety: Do not leave your pets outdoors unattended. This outdoor cat enclosure is meant as a temporary setting only. It cannot protect your pets from predators. As with any outdoor pet product supervision of your pet when in use is recommended. These products are not toys and should not be used by infants or children, for domestic cats & dogs only, not for hybrids, ferals, wild animals or pets that chew.
Read more about the inspiration behind these innovative pet products.