Cats need sunshine and fresh air just as much as humans do, and a catio can provide them with the perfect environment to enjoy the outdoors safely. Portable catios are a great option for people who travel or have catio restrictions, as they can be easily set up and taken down. This post is all about cat approved portable catios of 2023.
Portable Catios for Feline Fresh Air & Sunshine
Much like a portable grill, they are also convenient for those with smaller spaces to work with. When choosing a portable catio, consider factors such as size, durability, and ease of assembly. With so many options available, it's important to do your research and select the best one for your specific needs.
Don't worry, we have you covered (in cat hair). Here is a list of ideal picks for any kitty cat lover and a description of their best features and benefits.
So without further ado, let's pounce in!
Kritter Kommunity Pet Lodge
Cats love to be outside in the sunshine, but it can be difficult to provide a safe and secure outdoor space for them. That's where the Pet Lodge Portable Catio comes in.
RELATED: Catio Ideas That Will Make You Build Your Own
This cat house is perfect for traveling with your furry friend, setting up in your yard, or even using inside as a cozy fort. With its collapsible design and included carrying case, it's convenient and easy to use.
Features
The Pet Lodge Portable Catio is packed with features that make it ideal for your feline friend. It's portable and collapsible, so you can take it with you wherever you go. The carrying case even has a clear pocket for your cat's toys, food, and catnip. The catio comes with four anchors to keep it super stable outside, and it has a roll-up top door and front door for easy access. The leopard print design is super cute, and it collapses flat in just five seconds.
RELATED: New Season, New Look: How to Use Spring Colors to Brighten Up Your Cat Room
Dimensions
The overall dimensions of the Pet Lodge Portable Catio are 22″ H x 20″ W x 30″ L. The door is 20″ H x 17″ W, and there's a shelf at 22″ H. The overall product weight is just 7lb.
Product Details
The Pet Lodge Portable Catio is water-resistant, so you don't have to worry about your furry friend getting wet. It's designed for medium-sized cats and small dogs, and it requires no assembly.
If you're looking for a safe and secure outdoor space for your cat or small dog, the Pet Lodge Portable Catio is the perfect solution. With its portable and collapsible design, you can take it with you wherever you go, and its stakes for the ground make it great for yards. Your furry friend will love basking in the sun puddles and enjoying the outdoors.
Meet the Purrfect Playtent, the ultimate portable outdoor cat enclosure that turns any location into a personal cat haven. If you're a cat lover, you know that our feline friends crave the great outdoors, but keeping them safe is always a top priority. That's where the Purr-fect Fence's Purrfect Playtent comes into play – pun intended!
Setting up a cat haven on the go has never been easier. With this ingenious product, you can take your kitty to a park, a friend's backyard, or even the beach and provide them with a safe, enclosed space to enjoy the fresh air and sunshine. This mobile cat cate is the solution for pet parents who want their fur babies to explore the outdoors while keeping them out of harm's way.
The Purrfect Playtent isn't just another ordinary cat cage; it's a habitat haven for your feline friend. With its fast and straightforward setup, you can have a catio anywhere you like in just a matter of seconds. No more struggling with cumbersome, heavy cages or dealing with complicated installations. The Purrfect Playtent is a breeze to assemble and disassemble, making it the perfect choice for a spontaneous outdoor adventure with your kitty.
But the benefits don't stop at portability and ease of use. The Purrfect Playtent is designed with your cat's comfort and safety in mind. Its durable materials and secure enclosure ensure that your feline companion can enjoy the outdoors without any worries of escape or potential dangers from the outside world. This cat enclosure is also versatile enough to use indoors, so you can create a fun and safe play area for your cat even when the weather isn't cooperating.
The Purrfect Playtent is the perfect way to provide your cat with the ultimate outdoor experience while keeping them safe and sound. It's a game-changer for any cat owner looking for a hassle-free way to give their pet the adventure they deserve. So, why wait? Add this fantastic product to your cart and give your kitty the portable outdoor haven they've been dreaming of!
Outback Jack Portable Catio with Cat Tunnel
Outdoor time is essential for cats, but the dangers of predators and other outdoor hazards can make it difficult to let your feline friend enjoy the sunshine.
That's where the Outback Jack Portable Catio comes in – providing over 30 square feet of safe play space for cats and other small pets.
The catio is designed to be used both indoors and outdoors, with breathable mesh fabric to protect pets from predators and bugs.
It's lightweight and portable, making it easy to take with you on camping trips or to the beach, and it comes with a cat tunnel for even more playtime fun.
With the Outback Jack Portable Catio, your cat can safely enjoy a day in the sun, whether they're on your balcony, deck, or lawn.
It's the perfect way to give your indoor cat a taste of the great outdoors, without any of the risks.
Mole Bean Portable Catio
The Mole Bean cat enclosure is a portable catio that can be easily set up in your backyard, patio, or even indoors. It is made of durable materials that are designed to withstand harsh weather conditions and protect your cat from predators.
The enclosure is designed with an open-air mesh that allows for optimal ventilation while keeping bugs and insects out.
One of the standout features of the Mole Bean cat enclosure is the tunnel that comes with it. The tunnel is made of a lightweight material that can be easily assembled and disassembled. It is designed to pop up quickly, making it a great option for travel.
Whether you are going on a road trip or just visiting a friend's house, the Mole Bean cat enclosure can come with you.
The tunnel is also a great way to provide your cat with more space to play and explore. It is designed with multiple entry points that allow your cat to climb in and out, keeping them engaged and entertained.
The tunnel can be connected to the main enclosure, providing your cat with even more room to roam.
Kitty City Portable Catio
The Kitty City outdoor cat enclosure is made of a durable nylon mesh that lets in plenty of fresh air while giving you a clear view of your pet's playtime activities whether it's indoors or out.
The mesh is strong enough to withstand the occasional claw climb and energetic play.
This feature provides your cat with a safe and enclosed outdoor experience while still being able to breathe in fresh air.
Spots to Hide and Snooze
The Kitty City outdoor cat enclosure comes with rearrangeable cubby cubes that offer a variety of ways to keep your cat engaged and entertained.
RELATED: Small Cat Room Ideas
Each cube provides a perfect spot for your feline to curl up and get away from the action.
Whether your cat wants to take a nap or simply hide from you, the cubby cubes provide endless opportunities for your cat to relax and enjoy its own private space.
Great for Multi-Cat Homes
If you have more than one cat at home, the Kitty City outdoor cat enclosure is an excellent option for you. The mesh playset provides ample room for several cats to run, hide, and chase one another. Its relatively small footprint in your home means that you can provide a large play area for all your cats without taking up too much space.
Easy Entrance
The Kitty City outdoor cat enclosure comes with a zip door on the side that makes it easy for you to get in and out of the play-set.
This feature is especially handy if you have a cat that is curled up and doesn't want to come out for dinner.
RELATED: Concrete Pots: The Perfect Addition To Your Catio
Endlessly Expandable
The Kitty City outdoor cat enclosure is endlessly expandable. You can use tunnels to zip this piece together with other Kitty City mesh play-sets to create an endless number of ways to keep playtime fresh and exciting for your cat.
The Kitty City outdoor cat enclosure is an excellent space for your feline to bask in the sun and enjoy the fresh air.
Its durable mesh material, rearrangeable cubby cubes, and easy entrance make it an ideal playset for your furry friend.
Whether you have one cat or several, this play-set provides ample room for your feline friends to run, hide, and chase one another.
Its expandable nature means that you can always find new ways to keep your cat entertained and engaged.
RELATED: Keeping Cool Cats: The Role of Shade in Your Cat's Catio
Catios are a great way to allow cats to enjoy the outdoors safely, and portable catios are a convenient option for those who travel or have catio restrictions. This post focuses on the top cat-approved portable catios of 2023.
In conclusion, it's crystal clear that our feline friends deserve their fair share of sunshine and fresh air, just like us humans do. And when it comes to offering them a safe and enjoyable outdoor experience, portable catios are the purrfect solution. These versatile enclosures allow your cats to bask in the beauty of the great outdoors without worrying about their safety.
RELEVANT: Exploring Cat Enclosures for Your Feline Friends
Whether you're a globetrotter with your furry companions or your living space comes with certain catio restrictions, portable catios are the way to go. Their quick and easy setup and takedown make them a convenient choice for all cat lovers.
So, if you're on the hunt for the best portable catios of 2023, you're in the right place. These cat-approved enclosures are the ideal way to bring the great outdoors to your beloved pets, ensuring that they get the sun and fresh air they need while keeping them safe and sound. Give your cats the best of both worlds with a top-notch portable catio! Your furry friends will thank you for it, and you'll enjoy peace of mind knowing they're in a secure, outdoor haven.
Lisa Illman is the Founder of Kritter Kommunity, LLC. She has a tuxedo adult cat and has had him since he was a baby kitten. Before her cat Finnegan, Lisa had had two FIV-positive cats for over a decade. They inspired Lisa to invent a cat enclosure and a portable catio so they could safely sit outside and enjoy fresh air and sunshine. Lisa had a Poodle and a parakeet growing up. She currently loves to pet-sit for her neighbors' dogs and cats.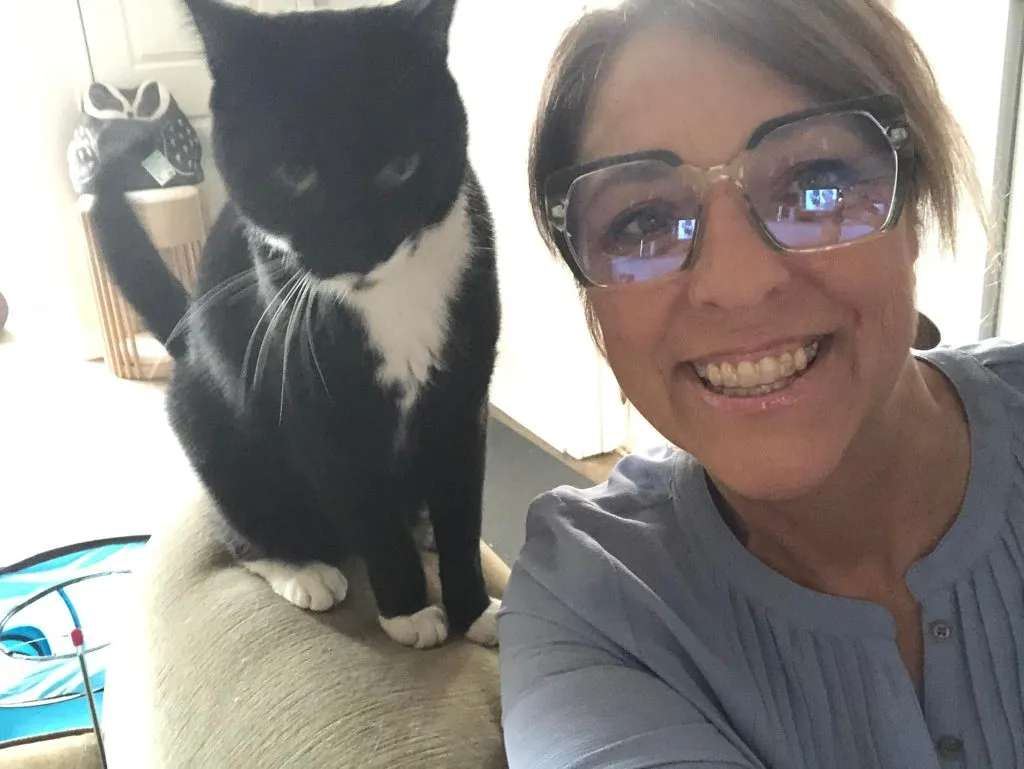 Why is Kritter Kommunity Your Trusted Partner?
Our mission at Kritter Kommunity is to promote happy and healthy lives for pets and their owners. We specialize in Barkitecture and designing tips for pet-friendly homes, utilizing the natural instincts of cats, dogs, and small critters to create a home life that pets and people love. From tips on pet care to reviews on pet toys and furniture, we are a go-to source for all things cats, dogs and small critters. Join us in celebrating the joys of pet ownership and providing the best possible lives for our furry friends.