Natalie Rice was devastated when she found out that her 4-year-old daughter had a severe peanut allergy. Without proper caution, her daughter could easily experience a severe reaction to even the trace amounts of peanuts that may be present in certain items due to cross-contact. This post is all about a miracle Golden Retriever who literally sniffs out contact with peanuts.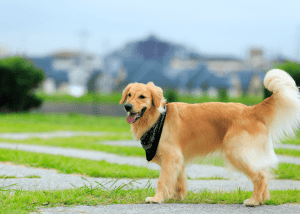 Stand down kitties, this one is humbling.
In order to help her daughter feel more secure, Natalie decided to get an allergen-detection dog. This golden retriever has been a lifesaver for Natalie's daughter, as she is able to detect if an item has come into contact with peanuts.
Not only has this furry companion given Natalie's daughter the security she needed, but she also brought joy and happiness back into her daughter's life. After facing bullying in the second grade due to her allergy, this golden retriever has been a source of comfort and friendship.
The pets section of People Magazine has the entire story.
The Amazing Talent of Detection Dogs
Detection dogs are widely recognized as the most accurate and reliable form of scent detection. Scientists at Auburn University have even determined that dogs' scent recognition abilities can measure odors in parts per billion. It is believed that approximately one-third of a dog's brain is dedicated solely to scent recognition.
RELEVANT: COVID-19: Canines Excel With Dog Sniffing Out Virus In Human Sweat
Even the most talented detection dogs in the world may miss traces of odor occasionally. Dogs are human too, meaning that they are not immune to making errors. They can have off days, become ill or be distracted just like people. Despite the occasional mistake, detection dogs remain the best resource available.
RELEVANT: The Anatomy of a Dog Sniff
Summary
Natalie Rice and her family are incredibly lucky to have found this miracle Golden Retriever. This amazing dog is able to save her daughter from severe allergic reactions due to cross-contact, and it's truly a blessing. Having this special dog in the family has made life a lot easier for them and has taken away the worry of her daughter being exposed to peanuts. This story highlights the power of the human-animal bond and the impact that animals can have on our lives.