Macrame cat shelves are the perfect combination of art and function. Not only do they add a unique and stylish touch to your living room, they also provide an enrichment to your cat's lifestyle. This post is all about macrame cat shelves.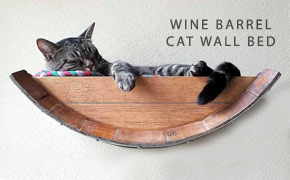 Macrame cat shelves come in a variety of styles and shapes that can be customized to fit any decor. From traditional to modern designs, there's something for every taste. They provide a safe, elevated spot for your cats to relax and watch their surroundings, while also adding a bit of extra storage space.
Benefits Of Cat-tastic Macrame Cat Shelves – The Purr-fect Home Decor!
I am so PAW-struck fro macrame cat furniture, especially the hammocks and shelves! Not only do they act like feline magnets, shops like Chic Boho Marcrame are creating jaw-dropping aesthetics sure to improve any cat lover's home.
One of my favorite aesthetics from Viktoria's collection (the owner of the upscale feline furniture store) is the 100% cotton piece below.
Place this in front of any window and watch your cat's lifestyle be upgraded 10x.
Here are some other benefits to incorporating macrame cat furniture into your home style and decor.
BOHO Style: Macrame cat shelves come in a variety of colors and patterns to add a unique, stylish touch to any room.
Cats Love Shelves: Cats love to climb and explore, and macrame shelves provide them with a secure and fun place to do this.
Easy to Install: Macrame cat shelves are easy to install, making them ideal for renters or anyone who doesn't want to drill holes in the wall.
Durable: Macrame cat shelves are made of durable materials that can hold up to your cat's weight and activity.
Eco-Friendly: Macrame cat shelves are made from natural materials, making them an eco-friendly choice.

Cats love elevated surfaces, and macrame cat shelves give them the perfect place to perch and survey their kingdom. It's also a great spot for them to sleep and play, without taking up too much space. By giving them a place to call their own, you can help reduce anxiety and create a calmer atmosphere for everyone in your home.
Get Creative and Hang Out with Macrame: KARCEEY Cat Hammock Shelf
Treat your cat to the ultimate lounging experience with KARCEEY's Large Macrame Cat Hammock!
This stylish gift is hand-woven from heavy-duty cotton rope and designed with a sturdy steel base. The finished product boasts intricate macrame and braided "O" ring loops at the top of the hammock for hanging.
The bed measures 18″ x 14″ and has a weight capacity of 50 lbs, so your cats can lounge safely and swing freely. And with two catnip-filled mats and an edible catnip toy included in the package, your kitty is sure to love their new spot to relax.
All the necessary hanging kits and instructions are also provided, so your cat can be cuddling up in their hammock in no time.
Not only will they add a unique and stylish touch to your living room, but they will also provide your cats with an enrichment to their lifestyle.
Purr-ty Up Your Home with Daley
This macrame braided cat bed is made of breathable woven fabrics, making it suitable for year-round use. In the summer, your cats will love its lightweight feel, helping them lose heat and keep cool. And in the winter, you can add a mattress to make it even cozier. The hard iron frame is strong enough to prevent your cats from biting it, and it can hold up to 45 pounds – so it's safe and durable.
What is macrame?
Macrame is a form of textile-making that uses knotting rather than weaving or knitting to create intricate patterns and designs. It is an ancient craft that has been practiced for centuries, and it is possible to create a wide variety of items from plant hangers to wall hangings to bags. With a few basic knots and a few basic materials, you can create beautiful works of art!
How can I style my macrame cat shelves?
Macrame can be used to add a boho, rustic, or vintage vibe to any room.
Macrame art looks great with shabby chic, modern, and coastal décor.
For a modern look, choose macrame pieces with clean lines and geometric shapes.
For a classic look, choose pieces with more intricate knotting and detailed patterns.
Macrame also goes well with mid-century, farmhouse, and eclectic styles.
Concluding Purrs
Macrame cat shelves are a unique and stylish way to provide your furry friend with a cozy spot to relax and sleep. Not only do they look great in any home, but they are also a practical and space-saving solution for kitty owners. With so many benefits that macrame cat shelves offer, what's not to love? Whether you're looking for a fun DIY project or a modern-day way to pamper your pet, macrame cat shelves are a great choice.
For designing with cat shelf ideas, check out our suggested reading list:
Cat Shelves With Feeding Stations: The Perfect Place To Feed Your Kitty Cat
How Biophilia Designing Can Improve Your Pet's Well-Being
Floating Cat Shelves: Elevating Your Feline's Comfort And Style!
Cat Window Perch Ideas Your Cat Will Obsess Over
Rock Your Cat's World: Curved Cat Shelves
The Prettiest Macrame Cat Hammocks I Have Ever Seen
<