If you're looking for the prettiest macrame cat hammocks, you've come to the right place! Macrame decor is a popular choice when it comes to BOHO designing, and these cat hammocks are the perfect way to incorporate some bohemian design into your cat furniture. Whether you're looking to design a feline cat wall or just want to give your cats a place to lounge, these macrame hammocks are sure to look great in any home.
ChicBoho Macrame
The beauty of these macrame cat hammocks lies in their intricate designs. Each one is handcrafted with unique patterns, making it easy to find one that fits perfectly with your design aesthetic. With their stylish bohemian look, these cat wall accessories are sure to draw attention from everyone who visits your home.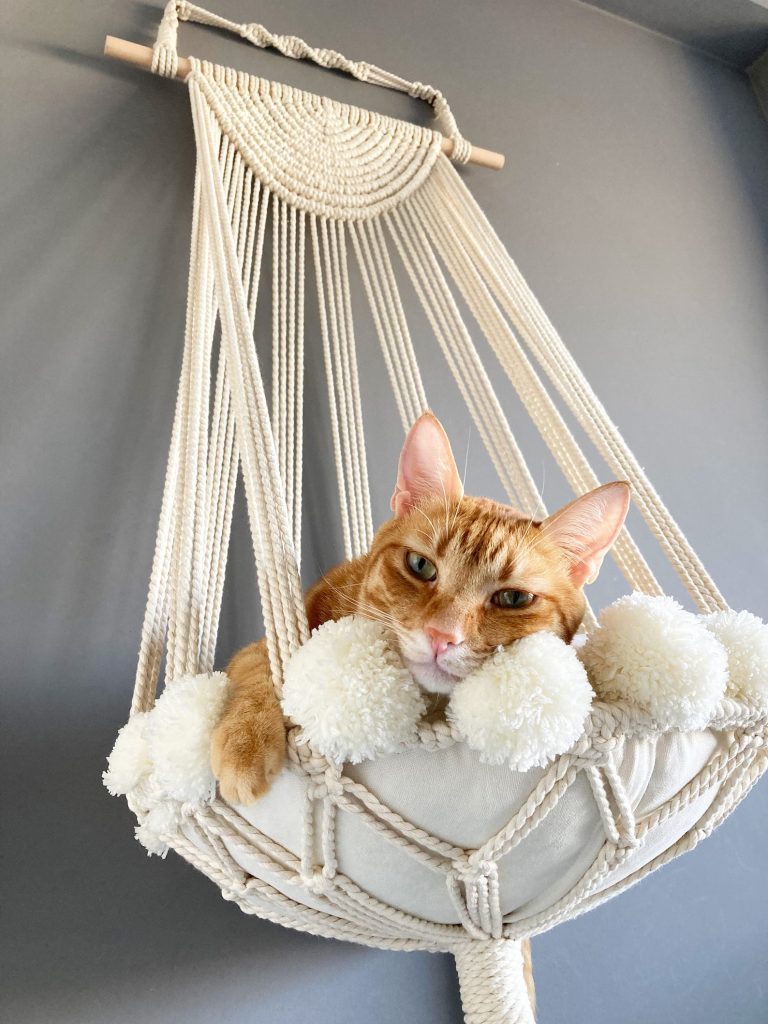 About ChicBoho Marcrame
ChicBoho hammocks are crafted with 100% pure cotton cords, providing a clean color and a super soft texture with no bad smell. The hammocks are designed to provide comfort and playtime for cats, and the materials used are of the highest quality. The hammocks measure 20 inches (50cm) wide and 60 inches (150cm) long when measured from the top point (not including the hook) to the end of the tassels. Additionally, the hammock includes a cushion measuring 17 x 17 x 4 inches (45 x 45 x 10 cm deep). All orders are shipped within 3-7 days to most places, and customers are encouraged to include a cell phone number for personalization. All products are made in a smoke free home.
Benefits of Macrame Cat Hammocks
Not only are these cat hammocks beautiful, but cats love to lounge in them too! They're the perfect size for cats of any size, and the sturdy construction ensures that your cats are safe and secure while they relax. Plus, these macrame hammocks will look great in photos for Instagram, so you can show off your cats in style!
Tips for Where to Hang Your Cat Hammock
Cat hammocks are a great way to add a unique and stylish touch to your home decor. Whether you're looking for a bohemian vibe or something more modern, macrame cat hammocks provide an elegant and creative way to spruce up your home. Here are some tips on how you can use macrame cat hammocks to design your home:
Hang your cat hammock in front of a window. This allows your cat to take in the view outside, and it can also add a whimsical touch to the area.
Macrame cat hammocks work with all types of styles. Whether your room has a bohemian vibe or something more traditional, macrame will blend in perfectly with your decor.
Choose the right colors for your cat hammock. You can go for bright colors to add a fun touch or opt for neutrals to keep things looking chic.
Use the cat hammock as a centerpiece in the room. Whether you hang it in a corner or put it in the middle of the room, the hammock will draw attention and become the focal point of the room.
Place the cat hammock in an area with plenty of sunlight. This will make your cat more comfortable and give them plenty of natural light to play and rest in.
By following these tips, you can easily use macrame cat hammocks to design your home. Not only will they provide your cat with a cozy spot to nap, but they'll also add a unique and stylish touch to your decor.
So if you're looking for the prettiest macrame cat hammocks, look no further. With their stylish designs, sturdy construction, and comfortable size, these macrame hammocks are sure to give your cats a place to relax in style.
The Sisal Cat Shop: Every Cat's Dream Come True
Cat Shelves With Feeding Stations: The Perfect Place To Feed Your Kitty Cat
How Biophilia Designing Can Improve Your Pet's Well-Being
Floating Cat Shelves: Elevating Your Feline's Comfort And Style!
Cat Window Perch Ideas Your Cat Will Obsess Over
Rock Your Cat's World: Curved Cat Shelves
Meow-velous: Making Your Home Cat-Friendly
Can I Have A Cat In A Small Apartment?
10 Design Ideas For Cat Owners In Small Places
Get Ready for Luxury: 8 Best Fancy Cat Trees
<