If you are a cat lover in Singapore, get ready for an epic adventure with your feline buddy that's like no other. Check this out: the Royal Albatross tall ship has got something super cool for you and your furry friend. It's a mix of fancy cruising and treating your cat like royalty. This post is all about cat cruises for you and your feline friend.
Imagine this scene: your cat chilling in a fancy "cat-bana" cage while you're enjoying a delicious dinner, all while the sky is putting on a stunning sunset show. Now, let's get into the juicy details of this amazing experience that's bound to make both you and your cat super happy.
Sail in Style with Your Kitty 🐾
Imagine stepping aboard the Royal Albatross, a majestic tall ship that's been transformed into a haven for your pampered feline friend. These custom-designed "cat-bana" cages offer a cozy retreat where your cat can enjoy the sea breeze, the warm sun, and the gentle sway of the ship. No worries—your fur baby will be safe and secure while they experience the thrill of the open sea.
Cat Cruises All About Comfort 🌊
Worried about how your kitty will cope on the cruise? No need! The luxury cat cruises have been thoughtfully crafted with your cat's comfort in mind. Those "cat-bana" cages? They're strategically placed on the deck, allowing your cat to explore their surroundings while feeling completely at ease. It's the ultimate feline adventure!
Treat Your Taste Buds, Too! 🍽️
But hold on, it's not just your cat that's in for a treat. As a pet parent, you get to enjoy a culinary extravaganza of your own. Choose between a lavish four-course or a truly indulgent seven-course dinner. Imagine savoring these delectable dishes as the sun dips below the horizon—talk about a feast for all the senses!
From Dogs to Cats: A Tail of Success 🐶➡️🐱
Remember those successful dog cruises that started in 2021? Well, they paved the way for this amazing feline adventure. With over 2,000 dogs having set sail since then, it's no wonder that the Royal Albatross decided to extend their hospitality to our feline friends. These cruises are all about making memories and building bonds—with your cat, fellow pet lovers, and the sea.
Designing the Perfect Cat Room: Space Planning for Feline Fun
Clean vs. Messy Cat Rooms: What Felines Really Prefer
How To Make Your Litter Box And Cat Room Smell Unbelievably Good
Cherry Cat Supplies: The Perfect Addition to Your Cat Room
Cozy Cat Room Ideas that Celebrate Nature
Paw-sitive Insights: The Inside Scoop 🐾
Over 200 tickets for these cat cruises have already been snapped up, priced at SGD 225 (approximately INR 13,767) per human passenger. But here's the scoop: cat and dog cruises sail on different days. While the pups enjoy a three-course dinner right at the table, cats get their meals packed to go. You know those finicky furballs—change of scenery can sometimes mess with their appetite!
Smooth Sailing, Paws and All 🛳️
Tall Ship Adventures, the brains behind these incredible cruises, have done their homework. They've consulted with experts and cat welfare organizations, including the Society for the Prevention of Cruelty to Animals, to ensure a safe and enjoyable experience for everyone on board. Cats are securely harnessed and leashed at all times, and vaccination, sterilization, and travel in carriers are all part of the plan.
A Kitty's First Voyage 🐱⛵
Picture this: a four-month-old British Shorthair kitten named Mahmud, calmly snoozing on a bench beside his family during their dinner. It was Mahmud's first time in a harness, but the luxury cruise setting seemed to have put him at ease. Just goes to show, even our fur babies can appreciate the finer things in life!
This post is all about cat cruises!
So, cat lovers, if you're up for an unforgettable maritime adventure with your beloved whiskered friend, the Royal Albatross luxury cat cruises in Singapore are your ticket to a world of luxury, relaxation, and shared memories. Set sail and let the sea breeze whisk your worries away—after all, life's better with cats and cruises! 🌊🐾🐱
Lisa Illman is the Founder of Kritter Kommunity, LLC. She has a tuxedo adult cat and has had him since he was a baby kitten. Before her cat Finnegan, Lisa had had two FIV-positive cats for over a decade. They inspired Lisa to invent a cat enclosure and a portable catio so they could safely sit outside and enjoy fresh air and sunshine. Lisa had a Poodle and a parakeet growing up. She currently loves to pet-sit for her neighbors' dogs and cats.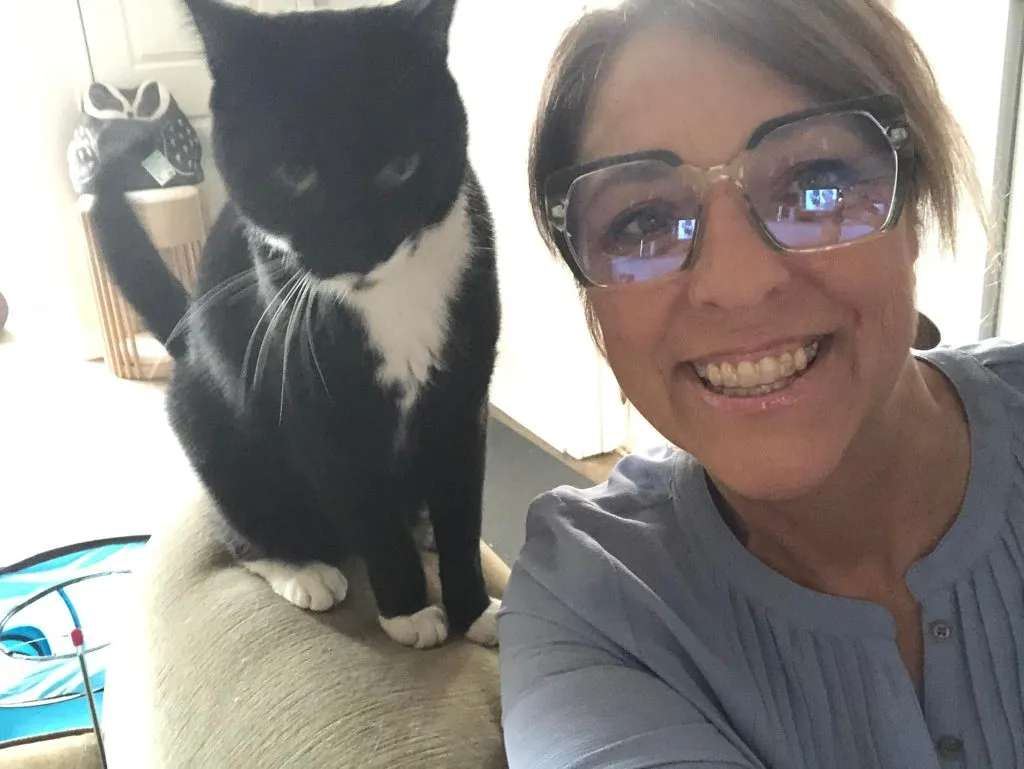 Why is Kritter Kommunity Your Trusted Partner?
Our mission at Kritter Kommunity is to promote happy and healthy lives for pets and their owners. We specialize in Barkitecture and designing tips for pet-friendly homes, utilizing the natural instincts of cats, dogs, and small critters to create a home life that pets and people love. From tips on pet care to reviews on pet toys and furniture, we are a go-to source for all things cats, dogs and small critters. Join us in celebrating the joys of pet ownership and providing the best possible lives for our furry friends.