If you have heard about the Barkitecture enthusiasm, you know that what used to be indoor dog crates have now morphed into amazing canine homes, available in a zillion styles and aesthetics. And what used to be the generic outdoor doghouse can now be an extravagant crash pad. In this post I am going to explore some pretttty pawesome luxury dog houses you and your dog will obsess over.
What Is Barkitecture?
Simply put, Barkitecture is home design with pets in mind. The term Barkitecture encompasses any pet (yes, any). From fur to fins and scales to beaks, all are welcome. Designers, architects, pet parents and DIY crafters are usually the humans behind magnificent craftsmanship. Barkitecture usually refers to houses for these critters (or kritters 😉 but it can mean anything in the design space such as furniture, tunnels and even decor.
Now that we have that out of the way, we can focus on the topic at hand; luxury dog houses.
Have you seen some of the cribs being built for dogs these days? Those of us who are cat parents are definitely feeling a little uneasy. After all, we are known for establishing a strong foundation for modern cat furniture, crowd pleasing catios, head-turning tunnels, impressively designed towers and shelves. I know I have been thinking, 'since when do dogs have such good taste'?
Inside luxury dog homes are rooms specially made to fit each dog's individual taste and probably the owner's too.
What Is The Difference Between A Dog Crate And A Dog House?
A dog crate is something most people consider to be an indoor enclosure that dogs house in. Man's BFF usually hang-out in their crates in the evenings and sometimes during the day. People will put their dogs in a crate when they go to work and/or when they go to bed at night.
Many dogs enjoy having their own special room to chill out in. A blanket, water and toys are typically in the crate for added comfort.
MidWest makes a dog crate with a privacy cover. You can see below the dog is comfortably relaxing on his blanket.
A dog house was traditionally thought of as an outside home for the pet. Owners who kept their canines in a doghouse and usually considered their dogs to be 'outdoor dogs'. In fact, dogs (before the turn of the century) lived outside in mud huts. They were loved as much as pets are today, but due to the different accommodations humans had access to, dogs stayed in their doghouses outside. Fleas were a major concern as were several other animal ailments. A home infested with fleas in the 18th century was incredibly hard to combat.
It wasn't until the 1960's that companies started to explore plastic as a material for doghouses.
One of the most popular outdoor doghouse is the igloo. PetMate makes one that sells on Amazon. It is a patented design, touting resilience against wind, snow and sleet making it one of the most popular doghouses on the market.
The outdoor doghouse has definitely evolved through the years. In fact, many pet parents have brought their canines indoors. Pups finally got an upgrade and it keeps going up!
Insert Barkitecture luxury dog houses.
Outdoor Luxury Dog Houses
Pets around the world have been getting more and more pampered as people continue to modernize. Many dogs have been brought in from the cold and now stay indoors 100% of the time. Some dogs however, are still outside dogs. Luxury is the key difference between historical doghouses from the 1800's and luxury dog houses that continue to get swankier and swankier.
Some dogs who have luxury outdoor dog homes are only outside part-time. They might be in the yard enjoying fresh air and sunshine from the comfort of their mansion and taking up 75% of their owners bed at night.
VATO makes an outdoor doghouse that is definitely a step up from a mud shack. It is a bit more modernized than the igloo and has a feeding station attached!
Indoor Luxury Dog Houses
Lux canine cribs are crates on aesthetic steroids. Typically in the living-room, crates can be stand-alone pieces or assimilated into the owner's furniture.
Piskyet makes one that looks absolutely fabulous in any style home. Functioning as an end table, Fido can curl up close to his parents without taking up half the sofa.
Modern Luxury Dog Houses
WLOWood has head-turning crates that were inspired by actual home designs. These stylish abodes are sharp enough for any home style and definitely a canine magnet. A glorious retreat for your pup and a total statement piece to add to a fine furniture collection for the pet parents; these indoor dog crates are sharp! Walnut & Ivory is such a nice addition to any traditional home.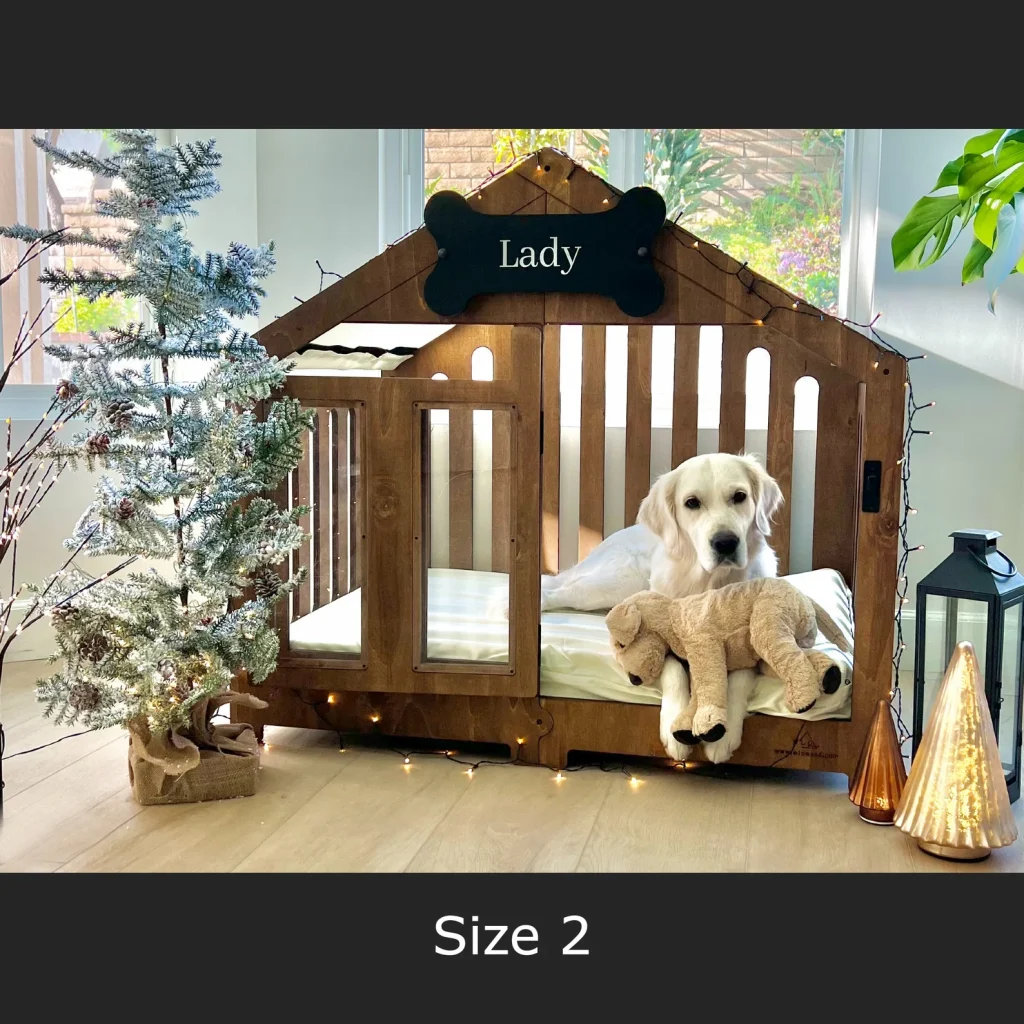 Black & Black is stunning, offering modern home dwellers a stylish and functional retreat for their dog to call his mini-home.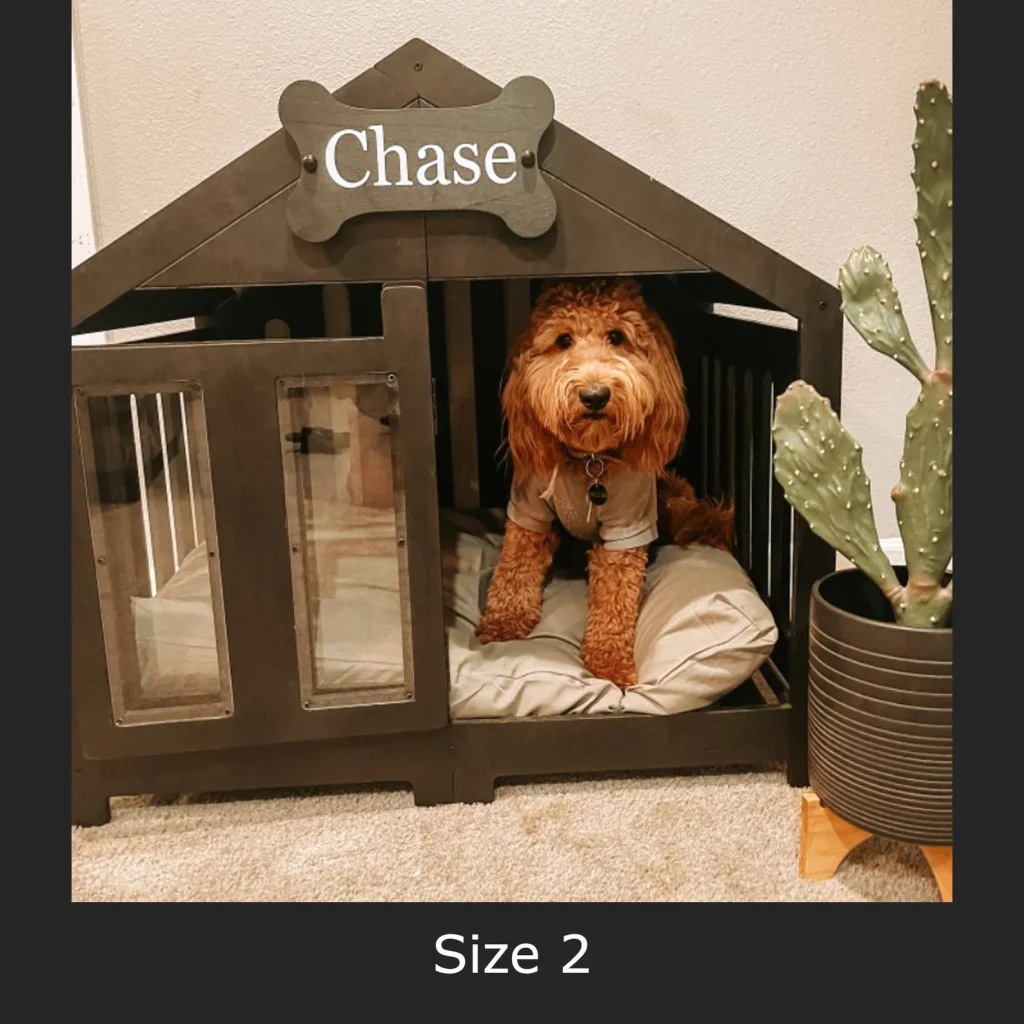 Lighter colors are also available and I think these would be great with any style! Traditional, BOHO and even a beach house. The white can most definitely embellish a modern living-room or bedroom.
The customer reviews for these are insanely good!
Custom cartoon portraits available on Etsy!
Mid Century Dog Houses
This Mid Century doghouse is priced at a cool $3,750.00 and can be purchased on Etsy. The design itself is well worth the bucks, and your dog will most definitely feel comfortable in his modern crib. Handmade of genuine wood, it also includes artificial turf, doggy decor succulents plus food and water dish areas.
Not surprising it won the2019 Design Award by Etsy!
My absolute favorite is the Beam-House. I should mention, it is one of the most expensive ones too, but once again it does not disappoint. This little gem was inspired by the sunny weather of California; Palm Springs and Southern California, specifically Orange, CA.
There is even a custom planter so Fido can have his own little greenhouse.
I love how they picture it with the home so you can really see how it resembles the owner's house as well.
I have a feeling whoever buys this for their dog does not leave their dog outside at night. Gone are the mud hut days for the lucky canine enjoying this home. He is just relaxing in the shade while his human family takes a dip in their pool.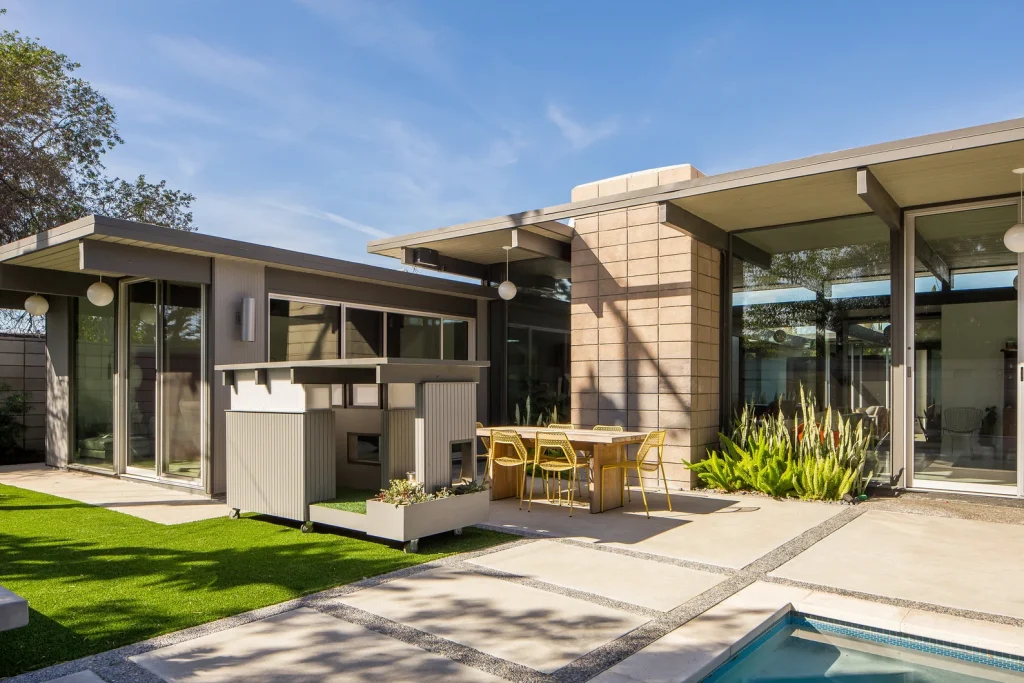 Concluding Wags
Browsing these fancy dog houses should have you and your dog wagging for ways to continue pampering your favorite pooch. This was a lot to take in if you are new to Barkitecture. Super upscale, snazzy abodes are the meat and potatoes for providing your canine sleeping quarters. Luxury dog clothes, bowls for food and water plus collard and leashes are all accessories you can add on.
If you are not ready to get your dog his own home or do not have the right space for a house, you can always decorate a room on his behalf.
If you want to start with simply making a room dog safe and friendly, this might be a good read for you.
How Do I Make My Room Dog Friendly?
If you want ideas for an architecturally aesthetic design, you might want to read this next.
AIA Triangle Barkitecture Competition
For little hideaway ideas, this post might be of interest.
How To Design The Perfect Pet Nook For Your Furry Friend
Until next time canine parents, nosetaps and wags!
Why Is Kritter Kommunity Your Trusted Pet Partner?
Lisa Illman is the Founder of Kritter Kommunity, LLC. Growing up, Lisa had a Poodle and Parakeet as family pets. She currently has a tuxedo male cat and she has had him since he was a baby kitten. Prior to her cat Finnegan, Lisa had two FIV positive cats for over a decade. They inspired Lisa to invent a cat enclosure so they could safely sit outside to enjoy fresh air and sunshine. She brought the product to market and eventually designed a line of portable catios; they sold on Amazon, Skymall Catalogue, Wayfair and countless other websites. Lisa understands the passion for Barkitecture and creating pet-friendly rooms to enhance the livelihood of cats and dogs. Lisa's cat Finnegan suffers from anxiety when over stimulated so she has direct experience distressing a pet and preventing stressful triggers.