Bringing a new kitten home can be an exciting time, but it's important to create a safe space for them. One of the biggest questions new cat owners have is when to let their kitten roam free in the house. In this blog post, we'll explore the best practices for creating a cat safe space and answer some common questions about when it's safe to let your kitten explore their new home.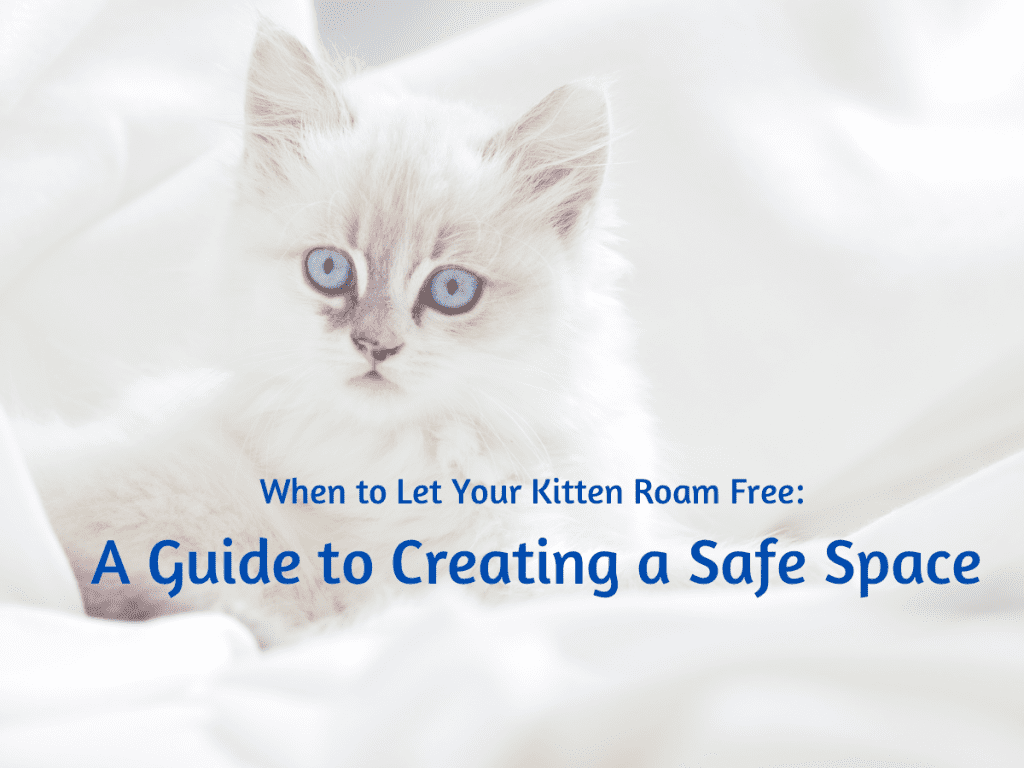 RELEVANT: 10 Kitten Adoption Essentials
Kitten Safe Space
When bringing home a new kitten, it's important to create a safe and comfortable space for them to adjust to their new environment. This is especially important if you have other pets in the household. Designating a separate "kitten room" can help ease the transition and provide a safe haven for your new furry friend.
Kitten Essentials
RELEVANT: Feline Preparation: Why Making a Kitten Essentials List is Crucial Before Bringing Your Furry Bundle Home
The kitten room should be a quiet and secure area, away from any potential hazards. It should be equipped with all the essentials your kitten will need, including a litter box, food and water bowls, a cozy bed, and plenty of toys to keep them entertained.
Purrfect Picks: Choosing the Best Toys for Your Baby Kitten
When it comes to feline playtime, choosing the right toy for your kitten is important. Not only should it be safe, but it should also encourage healthy kitten behavior. Opt for toys that are durable and can't be easily chewed or swallowed. High-contrast colors, like black and white designs, are a magnet for kittens. And don't forget about the power of movement – oblong or wobbly toys are irresistible to small cats. Keep in mind that red toys are particularly attractive to kittens. With these tips in mind, you'll have a happy and entertained baby kitten in no time!
RELATED: Catry Cat Tree with Hammock Bed
It's also important to give your kitten time to adjust to their new surroundings. They may feel overwhelmed and scared at first, so it's recommended to keep them in the kitten room for at least a few weeks. This will give them the chance to explore and get used to their new home without feeling overwhelmed.
RELATED: Small Cat Room Ideas
Overall, creating a designated kitten room can help your new pet feel safe and comfortable during their transition to their new home. By providing all the essentials they need and giving them time to adjust, you can help ensure a happy and healthy start for your new furry companion.
First and foremost, it's important to create a safe space for your kitten when you first bring them home. This can be a separate room or area of the house where your kitten can feel safe and comfortable. A kitten pen or baby gate is a great way to create a designated space for your kitten to play and explore without getting into any trouble.
When it comes to letting your kitten roam the house, it's important to do so gradually. Start by letting them explore one room at a time and supervise them closely. This will give your kitten a chance to get used to their new surroundings and help you identify any potential hazards.
As for when to let your kitten roam free in the house, it's best to wait until they are around four months old.
By this age, most kittens have developed the coordination and maturity to navigate their environment safely. However, it's important to keep in mind that every kitten is different and some may need more time before they are ready to roam free.
RELEVANT: Tips For Discouraging Kitten Biting
If you're wondering whether or not to let your kitten roam the house at night, it's best to wait until they are a bit older and more comfortable in their surroundings. In the meantime, consider keeping them in their safe space or providing them with a cozy bed in your bedroom.
Creating a safe space for your kitten is crucial for their safety and well-being. By following these guidelines and waiting until your kitten is mature enough to roam free, you can ensure that they have a happy and healthy life in their new home. Remember, patience is key when it comes to introducing your kitten to their new environment, so take your time and enjoy watching your furry friend explore their new world.
The Sisal Cat Shop: Every Cat's Dream Come True
Cat Shelves With Feeding Stations: The Perfect Place To Feed Your Kitty Cat
How Biophilia Designing Can Improve Your Pet's Well-Being
Floating Cat Shelves: Elevating Your Feline's Comfort And Style!
Cat Window Perch Ideas Your Cat Will Obsess Over
Rock Your Cat's World: Curved Cat Shelves
Meow-velous: Making Your Home Cat-Friendly
Can I Have A Cat In A Small Apartment?
10 Design Ideas For Cat Owners In Small Places