Hey there, fellow cat lovers! 🐱 Have you ever wondered if there's a feline out there that could give the majestic Maine Coon a run for its money in the size department? Well, you're not alone! I've had my fair share of cat-versations (see what I did there?) about this very topic, and I'm here to spill the beans on whether there's a cat breed out there that can outsize the Maine Coon. So, grab a cup of tea, get cozy, and let's dive into the world of giant kitties! This post is all about, is there a cat breed bigger than Maine Coon?
In this blog post, you'll learn:
A little bit about the Maine Coon's impressive size
Whether there are cat breeds larger than the Maine Coon
Some fascinating contenders for the "biggest cat" title
The Majestic Maine Coon
Before we start the cat-size showdown, let's talk about the reigning heavyweight champ – the Maine Coon. Now, if you've ever seen a Maine Coon in person, you know these cats are nothing short of impressive. They can tip the scales at a whopping 13 to 18 pounds or more and measure up to 40 inches from the tip of their nose to the end of their tail. That's one big ball of fluff!
My personal experience with Maine Coons has left me in awe of their sheer size. I once had the privilege of pet-sitting a Maine Coon, and let me tell you, this cat was like a small lion. His paws were gigantic, and he had a tail that could rival a squirrel's in length. It was truly a sight to behold.
RELEVANT: BENGAL MAINE COON MIX
Is There a Bigger Kitty in Town?
Now, the million-dollar question – is there a cat breed bigger than the Maine Coon? Well, folks, the answer is both a yes and a no. Let me explain.
While Maine Coons are often considered the largest domestic cat breed, there are some cat breeds that come close to their size, but none consistently surpass them in sheer mass. The Maine Coon remains the heavyweight champ when it comes to the average size of the breed.
The Contenders
Let's not leave you hanging, though. There are a few cat breeds that can give Maine Coons a good run for their money in the size department. Here are a couple of contenders you might find intriguing:
Savannah Cat: These beauties are a hybrid between a domestic cat and a serval, a wild African cat. While they might not consistently outweigh Maine Coons, they can come close, thanks to their long, lean bodies and impressive height.
Norwegian Forest Cat: Often mistaken for Maine Coons due to their similar appearance, Norwegian Forest Cats are another large breed. While they may not reach the same weight as a Maine Coon, they certainly share the same majestic aura and bushy tails.
Chausie: Like the Savannah Cat, Chausies are a hybrid breed, mixing domestic cats with jungle cats. They can be quite large and have an exotic look that's sure to turn heads.
So, there you have it, folks! While there isn't a cat breed that consistently surpasses the Maine Coon in size, there are some impressive contenders out there that come close. Whether you prefer the rugged charm of the Maine Coon or the exotic allure of a Savannah Cat, one thing's for sure – big cats are a delight to have around.
In conclusion, if you're looking for a feline friend that'll take up a fair bit of real estate on your couch, any of these breeds should fit the bill nicely. Just remember, when it comes to cats, size isn't everything – it's the love and companionship they offer that truly matter. So, go ahead and embrace the cat-sized hole in your heart, no matter which breed you choose!
Do you have any personal experiences with these big cats, or do you think there's a secret giant feline breed waiting to be discovered? Share your thoughts in the comments below! 🐾
Lisa Illman is the Founder of Kritter Kommunity, LLC. She has a tuxedo adult cat and has had him since he was a baby kitten. Before her cat Finnegan, Lisa had had two FIV-positive cats for over a decade. They inspired Lisa to invent a cat enclosure and a portable catio so they could safely sit outside and enjoy fresh air and sunshine. Lisa had a Poodle and a parakeet growing up. She currently loves to pet-sit for her neighbors' dogs and cats.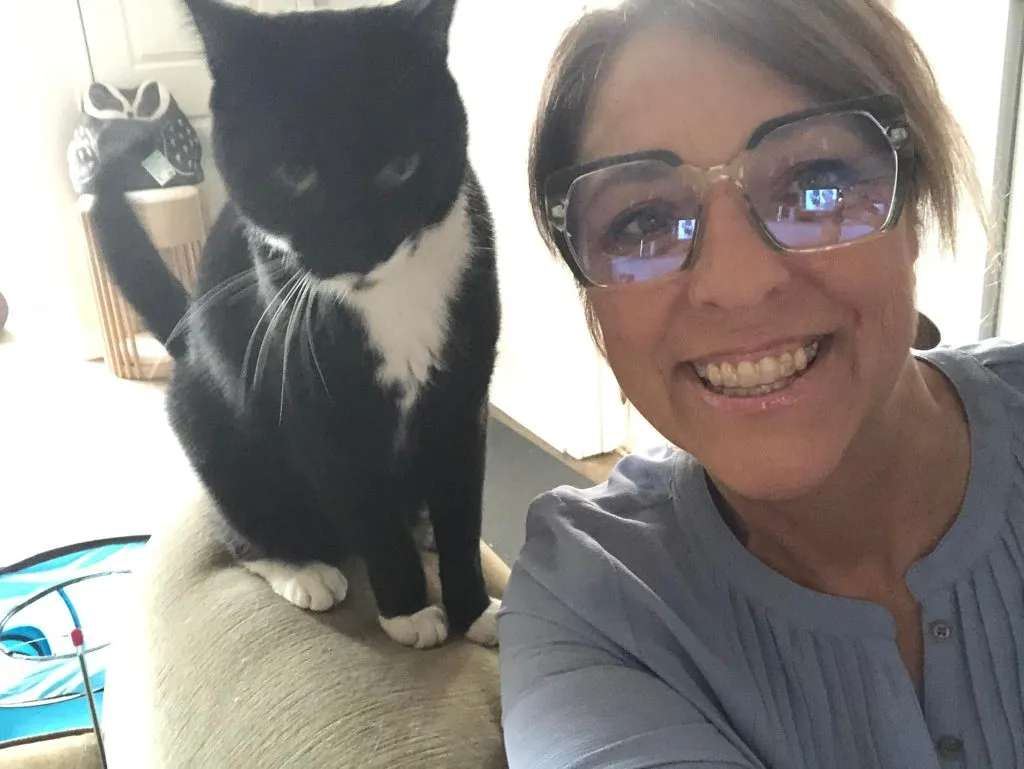 Why is Kritter Kommunity Your Trusted Partner?
Our mission at Kritter Kommunity is to promote happy and healthy lives for pets and their owners. We specialize in Barkitecture and designing tips for pet-friendly homes, utilizing the natural instincts of cats, dogs, and small critters to create a home life that pets and people love. From tips on pet care to reviews on pet toys and furniture, we are a go-to source for all things cats, dogs and small critters. Join us in celebrating the joys of pet ownership and providing the best possible lives for our furry friends.