Hello, fellow cat aficionados! 🐱 I take it you are trying to understand silica dust and cat litter. That's why you've landed here, delving into the intricacies of cat litter, with a particular focus on that enigmatic substance known as silica dust. Is it a safety concern? Could it be harming your beloved furball? You're in the right place, my friend, because I've walked this dusty path before, and I'm here to impart my insights.
In this blog post, we're going to explore:
Understanding the nature of silica dust in cat litter
Assessing the potential risks of silica dust to your feline companion
Practical strategies to minimize your cat's exposure to silica dust
Exploring alternative cat litter options that prioritize your cat's respiratory health
Decoding Silica Dust: What's the Deal?
Let's kick things off with a fundamental understanding of silica dust. Silica dust is a fine, powdery substance present in certain types of cat litter. You might also come across it in those tiny desiccant packets that lurk in shoeboxes or mingle with your favorite bags of beef jerky. In the realm of cat litter, it primarily plays the role of a moisture-absorbing agent, ensuring your litter box stays pleasantly odor-free.
However, here's the kicker: silica dust is, well, dusty! When your feline friend engages in enthusiastic litter box excavation, it can create a cloud of this powdery substance, and this is where our concerns take root.
The Million-Dollar Question: Is Silica Dust Harmful to Cats?
Now, let's tackle the elephant in the room: Could silica dust be detrimental to your cat's health? To put it succinctly, it's not beneficial for anyone, whether you're covered in fur or not. Inhaling excessive amounts of silica dust can potentially lead to respiratory problems, and I'm sure none of us want to witness our precious kitty wheezing and sneezing.
I vividly remember an incident with my own feline companion, Abigail, who had an explosive sneezing fit following a particularly energetic litter box session. It got me pondering if I was doing something amiss. As it turns out, I wasn't alone in my concerns; many cat parents share similar worries.
Strategies to Reduce Silica Dust Exposure
But hold onto your whiskers; there are effective measures you can adopt to minimize your cat's silica dust exposure:
Opt for low-dust cat litters: Look out for cat litters explicitly labeled as "low-dust" or "dust-free." These specialized litters are engineered to generate fewer clouds of silica dust during use.
Embrace natural alternatives: Contemplate making the switch to natural cat litters crafted from materials such as corn, wheat, or wood. These eco-friendly options typically produce less dust and tend to be gentler on your cat's sensitive respiratory system.
Employ an air purifier: Positioning an air purifier in close proximity to the litter box can prove instrumental in trapping any stray dust particles that may escape into the air.
Commit to regular cleaning: Maintain a diligent routine of cleaning your cat's litter box and scooping waste daily. This simple practice can significantly reduce the accumulation of dust within the litter.
The Final Verdict
So, the pressing question remains: Is silica dust in cat litter posing a genuine threat to your feline friend's health? While it's not an ideal scenario, the good news is that with due precautions and informed choices, you can mitigate the risks effectively. Remember, our four-legged companions rely on us to make choices that safeguard their well-being, and this extends to selecting a safe and low-dust litter.
Drawing from my personal experience, transitioning to a low-dust, natural cat litter produced noticeable improvements in the air quality surrounding the litter box. It also elicited a happier demeanor from Whiskers. Nonetheless, it's imperative to consult your veterinarian if you have specific concerns about your cat's health.
This post is al about, is silica dust in cat litter harmful to my cat's health?
RELATED: Best Cat Litter for Cats with Asthma
Now that you're armed with a comprehensive understanding of silica dust in cat litter, you can make well-informed decisions that prioritize both your well-being and that of your cherished feline friend. Let's ensure those purrs and whiskers continue to brighten our lives! 🐾
Lisa Illman is the Founder of Kritter Kommunity, LLC. She has a tuxedo adult cat and has had him since he was a baby kitten. Before her cat Finnegan, Lisa had had two FIV-positive cats for over a decade. They inspired Lisa to invent a cat enclosure and a portable catio so they could safely sit outside and enjoy fresh air and sunshine. Lisa had a Poodle and a parakeet growing up. She currently loves to pet-sit for her neighbors' dogs and cats.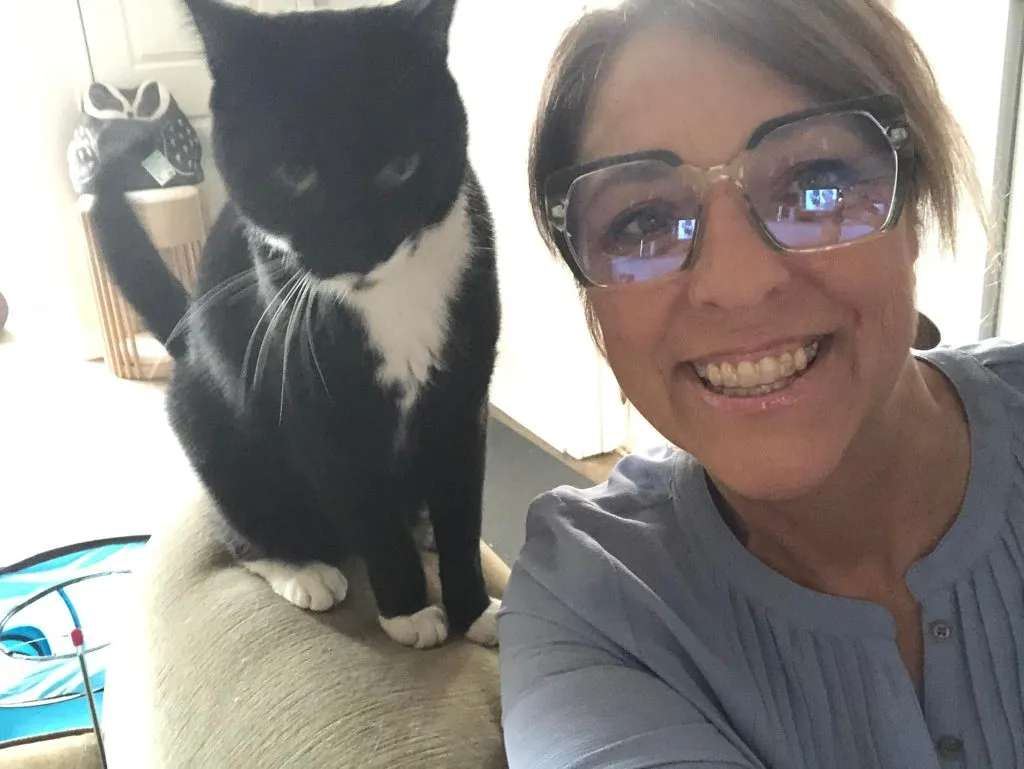 Why is Kritter Kommunity Your Trusted Partner?
Our mission at Kritter Kommunity is to promote happy and healthy lives for pets and their owners. We specialize in Barkitecture and designing tips for pet-friendly homes, utilizing the natural instincts of cats, dogs, and small critters to create a home life that pets and people love. From tips on pet care to reviews on pet toys and furniture, we are a go-to source for all things cats, dogs and small critters. Join us in celebrating the joys of pet ownership and providing the best possible lives for our furry friends.