If you are tapped into cats on the internet, you probably know Brooke Arnold. She and her sister own the popular cat site Catington Post. You might or might not also know that Brooke is the proud pet parent to not one, not two Sphynx* cats, not three… but four Sphynx cats. I was fortunate enough to catch up with Brooke last week and learn more about her furless creatures. This post is all about, is a Sphynx cat a good pet? Expert Brooke Arnold weighed in and I have got all the details!
* also mispelled sphinx cat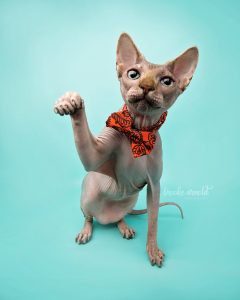 Before we dive into the bald babes, I want to take a moment to provide a public service announcement about Brooke. Not only is she a Content Creator, she is also a Pet Photographer. I know first hand she is extremely good at both!
Brooke provided my commercial images for the Kritter Kommunity Pet Lodge. Her baby kittens (okay adult cats) were the wonderful models too. I highly recommend Brooke for any and all of your pet photography needs.
ME: When did you first become a hairless cat owner and what made you adopt this breed?
BROOKE: You'd be surprised to learn that I was a dog person before I got my first hairless cat. So when my beloved heart dog Virgil was in the emergency room back in 2008 after being attacked by another dog, they had cats that lived in the clinic. He was there for a couple of weeks, so I would go visit with him every day and noticed he had a certain affinity for these office cats. I told him if he survived and got to come home, I'd get him a kitty friend. Well, he did get to come home. And the cat that I found for him was a 5-year-old Sphynx boy named Harold. Virgil sadly passed away a few months later, and Harold would forever change me. He was the first of a long line of sphynx cats that would grace my life. I can't imagine not having one (or four) in my life now. People often call them a cross between a cat, dog, monkey, and baby. They are a very interesting cat. Hairless cats are naughty, smart, hilarious, snuggly, sweet, outgoing, and curious. Sphynx cats and Sphynx kittens are a very affectionate cat breed!
What Is Special About Sphynx Cats?
They are naughty, smart, hilarious, snuggly, sweet, outgoing, and curious.
ME: How old are your Sphynx cats and what are their names?
BROOKE: I have had 9 Sphynx cats over the years. Right now I have 4 Sphynx cats. Walter is 15, Baldar and Olivia are 12, and Norman just turned 10.
RELEVANT: Do Sphynx Cats Meow?
ME: What is most challenging about having this cat breed?
BROOKE: Sphynx cats are generally extremely robust and healthy, just like their furry counterparts – with one major exception. Heart disease. Like a few other breeds (Maine Coons, Ragdolls, and others) Sphynx cats are highly affected by Hypertrophic Cardiomyopathy (HCM), which has a genetic component. Of the 9 sphynx cats I've had, 4 of them had it. Recently, one of the genes that is responsible for 60% of the cases of HCM in sphynx cats was identified and a genetic test was created, so breeders can test for it and remove positive cats from their breeding programs. Hopefully, this will start to reduce some of the prevalence of the disease in our beloved cats. For years, I (and so many sphynx owners and breeders) send blood donations for research. When my cat Nelson died of HCM, I had a tissue sample of his heart sent for research, too.
RELEVANT: Why Do Cats Purr? What Is It A Sign Of?
ME: Do your cats wear Sphynx cat clothes? Those adorable little outfits are so cute, do they share each other's shirts and sweaters?
BROOKE: Most of my Sphynx don't wear clothes. They will wear them, but they prefer to just cuddle under a blanket. However, Walter, the 15-year-old is a skinny old man who needs to wear clothes now to stay warm. The funny thing is, he always hated clothes when he was younger, but now he loves them!
ME: Do they get along with each other?
BROOKE: For the most part, yes. They love to cuddle. But just like any other kitties, they have a hierarchy and will smack each other from time to time. The difference is, when they slap each other, it sounds really funny! But they are a feline friend to me and to each other for the most part.
RELEVANT: Do Sphynx Cats Meow?
ME: I read in a forum that gunk gets in between their toes. Have you found this to be so and if yes how do you clean them?
BROOKE: Only one of mine gets gunk between his toes! I clean it out with cat wipes. You just extend the nail, peel back the extra skin and swipe the gunk out. And then clean the gunk off the nail while you're at it. He hates it, but he deals with it. These cats are so easygoing.
Each cat is different in the amount of oil they produce, how dirty they get, and how often they need to be cleaned. This is really due to genetics, environment, and diet. Some people think you need to bathe sphynx cats every week, but this is simply not true. If you bathe them every week, you'll wash away their natural oils and they, in turn, produce extra oil and will get dirtier between baths. My cat Olivia hasn't had a bath in years and she's as clean as can be. I usually only bathe them 3-4 times a year. Baldar, however, is a pig pen. He is also the one with the toe gunk.
ME: Do you have other cats too or just sphynx?
BROOKE: I only have Sphynx cats but I love furry cats, too. I also have a gray-banded kingsnake named Cadbury.
ME: Wow Brooke, you have been a wealth of hairless cat information! Thank you and I will be seeing you again over at Catington Post!
Concluding Purrs and FAQ
This concludes our interview with Brooke. I hope you enjoyed reading about her adventures with the baldies and all her excellent, expert information. She really touched on a few FAQ that I see in Sphynx cat forums, so enjoy the professional tips! Below are the FAQ and summary answers. Until next time, purrs and headbutts fellow pet lovers!
It should be noted that just because a breed of cat has general qualities, not all cats are going to cooperate. Just like people and other animals, each cat is different and cannot be put in a box. Well, cats love boxes, but not the kind that are restraining! Just because a breed of cat tends to have certain qualities, not all cats necessarily do or will.
Is The Sphynx Cat Breed A Good Pet
A Sphynx cat is absolutely a good pet. They are energetic, outgoing and very curious! Sphynx cats do have special characteristics, like all feline breeds but it is manageable. One of their most positive qualities among Sphynx owners is level of affection. One of the most unique needs is keeping their body temperature regulated.
Do Sphynx Cat Have Health Problems?
Sphynx cats are generally extremely robust and healthy, just like their furry counterparts – with one major exception. Heart disease. Like a few other breeds (Maine Coons, Ragdolls, and others) Sphynx cats are highly affected by Hypertrophic Cardiomyopathy (HCM), which has a genetic component.
RELEVANT: What Is The Life Cycle Of A Cat?
Do All Sphynx Wear Clothes?
Not all Sphynx cats wear clothes. There are many bald cats who do not like to have sweaters and shirts on their bodies. Although some cats do need garments to stay warm, some are just fine without a coat and prefer it off. It is easiest to start a Sphynx kitten out wearing clothes so the hairless kittens skin gets used to the clothes being on, and he will grow accustom to a loose hanging shirt.
Other Sphynx blog posts you might love to read:
"Sphynx Cat Clothes That Match Color Of The Year 2023"
"8 Unique Gifts For Sphynx Cat Lovers On Etsy"
"Are Sphynx Cat Butts Sticky?"
"What Types Of Health Problems Do Sphynx Cats Have?"
"A Purr To Remember: Do Sphynx Cats Meow?"
For information about a sphynx cat's skin, this blog post: How To Treat A Sphynx Cat With Dry Skin
OTHER CAT BREEDS YOU MIGHT LOVE TO READ ABOUT: Do Main Coon Cats Get Along With Dogs?
Why Is Kritter Kommunity Your Trusted Pet Partner?
Lisa Illman is the Founder of Kritter Kommunity, LLC. Not only does she have one tuxedo male adult cat currently, she has had him since he was a baby kitten; so she knows well the kitten lifecycle, the teenage cat lifecycle and the adult cat lifecycle (he is currently 11 years old). Prior to her cat Finnegan, Lisa had two FIV positive cats for over a decade. Lisa's love for animals her entire life (she also had a poodle and parakeet growing up plus was a caretaker for her roommate's 3 pets during college) and networking with the pet community for over a decade, enable her to find top content for her readers.
Brooke Arnold is currently a pet parent to 4 Sphynx cats. Brooke has enjoyed a total of 9 hairless kitties her entire life. Brooke is a cat lover and also the owner of a popular blog, The Catington Post. Brooke is a professional pet photographer and content writer for pet related topics. Brooke considers herself to be an over the top, but very sane cat lady!