As cat owners we know that our kitties love to scratch — and if we don't get them a scratching post quickly then our armchairs, tables and other furniture will soon be on the receiving end of their claws. This post is all about the very best sisal cat scratching posts your cat will love.
Our cats don't mean to be destructive, they're simply doing something natural by scratching for enjoyment and to sharpen their claws by shedding old layers.
For more information about your cat's anatomy and why he needs good scratchers to sharpen his claws, check out our blog:
Why Do Cat Claws Have To Be So Sharp? Murder Mittens
The best way to direct that bundle of energy is toward a scratching post designed specifically for cats to play with. And I've spent many hours browsing the internet to find the very best ones, because I also know exactly how finicky each cat can be. So let's take a look at what is available for your cat's entertainment.
A vertical cat scratching post on the floor might be great for a kitty that doesn't like jumping around, whereas a cat with boundless energy who likes leaping across the room might only be attracted to a floating scratching post.
Consider sisal for your cat scratching post. It is a feline attracting product and ideal for the cat claws it will endure.
Is Sisal A Good Material For Cat Scratching Posts?
Yes, sisal is ideal for cat scratching posts. It attracts a cat to it like a magnet! I'd recommend trying to buy a scratching post that is made from sisal. Sisal is a natural fiber derived from a plant called Agave Sisalana. This product is woven into various shapes and sizes to create scratching posts for cats large and small alike. Some cats and cat owners prefer sisal to carpet or cardboard because those materials can catch on your pet's claws and hurt their toes. Sisal is a low cost twine that makes it an affordable cat scratcher option!
From what I've seen of my cat playing with cat scratching posts I know that it loves to dig into sisal scratching posts, and can spend much of the day clawing away at them. For in depth information on the recommended size of an ideal scratching posts, check out our blog:
The Ideal Scratching Posts For Cats: Cat Approved
Cat Scratching Posts Made From Sisal
It's very important to take some time to browse what's on offer with cat scratching posts just because there's an almost countless number of different varieties available online.
You're going to want to get something that works for your kitty's individual needs, and that means you should rank a post based on whether you think it will find it enticing to play with. There are a number of factors that can affect whether your pet will want to use its cat scratching post, including the height of the post and how durable or sturdy the post it.
Height is important because cats sometimes like to stretch their bodies out to their fullest extent while they scratch, so if you've got a larger cat you should get a post as least as tall as it is.
And because the post is going to be getting a lot of very close and very deep attention from your cat's claws you also want to make sure that the post you buy is durable.
Sisal is a wonderfully resilient material and can withstand a lot of scratching, but it's also important to get a post that sits firmly in place and doesn't run the risk of falling on your cat and severely hurting it.
10 Sisal Cat Scratchers
Below is a guide using some of my favorite sisal cat scratching posts.
Included are tips on which personality of cat might match best.
You'll find cat scratching posts that are big, that are small, that hang on the wall, or that sit on the floor. Truly something for every cat!
This post is perfect for a breed like the Abyssinian or the Bengal that's full of energy and likes to leap about. That's because it's an elevated post that hangs from the wall, so once you put it in place you're giving your kitty something to jump around to get to before it can start scratching. I was a little worried it might not be sturdy enough, but they can hold a little more than 60 pounds so it's good for small to medium sized cats. And another concern I had is that it would look awkward having this scratching post just looking like it's jutting out of the wall, but there isn't an ugly bracket holding it up. Instead you get very simple instructions on a pretty straightforward way to mount it on the wall and the post will stay in place no matter how much your cat tries to destroy it. And because it's on the wall it means it also doesn't take up any floor space. That can be great if you're in a small apartment or somewhere where you can't put a post on the floor.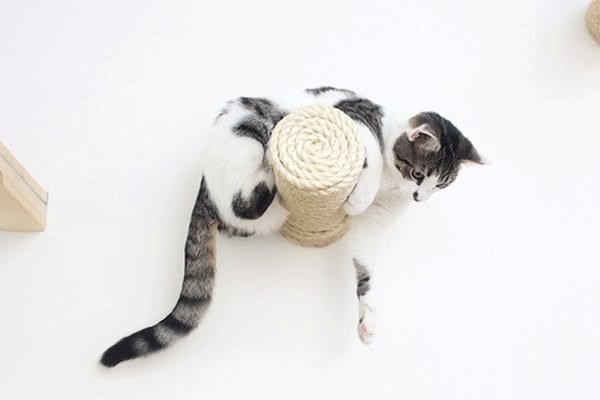 If you've got a Siamese or a Manx then you know they like to scale the walls and get up as high as they can to explore your home. If that's that the case then you're going to want a vertical cat scratching post, and this particular variety is a really good one for not only giving your feline the height it needs to enjoy scratching but also something to climb. And this is a very firm post, you don't have to worry about your cat toppling it over no matter how hard it plays with it.
Definitely a great way for your feline to scratch that itch it gets for clawing something. And because you're just buying a small singular post, this is a very budget-friendly cat scratching post rather than some of the other makes that have a bunch of added features like hammocks and planters. I think this is probably ideal for smaller cats and young kittens given its compact size.
Remember building forts at kids and how you could spend hours playing in them? I wanted to give my kitty the same experience and so I gave the Deluxe Fort cat scratching post a try — and it was a big hit.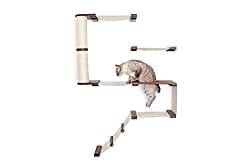 This fort's shape is unusual, kind of like an S with the bottom tapering off as a ramp for your cat to race up. There are four ledges for your kitty to sit and rest or scratch on, as well as a regular sisal scratching post running vertically through the fort. One of the ledges is actually a stand-alone hammock that can hold most cats up to about 60 pounds.
This is another cat scratching post that hangs on the wall and looks like it's floating, so it's best for energetic cats that like to jump up high. And again, the installation process is remarkably simple, so it won't take very long from it arriving at your home before it's on the wall for your cat to enjoy.
Climb
This can be a good cat scratching post to get if your kitty is the type that likes to keep climbing ever upward so it can explore things high up and to get a look across the rest of the room.
The main perk that I thought this particular scratching kit has is the three-section pole of sisal material which gives your pet plenty of fabric to scratch for a very long time, meaning you won't have to worry about buying another post anytime soon.
And there are some cute little features with this kit, including a few different hammocks where your cat can catch some rest, and a little escape hatch for it to jump in and out of.
I think these types of wall-mounted cat scratching posts that have several levels are best for cats that like to climb, so if you've got a Siberian or a Manx in your house then you might want to consider getting them the Climb cat scratching post.
Gardens Complex
This thing is huge, with many different hammocks and a large three-section sisal cat scratching post making up the center of the kit. You have to fix this gigantic structure to your wall, but the instructions that come with the kit are pretty simple and the installation process doesn't take very long at all.
Given the size, you probably only really need a cat scratching post this large when you have two or more cats in your home. I think it's probably a little too big for just one cat, because it is so big.
The many different ledges and hammocks means your cats won't have to fight each other for a spot to rest or scratch, which can make them less anxious. And a cute addition is the fact that the kit comes with four planters. You can put cat-friendly plants in them so that your kitties can chew on the plants while they're playing with their cat scratching post.
This is a much smaller, and also much cheaper, version of the Gardens Complex cat scratching post. If you're on a budget but still like the appeal of the Gardens Complex kit, this is a nice and affordable alternative. It also features a large three-section sisal scratching post as the main component of the kit, as well as two planters.
You can use the planters for installing cat-friendly plants that they can chew on when they're playing with the kit. And because it's wall-mounted you will be able to free up a large amount of floor space in your home.
Much like many of the other cat scratching posts that you affix to the wall, this kit comes with a couple of hammocks on which your kitty can rest after they're done scratching.
It's big enough for two cats to share comfortably, but probably not for three or more just given its reduced size.
When you hang this cat scratching post on the wall you'll see to your right a large three-section sisal post for your feline friend to scratch, and to your left you'll see a couple of hammocks for them to sleep on or to keep watch over the room.
This cat scratching post is designed to hang on the wall, but it's a fairly kit, so even if you don't have much wall space in your home then you will probably still be able to find enough free space to put this up.
Cats can climb up and down the scratching post itself to get to the various hammocks, and the layout makes the kit act like a mini maze for them to explore.
This is probably a great fit for an inquisitive breed that enjoys climbing and exploring, so if you've got a Bengal or American Bobtail this might be a good fit.
If you have more than one cat in your home, you might want to think about getting the Roman cat scratching post. That's because this wall-mounted kit comes with not one but two large cat scratching posts, so your kitties will never have to fight each other for who gets to scratch. The posts are connected to a total of four hammocks, so if you've got two or more cats they also shouldn't have any problem all finding a suitable place to nap after they have tired themselves out with scratching to their heart's content. As with many other wall-secured cat scratching posts, this one can handle weights of up to 85 pounds on each hammock. That should cover quite a large number of different cat breeds even when they're fully grown. And assembly is really easy by following simple instructions to put some supporting studs in place.
While we wouldn't think of this kit as much of a maze for humans, it's still a fun thing for your cat to explore. It's a wall-mounted cat scratching post that comes with three hammocks for your feline to laze around after a hard day's scratching.
What I like above this, and other varieties of cat scratching post made from sisal material, is the fact that the fabric is pre-cut and hemmed and can be removed and washed. So let's say your cat went out on a rainy day and came in and got mud all over the post, you could simply wash it down so it looks as good as new. You hang this particular kit on the wall by using four studs that are pretty easy to get in place, so there's very minimal assembly required. And it can hold cats up to 85 pounds in weight, which covers quite a lot of fully grown breeds, making it a pretty versatile cat scratching post.
There's also a small hole in the floor of one of the ledges on the post for your cat to dive in and out of, which is ideal for an inquisitive breed of cat that likes to explore, such as the Sphynx.
Okay, so I'm kind of partial to this cat scratching post just because of the adorable mini rope bridge that it includes. This is yet another one of the interesting types of scratching kits that you have to fix to the wall.
It's a pretty simplistic process for getting the various parts of the kit in place, and even though they hang without any visible support there are a number of invisible brackets that help to reinforce it. That means you never have to worry about your kitty taking a tumble because it's extremely unlikely that any parts of the kit would fall to the floor.
As with the various other cat scratching posts that are hung on the wall, this frees up a bunch of floor space. And the reason they call this one the Juggernaut is because it's like putting your cat through an intense exercise course. There's a hole for it to jump up and down through, the rope bridge, and ledges to leap across that are perfect for high-energy breeds like the Cornish Rex.
I thought that the Bunker cat scratching post was a little on the pricy side, but you definitely get what you pay for because this thing is absolutely huge. If you hang all the different components that come with it, it will easily take up more than the width and height of a regular sofa, except this is a cat scratching post that is hung on the wall so it won't take up any of the floor space in your home. Not only do you get a very sturdy post for your kitty to claw away at, there are also several hammocks included in the set that can hold cats that weigh up to about 85 pounds, making it perfect for most small to medium sized cats and even some larger breeds.
Concluding Thoughts
It can be tempting to want to get the biggest cat scratching post to treat your kitty, but just remember that if you only have one kitty then they probably might not need a huge scratching kit to play with and explore. This can be helpful if you have a smaller home or cat wall space.
For more information on design tips for cat owners in smaller homes, read up on our blog post:
10 Design Ideas For Cat Owners In Small Spaces
And be sure to pick the post that best matches your situation, and that means assessing based off things like your cat's personality, how many cats are living in your home, your budget, how much wall space you have, and more. Whatever you decide, I can guarantee that your furry friend is going to love their cat scratching post
Save Your Sofa With This Wildly Effective Couch Cat Scratcher
9 Insanely Cute Cardboard Cat Houses Your Cat Will Obsess Over
Best Vertical Wall Cat Scratchers