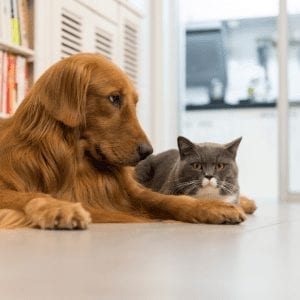 How to get pet urine smell out of a carpet
This post was updated on October 3, 2022.
Cat and dog urine can smell pretty nasty. Cleaning up your pet's mess as soon as you realize you have one is really important. Here is a step by step guide to cleaning pet urine out of the carpet, including the smell!
Using a clean cloth, pat the soiled area and remove any waste so that the area free from any pet vomit or urine. Next, spray the area with a liberal amount of pet cleaner to the point of saturation. Let stand for at least 30 minutes. Wipe clean. For especially stubborn areas, allow to stand for an hour. To clean laundry, spray dirty area and allow to soak 30 minutes, then wash clothes as you normally do. Some cleaners can be added directly to the water with the laundry detergent.
We recommend Rocco and Roxie's Stain & Odor Remover, however there are several that work really well. The tougher the smell, the longer you leave the remover on. More details on these products is reviewed in greater detail below.
Smelly cat and dog odors are to be expected as a pet owner. It is pretty hard to completely eliminate the everyday accidents that can occur, let alone the lingering smell that can accompany even the cleanest of cat litter boxes. This article is all about how to use odor and pet stain removers for both cats and dogs. An absolute favorite of Kritter Kommunity is Rocco & Roxie's Stain & Odor Eliminator. This is not a paid sponsor post.
One of the main reasons we like this product so much is it is 2 in 1 for both removing stains and odor. The natural bio-enzymatic formula literally breaks down all kinds of accidents that contain unwanted organic matter and leaves the scene of the crime looking and smelling fresh.
HOW TO USE PET STAIN REMOVER
Pre-testing to make sure the color stays in place on the surface you are cleaning can be a good idea. This tip applies mostly to carpets, clothes and furniture. If you are spraying directly on a litter box, you should be good to go!
On your Rocco & Roxie bottle, you will notice you can turn the nozzle. For new stains, or real stubborn stains, you want to get a stream of liquid so be sure to set the nozzle on streaming. The stream function also works well on hard to get to places like in between a cushion and armrest.
In order to eliminate odor completely, you will want to let the cleaner stay on the soiled area for 30 minutes. For really hard to remove stain and odors, let it set for 60 minutes. I have personally never had to leave Rocco and Roxie on for that long of a time to see results, and I had some pretty bad smelling areas to clean!
Laundry works the same way. If you have a shirt or pants you are cleaning, spray a liberal amount directly on the soiled article. Wait at least 30 minutes, then wash as you normally would.
Once the area has had the pet stain remover on it fighting away and doing it's job, you can start to wipe up! Using a cloth and even a damp cloth on furniture in a blotting movement works best. On countertops and litter boxes you can simply wipe it up with a cloth or paper towel. If the pet stain remover dried during the waiting period, you can use a DAMP (not totally soaking wet) cloth.
A tip for cleaning up messes on carpets, saturate the area that is dirty with pet stain remover. Then use a cloth or towel and place on top of the area, and put a heavy object (like a brick) on top to really absorb the moisture out.
ACTIVE INGREDIENTS
The active ingredients in this power pet stain and odor remover not completely revealed by the manufacturer. On the bottle it says "advanced biological blend" and "opacifier". Much like a few other products on the market, the odor fighting ingredient most likely has to do with being a natural bio-enzymatic formula. This means that "good" bacteria is used to attack wastes, soils and stains.
PRICE
You can currently get Rocco & Roxie on Amazon using Prime at a price of $19.97 for a 32 fluid ounce bottle.
In addition to the spray bottle, they came out with litter box deodorizer. This is a product you sprinkle right in your litter box! Although the folks at Kritter Kommunity have not tried this product yet, it is on our list and it is getting awesome reviews!
The price for the deodorizer is $11.97, it is offered using Prime and it has a 4.4 rating.
OTHER PET STAIN AND ODOR REMOVING PRODUCTS
We have used several pet odor and stain removing products with Rocco & Roxie coming in first place. There are several others that are strong contenders and definitely deserved to be mentioned!
Angry Orange Citrus Pet Odor Eliminator
Angry Orange is a strong second place for us. This product smells amazing! We found it did not clean stains quite as well as Rocco & Roxie and for that reason fell to #2. This is one to keep as a back up though, I know I have a bottle under my bathroom sink and use it for weekly cleaning.
The price of Angry Orange is $29.97 and is available on Amazon Prime. I noticed as I write this review, it is currently on sale!
Nature's Miracle Advanced Stain Eliminator
Another very good product is Nature's Miracle. This product has been around for over 30 years and for that reason alone deserves a tremendous amount of credit for putting these types of cleaners on the market. When I say 'these types', I mean products specifically made to clean up pet vomit, feces, urine and eliminate odors associated with dogs and cats. They did a fantastic job creating a suite of products that are bacteria based. Bravo to them!
Here is a list of other bacteria based stain and odor remover products that are available on Amazon Prime, highly rated and many are currently on sale!
Final Thoughts
Kitty urine and dog pee do not have to intimidate you and burden your home. There are some really great products on the market these days that eliminate stains and odors very well.
Domesticated cats and dogs should not be urinating on carpets regularly, so if your pet is having regular issues it is a sign of an underlying issue. Many times it is a behavioral issue due to stress, but a trip to the vet to eliminate any medical problems is important.
Kritter Kommunity Contributor