Dogs and kids aren't the only ones who have a incredibly fun parties that everyone raves about. Pictures plaster the internet of their cute costumes, colorful banners and piles of gifts. Well, a kitty cat might enjoy a different ambience, cat lovers know that felines sure do appreciate attention. In fact, many of them will demand center stage. This can be the absolute best species to throw a party for. This post is all about how to have a wow-worthy birthday party for your cat.
RELEVANT: Tips For Planning An Awesome Dog Birthday Party
The Social Benefits of Having a Birthday Party For Your Cat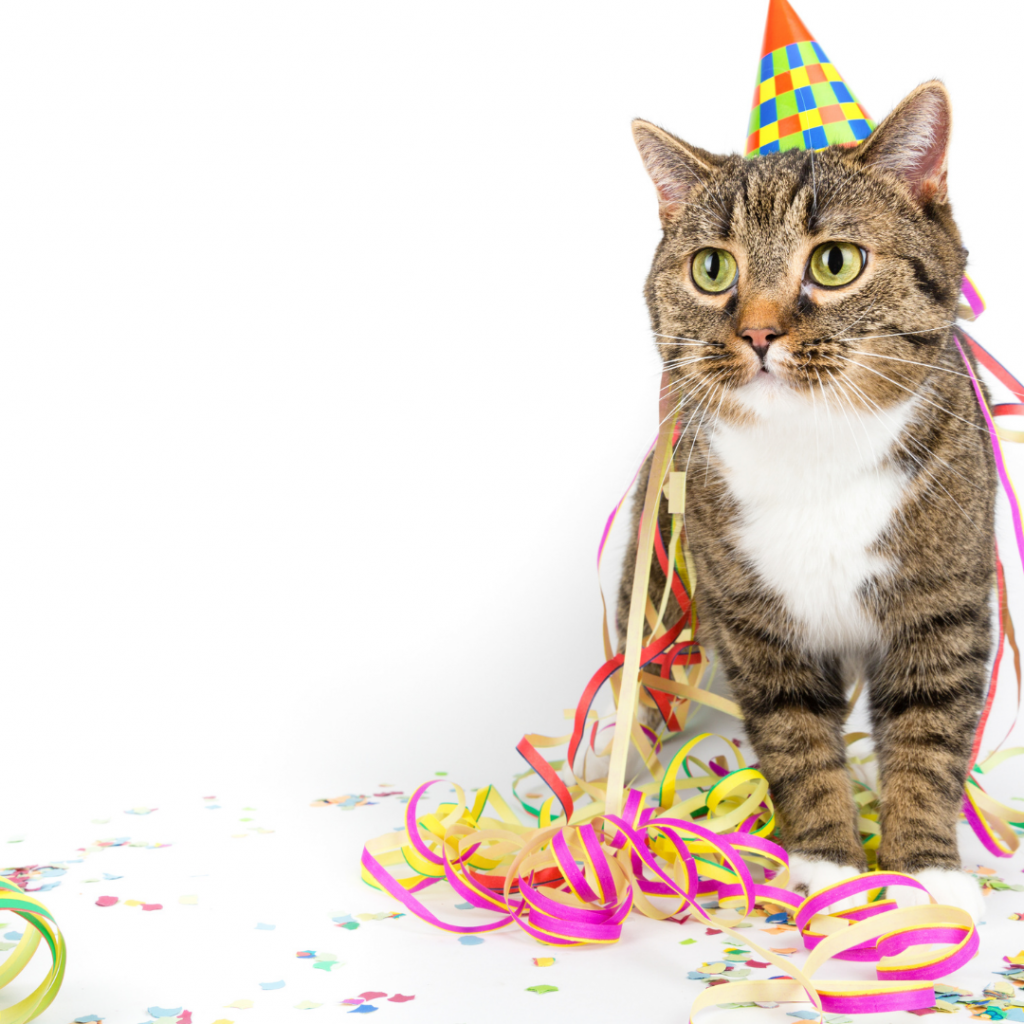 Contrary to popular belief, parties aren't just for us humans! Just like us, cats are social animals who deeply appreciate being the center of attention. Here are some helpful ways to thoughtfully plan a fun birthday celebration that will make your favorite feline the life of the party! Grab your kitty's personalized birthday bandana and lets get started!
Steps To Having A Birthday Party For Your Cat
Virtual gatherings like Zoom, Skype, and FaceTime are safe and accessible ways to connect with friends and family in the comfort of your own home or office… for free! Virtual venues and conference call style gatherings help you video chat with online pals, fellow remote coworkers, and family from out of state without spending on costly airfare or having to take time off for travel. Video venues are great for those cat owners who live in apartments without the space capacity to accommodate an entire guest list! Since you'll only be decking out your birthday backdrop, Zooming is a great way to save money and time on decorating.
All you'll need are balloons and a birthday garland that spells out your precious kitten's name! The best part of hosting your kitty's birthday party online is that it renders the post-party cleanup obsolete, which is great deal for hostesses like myself who dread having to wake up early to tidy up a messy kitchen and wipe down the sticky soda stained countertops.
To quickly set up a Zoom party, all you need to do is create an account, pick a date and time and then send a link to your guests inviting them to join the gathering. How fun it would be to add kitty cat virtual filters for your guests faces! Just be sure to take off the virtual cat masks when they party is over. Remember this? OMG hysterical!
If you'd like to virtually celebrate while helping animals, register your virtual birthday party at www.echoage.ca/ospca and have your friends and family donate online to help make a difference for animals in need.
Pick A Party Theme That Expresses Who Your Cat Is
Now it is time to get creative and plan a birthday party for your cat!
Picking a theme for your kitty's birthday party is a silly way to celebrate their unique personality, likes, and quirky little mannerisms.
In my family, there is a long running joke about my cat Nelly secretly being a pickup truck enthusiast because we typically find her laying outside in the bed of our pickup truck. How hilarious would a trucker themed cat party be? I'd ask all of my guests to wear trucker hats and use the theme as an ice breaker to get the fun started. My other kitten, Nina, was named after the legendary music icon and activist, Nina Simone. For her, I'd throw a jazz themed birthday party filled with music, inviting my guests to share their favorite soul warming songs with me. For girly, sweet cats a Hello Kitty themed party is always in style.
Be Mindful of Invitations
Being mindful of your cat's social temperament is important when creating a guest list. If your cat is really friendly, I'd say the more the merrier. If they are typically reserved and get frightened easily, keep the guest count low. Sending out invitations in a timely manner is crucial for your kitty celebration's success.
Typically, one to two weeks is enough notice to gauge how many guests will be in attendance. Whether you are hosting the party in house or online, you'll want to encourage guests to RSVP.
Encourage your guests to bring their own cats and kittens to mingle. Remember, cats typically live in colonies, therefore they are naturally interested in complex social interactions with other cats.
Entertain Your Guests With Exciting Games
There is endless fun to be had at a cat birthday party. For some laughs, tell your guests to come prepared with their favorite cat meme or video saved on their phone. The meme that gets the most laughs wins! If you're celebrating at home, why not try round of meowsical chairs?
How about filling cat shaped piñata that resembles your kitten and filling it with cat toys and treats?
If your friends are more the creative bunch, get supplies together to make play-doh ornaments with your pet's paw prints. In either setting, let your kitty guests a little taste of catnip to get their energy revved up for some fun. If you're looking for something more laid back, watching a movie on Zoom with your friends and their cats is really simple and easy way to celebrate.
Offer Yummy Treats To Make Your Guests Meow
Everyone knows cats are seafood diehardsso stick with this theme on your menu. Arrange and assortment of mini crab cakes, shrimp cocktail, fish sticks, and salmon croquettes. No birthday party is complete without a delicious cake. Bake a cake out of a cat head cake pan or get a cake made featuring a photo of your kitty. Or make bitesized cupcakes and decorate them to look like teeny paws, pink toebeans and all!
Be sure to check out our blog post, Delicious Cat Shaped Cookies, Bread And Cake Pans for lots of great cat party ideas that includes sweets, cakes, cat head bread and even a vanilla cake recipe!
Share Away on Social Media
Sharing photos on social media is a special way to save memories and liven up your digital feed. For a fun photoshoot, create paper crowns or classic pointy party hats for all of your guests, including their cats! If you're partying remotely, get a screenshot of your Zoom celebration and ask your guests to hold up their furry friends. Share to Instagram and Facebook with the hashtag #catbirthday to rack up the likes and make your cat a famous influencer online!
A gracious host will always thank their guests for sharing their time. Let your friends and family know how much fun you've had celebrating by mailing out thank you notes. Have your kitty press their paw in washable paint to sign their own special cat signature. Here is a great time to send your guests any polaroid shots of their pets celebrating!
Birthday parties are for cherishing the lives we so deeply love, including our precious cats! So cue the music, light the candles and party on, kitty lovers!
If you enjoyed this, you may also like our other blog posts:
Furniture Solutions For Cats In Small Apartments
BOHO Cat Furniture On Amazon You Will Love
Cat Furniture Your Feline Friendly Home Can't Do Without
How To Beautify Your Home With Modern Cat Furniture: Scratchers And Shelves
Amanda Mansoorbakht
Kitty Cat Contributor
Amanda Mansoorbakht is a freelance writer from El Monte, California. She lives with her two year old Russian Blue, Nelly and her baby kitten Nina. In her free time she enjoys running, rollerblading, and fostering newborn kittens.

Latest Blog Posts