Do you have a bunch of crazy cat lady t-shirts but really don't know how to wear them so you look fashionable, chic, trendy and even adorable? Lady, I know your pain. I want to make a statement (I love kitty cats) while avoiding that whole 'crazy cat lady' curlers in the hair look. This post is all about accessorizing your cat t-shirt with insanely cute accessories.
I put together the look above that you can totally steal right off this page. Or you can mix and match with some other pieces I'll describe in this post.
So grab your wallet and let's get to work!
Here is the exact summer casual cat lady outfit above:
A beige or grey statement cat watch can be just the touch to catatize™ your summer look. The one I picked for this has an affordable price tag, right on Amazon.
If you don't already have a few kitty cat t-shirts but you love kittens and cats, it is time to bless your wardrobe with a few. The t-shirt shown above is reasonably priced and comes in a few different colors.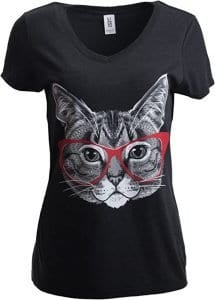 3. Baby Blue Hobo Crossbody Handbag
Baby blue can be a great way to add a pop of color without being overstated. Plus, boho outfits and themes are everywhere right now. Adding color and cats to a boho clothing ensemble is a natural home run.
It might be old school, but matching shoe color and purse works really well, although it is not necessary. This blue is an attention grabber since it matches the shoes nicely and ties in purrrfectly with the kitty cat's face mask!
If the cat on your t-shirt can wear a face mask, you surely need one too! There are so many styles and designs out now, I have more face masks than shoes! I really like this one because it goes with anything. You cannot go wrong with black and white, and of course with a kitten design.
These made me stop in my tracks. Comfortable and adorable!?!? Oh, and they go purrrfectly with the kitty cat face mask on the cat t-shirt. If you love baby blue, they also have these in blue metallic!
6. Sterling Silver Cat Earrings
I prefer silver over gold especially when going for a summer casual look. I think silver looks great against a nice summer tan. These earrings caught my eye because they have a hint of colors which makes a nice image in their cat ear frames.
The shorts shown in the look guide are a way too short for me. I think a bermuda short would also look great with this look.
A top choice of mine in the summer with t-shirts is a denim skirt. A line is my favorite and I like the look with Birkenstocks.
Embrace your inner cat lady!
This post was all about accessorizing your cat t-shirt and looking insanely cute.
Lisa Illman