Cat beds are necessary for your kitty cat's sleeping pleasure, but they can also be stunning pieces of furniture; if you get the right bed! These beds have been paw-picked specifically with the modern cat lady in mind. And don't worry, if you are a cat daddy you will love them too and so will your fur baby!
An eye-catching piece of modern furniture can make all the difference in any room. The number one place to find consistently beautiful, modern cat furniture is Tuft and Paw. They have a variety of kitty stuff to choose from, including beds that make cats purr while doubling as statement pieces.
These are my hands-down favorite kitty beds over at Tuft and Paw.
Cloud Nine Window Hammock
This elevated kitty cat hammock doubles as a resting spot and window gazer. Your cat will get hours of sun beams while catching a nap or watching butterflies flutter by. The Cloud Nine Window Hammock was designed with your cat's body in mind; smooth and sleek curves give her a comfy bed.
If your cat loves to people and bug watch like Finnegan Illman, this hammock will be a WIN!
Stellar
This bed is called Stellar for a reason! It is a Stellar nest for your feline and it is a gorgeous piece of furniture for your house, condo or apartment. Your cat will love peaking her head out to see the world, while feeling safe and secure inside her lux and furry dome.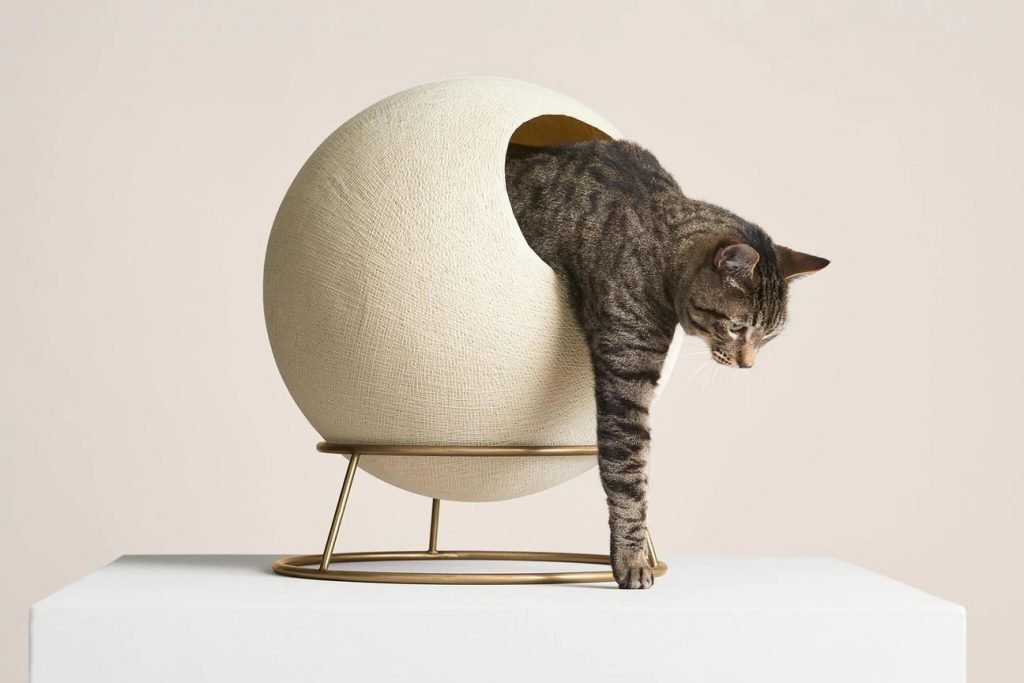 Semi-rigid on the outer of the circle for security, structure and easy access.
Kip
If you want a modern styled cat bed but don't want to over do it, the Kip is for you! This bed comes in three sizes. The simplistic, yet chic design is an excellent choice for all home furnishings. This cat bed is a great gift idea for cat folks because it can go with any decor.
Puff
This Puff is precious and giving me all the good napping vibes. Your kitty can snuggle in the Puff as her primary resting spot, or you can move it around easily for casual sits. Much like the Kip, the Puff makes a wonderful gift because it is chic enough to make a statement, yet simplistic in design so it will go with all styles.
Peekaboo
The Peekaboo teepee is soooo cute! The material is made of a lush felt fabric and the frame is ash wood. Any size kitty will fit in this bed, and a group of kittens will enjoy playing in here too. It is easy peasy to set-up so there is no fuss, just purrs!
The dimensions on this unique cat house are 19.5″D x 19″H giving your fur baby lots of space to stretch her paws. There are three windows so she can climb in and out very easily.
Cleaning the Peekaboo is a breeze! Simply lint roll the outer fabric. Tuft and Paw recommend vacuuming or shaking out the cushion for a light clean.
Beckon
This dynamic yet practical Tuft and Paw cat bed is a favorite among pet owners. Not only will your feline find a comfy place to snuggle, you will enjoy how stunning this looks in your home! Ideal for any room really, this pet bed can be used on the floor or up higher on your dresser.
The Beckon comes in two modern colors; grey and off white.
Nuzzle
The chin rest! This meow mat is soooo cute. It reminds me of a doughnut. Soft and compact, your kitty will love making a few biscuits before curling up for a good rest.
Kritter Kommunity is an affiliate for Tuft and Paw and will receive a small commission for every purchase you make using the links in this post.