Living in a small apartment can be challenging, especially for our furry friends. Cats, in particular, need plenty of space to explore and play, but that can be difficult to provide in a cramped living area. However, with the right furniture, you can create a comfortable and stimulating environment for your cat. In this blog post, we'll explore some of the best furniture options for cats in small apartments, so that you can give your feline companion the space they need to thrive. This post is all about furniture for cats in small apartments.
We started to study the problem and discovered that many exciting solutions could become stylish ways to design with your cats in mind. In other words, you can have a cat-friendly home without giving up style. 
What Are The Benefits Of Cat Furniture?
Cat furniture not only lets your cat know you love him but has also been proven beneficial for your cat's overall health. Benefits include territory expansion, seating at high levels, safe places to hide, provide scratching and stretching apparatus. Meeting a cat's prevailing instinctive tendencies improves his health overall.
How Can I Make My Small Apartment Better For My Cat?
Your cat will be happiest being near you, so as long as you live in your small apartment, too, you are off to a good start. Small apartment cat furniture is a great way to improve your cat's lifestyle. Shelves for your walls, cat scratchers, grooming brush, and toys are the cat essentials for a solid foundation. Adding a cat tree and her window pet bed or hammock will be nice if you can keep going. The key is designing your wall space for her to utilize so it frees up your floor space. 
Furniture for Cats in Small Apartments
Climbing Cat Shelves
It is natural for cats to climb and climb; it is important that your feline has this ability.
Erecting special structures so that a cat can rest "at high altitudes" and observe the life of the house is a top notch way for your cat to indulge his instinctive priority; feeling safe and superior.
Climbing walls are by far the absolute best cat furniture to have in a small apartment without compromising design.
You can create a meow masterpiece in any style while saving prime floor real estate.
When you create a wall masterpiece, you can choose materials and products that seamlessly blend with the people furniture.
Alternatively, you can pick out your cat wall favorite and then build your apartment furniture around the wall.
In homes with several floors, the staircase can become a favorite place for your cat. However, if you live in an apartment without a mezzanine, a shelving unit or a regular bookshelf can work for climbing purposes. Some cat lovers even create climbing spots for the felines out of regular furniture.
For DIY ideas, search on Pinterest and you will no doubt be crafting some neat walls yourself!
Amazon has several cat wall climbers that are available on Prime and have rave reviews. The Midlee store has a cat wall climber at a reasonable price of $134.99 on Prime.
The main thing to remember about cat furniture quality and installation: the structure must be stable or well fixed, the surface of the shelves should be equipped with a non-slip coating and everything fragile should be removed from the path of the cat.
Make sure that your cat is comfortable not only climbing on the cat shelves, but also getting off them. This is especially important if you have a senior cat who has arthritis. Jumping up and down to high will hurt his joints.
Fluffy will be grateful if you equip her with a place to rest or even make a small house on the shelf for her to hang out on the wall.
Furniture for Cats in Small Apartments: Scratching Posts
Kittens and cats alike need a post or two for stretching and scratching. When you provide him with his own spot to scratch, he usually will not encroach on other parts of the apartment, like your favorite chair.
Sisal, carpet, cardboard and tweed are all materials used in the perfect scratching posts. These materials are cat magnets and super satisfying to a cat's claws.
There are many shapes and sizes available, and even posts that hang on the wall.
Sturdiness, length of the scratching post and durability are all important factors to review when choosing your posts. Cat scratchers are essential and a sturdy post makes all the difference!
If nevertheless, the corner of the sofa was passionately chosen for your cat to practice his shredding capabilities, then you will have to reconcile and cover this corner with dense material or attach a scratching post to it.
A favorite of the Kritter Kommunity is the sofa scratcher on Amazon. It is ideal for keeping your cat happy and your couch happy too!
Feeling like using your hands? Create your own scratching post with products you already have or that you can pick up at Home Depot, Michael's or Wal-Mart. Ikea is a favorite for cat lovin' DIY designers!
Cat Doors
If you have the ability to give the cat the freedom to come and go as he pleases, then it is worth building "cat doors".
These doors are just a small opening in your front door, large enough for your cat to walk back and forth freely.
A plastic or rubber vent attaches to a neatly cut hole in the door. Once you try it, your cat will be able to enter or exit through the door into other rooms as she pleases. There are several types of cat doors.
Whichever you choose, they should be no more than two inches off the floor so that the cat can walk rather than jump through them.
Furniture for Cats in Small Apartments: Cat Trees
Cat trees are all the rage among felines!
The tree in the apartment appeared thanks to the cat, for his need for movement and observation of his territory from a dominant position. The colors and styles available today give cat lovers the freedom to have cat furniture without sacrificing style.
There are still trees available that are simply made of conventional carpet, and that is still a hit among cats.
Modern and contemporary cat trees are becoming more and more popular and make an incredible design statement. For more information about modern cat trees, our blog also posts 8 Modern Cat Trees That Make A Major Statement.
A tree in an apartment for a cat allows you to reach a compromise when both the furniture is intact and the cat has a place that meets his needs.
Cat Toys
As soon as a kitten appears in the house, it becomes necessary to purchase various household items intended for a new tailed friend. For a list of kitten supplies you will need, our blog offers 10 Kitten Adoption Essentials.
Little kittens are curious and active, so they will also need toys with which they can spend their leisure time in a fun way.
Even adult cats are often interested in special toys that develop thinking, attention, agility, and other useful skills in pets. For a list of some of our favorite cat toys our blog offers, 10 Modern Cat Toys You Have Got To See and The Best And Cutest Cat Toys Your Cat Will Love.
How to choose a cat toy:
The toy should be of high quality, made from environmentally friendly and safe materials if possible.
There should be no small and detachable parts on the toy.
The cat owner should take into account the preferences of the tailed friend. Some cats love to play with furry mice, while others are passionate about chasing balls.
For general development, you can buy a multifunctional toy or an educational complex for the cat.
Assortment kits are available and they can make it super easy to get a bunch of stuff that will be a hit with your feline. I recommend getting an assortment that includes a tunnel for your cat to lunge in and out of. They love that!
6. Wall Cat Hammock
There are some really neat cat hammocks that literally attache to the wall for your furry (or hairless) feline to curl up comfy and cozy while observing her home. Wall hammocks come in many shapes, styles and colors to go with whatever home decor you have. I have this exact one, it is available on Amazon.
Concluding Thoughts
Living in an apartment or small home does not have to deter a cat lover from adopting a senior cat or kitten. There are lots of products on the market that you can use to make a cat-friendly home without sacrificing style.
For crafty cat lovers, DIY ideas are on YouTube, Pinterest and Instagram and will surely inspire you to create a meow mansion that you love too.
What can you do for your beloved apartment cat to keep him happy? Build the best place for him in your apartment and spoil him with attention and love.
If you enjoyed this you may also like our other posts:
Fading Indoor With Outdoor Using Pet Furniture And Animal Lover Decor
BOHO Cat Furniture On Amazon You Will Love
If you are feeling handy, this DIY cat shelf idea will be of interest to you!
Why Is Kritter Kommunity Your Trusted Pet Partner?
Lisa Illman is the Founder of Kritter Kommunity, LLC. She has a tuxedo male adult cat currently and she has had him since he was a baby kitten; so Lisa knows well the kitten lifecycle, the teenage cat lifecycle and the adult cat lifecycle (he is currently 11 years old). Prior to her cat Finnegan, Lisa had two FIV positive cats for a decade. They inspired Lisa to invent a cat enclosure so they could safely sit outside and enjoy fresh air and sunshine. She brought the product to market and eventually designed a line of portable catios; they sold on Amazon, Skymall, Wayfair and countless other websites. Her experience being a cat parent coupled with her business development and product management experience make her a trusted cat enthusiast partner. She and Finnegan (her cat) test, research and review pet products to give readers the best feedback possible.
Lisa Illman is the Founder of Kritter Kommunity, LLC. She has a tuxedo adult cat and has had him since he was a baby kitten. Before her cat Finnegan, Lisa had had two FIV-positive cats for over a decade. They inspired Lisa to invent a cat enclosure and a portable catio so they could safely sit outside and enjoy fresh air and sunshine. Lisa had a Poodle and a parakeet growing up. She currently loves to pet-sit for her neighbors' dogs and cats.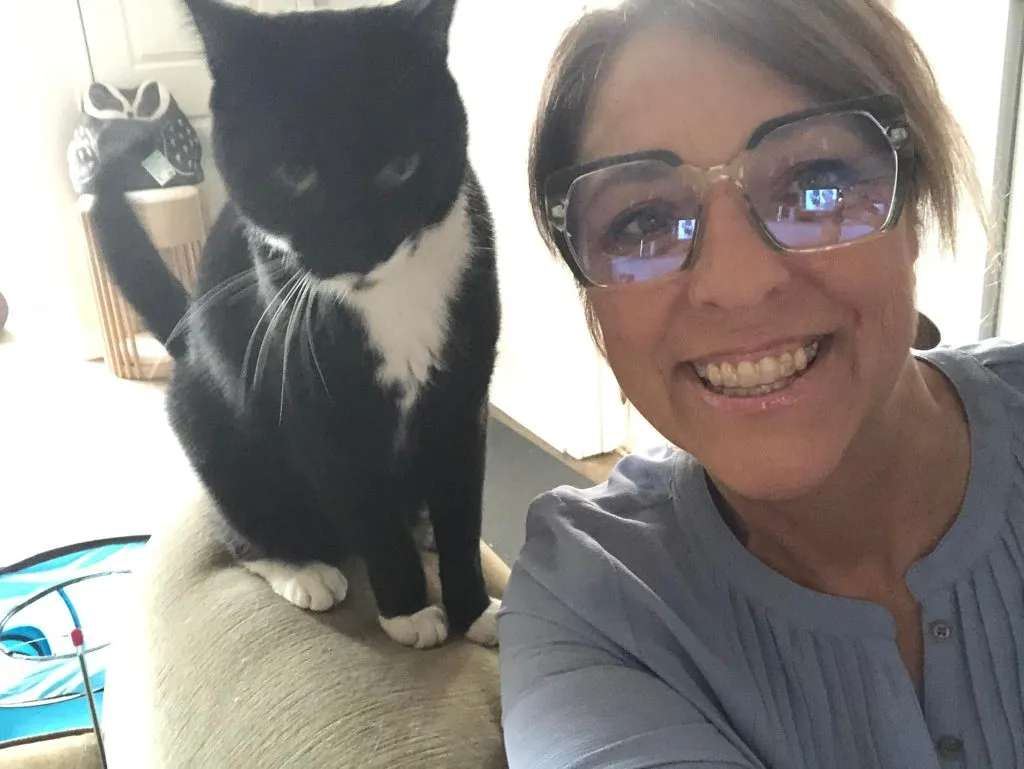 Why is Kritter Kommunity Your Trusted Partner?
Our mission at Kritter Kommunity is to promote happy and healthy lives for pets and their owners. We specialize in Barkitecture and designing tips for pet-friendly homes, utilizing the natural instincts of cats, dogs, and small critters to create a home life that pets and people love. From tips on pet care to reviews on pet toys and furniture, we are a go-to source for all things cats, dogs and small critters. Join us in celebrating the joys of pet ownership and providing the best possible lives for our furry friends.