While the addition of toys, cozy blankets, outdoor lightening and scratching posts can make a catio a comfortable and inviting space, there's one accessory that can take it to the next level: plants.
RELEVANT: Light Up Your Catio: Amazon Has Thousands To Choose From
This post is all about choosing the perfect plants for your cat's catio.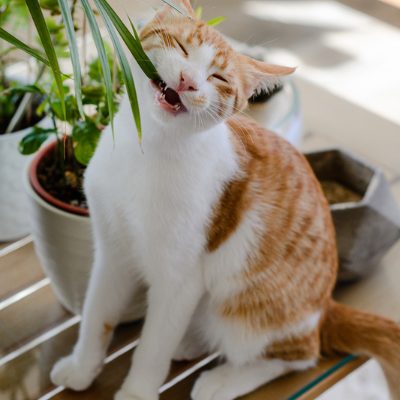 Using Plants in Your Cat's Catio
A catio or outdoor cat pen is a feline paradise, but it can be enhanced with plants to make it even better. Not only do plants add aesthetic value, but they also have air-purifying benefits and can be functional too. Here are some ways to use plants in a cat enclosure.
Decor
Plants can be used to add visual appeal to a catio. Hanging baskets, potted plants, and climbing vines can create a lush green environment that cats will love.
Orchids are a great addition to your catio decor. They can be used to enhance cat shelves, a cat tree or even decorate around a table or chair. You can also grow them around the screen of the catio for added privacy. The best part? Orchids are not toxic to cats, so you don't have to worry about your kitty getting sick if he finds it interesting and gives it a lick.
Air Purification
Many plants are known to purify the air by removing toxins and pollutants. Spider plants, Boston ferns, and peace lilies are great air purifiers that can enhance the air quality of your cat enclosure.
Functional Flooring
Grass or moss can be used as flooring in a catio. Not only does it create a natural environment for cats, but it also helps absorb moisture and reduces the risk of slipping.
Privacy Screening
Plants can provide privacy screening in a catio. Bamboo, shrubs, and tall grasses can create a natural barrier that can help cats feel safe and secure.
Air Purifier
Not only do plants add a natural element to your cat's living space, but they can also provide a range of benefits for both you and your feline friend. First and foremost, plants help to purify the air by removing toxins and producing oxygen. This can be especially beneficial if your catio is located in an area with high levels of pollution or if you have allergies or respiratory issues.
Natural Stimulation
In addition to their air-purifying benefits, plants can also provide sensory stimulation for your cat. Your feline will love the smells, the natural aesthetics and be interested in the bugs that plants sometimes attract. Non-toxic plants can seriously upgrade a catio to the next level.
RELEVANT: Bring Nature Inside with Biophilic Design Techniques & Realistic Cat Trees
Cats are natural explorers, and the addition of different textures, scents, and colors can make their catio a more interesting and engaging space. For example, moss ferns provide a soft and velvety surface for your cat to rub against, while grape hyacinths offer a sweet and floral scent that can be calming for both cats and humans.
Of course, it's important to choose plants that are non-toxic to cats to ensure their safety. The list of non-toxic plants is extensive, but a few options include bamboo, Brazilian orchids, Easter daisies, fennel, garden marigolds, hollyhocks, and moss ferns. These plants are not only safe for your cat, but they're also relatively low-maintenance and easy to care for.
When selecting plants for your catio, it's also important to consider your cat's habits and preferences. For example, if your cat likes to nibble on plants, you may want to avoid certain varieties or place them out of reach. Conversely, if your cat enjoys lounging in the sun, you may want to choose plants that can tolerate direct sunlight.
Incorporating plants into your cat's catio can be a simple and effective way to enhance their living space while also providing a range of benefits. From air purification to sensory stimulation, plants can make your cat's catio a healthier, happier, and more engaging environment.
In conclusion, plants can be used in a variety of ways to enhance the aesthetic and functional value of a catio. They can purify the air, provide functional flooring, and create privacy screening. Adding plants to a cat enclosure can turn it into a lush and healthy environment that your feline friend will love.
More about Catios
Purrfect Pots For Catios: A Guide To Choosing The Right Material
This Company Is Devoted To Building Outdoor Cat Enclosures, Tunnels And Catios In Portland, OR
Should A Catio Have Litter Box?
10 Tips For Choosing The Best Cat Enclosure Furniture For Your Catio
When Building Catios Is Not An Option [2021 Updated]
Building Your Cat A Catio For Less Than $100
Your First Catio: 10 Essential Steps To Success
Everything You Need To Know About Outdoor Cat Tunnels In 2023