Our cats are family. We love them and want to make sure they are comfortable and well-cared for. As a cat owner, you take time to research the best foods to give your feline friends, take them to the veterinarian to keep them healthy, and find time to play with your cats to keep them happy. Taking the time to buy the right products for your pet and the environment can be time consuming. That is why this post is all about amazing eco friendly cat beds.
Why not give your kitty an eco-friendly cat bed where they can get comfy and cozy and enjoy and afternoon nap? An eco-friendly pet bed is a better option than standard pet beds. They are made from recycled or natural materials and producing them helps the environment, rather than harming it.
Below we have reviewed five of the best eco-friendly cat beds. Read through our reviews so you can find the perfect gift for your feline friends. They'll be sure to reward you for your thoughtfulness with extra purrs and headbutts!
The Cat Cave
Our favorite eco-friendly cat bed is The Cat Cave. It is a cozy bed your cat will love to curl up in for a nice, long nap! As its name suggests, this pet bed has a cave-like shape, where your furry friend will feel snug and secure.
The bed is made from 100% merino wool. This gives it a super-soft feel which your cats will love to cuddle up against. Plus, since merino wool naturally repels odors, stains, and dirt, the bed stays cleaner than many other beds on the market. The bed is also non-toxic, so you don't need to worry about it causing any harm to your cat.
This cat bed comes in a variety of sizes and colors, so you can find the perfect napping spot for your kitty. The medium-sized bed is perfect for cats who weigh up to 12 pounds. The large-sized bed is great for cats weighing over 12 pounds. There are four color options for you to choose from. The bed is available in black and aqua, dark gray, light gray, or slate gray. Whichever color you select, your cat is sure to love their cozy new bed!
Fhasso Luxury Bamboo Cat Beds
The Fhasso Luxury Bamboo Cat Bed is an oval bed with high bamboo walls. The interior of the bed is a soft velvet cushion to keep your cat comfy while they catch some z's. This cat bed is meant to give cats the comforting and secure feeling of being in the womb.
If you are looking for a cat bed that will add appeal to your home, then the Fhasso Luxury Bamboo Cat Bed is a great choice. This bed is visually appealing and can serve as a conversation starter when you have guests over.
This cat bed is designed to provide years of comfort to your precious kitty. It is constructed using high-quality materials and will hold up well to a mischievous kitty.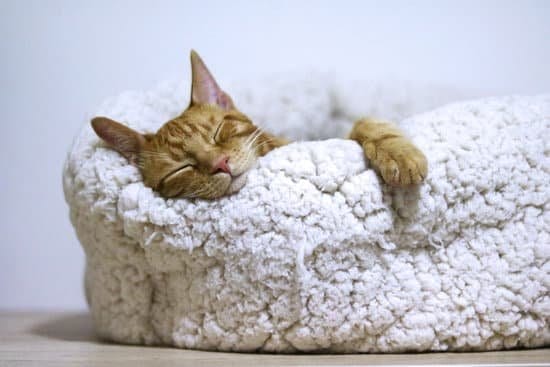 You can feel good about your decision to purchase this bed since it is made from eco-friendly materials. The outer shell of the bed is made from bamboo, which is a self-sustaining plant.
If you are not satisfied with your purchase of this cat bed, the manufacturer will give you a full refund.
Delxo Cat Scratcher
The Delxo Cat Scratcher is a cat scratcher that doubles as a bed for your kitties. It is shaped as a little couch for your kitties to lounge in and scratch. The surface of the bed is made from corrugated cardboard featuring a double side design. The cardboard used to create this bed/scratcher is made using recycled cardboard. The scratcher is also non-toxic, so you can feel comfortable with your cat using this item.
The Delxo Cat Scratcher provides a comfortable place for your cat to rest. There is a backrest on the scratcher to provide them support while they sleep. When you purchase this bed/scratcher, you will also receive organic catnip that you can use to reward your cat or entice them to use the scratcher.
Purchasing the Delxo Cat Scratcher provides your cat with an approved and desirable space to scratch. This can help save your carpets and furniture. Your cat will love this bed/scratcher and so will you.
P.L.A.Y. Pet Lifestyle and You Eco-friendly Lounge Cat Beds
The P.L.A.Y. pet bed is a comfortable and soft bed that your cat is sure to enjoy snuggling up in. This bed features a removable cover that can easily be washed to keep the bed clean for your furry friends. The bed's removable cover is hypoallergenic, soft, and breathable, the perfect combination to keep your cat and your family healthy.
This pet bed is environmentally friendly. The filing is made from recycled plastic bottles. So, instead of creating more waste by purchasing this bed, you are helping the environment.
The P.L.A.Y. pet beds are constructed using high-quality materials. They feature even-basting stitching as well as furniture-grade craftsmanship, so you can be confident that they will withstand lots of use by your kitty.
There are numerous color and pattern options available for this cat bed. You will be sure to find a pattern that is perfect for your taste and that your kitty will be drawn to.
Aolvo Fancy Cat Beds
The Aolvo Fancy bed is a cushy bed with high walls to help your cat snuggle in when they sleep. The bed is made using premium materials that are designed to last. The outer covering of the bed is a high-quality, heavy-duty cotton. It is water-resistant and breathable to keep your cat cool and comfy when they take a snooze.
This pet bed is soft and fluffy. Either side of the bed can be used for your pet to sleep on, so you can flip it over to keep them comfortable. When the bed gets dirty, cleaning it is very easy. You simply need to place it in the washing machine and it will come out clean.
If you are not satisfied with your purchase, you can contact the company, and they will work with you to try to keep you as a satisfied customer.
If you are looking for an eco-friendly pet bed for your precious kitty, there are a lot of options to consider. You want to find the perfect bed that will help keep your cat comfortable and happy. You also want to find something that is made using environmentally friendly materials and is produced in an environmentally friendly manner. For these reasons, The Cat Cave is our top choice for a pet bed for your cat.
With its high sides, this bed will help your cat feel safe and secure when they sleep. The bed is made from merino wool, which is both super soft for your cat and is also a natural repellent of stains and odors. Your cat will love sleeping in this cozy bed.
As a cat lover, you want your feline friends to be comfortable and feel loved. Buying them a new eco-friendly cat bed is the perfect way to do this. They will be grateful to you for their new, soft oasis!
Author Bio:
Emily is an animal lover and has a passion for writing about pet care & health. Through her writing she is spreading awareness on how people can live better happier lives with their pets. Till now she has adopted 3 stray cats & always encourages people to adopt animals from shelter homes.
Treat Your Cat
Save up to 30% on Your First Subscription in Pets