Spring is here and Easter is almost here! While we humans are preparing for egg hunts and candy-filled baskets, let's not forget our feline friends. Your beloved feline deserves to join in on the Easter celebration as well, and what better way to do so than with some colorful, interactive Easter cat toys!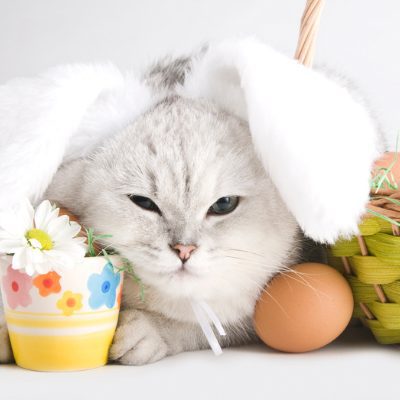 We did a little round-up of some cute Easter kitty toys that your cat will surely love all year round.
RELEVANT: Favorite Small Cat Toy 2023
Interactive Cat Toys for Easter
Interactive cat toys are a great way to provide indoor cats with much-needed exercise and mental stimulation. These toys come in a variety of colors, including pastels that appeal to cat lovers who enjoy a more subdued color palette.
Felines that play with interactive toys are more likely to stay active and healthy, which is especially important for indoor cats who may not have access to the outdoors. Kittens and cats alike can benefit from these toys, as they provide a fun and engaging way for them to burn off excess energy and hone their hunting skills.
In addition to promoting physical and mental health, interactive cat toys can also help to prevent destructive behavior. When cats are bored or understimulated, they may turn to scratching furniture or other undesirable behaviors. Providing them with stimulating toys can redirect their energy and prevent these issues from arising.
We love these cute little chirpie birds!
The product includes a fresh catnip silvervine pouch as a bonus, which can be added to your cat's playtime for added fun.
By simply removing the lid and adding a catnip silvervine blend, cats will go crazy for it. Additionally, the 3 ball toys provided are soft and interactive, serving as a cozy companion for your furry friend. The catnip toy helps keep cats active and occupied, even when their favorite human is engaged or away.
Flutter Into Spring with the Flurff Cat Toy Butterfly for Cats and Kittens
This fun and interactive toy will provide cats and kittens with endless hours of entertainment, while also giving them the exercise and stimulation they need to stay healthy and happy.
The Flurff Cat Toy Butterfly is an electric flutter rotating kitten toy that will have your cat jumping, pouncing, and purring up a storm. Its realistic butterfly design is reminiscent of Springtime, making it the perfect addition to your Easter celebrations.
Not only is the Flurff Cat Toy Butterfly fun for your cat, but it also promotes exercise and activity. With its interactive design, your cat will be encouraged to move, jump, and play, keeping them entertained and engaged for hours on end.
The toy features glowing butterflies that can attract your kitten, providing them with an opportunity to dance with the butterfly. Operating the toy is easy with a gentle push, and it requires three AA batteries (not included). The broad and heavy base ensures that the toy does not slide around during lively attacks on the flying prey.
Using this cat toy frequently can help your cat get exercise, which can prevent feline obesity and enhance the emotional connection between you and your feline friend. The toy comes with two replacement butterflies that are resistant to scratching and biting, preventing accidental damage.
The Flurff 360-Degree Rotating Butterfly comes with a one-year warranty and is backed by a 100% satisfaction service guarantee. If you encounter any issues with the toy, please do not hesitate to contact Flurff. In the event that the toy is broken, Flurff will provide a new one.
5PCS of Fun: Biubiucat Catnip Toys for Your Beloved Cat
Looking for the perfect addition to your cat-friendly Easter basket? Look no further than the Biubiucat Easter Catnip Toys! This set of five interactive cat toys is sure to keep your feline friend entertained for hours on end.
Not only are these toys cute and soft, but they also come in pastel colors that are sure to catch your cat's eye. And with catnip inside, your kitty will be enticed to play and chew on these toys, making them a great choice for teething kittens and indoor cats who need to stay active.
These catnip plush toys are perfect for kittens going through teething, and make great gifts for cat lovers or as an Easter present for your favorite feline.
The toys are designed with adorable Easter elements such as eggs and rabbits, and will add a festive touch to your home.
RELEVANT: How to Catatize™ Your Home for the Pawlidays
They are stuffed with organic catnip to help relieve teething pain and improve your cat's oral hygiene while giving it fresher breath.
Made of quality cotton and linen fabric, the toys are comfortable and won't cause irritation. Playing with these toys will provide your cat with exercise, improved digestion, and lower stress levels, while satisfying its natural chasing and hunting instincts. Remember to keep the toys in a sealed bag when not in use to maintain the catnip's effectiveness.
Get Your Furry Friend Hoppin' with CiyvoLyeen's Easter Wand Cat Toys
This 4-piece set includes an Easter egg, bunny, carrot, and chick plushie, each one adorned with colorful tassels and jingle bells. Not only are they absolutely adorable, but they're also interactive and filled with catnip to keep your kitty engaged and entertained.
Cats love wand toys, and these plushies are the perfect size to attach to a wand for some exciting playtime. The jingle bells add an extra layer of fun, and the catnip ensures that your cat stays interested in the toy for longer periods of time. And let's be real, who doesn't love watching their cat go crazy over a toy?
But these toys aren't just cute and entertaining – they also provide much-needed exercise for indoor cats. (We are a big fan of indoor kitty cats getting exercise!)
With these toys, your cat can run, jump, and pounce to their heart's content, all while burning off some energy and keeping fit.
Plus, the pretty pastel colors of the toys make them a perfect addition to any cat lover's home decor. They're sure to bring a smile to your face every time you see them.
Make a Cat-Friendly Easter Basket
Cats love to dig into baskets and hunt around for things. Creating a kitty cat-friendly basket can be oodles of fun for you and your feline. It is also a great opportunity to have a little party with some other cat parents and assemble your baskets together.
RELEVANT: How To Have A Wow-Worthy Party For Your Cat
Assembling a fun Easter basket for your feline friend is a great way to show them some love this holiday season. To start, look for a basket shaped like a cute kitty cat to add a special touch. Fill it with goodies like pastel-colored toys, cat treats, and catnip.
Cat toy wands and catnip toys are always a hit with kitties, and modern cat toys like balls with bells or crinkle balls can also be great options. Consider adding some silvervine, a natural alternative to catnip that many cats love.
Remember to always supervise your cat during playtime and choose toys that are safe and appropriate for their age and size. With a little creativity, you can make your cat's Easter extra special with a basket full of fun surprises.
I would avoid using traditional Easter grass in case your cat inadvertently eats and swallows it. Stick with shredded newspaper or paper. You can pull some right out of your shredder 🙂
Concluding Purrs
Hop-fully this got your juices flowing and gave you a few ideas.
In conclusion, let's make this Easter a purr-fect celebration for our feline friends too! With a range of fun and colorful Easter cat toys available, we can ensure that they have just as much fun as we do during this festive season. So go ahead, spoil your cat with some new toys and watch them enjoy the holiday spirit alongside you. Happy Easter, everyone!