Adding a dog to your life is an important step. After all, they provide unconditional love, companionship, cuddles when needed, and the occasional face lick to show their affection. No matter what kind of puppy or adult dog you get, choosing a name is essential. You want it to be unique, as it will also resonate with how you interact with your puppy in the future. There are a few things you will want to consider right away and one is your new fur baby's name. This post is all about dog names that have not been over-used.
This name will be carried by your dog its whole life. This includes house training, obedience training, playing fetch or other tricks, and, most importantly, snuggles on the couch during the winter. Lots of fun birthdays with your new dog too, so think about personalized gifts you will want to give him.
Like you, your dog is unique. It will have its personality and habits that make it truly an animal that is separate from the pack. Its name should signify this. While it doesn't have to be symbolic or anything like that, it should appeal to both you and the dog.
And your dog name does not have to be a name that has been over-used, like Fido!
Of course, you need to consider if it is a boy dog or girl dog and if you even want to stick with gender specific names (for instance a female dog named Charley could be quite chic!)
Dog names can be exciting and even poetic. Here are some to get you started.
Charlie
Ace
Buddy
Oscar
Milo
Archie
Ollie
Chaos
Jack
Teddy
Bella
Molly
Coco
Ruby
Lucy
Bailey
Daisy
Rosie
Lola
Franki
Whether boy dog names or girl dog names, consider what makes them unique. It can be a challenge, but what is it they do that makes them special?
Take a good look at your dog.
Is it their size or color? Some dogs have unique markings or birthmarks. Maybe it's a floppy ear that never goes away. Does one paw have a different color?
Does their personality offer something different? Is if the way they act or how they tilt their head when you talk to them?
Does your new dog respond to certain words better than others? Is it their actions to yours that are different?
Since every dog is unique, these questions may give you clues on what to name your dog. A dog will have its preferences and even style. Finding a new or unique name doesn't have any rules. Anything can work as long as it resonated with both of you. You can also choose a few and see which one your dog responds to the best.
Experts do say that sticking with names that are two syllables makes it easier for dogs to differentiate its name from any commands you teach it.
Unique Boy Dog Names
Do you think any of these will vibe with your puppy? Give a few of these a try and look for your dog's response.
Albertus
Angus
Ayden
Boomer
Brett
Brownie
Bryan
Casper
Curtis
Dan
Daniel
Dart
Donny
Dragon
Drew
Eagle
Egan
Emerson
Flyer
Frankie
Gazer
Goofy
Gordy
Growler
Hank
Hansen
Happy
Henry
Horace
Jayson
Jeffrey
Jeremy
Jessie
Joey
Katerina
Legend
Lemmy
Levar
Lollipop
Mookie
Paulie
Quick
Rafael
Richie
Scout
Simba
Speedy
Titan
Trusty
Tyra
Unique Girl Dog Names
RELEVANT: Elegant and International: Names for Your Cream Poodle in German and French
Naming your girl dog is just as important. Try a few and wait for a reaction.
Adrianna
Aja
Alia
Alice
Amanda
Aria
Ava
Beena
Betty
Bronwyn
Catia
Catie
Chatty
Dana
Deena
Delila
Ellie
Emmy
Farrah
Felicia
Fifi
Fiona
Flicka
Gale
Heather
Heaven
Jenny
Kaia
Kala
Lilly
Lolly
Loula
Lulu
Malia
Mooka
Navia
Nena
Nyla
Polly
Princess
Priya
Raven
Reena
Sally
Sara
Sheena
Thera
Vivi
Zee
You can also switch up names. This means giving your boy dog a girl name or your girl dog a boy name. Others for names can include naming your dog after a place or a thing. You can use foreign cities for inspiration like London, Roma, or even Paris for a dog name. This is especially great if you and your dog travel.
RELEVANT: Fluffy and Fabulous: 50 Names for Your White Poodle
If you're a geek or a fan of science fiction or fantasy, naming your dog after a character you've seen on TV or read in a book can be fantastic. A Golden Retriever named Spock or Picard will probably put a smile on a few people's faces.
Do you prefer Greek or Roman Mythology? Naming your dog after a god or goddess is a great way to get everyone's attention. Calling for Cerberus or Aphrodite from across a dog park will turn a few heads. You can name your dog after an angel, a monster from a horror movie, or even after an eating utensil.
If you have a friend or relative who is in the process of adopting a new dog, you might consider getting them a gift to welcome their new pup home! There are lots of great dog name books on Amazon, here are just a few to choose from.
Philadelphia Dog Name Ideas
Woofadelphia Wags: Hilarious Dog Name Ideas Inspired by the City of Brotherly Love
As a devoted resident of the City of Brotherly Love for over 23 fantastic years, I can proudly say that Philly has left an indelible pawprint on my heart. From the iconic landmarks to the mouthwatering delicacies and the vibrant neighborhoods, this city has shaped my life and given me countless cherished memories.
Throughout my time in Philadelphia, I've had the privilege of sharing my life with some incredible furry companions, and I've witnessed the love and devotion that my dog parent friends have for their four-legged family members. And so, inspired by my deep-rooted connection to the city and the affectionate bond I've seen between Philadelphia residents and their canine pals, I couldn't resist putting together this wag-tastic list of dog names!
To all the dog parents in Philly and beyond, this one's for you! Whether you're strolling down South Street or taking your furry friend for a playdate at Wissahickon Valley Park, I wanted to celebrate the unique charm and humor that is synonymous with Philadelphia.
So, sit back, relax, and get ready for a laugh-out-loud journey through the funniest and most Philly-tastic dog names you'll ever come across. Let's raise a "paws" to the city we love and the furry companions who make our lives brighter each and every day! 🐶🏙️
Absolutely! Here's the combined list of 50 hilarious and Philly-inspired dog names:
Cheesesteak Chewbacca
Liberty Leash
Rocky Roadrunner
Pretzel Paws
Woof Franklin
Bella Woof Avenue
Benji-Franklin Bridge
Fishtown Fuzzball
Barkadelphia Brewsky
Woof Liberty Lands
Biscuit Betsy Ross
Philly Fanatic
Pawsylvania Prancer
Doggie-delphia Delight
Puptsyunk
Spruce Woof Street
Phillyosophy
Dognorak
Bark-a-delphia Express
Citizen Canine
Woofadelphia Balboa
Philly Phanaticus
Schuylkill Snugglebug
Chester Chewy
Muttropolitan
Benji-Frankfurter
Paw-ladelphia Freedom
Wissahickon Wanderer
Philly Frenchie-Steak
Rittenhound Square
Philly Phanaticus
Schuylkill Snugglebug
Chester Chewy
Muttropolitan
Benji-Frankfurter
Paw-ladelphia Freedom
Wissahickon Wanderer
Philly Frenchie-Steak
Rittenhound Square
Woofadelphia Balboa
Philly Phanaticus
Schuylkill Snugglebug
Chester Chewy
Muttropolitan
Benji-Frankfurter
Paw-ladelphia Freedom
Wissahickon Wanderer
Philly Frenchie-Steak
Rittenhound Square
Puptsyunk
1. Cheesesteak Chewbacca: This mouthwatering name is a fusion of the world-famous Philly cheesesteak and the mighty Chewbacca from "Star Wars." Just like the beloved sandwich, your pup will be full of flavor and undoubtedly a force to be reckoned with!
2. Liberty Leash: Show off your pup's love for freedom with this pun-tastic name. The Liberty Bell would be proud to chime in for your adventurous and spirited canine companion.
3. Rocky Roadrunner: Combine the iconic "Rocky" statue with the speed of the Roadrunner, and you've got a name that encapsulates strength, agility, and a love for Philly's most legendary fictional boxer.
4. Pretzel Paws: Philadelphia is famous for its soft pretzels, and your pup's paws are just as soft and loveable. Bonus points if your dog has a knack for catching tossed treats like a pro!
5. Woof Franklin: Pay homage to one of Philadelphia's founding fathers, Benjamin Franklin, with this clever name. Your intellectual and wise canine will undoubtedly make you proud!
6. Bella Woof Avenue: Inspired by the charming Bella Vista neighborhood, this name is perfect for a sophisticated and fashion-forward pup who struts their stuff with pride.
7. Benji-Franklin Bridge: Turn your dog into a living landmark by naming them after the Benjamin Franklin Bridge. Watch as your furry friend bridges the gap between hearts and brings people together.
8. Fishtown Fuzzball: Fishtown, a hip neighborhood known for its artistic vibe, deserves a dog name that embodies creativity and a whole lot of fuzziness!
9. Barkadelphia Brewsky: With Philly's thriving craft beer scene, this name is ideal for a pup who loves hanging out with their human at dog-friendly breweries.
10. Woof Liberty Lands: For a dog that loves to roam freely and explore nature, Liberty Lands Park provides the perfect inspiration for this name.
11. Biscuit Betsy Ross: A tribute to the crafty and historic Betsy Ross, this name suits a pup that loves arts and crafts almost as much as they love treats.
12. Philly Fanatic: Is your pup the number one fan of all things Philadelphia sports? Then this name, inspired by the Phillies' famous mascot, is a home run!
13. Pawsylvania Prancer: Combine the state's name with a dash of reindeer magic, and you've got a name that's both patriotic and playful.
14. Doggie-delphia Delight: An alliterative name that celebrates the delightful bond between you and your pup in the heart of Philadelphia.
There you have it, a bark-tastic compilation of 50 Philadelphia-inspired dog names that perfectly capture the spirit of the City of Brotherly Love. Whether you're a long-time Philly resident or a newcomer, these names will add a touch of local charm and humor to your beloved furry friend's identity. Happy naming, and may your dog's name be a celebration of the cherished bond you share! 🏙️🐶🌭
Unleash the Adventure
Top 20 Outdoor Dog Names for Nature-Loving Pups
Exploring the great outdoors with our four-legged companions is an experience like no other. From hiking through lush forests to romping on sandy beaches and chasing waves, our dogs revel in the joy of nature as much as we do. If you're a nature enthusiast and seeking the perfect name for your adventurous canine, look no further! We've compiled a list of 20 outdoor-inspired dog names that celebrate the spirit of exploration and the beauty of Mother Nature.
Ranger: This name suits a dog who leads the way on every outdoor adventure, just like a fearless park ranger.
Meadow: For a pup that loves frolicking through grassy meadows and fields.
Summit: An ideal name for a dog who always aims to reach the peak, just like a seasoned mountaineer.
Brook: Perfect for a water-loving pup who enjoys splashing and wading in babbling brooks.
Sierra: Inspired by the majestic mountain range, this name is fitting for a strong and adventurous canine.
Willow: For a dog with a gentle and graceful demeanor, much like the elegant willow tree.
Canyon: A bold and rugged name for a fearless dog who loves exploring deep canyons.
Sandy: Ideal for a beach-loving pup who can't resist rolling in the sand and chasing seagulls.
Aspen: This name is perfect for a dog who thrives in cold climates and enjoys winter hikes.
Hiker: Celebrate your pup's passion for hiking with this straightforward and adventurous name.
Aurora: Inspired by the mesmerizing Northern Lights, this name is fitting for a pup with a radiant spirit.
Falcon: For a speedy and sharp-eyed dog who soars through the great outdoors.
Juniper: A name that represents a resilient and aromatic evergreen shrub, just like your pup's enduring companionship.
Zephyr: Perfect for a dog who loves feeling the gentle breeze during outdoor escapades.
Reef: An ideal name for a water-loving dog who adores snorkeling and exploring coral reefs.
Cedar: Inspired by the stately and sturdy cedar tree, this name is fitting for a dog with a strong and reliable presence.
Sailor: Does your pup adore boat rides and longs for the open sea? Then this maritime name is spot-on!
Echo: For a pup with a distinctive and captivating howl that echoes through the wilderness.
Cove: Perfect for a pup who loves discovering hidden coves and secret hideaways during beach adventures.
Orion: Named after the prominent constellation, this name suits a dog who loves stargazing during outdoor camping trips.
Embrace the great outdoors with your loyal companion and choose a name that resonates with their adventurous spirit. Whether you're traversing mountain trails, exploring serene lakeshores, or basking in the glow of a campfire under the starlit sky, may these names add a touch of outdoor magic to your furry friend's identity. Happy trails and wagging tails! 🌲🐾🏞️
While naming your dog isn't the hardest part of owning one, being sensitive to their reactions will help you find the right for both you and your family when it comes time to interact with them. So, choose well and enjoy the bond you create with your dog.
Step-by-Step Guide: Unleash Your Imagination and Find the Perfect Name for Your New Pup!
Naming your dog is an exciting and joyous adventure that should reflect your pup's personality and bring a smile to your face. Let's embark on a fun and creative journey to find the perfect name that will be music to your dog's ears!
Step 1: Embrace the Pawsibilities
Embrace your inner creativity and let your imagination run wild! Think of this process as a playground of possibilities where anything goes. Consider your dog's appearance, quirks, and unique traits as a source of inspiration. Do they have soulful eyes? A wagging tail that never stops? An endearing snort when they're excited? Let their charm guide you.
Step 2: Fetch Ideas from Nature
Nature is a treasure trove of fantastic dog names! Take a stroll outdoors, and let the sights, sounds, and scents inspire you. From the serene beauty of mountains to the playful splashes of rivers and everything in between, Mother Nature has a name that perfectly suits your pup's adventurous spirit.
Step 3: Unleash Wordplay and Puns
Puns and wordplay can add a dash of humor and playfulness to your dog's name. Combine your pup's breed, personality traits, or a favorite hobby with a witty twist. Get your tail-wagging by exploring puns related to food, pop culture, and even your favorite city or vacation spot!
Step 4: Ask for Pawpinions
Enlist the help of family and friends to brainstorm name ideas. Host a "Pup-naming Pawty" where everyone gets to contribute their favorite suggestions. A fresh set of eyes (and paws!) can bring creative perspectives and lead to a name that feels just right.
Step 5: Explore Puppy Personality Quizzes
Unleash the fun and take online puppy personality quizzes together. These entertaining quizzes often suggest names based on your dog's temperament, likes, and dislikes. You might stumble upon a gem of a name that feels like the pawfect fit!
Step 6: Flip Through Books and Movies
Books and movies offer a plethora of name ideas! Explore fictional worlds for names that resonate with your dog's personality. From magical wizards to daring superheroes, you'll find a name that captures your pup's heroic and lovable essence.
Step 7: Tailor the Name to Your Heart
Remember, the most important thing is to choose a name that makes your heart sing! Imagine calling your new pup by their potential name and see how it feels. Picture yourself on outdoor adventures, cuddle sessions, and playtime, all with that name on your lips. If it brings a smile to your face and fills your heart with joy, you've found the one!
Step 8: Celebrate the Unveiling
The moment has arrived to introduce your pup to the world by revealing their new name! Host a fun "Name Reveal Pawty" complete with treats, toys, and plenty of belly rubs. Capture the magical moment with photos and share the joy with friends and family.
Step 9: Embrace the Journey
As your dog grows and evolves, their name will become a cherished part of their identity. Embrace the journey of sharing adventures, laughter, and love with your new furry family member. Celebrate their uniqueness and cherish the bond you'll create with a name that will be music to your ears for years to come!
Here's a table with 5 dog name ideas for a few themes you might like:
Dog Name Ideas Table: Star Wars, Biblical, Cartoons, and Superheroes
| Theme | Dog Name Ideas |
| --- | --- |
| Star Wars | Luke |
| | Leia |
| | Chewie |
| | Yoda |
| | Rey |
| ————- | ————————- |
| Biblical | Noah |
| | Delilah |
| | Jonah |
| | Eve |
| | Solomon |
| ————- | ————————- |
| Cartoons | Scooby |
| | Mickey |
| | Daisy |
| | Dexter |
| | Simba |
| ————- | ————————- |
| Superheroes | Thor |
| | Rogue |
| | Flash |
| | Harley |
| | Rocket |
| ————- | ————————- |
Feel free to mix and match these names, or let them inspire you to come up with even more unique and fun names for your beloved furry companion! Happy naming, and may the force be with you in finding the perfect name! 🐾🌟
Now go forth and let the naming adventure begin! Wag-tastic discoveries await as you find the pawfect name that celebrates your pup's one-of-a-kind personality. Happy naming and may your new furry friend's name be a source of endless happiness and tail-wagging joy! 🐾🎉🐶
Lisa Illman is the Founder of Kritter Kommunity, LLC. She has a tuxedo adult cat and has had him since he was a baby kitten. Before her cat Finnegan, Lisa had had two FIV-positive cats for over a decade. They inspired Lisa to invent a cat enclosure and a portable catio so they could safely sit outside and enjoy fresh air and sunshine. Lisa had a Poodle and a parakeet growing up. She currently loves to pet-sit for her neighbors' dogs and cats.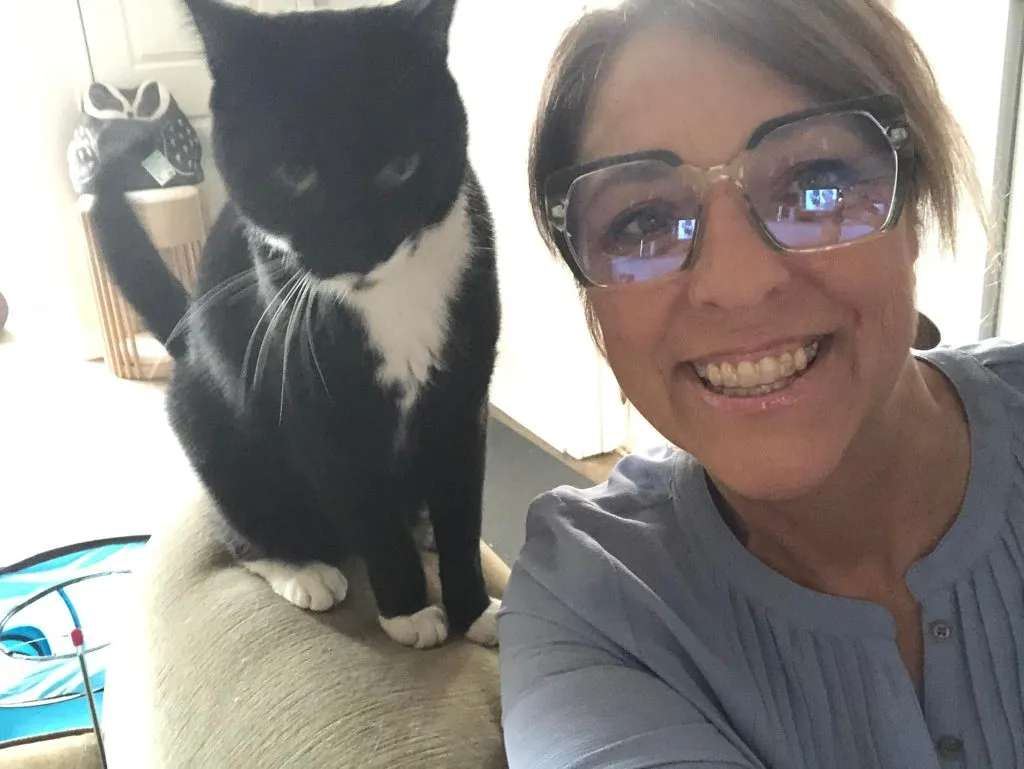 Why is Kritter Kommunity Your Trusted Partner?
Our mission at Kritter Kommunity is to promote happy and healthy lives for pets and their owners. We specialize in Barkitecture and designing tips for pet-friendly homes, utilizing the natural instincts of cats, dogs, and small critters to create a home life that pets and people love. From tips on pet care to reviews on pet toys and furniture, we are a go-to source for all things cats, dogs and small critters. Join us in celebrating the joys of pet ownership and providing the best possible lives for our furry friends.