How to create a home that is accented with whimsical feline friendly pillows, area rugs cat art plus much more. Using cat themed home products can reflect your love for felines while accenting your home with beauty and taste. The good mews is, the choices are abundant and we have many of the coolest products and ideas right here. This post is all about cool design ideas for any cat lover.
If you already have a home full of feline favorite pieces, but want to spoil a bestie with a gift, rest-assured you will find a few new ideas to gift any cat lover. From rugs, lamps, cat shelves and everything in between, we have you covered…. in cat hair too!
Updated and edited October 1, 2022
Some of the ideas we are spotlighting are specifically for your to cat to use, but have a nice aesthetic appeal. Other ideas are design decor items with a feline touch. And still others are DIY ideas we gathered from the internet that will be ideal for the crafty cat owner. To sum it up, there is a little something for everyone in this post!
Design Ideas: Home Decor For Cat Lovers
Indoor Cat Themed Area Rugs
Starting with the floor is a good place to begin catatizing™ your home. It should be noted, this is one of the places a cat loves to hang out but usually just to ankle bomb you or his feline friend. A cat's perfect palace tends to be up high in a cat tower or wall hammock designed for him.
Cat owners should start by catatizing™ their home from the ground up. This is a great spot for cats to lounge, often times launching surprise attacks on their owners or furry pals. To give your kitty the palace of his dreams, consider investing in a cat tower or wall hammock. Your cat will love to perch atop of these and survey his kingdom with his paw.
Throw rugs are an excellent way to spruce up your home decor and make these two areas of the house look both inviting and stylish.
Here are 5 reasons why you should style your kitchen and foyer with a cat themed throw rug:
Variety of Colors and Textures: Throw rugs come in a variety of colors and textures, allowing you to choose the perfect one for your style. Whether you prefer modern and sleek or traditional and cozy, there's a throw rug to match.
Practical and Durable: Throw rugs are practical and durable, making them perfect for the kitchen and foyer. They are easy to clean and can be used to protect your floors from spills and dirt. They also provide extra cushioning when standing or walking, making them great for high-traffic areas.
Cost Effective: Throw rugs are a cost-effective way to add a touch of style to your kitchen and foyer without breaking the bank. Not only are they affordable, but they also add a lot of value to your home.
Easy to Change: Throw rugs are easy to change out when your style or preference changes. Whether you want to switch up the style or just need to replace a worn-out rug, you can easily do so without breaking the bank.
Versatile: Throw rugs are extremely versatile, making them perfect for any room in the house. You can use them in the kitchen, foyer, living room, bedroom, or even the bathroom.
So, if you're looking for a simple and affordable way to add a touch of style to your kitchen and foyer, consider investing in a throw rug; make it cat-friendly with a feline flair!
With such a variety of colors and textures, practicality, cost-effectiveness, easy-to-change nature, and versatility, cat themed throw rugs are the perfect way to spruce up your home decor!
A fun way to brighten any room, especially your bathroom, kitchen or foyer area is with cat themed rugs. A dark colored kitty cat rug in your door entrance is a great idea to hide dirty shoe marks in the color while the rug protects your floor.
Here are five tips that will help you pick your area rug for your foyer or entryway. These cat rug tips can also be applied to other parts of your home, but due to the especially high traffic in these areas you'll want to stick with a few guidelines.
These throw rugs are specific to high traffic areas but obviously pet paws possibly walking in and out of the door, or back and forth frequently! Pets love to chase each other during playtime, and they like to chase kids too so a durable carpet is the way to go!
5 Tips For Choosing An Area Rug For Your Foyer Or Doorway: Cat Approved
Patterned styles are ideal for high traffic areas as they absorb dirt and act as a camouflage to stains.
Measure your hallway and foyer before getting your area rug. Be sure you take into consideration the border areas you want to keep rug free for your floor to show through.
Think about opening your door over the rug, is there enough space for a smooth open? Consider this when choosing how thick your rug will be.
A machine washable area rug is ideal.
Area rugs for a living area or dining area can be a little bit trickier due to size, color and style; then add a dash of cat in and you can be overwhelming your space! There are ways to design for cat lovers in mind and we have put some ideas below for you.
If you tend to be simplistic and prefer light beiges and whites you might stick with an area rug that is a splash of color, but not too dark.
For a modern cat splash addition to your T.V. room look into black and white rugs.
For specific size guidelines, you can check with the manufacturer of the company you order your rug, but a simple rule of thumb and for pre-planning purposes here are measurements you should stick with when picking the size of your rug.
Simple Size Rug Guide
| CAT RUG | ROOM SIZE | RUG SIZE |
| --- | --- | --- |
| | 10 X 12 | 8 X 10 |
| | 7 X 10 | 5' X 8' |
| | 5 X 7 | 3 X 5 |
More Design Ideas For Almost Any Cat Lover
Outdoor Cat Themed Rugs
If you are going with an outdoor rug for the front door, be sure it is sturdy and thick. There are a variety of eco-friendly kitty cat themed rugs for your front door offered on Amazon. Most of them are water resistant, but double check to be sure as some advertise being indoor outdoor and might not actually be ideal for outdoor.
Cat Themed Throw Rugs For Children's Room
If you are designing for a child's room or redecorating a room that has mostly pastels, getting a pastel color area rug can be an absolutely adorable addition. Of course, if it is adorned with kittens it is super cute for any cat loving child. Kids love their pets and decorating their bedroom with items that bring them joy is a good way for your child to feel comfortable.
Purr for Pillows
Much like area rugs, throw pillows can be a fantastic way to add a pop of color or style to any couch while showing your fondness for felines.
When working with beige and tan, consider adding a pop of yellow for a traditional home décor style. An otherwise subdued sitting area can really come alive with a variety of fun kitty pillows.
Your coffee or tea sipping area can be especially inviting with the added touch of your love for animals. Kitty cat throw pillows with images of your favorite cat breed will add charm to your couch or seating area.
Styling Throw Pillows Tips
Size: Size matters with throw pillows! Be sure to get the appropriate size for your couch or chair. Obviously, the bigger the furniture the bigger the pillows should probably be.
A good rule of thumb is to start with the largest pillow first and work your way down with other pillows that accent the large one. You can use different shapes and sizes and colors. Your kitty cat pillow can act as an accent pillow or use it as the main masterpiece! Browse pinterest for some ideas first and then go to town! Have fun with it. Be sure to keep the receipt in case you want to return the pillow. If you have done your homework in advance, browsing Pinterest, sizing up your furniture and identifying the colors you want, you should be pleased as peaches when you get it all set-up.
Quantity: An easy rule to remember is to use odd number pillows for accenting your couch with throw pillows. One for chairs (typically) and three for a standard size couch. If your couch is long or L shaped you can increase that amount greatly.
Shapes: Since you are designing with kitty cat pillows, this is can be even more fun with actual shapes of cat heads and bodies. If that is too extreme, playing around with standard shapes like round, square and oblong will give you depth and make your decor interesting.
Cat Themed Gifts: Cat Pillows
Cat design throw pillows are the perfect gifts for cat lovers! Not only do they look great in any home, but they also provide a bit of comfort and warmth. Throw pillows are a great way to show off your love for cats and make a great conversation starter.
Plus, they come in a variety of different styles, colors, and materials, so you can find the perfect pillow for any cat lover. Whether you're looking for something to sit on the sofa or to add a bit of extra flair to a bedroom, there's something for everyone.
They're also an affordable gift choice, so no matter what your budget is, you can still give your cat-loving friends and family something special. Cat design throw pillows can also be personalized with names, dates, or other special messages, making them a truly unique and thoughtful gift. So if you're looking for a great gift for any cat lover, look no further – cat design throw pillows are the perfect choice!
Books and Cats
Design ideas for cat lovers seems to always include books; coffee table cat books.
Adding coffee table cat books to your home decor can be a simple, easy way to include a centerpiece and a conversation starter. The topic is purrfect, cats of course!
Speaking of books, your bookshelves can be a great place to add style and feline furnishings for a lovely touch.
Stretching kitties, cuddly kitties and playful kitties are all purrfect ways to enhance your shelves with cat bookends. For a children's room or youngster's reading area, colorful kitties are a cheery way to hold books up and keep the area inviting!
Colors also work great with books that need a punch of life. Browns go great with yellow or red kitty bookends.
Bright colors are super and an easy way to add a pop of color while maintaining their primary function; holding up those books!
Add at touch of artsy whimsical to your shelves with bookends that go together but don't matchy matchy everything. Wake up worn and tired looking books with colors and unique shapes.
Speaking of books, every feline friendly home needs coffee table kitty themed books for a perfect finish. If you have not had a chance to check out these books and you are design conscious cat lover, could I suggest you have a browse. These books are wonderful reads, exception conversation pieces and add that perfect feline touch to reflect your persona without being overly stated. Books are also the ultimate for gift giving to a cat lover. Here are just a handful of our favorites.
The Best Coffee Table Books For Cat Lovers
Wall-to-Wall Kitty Cats
Use cat themed wallpaper to design your very own cat wall of fame. Colors, shapes, styles and poses will bring your wall to life. Where better to off your love for kitties then right up on the wall front and center. Cheery wallpaper can really begged to be touched be visitors and inspire a humorous, jolly environment.
Catatizing your rooms with accessories is easy and something you can do right away. There are lots of ways to add some feline flair to any room. Here are a few design ideas that would be great gift ideas for any cat lover.
Cat Themed Light Switch Panels
Cat Lamps
Cat Figurines
Bringing a pet themed atmosphere to your home can be fun and especially inviting for you and your guests. If you need more ideas, check out Pinterest and Etsy to spark your interior decorator.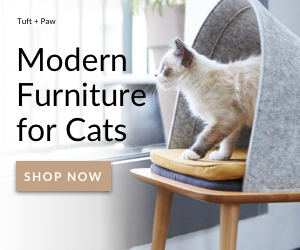 Other cat themed home furnishings that will be a hit for any kitty cat lover include wall art, vignettes, kitty cat napkins and kitchen items. Dress up a table with kitty cat salt and peppershakers or sip coffee from unique vintage cat mugs. Once you start on your journey, all kinds of playful, stylish and even chic cat furnishings will materialize. Put your best paw forward and enjoy the ride!
To keep your litter box smelling fresh, we recommend using Rocco & Roxie. This product will keep your home smelling fresh and pleasant. It also removes stains from carpets, clothes, couches, chairs and almost any fabric.
For more ideas on cat furniture design and modern pet products, check out our blog posts, Creative Ways To Hide The Litter Box and The Best And Cutest Cat Toys Your Cat Will Love.
Now that we have explored design ideas for cat lovers, let's focus on your feline. Many cat lovers worldwide are creating ways to make their homes more intriguing for their beloved cats.
How Can I Make My House Interesting For My Cat?
Catatizing your home for your furry friend does not have to be difficult. There are lots of ways to make your home especially friendly, and we have a round-up of easy tips.
Some of the easiest ways you can make your home interesting to your kitty cat is to have several types of cat scratchers (vertical and horizontal) strategically located in your home. In addition to scratching apparatus, provide a safe haven for your cat to have chill out time. Give your cat a way to climb up high with shelves or a cat tree. Your cat will appreciate a variety things to play with including catnip toys.
I have pulled a bunch of wonderful resources that guide you step by step on how to catatize your home for you feline. This way we have included design ideas for cat lovers and cats too!
10 Ideas For Organizing A Cat Room
9 Creative Cat Rooms Your Feline Friend Will Love
10 Design Ideas For Cats In Small Spaces
Tips To Designing A Home Office For Cat Owners
13 Feline Essentials: Stuff You Need If You Are A Cat Owner
The fiercest way to make your home a true designer cat lover home is to create wall space for your feline. Cats love cat walls, and thanks to creative professionals, cat walls are also aesthetically pleasing. Some of them are literally eye candy for people. Here are just a few that get rave reviews and look purr-fect.
Before you head out of here, be sure to check our our NEW cat lover printables that can be easily printed out and put into your favorite frame. Beautiful cat decor that is affordable, plus they make great gifts.
Now over to you. What cat themed design projects are you working on?
How can you catatize your home for the holidays?
NEW FROM OUR BLOG