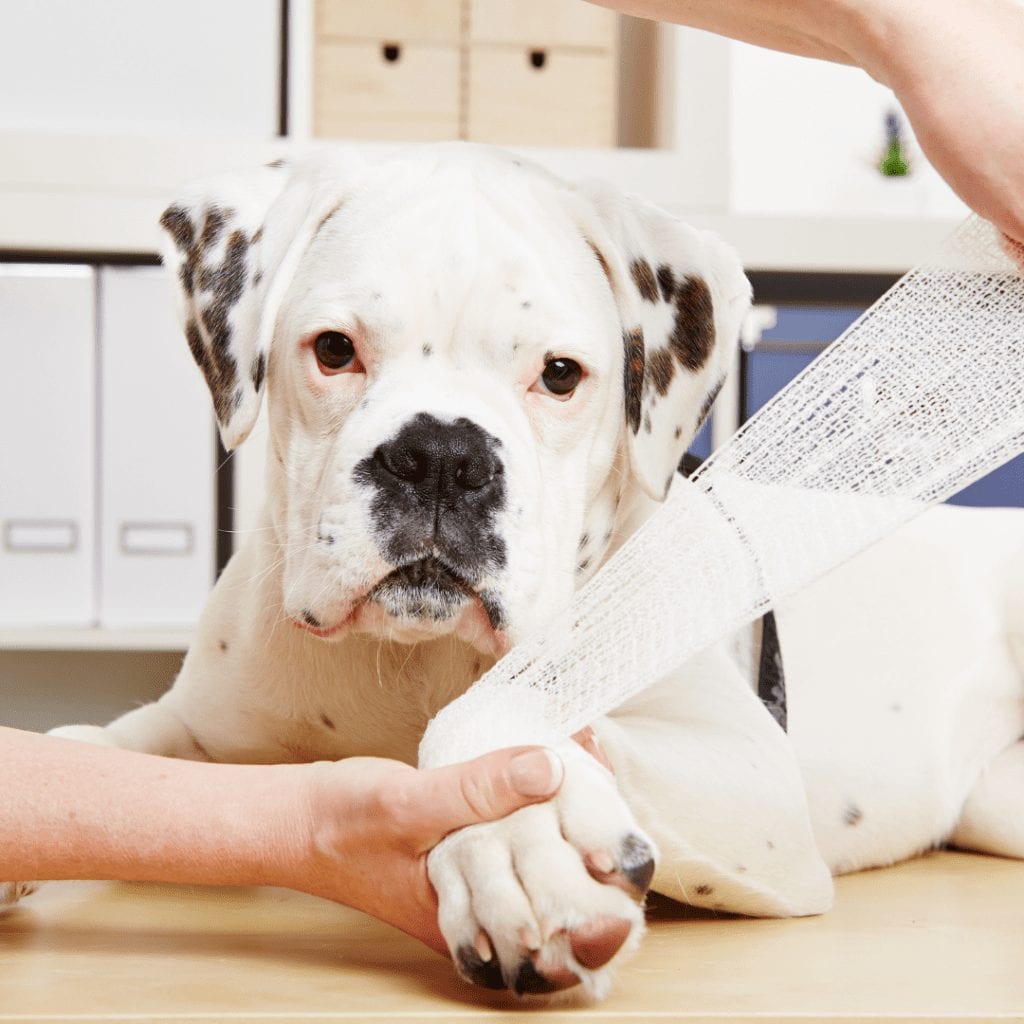 This article is all about common dog injuries and how to spot them.
Accidents can happen to dogs just like they can happen to humans. While it is impossible to prevent all accidents from occurring, there are ways to minimize the risks for your furry friends, especially when you are not with them. It is worth noting that dogs do not wear shoes, and their paws are vulnerable to injuries that could lead to discomfort and pain. Therefore, it is crucial to be mindful of potential dangers and take precautions to keep your pets safe. In this article, we will discuss some of the most common dog injuries and how to identify them, so you can take prompt action to help your beloved pet.
Common Dog Injuries
While dogs are a little hardier than humans, they do have injuries from time to time. There are common injuries that some dogs might face over their lifetimes. Most of these are easy to treat or avoid depending on the severity of the ailment.
Getting Hit by a Car
Being hit by a car is one of the most common injuries that afflict thousands of dogs every year. For some, it is minor and not too serious. Some that are not as lucky can involve broken bones, fracture, and internal bleeding, damaging the soft tissue, spine, and head.
Ensuring that your dog is kept safe in your yard at all times or that you have your pet safely leached next to you is highly important. While accidents happen and dogs do get out, it is essential to train your dog to stay close or listen when they get out. If you have not adequately trained your dog to listen, you might need to take extra precautions to keep your pup indoors or within your fenced yard.
Falls
Some humans are clumsy and suffer from falls. Dogs are also prone to falls at times, especially if they are boisterous. Stairs or wet surfaces can lead to slips and falls within the house. Dogs that are allowed on furniture also risk falling off high furniture onto the floor. Certain breeds of dogs, such as dachshunds or jack russels, have elongated spines that make them more susceptible to injury from minor falls.
Preventing falls is as easy as installing a ramp (like the one at Chasing Tails) or stairs for your pooch to climb up onto furniture or safely navigate flights of stairs. Dogs with prior injuries from arthritis or accidents will need a little extra help during recovery to prevent further damage from being done.
Bite Wounds, Cats & Abrasions
Dogs shouldn't be expected to get along with every dog they meet instantly; dogs can be temperamental about playtime and get a little rough with each other.
Cats can scratch and cause wounds on dogs that are a bit too excited.
Dogs can sometimes injure themselves while playing boisterously in the garden or rushing through bushes and shrubbery on walks. Additionally, rough play or fights between dogs can result in minor cuts, bite wounds, and abrasions. To avoid this, it's best to closely supervise your dog during playtime and walks and intervene if necessary to prevent aggressive behavior. Avoid areas where dogs are known to frequently fight and consider using a leash or muzzle if needed.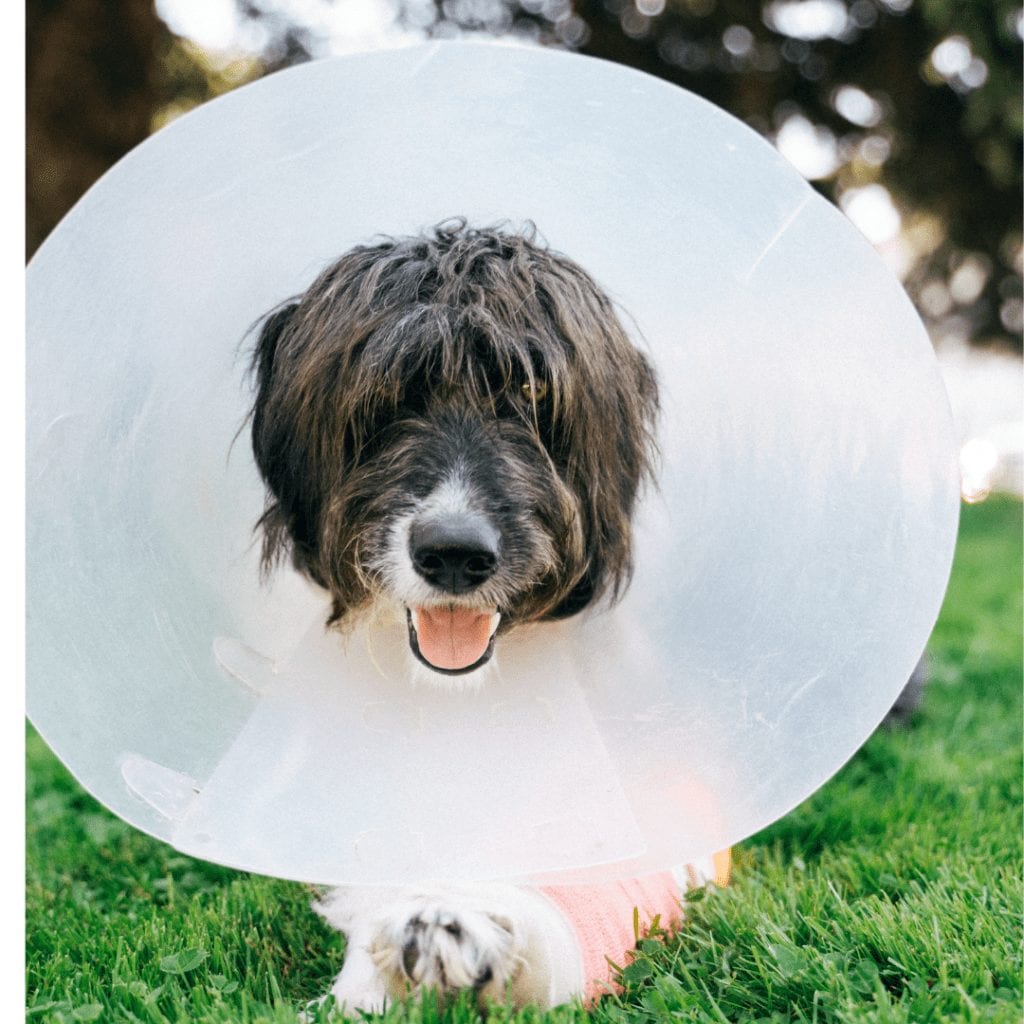 Possibly one of the very few types of injury that owners can't prevent. It is very dependant on the dog; for some, they calm down as time goes on and age; for others, they stay boisterous and active.
Try to keep your dog on a short leash and preferably a secure harness while walking in heavily wooded areas. Make sure you keep your yard free of holes in the fence and other places where your dog can get injured in.
Cranial Cruciate Ligament Injury
The CC ligament, also known as the cranial cruciate ligament, is located in dogs' legs; it stabilizes the knee. Injury to the CCL is most common in large breed dogs such as Labradors, Retrievers, and German Shepards. The injury can lead to lameness, inability to walk correctly, and limping. Severe damage may require surgery; however, most mild cases need rest and pain management.
Maintaining a healthy weight and keeping your dog from being obese is critical in preventing and avoiding injury to the CCL. Plenty of exercises and a balanced diet are both recommended as prevention.
Otitis
Also known as an ear infection, otitis is common in a man's best friend, with 1 in 5 dogs brought into the vet with an ear infection. This painful injury is prevalent with breeds with long floppy ears and dogs that are avid swimmers.
Preventing this ailment is not always possible; however, minimizing risk is a lot easier if you keep your pup's ears clean and dry. If your dog has long floppy ears, it might be worthwhile getting them used to regular checking and cleaning; make sure to flush out debris and keep mites at bay.
Osteoarthritis
Just as in humans, osteoarthritis is not entirely preventable. Some dogs are more likely to develop osteoarthritis. Pet owners can do a few things to manage or prevent this illness in their pets. Osteoarthritis in dogs might make it uncomfortable and painful to move around; limping and swelling are common symptoms of joint issues.
Dogs with diabetes, old age, or a particular breed are more likely to suffer from joint injuries. Supportive measures such as an enriched diet and a non-slip safety ramp can make your achy pup's life a lot easier and pain-free. Weight maintenance and exercise are both critical to keeping the strain off your dog's already sore joints. Some vets might recommend supplements and vitamins to reduce the effects of osteoarthritis.
Eye injuries
Breeds with short noses and rounded heads tend to suffer from eye injuries. These can happen at any time; symptoms include swelling, squinting, bleeding, discharge from the eye, redness, and a tendency to rub the eyes with their paws. More severe injuries include punctures, ulcers, and lacerations.
Maintaining clear vision for your dog is essential to prevent eye injuries while they run and play. To achieve this, it's important to avoid indoor plants that hang low or furniture that can cause them to fall and hurt themselves. Additionally, it's also important to keep their eyes clean and free from debris, such as dirt or sand, which can cause irritation and infection.
Regular veterinary check-ups can also help identify any potential issues with your dog's vision and prevent them from becoming serious problems. By taking these steps, you can help ensure that your furry friend enjoys a happy and healthy life with clear vision.
Prevention
While prevention is better than cure, accidents happen. Most of the time, the treatment is relatively straightforward and easy. However, there are times where putting measures in place can prevent injury or further injury. It is always essential to spend time with your pet and make sure that you take them to the vet if you suspect any dog injuries.
If you plan on going away, make sure to leave your pet sitter a list of local veterinary clinic numbers and animal hospitals that can help if anything does happen while away.
Poodles are known for their curly coats. Their elegant appearance is show-stopping, but did you know they also have whiskers? This post is all about answering the question, do Poodles have whiskers and whiskers care. Do Poodles Have Whiskers? do-poodles-have-whiskers Yes, those long, wiry hairs that protrude from their snouts and eyebrows serve an essential…