Let's face it, if you are a cat owner who celebrates Christmas, you probably do not get a Christmas tree. Or maybe you have mastered the art of your feline laying on his back and using dangling ornaments as his new favorite cat toy; I have not. I mean, is there anything more stressful than hearing a paw smack that family heirloom ornament you were supposed to be taking excellent care of?
I am a big sissy, so since I chose cats over Santa, I have skipped the traditional Christmas tree. It is just too scary for me. But it pushed me to become a bit creative with some clever alternatives. This post is all about 22 Christmas tree alternatives for cat lovers and cat owners.
RELEVANT: Christmas Cat Decorations: Unique and Adorable Ways to Add Feline Flair to Your Holiday Decor
22 Christmas Tree Alternatives For Cat Lovers In 2023
Christmas Trees for Cat Owners Table: AKA Alternatives
| Idea | How it can be Nice Decor and Help the Feline |
| --- | --- |
| Christmas Tree Wreath | A Christmas tree wreath can be hung on the wall or door, providing a festive and decorative touch to your home. Since it's elevated off the ground, it reduces the chances of cats knocking it down or getting entangled in ornaments. |
| Cat-Friendly Ornaments | Use soft and cat-safe ornaments, such as felt or fabric-based ones. These won't shatter if accidentally knocked down, making it safer for both the cat and your decor. Cats can also enjoy playing with the soft ornaments without causing any harm. |
| Wall Decals or Stickers | Christmas-themed wall decals or stickers can add a holiday spirit to your walls without posing any hazards to your cat. They are easily removable, making them convenient for temporary decorations. |
| Minimalist Wooden Tree | A minimalist wooden tree structure with branches can be set up against a wall. Cats can climb and explore it without the risk of it toppling over like a traditional tree. Add some cat-friendly hanging toys or treats to make it more enticing for your feline friend. |
| Cat Tree with Decorations | If you have a cat tree, you can decorate it with cat-safe ornaments and lights. This way, your cat's play area becomes part of the holiday decorations, and they'll likely enjoy exploring the tree even more. |
| Tabletop Tree | Opt for a small tabletop tree that can be placed on a sturdy surface, out of your cat's reach. It still adds a festive atmosphere without being easily accessible to curious felines. |
| Hanging Garland and Bunting | Hang garlands and bunting from higher points, such as curtain rods or shelves. This keeps them away from your cat's reach and adds a charming festive touch to your living space. |
| Twinkle Lights on High Places | String twinkle lights along higher areas, like bookshelves or curtain rails. It creates a cozy ambiance and keeps the lights away from your cat's playful paws. |
| Potted Evergreen | Use a small potted evergreen tree as your Christmas greenery. This way, you can place it on elevated surfaces, and it becomes a lovely living decoration that your cat won't be able to topple easily. Just ensure the plant is non-toxic to cats. |
| DIY Cardboard Tree | Create a DIY Christmas tree using cardboard or other cat-safe materials. Your cat may even enjoy some interactive play with the homemade tree, and you can customize it to fit your decor style. |
The good mews is just because you do not have a tree does not mean you cannot enjoy a Christmas decor-filled living room. In fact, some jaw-dropping, head-turning cat-friendly Christmas decor ideas on Pinterest are utterly breathtaking.
That is pretty much the approach I took. Starting with a cat-friendly designed room that evolved into Christmas tree alternatives that work great for my feisty tuxedo cat.
Let's get right into it!
RELATED: Unlocking Feline Anatomy: Do Cats Have Eyelashes?
1. Cat-Themed Christmas Wreath
Placing a cat-themed Christmas wreath in place of a tree in your living room helps to keep the space festive and cat-friendly. Though cats are curious creatures, the likelihood that your furry friend will mess with a wreath strategically placed high up on your wall is pretty low!
RELEVANT: Cat Inspired Christmas Wreaths That Make Great Gifts For Cat Lovers
2. Candy Cane Christmas Tree
Alternatively, a Christmas tree composed of candy canes might persuade your cats to knock off a candy cane or two. And the minty smell of the candy canes is unlikely to appeal to your cats unless you have a gluttonous furball on your hands.
Literally taping candy canes on a door in the shape of a Christmas tree is an oldie but goody!
3. Christmas Cat Cave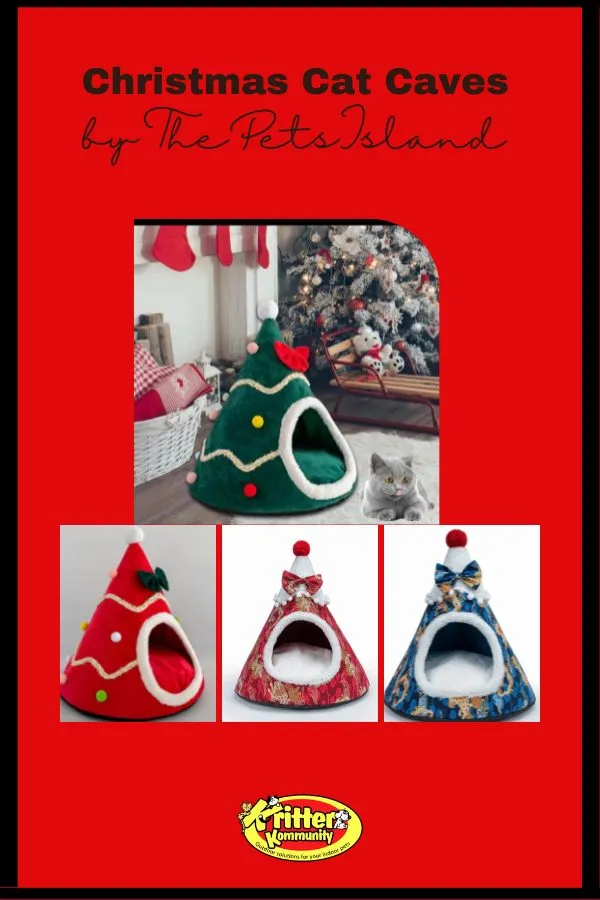 Seen in pet stores and online, adorable plush hidey holes for your cats are Christmas-themed now. Setting one of these cat caves in the corner of your living room safely signifies that it is indeed the holiday season and is an excellent solution to having cats and Christmas in one household.
4. Christmas Tree Alternatives For Cat Lovers: Cat House
Alternatively, a Christmas cat house could be a great option for you. These are typically made of cardboard but are adorably themed and have scratching material to serve as enriching hiding spots for your cats. Like our cat cave idea, a cat house can also help replace your tree.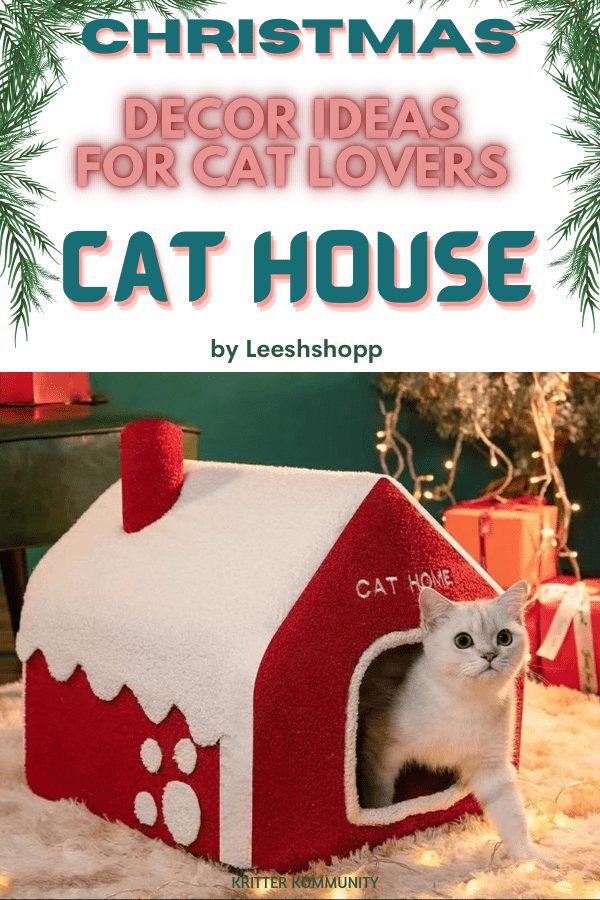 5. Christmas Tree Alternatives For Cat Lovers: Wall Tapestry
Wall tapestries of Christmas trees can make a great option for those who don't wish to have their cats mess with any physical objects. These sheets can display a Christmas tree image and are simply tacked to the wall.
I LOVE THIS ONE!
6. Christmas Tree Shelves
Another option is to adorn your shelves (that are out of reach, of course) with ornaments or other Christmas decor instead of propping up a tree in your living room. This way, you can still enjoy Christmas decor, including ornaments, without fear of your cats ruining these treasured decorations.
RELEVANT: Cat Shelves
7. Christmas Book Tree
Some people use stacked books roughly in the shape of a tree to act as a Christmas tree placeholder. I think that this idea looks gorgeous, but if your cats are especially playful, you might risk damaging some of your books. I would say assemble this pretty alternative at your own risk.
8. Small Fake Christmas Tree
If you worry about the height of a tree when thinking about the prospects of your cat tipping a tree over, you might want to consider a small artificial tree with plastic ornaments. Your cat might tip this tree over but you, your cats, and others are more likely to avoid injury from this occurring.
9. A Christmas Tree Hanging from the Ceiling
Yes, really…a Christmas tree that hangs from the ceiling. There are ways to do this, and most of the tutorials are on Pinterest or YouTube. While I haven't tried this method, I'm sure some cat lovers out there are crafty enough to try it, too!
10. Christmas Tree Alternatives For Cat Lovers: Advent Calendar
Another wall-hanging idea on our list is the hanging of a Christmas advent calendar on the wall. Not only does it make for a great decor piece, but it is also an interactive experience where you can mark how many days are left until Christmas.
I was super impressed with the design and artwork on several cat advent calendars on Amazon so I pawed through a bunch and put my favorites below.
11. Wall Art Instead of a Tree
Organizing some Christmas-themed art in some extra frames that you have lying around can make for a gorgeous tree area in your home. You might even find that the "tree" area of your living room becomes a year-round feature with seasonal art!
12. Tree That Is Made of Wall Art
Alternatively, you can arrange frames in the shape of a tree if you have enough! Children can interact with this project by coloring on sheets of paper that are then framed and become the eventual wall tree.
13. Scratching Post Instead of a Tree
I love this idea for a tree replacement, especially if you can find a scratching post that is green or otherwise Christmas-themed! This idea allows your cat to mess with the Christmas tree without..actually messing with the Christmas tree.
RELEVANT: Cat Scratching Posts
14. Just Hang Stockings
If these ideas sound like too much additional work, you might consider just counting your stockings as your Christmas tree. You can pile presents up in front of a (not in use) fireplace and decorate the mantle instead!
15. Tabletop Christmas Tree
Mini trees that are perfect for the dining room table or a side table that your cats don't have access to are a great alternative to having a Christmas tree in the home without the risk of a giant tree falling over. They even make adorable mini-plastic ornaments for these trees!
16. Wrapping Paper Tree
Creating your own art piece on the wall out of wrapping paper makes for a great activity and a cat-friendly tree. If you have children, they will love being able to cut shapes out of wrapping paper and decorate with you!
17. Simply Start Stacking Presents
Speaking of wrapping paper, why not try designating a corner and filling it with presents? A large present pile filled with brightly colored holiday wrapping paper says Christmas just about as much as a Christmas tree does!
18. Designate an Existing Cat-Friendly House Plant
Is one of your green friends up to the task? Even a fake plant could work to play Santa this year! Consider moving a plant that your cats are already used to in place of a Christmas tree. You might even be able to get away with adding some tinsel to it!
19. Christmas Table Centerpiece
Use your table to host presents at Christmas time and invest your time and effort into creating a centerpiece that can also have its time to shine with Christmas dinner!
If you are like me, the dining room table is the best place to be at Christmas anyway! A beautiful centerpiece can be the perfect talking point or conversation starter for you and your guests.
20. Yarn Christmas Tree
Okay…maybe this one seems like a joke entry, but leaning into the cat joke might pay off well for your decor style. Just ensure that the yarn is tightly wound and won't come loose to tempt any furry friends. Making these looks pretty simple – with some hot glue, yarn, and wooden Christmas trees, you can have a yarn-covered centerpiece in no time.
I personally like a simple, elegant look and hanging white yarn pompoms is one way to do it!
21. Use the Cat Tree
Embrace the fact that you have curious climbers! Move the cat tree where you want the presents and allow your furry friends to reign over your Christmas festivities comfortably and without interruption.
Just get it over with already!
22. Christmas Tree Alternatives For Cat Lovers: Just Hope for the Best
Paws crossed, put up your big traditional, pine tree and pray.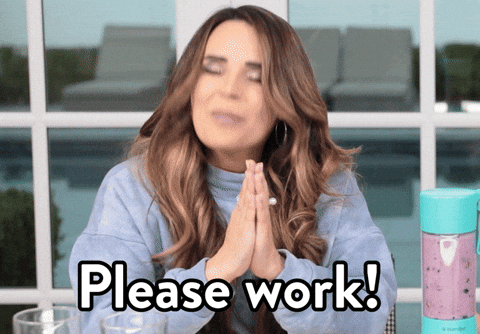 This might work if you have senior cats or perhaps your felines are disabled.
Kitten parents, proceed at your own risk! I cannot even imagine, especially if you have more than one kitten……
Remember, even with these cat-friendly alternatives, it's essential to keep an eye on your feline friend during the holiday season to ensure their safety and avoid any mishaps with decorations. Happy holidays!
Christmas Tree Alternatives For Cat Lovers: Conclusion
This list should have provided some ideas you can take from or got the juices flowing for your own Christmas tree alternative.
RELEVANT: 5 Ways To Catatize™ Your Home For The Holidays
Everything from tabletop trees, candy trees, cat houses and simple Christmas decor ideas; there really is an alternative for all cat lovers. Small space, big space, cozy space and open space; each cat parent has his own unique situation so taking into consideration your space, preference, cat personality and time to decorate are all factors to consider.
I am sticking to my own preference which is no big, huge fresh tree with bells and whistles. If I am being totally honest, I love to see that outside my own home, and enjoy less decorating when I am home. So my cat and I get along purrfectly even when it is the pawliday season.
Enjoy and as always, sending purrs and wags your way!
<
Why Is Kritter Kommunity Your Trusted Pet Partner?
Lisa Illman is the Founder of Kritter Kommunity, LLC. Not only does she have one tuxedo male adult cat currently, she has had him since he was a baby kitten; so she knows well the kitten lifecycle, the teenage cat lifecycle and the adult cat lifecycle (he is currently 11 years old). Prior to her cat Finnegan, Lisa had two FIV positive cats for over a decade. Lisa's love for animals her entire life (she also had a poodle and parakeet growing up plus was a caretaker for her roommate's 3 pets during college) and networking with the pet community for over a decade, enable her to find top content for her readers.