After the past two years of far from traditional events occurring around the holiday season, it is time for some good old fashioned Christmas celebration. If you are ready for some festive decorating this pawliday, and want to decorate your home with some cat-friendly decor, you have pounced on the right content. This post is all about the best Christmas decor ideas for cat lovers in 2022.
From eco-friendly and black cat aesthetics to feline bed nests and accessories, we've got plenty of decor ideas you and your feline-inspired lifestyle will need this season.
And without further ado, I present to you our first vetted cat-friendly decor idea, Catmas caves.
Christmas Decor Ideas: Cat Caves And Nests
When your bedroom is in the middle of the living room for all to oooh and ahhh at you while you do nothing but sleep and look cute, it is important to be sleeping in a crib that makes a statement; especially around the pawlidays!
RELEVANT: Unique Cat Play Tree
Christmas cat decor is so fun for feline parents! We have oodles of beautiful artifacts to choose from. Even cat beds are drop dead gorgeous these days!
Cat caves and nests make an excellent choice among pet parents for not only are they super comfy and cozy, the look great with all home styles.
Etsy has some top notch shops that should be on any cat lover's list for shopping living-room decor and design ideas. The hand-crafted, unique and creative accessories on Etsy are always a crowd pleaser.
I have included the top ones we found, but I encourage you to continue browsing them by simply clicking the button under each image. Not only does each seller have Christmas cat-friendly decor, their shops are filled with other jaw-dropping aesthetics you have got to see.
If you do not have time for sewing patterns and DIY projects, or are like me and just not great at this type of crafting, I suggest you let the experts take-over.
RELEVANT: Cute Cardboard Cat Houses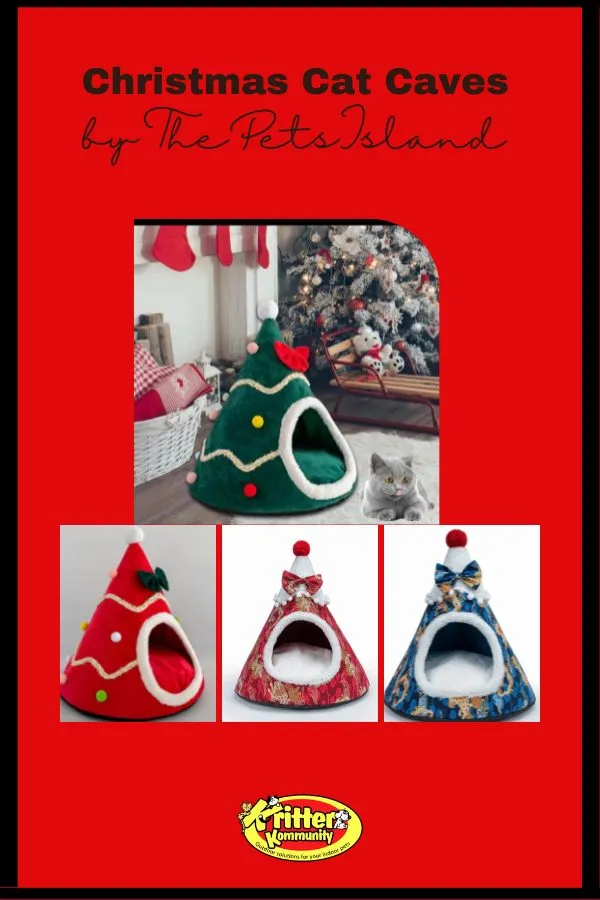 Amazon also has a nice selection of cat caves that are designed for the upcoming holidays. Out of all the cat caves and nests I browsed, my absolute favorite on Amazon is this cutie.
This Christmas reindeer shaped cat nest is such a beautiful artifact to decorate your living-room with. Even more importantly, it looks so cozy and warm. I think this is probably a feline magnet, attracting your cat in like a warm heating blanket.
Christmas Decor Ideas: Cat Houses
Along the same lines as caves and nests, are cat houses. Little homes for your furry friend can also be a working Christmas aesthetic. In an attempt to present some of the best on the internet, we went back to Etsy. After scrolling hundreds of cat aesthetics, we vetted a bunch of tiny little homes for feline paws to rest; doubling for cat lovers to decorate their home in a feline-friendly style.
Leeshshopp did not disappoint this pawliday season when it comes to great pet-friendly home decor. Oh my gosh the felt gifts are adorable! The cat models sure do add to the cuteness too!
A few of these under the Christmas tree or not far from would be cat pleasers and crowd pleasers.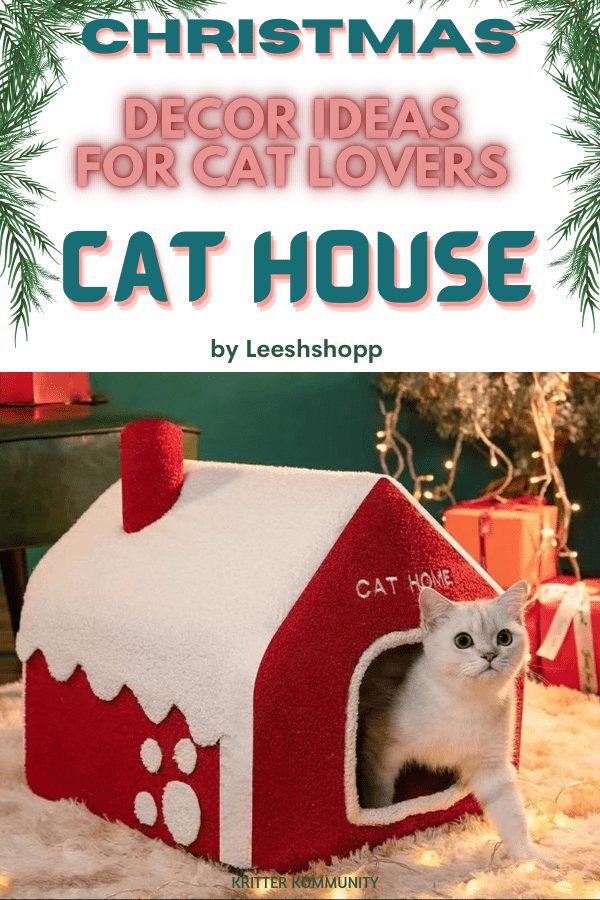 Don't be afraid of browns.
The best thing about cardboard cat houses is how good looking they can be! This gingerbread house is lovely and would adorn any Christmas tree purrfectly. The second best thing about cardboard cat furniture is the price! Good looking Christmas designing does not have to be expensive.
Cat in the Box has done a wonderful representation of fur friendly festivity without breaking the bank. I especially love this cardboard cat house because holiday stickers are included making it fun for cat lovers of all ages (even children) to decorate the home easily.
RELEVANT: Why Do Cats Purr?
Amazon sellers are getting in on the fun too! We found some head-turning Christmas gift hideaways ready to deck your living-room with festivity while keeping your favorite feline feeling safe and cozy. She can watch you all unwrap your gifts from the comfort of her felt pawliday den.
Accessorize Your Home With Black Cat Christmas Decor
Black cat decor doesn't have to only bring out the best at Halloween. A black cat can modernize a home, give your home a keep it simple look with basics, emphasize a traditional anmbience and even highlight a minimalist aesthetic.
Black goes especially well with reds and greens so Christmas is a wonderful time to accessorize with noir feline.
At Red Torch Designs, the creator uses wood as a foundation for this kitty cat decoration. By simply placing the artifact in front of Christmas gifts, an otherwise typical display is transformed offering a sense of warmth and extra coziness.
Placing the black cat in front of other holiday decorations adds dimension. This layering effect provides even more talking pieces for company and guests.
Hang black cat stockings over the chimney with care!
Drape a black cat holiday velour blanket over a chair to cover up with while opening presents near the Christmas tree.
BUY BLACK CAT BLANKET ON AMAZON
Serve hot chocolate with marshmallows in black cat mugs. Make a plate of black cat Christmas cookies by decorating felines with festive red ribbons, big green bows and even a Santa hat!
Christmas Decor Ideas: Black Cat Art
Hang Christmas black cat art and illustrations . I know you will be taking this down soon enough, that is why I created some digital printables for you to simply print out and frame! Or send it to a printer and have them ship it to you. Either way, these will not cost you an arm and a leg, but will brighten up any space with holiday mood.
Layer in vintage for a reminiscent feel with this black cat plaque. Red is such a great color with black especially around Christmas. I love how the red birds in this display POP.
BUY VINTAGE BLACK CAT ON AMAZON
If my printable black cats are not making you purr, consider wrapping shirt boxes in black cat wrapping paper and adding a big red Christmas bow around the box. Create a series of them on your wall.
Accessorize With Feline Inspired Throw Pillows
A simple yet effective way to add some meow to your living-room is with throw pillows.
Homemade Christmas Cat Toys
Christmas isn't Christmas without something homemade. If you are anything like me, this can cause a great deal of stress.
If you are not crafty, don't do DIY very well or simply do not have the time to make anything….. you know where I am going with this….. insert ETSY.
Etsy has shops and shops filled with homemade and DIY creations and they are gorgeous! Nothing says 'thoughtful' like Etsy and thank goodness there are hundreds if not thousands of cat lovers there.
My pick for cat toys that can literally double as eye-candy and precious Christmas cat accessories is the set of knitted cat teaser toys from Wickedly Simple Knits.
The teaser cat toy could even be used as a tree trim decoration and the cat balls could liven up a Christmas gift or bag.
If you cannot or do not want to do DIY or homemade this year, check out the Wickedly Simple Knits shop!
Summary Of Purrs
Now happy Christmas decorating! And, even more importantly, may your pawliday season be filled with joy, laughter, and purrs. Be sure to pin the photo you like most so we can stay connected on Pinterest. You can follow us on Pinterest here!
Why Is Kritter Kommunity Your Trusted Pet Partner?
Lisa Illman is the Founder of Kritter Kommunity, LLC. She has a tuxedo male adult cat currently and she has had him since he was a baby kitten; so Lisa knows well the kitten lifecycle, the teenage cat lifecycle and the adult cat lifecycle (he is currently 11 years old). Prior to her cat Finnegan, Lisa had two FIV positive cats for a decade. They inspired Lisa to invent a cat enclosure so they could safely sit outside and enjoy fresh air and sunshine. She brought the product to market and eventually designed a line of portable catios; they sold on Amazon, Skymall Catalogue, Wayfair and countless other websites. Her experience being a cat parent coupled with her business development and product management experience make her a trusted cat enthusiast partner. She and Finnegan (her cat) test, research and review pet products to give readers the best feedback possible.
LATEST FROM THE KRITTER KOMMUNITY BLOG
Additional Information
RELEVANT: How Do I Make A Dog-Friendly Room?
For designing with cat shelf ideas, check out our suggested reading list:
Cat Shelves With Feeding Stations: The Perfect Place To Feed Your Kitty Cat
How Biophilia Designing Can Improve Your Pet's Well-Being
Floating Cat Shelves: Elevating Your Feline's Comfort And Style!
Cat Window Perch Ideas Your Cat Will Obsess Over
Rock Your Cat's World: Curved Cat Shelves
The Prettiest Macrame Cat Hammocks I Have Ever Seen
<