Accessorizing your catio is a great way to make your indoor cat's outdoor space even more enjoyable. If you have stopped by Kritter Kommunity before, you know we are a little obsessed with outdoor cat enclosures and catios. This post is all about accessorizing them with catio accessories!
What are Catio Accessories?
Catio accessories are those items that can be used to create the perfect outdoor space for your feline friend. An outdoor litter box is great for cats who prefer a more natural lifestyle, allowing them to use the great outdoors without having to go too far from your home. Food bowls should be placed in the catio to ensure that your cat can have access to the nutrition they need. Cat shelves and structures can be placed within the catio to give your cat places to explore, jump, and lay in a perch. Toys are also a great addition to the catio, providing your cat with stimulation and entertainment.
Catios can also be designed to create an adventure park for your cat, with lots of different levels, platforms, and outdoor cat tunnels to explore. Water fountains can be added to the catio to give your cat access to fresh, running water and to encourage them to stay hydrated. A cat house can also be included, giving your cat a cozy space to rest and relax. Catios are the perfect way to give your cat the outdoor experience they crave, while still providing a safe, secure environment for them to enjoy. With the right accessories, your catio can provide your furry friend with hours of fun and purr-fectly enjoyable adventure.
Best Materials for Outdoor Catio Accessories
Stainless Steel
Stainless steel is a great option for outdoor cat supplies because it is strong, durable, and can withstand outdoor conditions. Plus, it's easy to clean and won't rust or corrode over time.
Cedar
Cedar is a great choice for outdoor cat supplies because it is naturally resistant to weather and pests. Plus, it has a pleasant aroma that cats love.
Plastic
Plastic is a popular choice for outdoor cat supplies because it is lightweight, durable, and easy to clean. It is also affordable and comes in a variety of colors and styles.
Wicker
Wicker is a great choice for outdoor cat supplies because it is lightweight and easy to move around. Plus, it is resistant to weather, pests, and other outdoor conditions.
Outdoor Fabric
Fabric that is water-resistant and sun-resistant is a great option for outdoor cat awnings and accessories because it can withstand the weather elements. Plus, it is lightweight, durable, and easy to clean. Lots of outdoor fabric comes in a variety of colors, styles, and designs to suit any cat's taste.
Catio Accessories
Here are some popular catio accessories among catio owners who upgraded their outdoor enclosures using accessories. We have pulled our absolute favorites based on material, quality and reviews.
Hammock
A hammock is a great way to add comfort and a cozy spot for your cat to relax. Look for a hammock that can be easily hung and is made of a soft and durable outdoor fabric material.
We love the hammocks Habitat Haven offers because they are green (a great color for outdoor catio accessories) and they are made with GreenGuard.
Awning
An awning will help keep your catio shaded and protected from the elements. You can find awnings in a variety of sizes and materials, such as canvas or mesh, to suit your space.
Once again, Habitat Haven made our 'best awnings for catios' list.
The come in sooo many colors!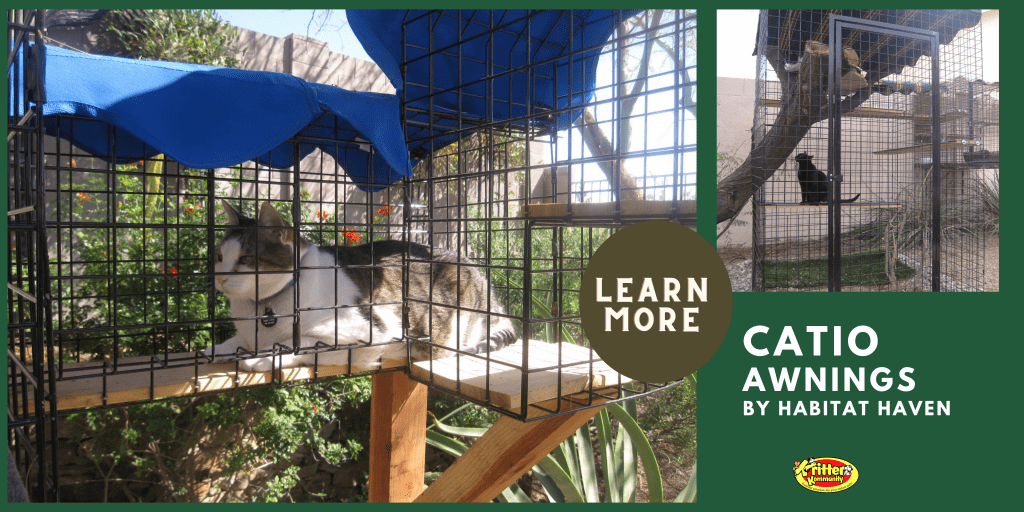 Cat Litter Box
If you plan to keep your catio litter box-free, make sure to provide a litter box outside of the enclosure. Look for a litter box that fits your space and is easy to clean.
RELEVANT: Making Your Litter Box Senior Cat-Friendly
RIZZARI Large Foldable Cat Litter Box,Top Entry Cat Litter Box with Lid,Anti-Splshing Cat Kitty Litter Pan Easy Cleaning and Scoop
RELEVANT: Should A Catio Have A Litter Box?
Cat Food Dishes
Place food dishes near the entrance of your catio to make mealtime more convenient. Make sure the dishes are securely attached so they won't move around when your cat is eating.
Cat Shelves
Cat shelves are a great way to provide your cat with an elevated space to explore and relax. Look for shelves that are sturdy and won't tip over.
Outdoor Cat Tree
If you're looking for a way to add an outdoor cat tree to your catio, CatsPlay has AH-MAY-ZING outdoor cat trees!
Their outdoor cat trees are made with weather and bug-resistant cedar and are sanded to a smooth surface.
Whether you choose to leave it natural or seal, paint, or stain it, our outdoor cat trees will provide your cats with a great place to climb and play. They offer four sizes to choose from: 29″ high 2 Level, 45″ high 3 Level, 61″ high 4 Level, and 76″ high 5 Level. The base is a stable 42.5″ x 41.5″ and the post perches are 16 1/2″ wide and 18″ deep with a 4″ post notch. The top perch is a full 16 1/2″ wide and 18″ deep and the height from perch to perch is 15 3/4″.
They offer free shipping to 48 contiguous states and for Hawaii and Alaska, please contact us first for a shipping quote. They also have an optional sleeper platform option available for all cat trees, where three sides on the side perches and all on the top perch have a 1 3/4″ high inside raised edge (2 1/2″ outside). Finally, you can choose to replace the top platform with a roof option for added sun and rain protection (23″ deep and 30″ wide).
Concluding Purrs
With some careful planning, you can create a comfortable and functional catio that your cat will love. Have fun accessorizing and enjoy watching your cat explore their outdoor space!
Additional Catio Information