Picking The Right Cat Furniture
Your feline companion loves to relax. They also love to play and hunt. While making sure your cat is well fed, groomed, and healthy, spoiling them with the best products will only increase the bond between you both. Your cat's health is vital, and adding cat furniture to your home will keep them going strong.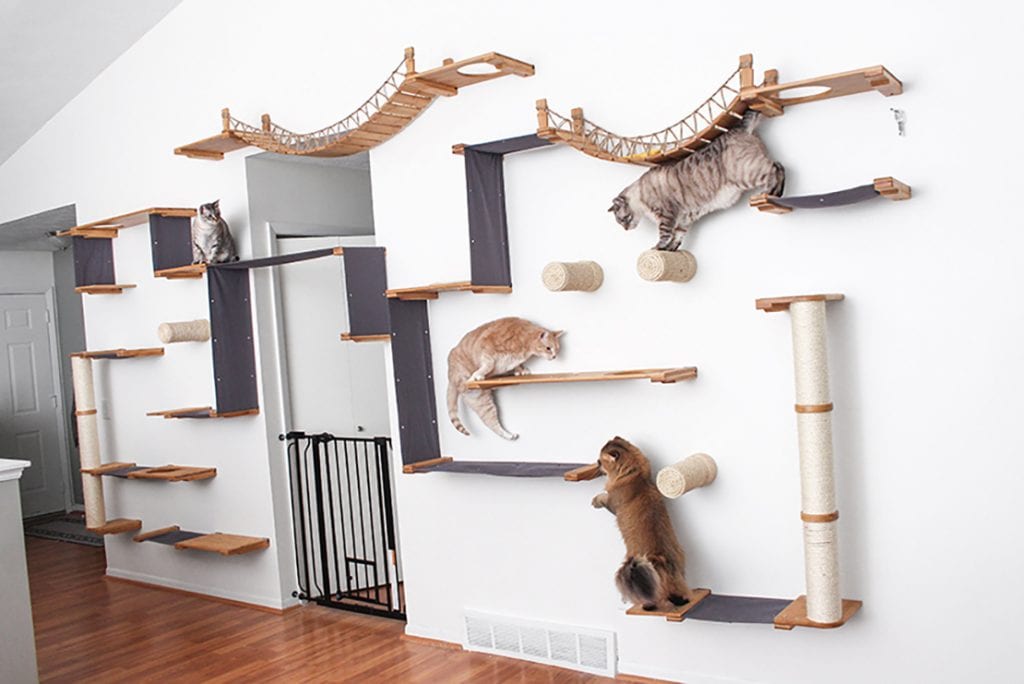 When it comes to cat furniture, many cat owners don't see it as an essential item for their house. Cat furniture has many benefits for indoor cats as it helps them fulfill their instinctual needs, relieve some stress, hunt, explore, and establish their territory. If you don't have any cat furniture, your cat will undoubtedly get bored due to lack of challenges, and see an increase in weight because of a lack of exercise.
RELEVANT: Cafes with Cats Worldwide Directory
With so many options to chose from today, it is easier to find each furniture that reflects your feline's natural instincts to hunt, climb, scratch, and stretch. Your cat deserves high-quality as each piece of furniture that is designed takes into consideration how your cats move. A variety of cat furniture like cat scratching posts, shelf systems, and even cat gyms are offered. They are also solid wood and reliable for optimum stability. When shopping for cat furniture, it's essential to keep in mind your cat's personality and your cat's stage of life. The Life Cycle Of A Cat reviews each stage your feline encounters throughout her life and offers tips for what kinds of supplies and toys are ideal.
Cat Tree
Your cat loves to climb. Once they get to where they want, they'll perch. Indoor cats love to do the same. It is part of their instinct, and this is where cat trees come into play. Cat trees are essential for cats. As much as we'd like to think they climb high up to oversee their kingdom, cats will use this height for safety. This helps them observe the world. A cat will check for prey or predators. An indoor cat will have these same instincts. A cat tree will also help them feel more confident, give them more territory, and add enrichment to their feline lives.
DEEP Discounts on Luxury Cat Trees & cat wall shelves with leaves
Cat trees come in different sizes and designs to fit your style and your cat's unique personality. Your cat and your home will be thankful for one of these. When you shop for a cat tree, look for quality. Spending the extra money for a high-quality and custom-built product will add numerous benefits to you and your cat.
Cat Tower
Cat's are naturals when it comes to climbing. They also use this climbing tendency to keep their claws in healthy shape. Kittens and adult cats love using their bodies to balance, and reaching those places is perfect for a lot of their needs. Keep in mind, a cat needs stability, and a cheaply made product can break and won't last long. Look for products that are made from solid wood that will stand the test of time and use. Quality is essential to your cat's health.
Cat towers from CatsPlay are similar to cat trees but with some added height. Unlike many of their human owners, cats don't fear heights and prefer a high perch to survey the land around them. A cat tower is custom-made with a cat in mind. It is carpeted, so your cat has something to grip as it climbs and various perches to suit its needs. You can choose from 13 colors and can find something to match your décor while also keeping your furniture intact.
Kitty Condo
Cat's love an excellent view as it gives them a chance to explore their surroundings. A kitty condo from Kritter Kommunity offers deluxe condos so your indoor cat can feel the fresh breeze while in an outside environment. It will also keep them safe by preventing them from dashing off into the world. These condos are collapsible and have a canopy to give your feline some extra shade. Shopping for a kitty condo is relatively easy. Look for a product with the best materials that won't endanger your feline. Mass-produced items may be made with materials that could cause health problems with your cat. A high-quality product made of safe materials will keep your cat safe and healthy.
Your home is the center of exploration for your cat. Your cat is more than a pet, but a friend and companion through a vital part of life. Having cat furniture in your home expands their small universe and allows them to explore their instincts in a healthy manner that will help keep them happy, fits, and full of life.
Depending on how old your cat is can determine what type of cat tree or cat furniture to get for her. She might be at the first life cycle of a feline journey and therefore will want to have a tree she can climb and play on without getting hurt. A senior cat may not want to climb as high and prefer a cat condo closer to the ground. These are all considerations that will help you determine what cat essentials to purchase.
Kritter Kommunity Contributor
Customer Favorites: Furniture