Every cat owner wants to make sure that their pet is happy and healthy. However, when it comes to pets, we all have a variety of different questions. This is particularly true when dealing with different cat breeds as people may not be as familiar with the needs of each breed.
Cats are typically incredibly independent animals. However, if you are the owner of a Maine Coon, you probably already know that this breed is quite a bit different from your typical cat. Thus, one of the most frequent questions we hear is whether this cat breed can be left alone all day.
RELEVANT: Do Maine Coons Play Fetch?
Maine Coon Personality & Needs
The Maine Coon is truly a different cat breed. This can be seen in its size and fluffiness but also in its tendency to prefer human company. As you've likely noticed, most cat breeds are often quite aloof and independent. They may not often seek out human socialization.
RELEVANT: Main Coon Tips For Good Health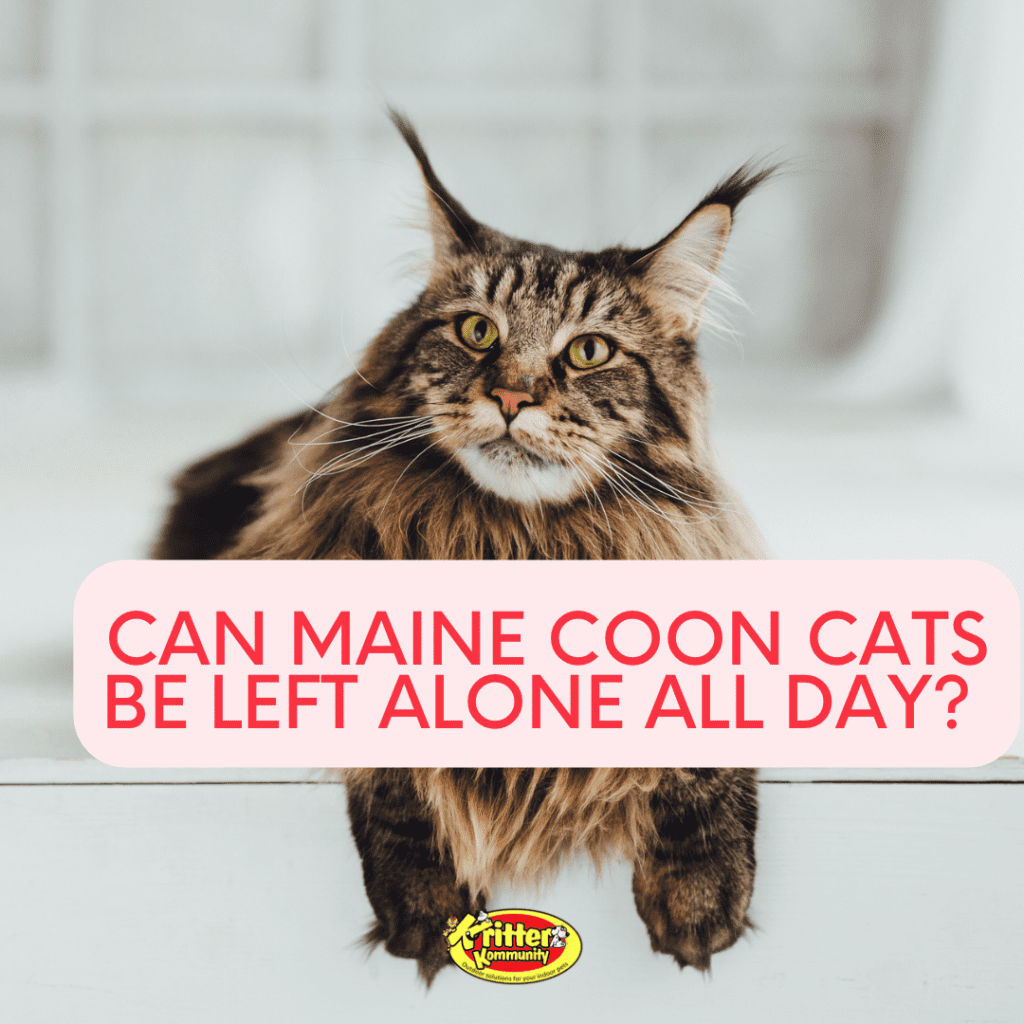 However, the Maine Coon is really distinct in this area. In fact, you can probably classify its personality much more akin to a dog than another breed of cat. Maine Coons are highly social animals that will create strong bonds with their owners and even other pets in the household.
You will probably notice that your Maine Coon will prefer to be with you most of the time. While not necessarily a lap cat, this cat breed will typically enjoy lounging in fairly close proximity to its owners. Thus, it is a cat that is much more likely to feel loneliness than other cats.
RELEVANT: The Charming Personality Of The Maine Coon Cat
Can Maine Coons Be Left Alone?
Because this cat breed is more social by nature, its mental health depends on having a lot of time with its owner. Maine Coons can be left alone but only for a short period of time. In fact, your Maine Coon will quickly become used to its daily schedule and value the consistency of it.
Being away for a short period of time will not affect this cat breed at all; however, it will experience loneliness if you are away for a longer time. If this occurs frequently, the cat will become quite stressed which can lead to negative health outcomes.
A Maine Coon is not likely to show signs of this stress at first but will feel it. Thus, it is important for owners to realize the importance of companionship for this breed. 
RELEVANT: 10 Things To Know Before Bringing Home Your Maine Coon Cat
How Long Can I Leave My Maine Coon Alone?
Typically, you will want to leave your Maine Coon alone no more than between eight and twelve hours at the most. If they are a kitten, you will want to stay with them much more and leave them a lone for only a very short period of time. Maine Coon cats love human beings and can seem needier than an average cat. Watch for separation anxiety signs (over-grooming, litter box issues and crying). Hiring a cat sitter when you will be away from home can help tremendously, especially if the sitter is a cat lover!
Making sure that you spend enough time with your Maine Coon will help ensure that it has a positive experience as a member of your family.
<