Cats are curious creatures and are often interested in what their owners eat or drink. My cat Madison's nickname was Curious George and Dennis the Menace due to his nosiness. Although chocolate milk is an unlikely primary choice of beverage for me, I had a big craving for some one day. I brought my carton home from the store, started pouring a tall glass and sure enough; as soon as I turned my back, Madison jumped on the counter. His entire face was in my chocolate milk. He managed to get a couple licks in and had a bunch dripping off his chin. At first I didn't think much of it as I was pretty disappointed he ruined my beverage. But then I started thinking. I wonder if that is okay for him? This post is all about, can cats drink chocolate milk?
Chocolate is a popular treat enjoyed by many, definitely by me! But when it comes to cats, it can be dangerous.
This blog post will explore whether cats can drink chocolate milk, why it is not a good drink, and its potential consequences.

Can Cats Drink Chocolate Milk Safely?
The answer is no, cats should not drink chocolate milk. Chocolate comprises of a chemical called theobromine, which is toxic to cats. Theobromine can cause a plethora of disturbances in cats, including vomiting, diarrhea, increased heart rate, tremors, seizures, and even death in severe cases. In addition to theobromine, chocolate milk also contains high sugar levels, which can lead to obesity and dental problems in cats.
Luckily for me, and I am sure other cat owners, a lick or three will not kill or harm your cat. However, pouring your cat an entire bowl of chocolate milk to enjoy is not a good idea.

Is Chocolate Milk Good for Cats?
No, chocolate milk is not suitable for cats. It is harmful and should be avoided. While cats may show interest in chocolate milk, it is essential to remember that they have different nutritional needs than humans and require a diet that is specific to their species. Feeding your cat chocolate milk can lead to serious health problems and should be avoided at all costs.
Some cats are really drawn to milk. My cat Abigail was, she loved dairy products. My cat Madison was just a snooperviser and needed to have his paw in everything. Either way, cats should be monitored when around chocolate milk.
Felines really should not drink chocolate milk at all. While a tiny lick may not cause harm, pouring it into their bowl can have serious consequences. The theobromine and high sugar in chocolate milk can make cats sick and lead to potentially life-threatening symptoms. As responsible pet owners, we must ensure our cats are not exposed to harmful substances, including chocolate milk.
Can Cats Have Chocolate Drinks Like Yoohoo? Why Your Feline Friend Should Avoid Chocolate Beverages
Here again, your feline should avoid all chocolate.
When it comes to chocolate beverages like Yoohoo, it's important to keep them away from your purr-baby. Any type of chocolate, such as dry cocoa powder, baking chocolate, dark, semi-sweet, milk chocolate, and even white chocolate, can be a deadly poison to your feline. The high levels of theobromine make them a 'stay out' substance.
What is Theobromine?
Theobromine is a naturally occurring stimulant found in cocoa beans that affects the central nervous system and cardiac muscle. While humans can easily metabolize theobromine, cats cannot. Even a small amount of chocolate can cause vomiting, diarrhea, hyperactivity, tremors, seizures, and even death in cats.
When it comes to chocolate beverages like Yoohoo, it's essential to remember that they contain chocolate flavoring and sugar. While the amount of theobromine may not be as high as in baking chocolate, it's still not safe for your cat. The sugar in chocolate drinks can also cause obesity and dental problems in felines.
Any amount of chocolate is too much for your cat, including chocolate drinks like Yoohoo. As a responsible pet owner, it's vital to keep chocolate and chocolate products away from your furry friend. If you suspect that your cat has ingested chocolate, contact your veterinarian immediately. Remember, prevention is always better than cure.
For more information about foods and beverages safe for cats, check out these posts:
Can Cats Eat Cake? The Truth About Feline Desserts
To Bee or Not to Bee: Can Cats Eat Raw Honey?
Can Cats Eat Parmesan Cheese? The Ultimate Guide
Can Cats Eat Soy Sauce Safely?
Human Foods That Are Good For Cats
Lisa Illman is the Founder of Kritter Kommunity, LLC. She has a tuxedo adult cat and has had him since he was a baby kitten. Before her cat Finnegan, Lisa had had two FIV-positive cats for over a decade. They inspired Lisa to invent a cat enclosure and a portable catio so they could safely sit outside and enjoy fresh air and sunshine. Lisa had a Poodle and a parakeet growing up. She currently loves to pet-sit for her neighbors' dogs and cats.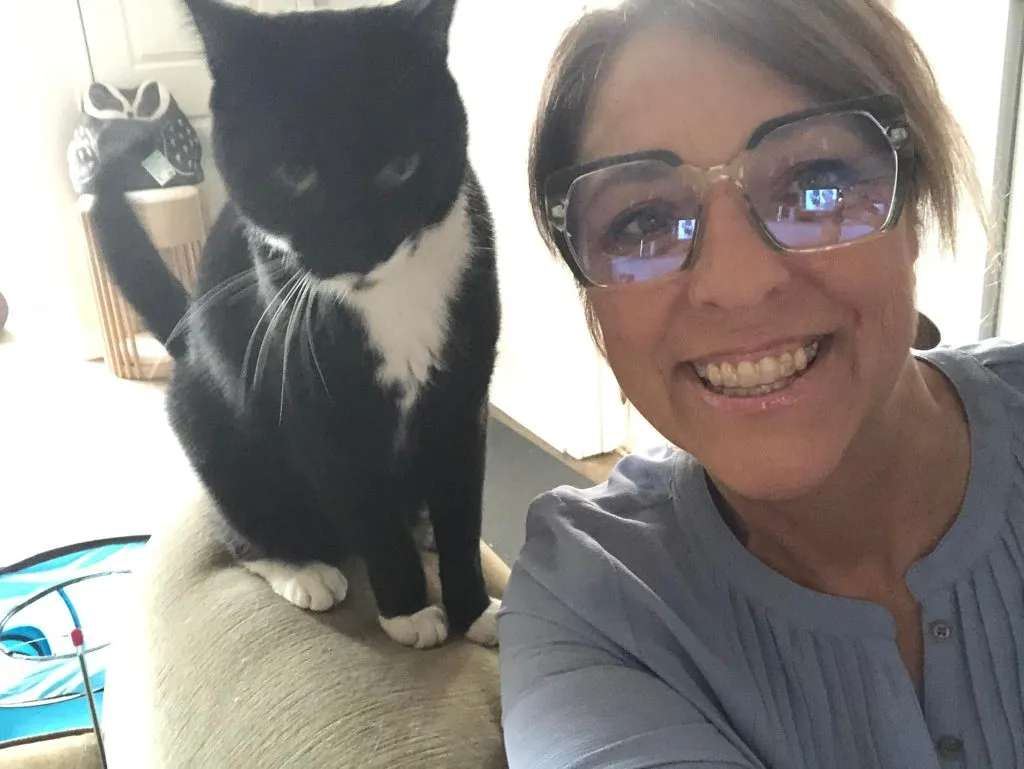 Why is Kritter Kommunity Your Trusted Partner?
Our mission at Kritter Kommunity is to promote happy and healthy lives for pets and their owners. We specialize in Barkitecture and designing tips for pet-friendly homes, utilizing the natural instincts of cats, dogs, and small critters to create a home life that pets and people love. From tips on pet care to reviews on pet toys and furniture, we are a go-to source for all things cats, dogs and small critters. Join us in celebrating the joys of pet ownership and providing the best possible lives for our furry friends.