Do you want a full-size catio but don't have the space or budget at this time? There are other options! Let's explore how you can build your cat a window catio for less than $100.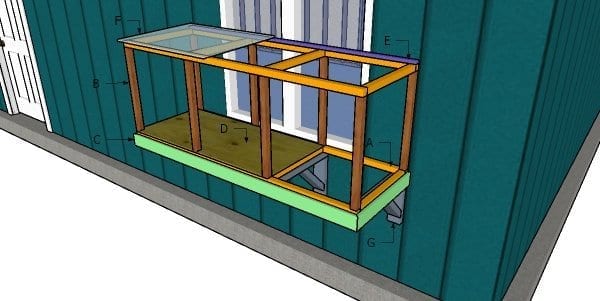 Cats love to be outdoors. This helps them experience exercise, fresh air, and allows them to get the sounds, sights, and movements within nature that help them develop. Unfortunately, the outdoors poses several dangers for your feline friend. That is why building your catio, or cat enclosure is secure. The benefits outweigh the costs, plus you can make one inexpensively.
If your cat companion is an indoor cat, then getting outside could cause some worry about their safety. If so, then building your cat a catio or outdoor cat enclosure is going to be the purrfect solution to your problems. It will also keep your cat healthy, happy, and, most of all, safe.
Cat enclosures, or what is popularly called catios, are a trend that excels in your cat's safety and their overall enrichment. As a combination of the words cat and patio, these catios come in different sizes and are fantastic for porches, windows, patios, yards, and even decks. Your feline bestie can gain access to their catio through a cat door that has been installed in the wall, window, or the door. Whether small or large, from basic to utterly luxurious, the benefits of catios is too hard to ignore.
Why a Catio is a Must-have for Your Feline Friend
It will protect your cat. The outdoors is full of danger. Vehicles and predators like coyotes, dogs, and raccoons can prove dangerous for your cat. There are other problems, like antifreeze from a car, pesticides from a local farm, exposure to parasites, your cat could get lost, and there's also the possibility your precious kitty gets catnapped by the local shelter. A catio will allow your cat to enjoy the outdoors from a safe distance.
Vet bills could be reduced. Vet bills are pricey. Outdoor cats can get into fights or suffer from other injuries that can dip into your pocketbook. There are also rabies and other diseases like FIV or Feline Immunodeficiency Virus to worry about.
Outdoor cat enclosures reduce the population of free-roaming pets. These can give your cats their freedom and also reduce the chances of them wandering into unknown and possibly unfriendly territory. Neutering and spaying alongside catios can significantly reduce the number of cats roaming freely.
Cat enclosures will reduce any issues you have with being an owner of multiple cats. Cats may be able to share their indoor space with other cats, but deep down, they are territorial by nature. They are also solitary hunters. A catio is a purrfect way to add new territory and reduce any feline conflict and bad behaviors in your household.
Enhance your human and feline bond with time spent outdoors. If your catio is large enough for a chair or bench, then having your cat enjoy the laziness and relaxing time outdoors next to their human is a fantastic way to build your bond with your cat. Plus, nature and fresh air make for some excellent quality time.
You can reduce the number of indoor odors with an outdoor cat enclosure. A litter box inside the house can get a little funky. While its part of owning a cat, odor-producing waste rarely smells like roses. One way to cut down on this is by adding a litter box in the catio. It should never replace the indoor one because accidents can happen if you do get rid of it. Both will help alleviate a lot of the odor.
Like a good neighbor, your cat will stay here. Some humans don't like cats. This can include your neighbors. If your cat got out and used their new freshly planted flower bed as a litter box may cause some conflict. It can also cause problems if they have territorial cats of their own or strained the good neighbor relationship you have.
You will have peace of mind. A catio will significantly reduce the amount of worrying you do as your cat can be outdoors and stay safe. They will also get rid of any guilt you may have of keeping them indoors as it will help accommodate your feline friend's desire to be out in nature.
Now that you know why you should have a catio, how do you build one for less than $100?
So, you've decided to expand your cat's territory, but you're also on a budget. Don't worry, as your neighborhood hardware store has everything you need. You do need to consider the location, access, size, sun/shade, a great stimulating view, and have a level foundation. It also needs to be escape-proof. Keep in mind; cats are crafty and curious.
Building Materials Needed
Wire – 16-gauge galvanized fencing wire is highly recommended. You can get this in different sizes. Other options are vinyl-coated wire for secure attachment via a staple gun.
Flooring – If you build this on your deck or patio, then this part is needed. If it's one the ground, consider adding bricks or pavers to help your cat from tracking in any unneeded dirt or mud.
Cedar shelves – This is an excellent wood for horizontal and vertical movement for your cat. You can get premade corner pieces for your feline friend to take a cat nap or lounge gracefully in the sun. You can also use a sturdy ¾" exterior grade plywood. Cover it up with some outdoor carpet for added comfort and to avoid splinters.
Roofing – Roofing can be a wire mesh to ensure your cat doesn't escape and is well protected.
Also, don't forget toys, cat-safe plants, water bowl, litter box, cat scratchers. Decorate to your heart's content.
If your budget is limited or you have limited space, a window box catio is the best solution. Don't forget screws to keep the wood in place. After all, this is for your cat's safety and enrichment. You can find a basic plan here at MyOutdoorPlans.com. While small, it is still enough to add to your cat's enjoyment. It is also a fantastic way to start, and you can always add on to it at a later time. The exact way to build your own window catio can be done for less than $100!