If you're a cat-owner looking for a stylish way to upgrade your cat's living space, then a fancy cat tree is the perfect way to do it. This post is all about fancy cat trees!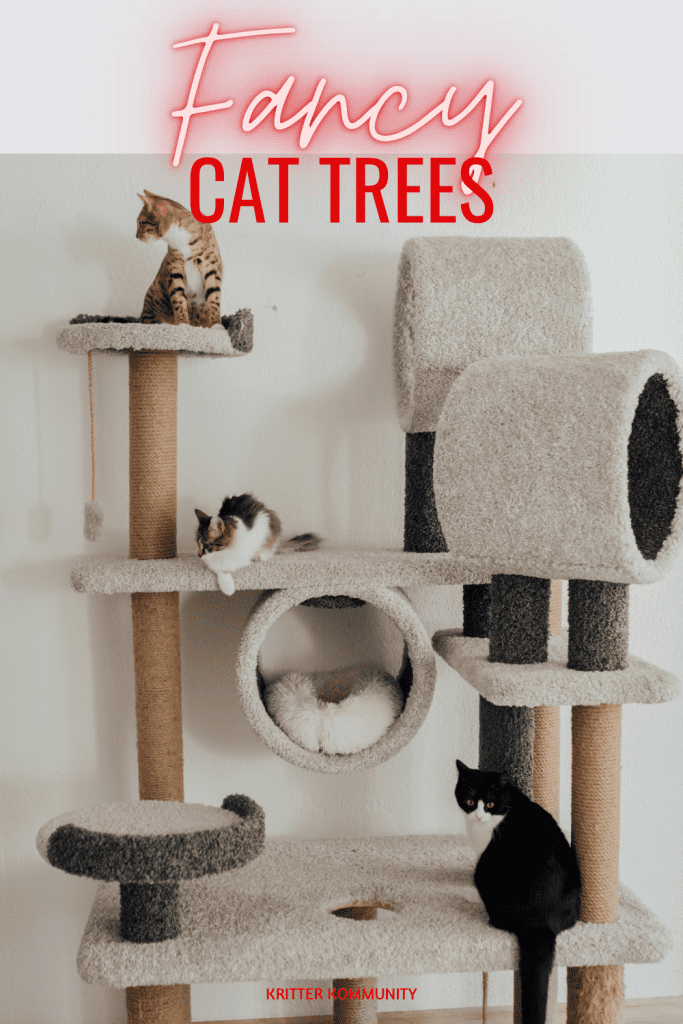 Benefits Fancy Cat Trees
Cat trees provide cats with an engaging environment to play, lounge, and exercise their instinct to climb and scratch. Not only do they improve the quality of your cat's life, but they also come in a range of trendy and bohemian designs that look great in any home. By treating your kitty cat to a tree you upgrade his environment; by treating yourself to a 'fancy' one, you upgrade yours!
We found a bunch of fancy cat trees that are frankly, jaw-dropping.
Let's pounce into this guide!
Cats naturally love to climb, as this behavior is instinctive for them. Giving them the opportunity to do this is essential for their physical, mental, and emotional well-being. A fancy cat tree provides the perfect area for your cat to play and explore. It will also help them to stay active, as they will naturally climb and jump around the tree. This can help to reduce stress and boredom, and keep your cat entertained.
Fancy cat trees also provide a great opportunity to add a stylish and trendy touch to your home. Many of the designs come in a range of colors and patterns, and can fit in with any bohemian or modern home decor. They are also often made from luxurious materials, such as plush fabrics, carpeting, and faux fur, which your cat will love.
Fancy Cat Tree Guide
Overall, having a fancy cat tree for your feline is a great way to improve their space and provide them with a fun and stimulating environment to explore. Not only will it give your cat plenty of opportunities to climb and scratch, but it can also help to upgrade your home's style.
Catry Babylon Cat Tree
This fancy cat tree is a real head-turner! It looks chic, modern and fancy!
Catry is dedicated to designing products that keep your cats happy and your home looking great. The Babylon Collection is inspired by the myth of the Hanging Gardens of Babylon and offers a complex, mansion-level structure that cats can't resist exploring. Cats need to play, so Catry cat trees provide plenty of maze-like attractions to keep cats engaged. Teasing string toys and scratching posts give cats even more ways to play. And when cats are done playing, they can rest up in the Catry cat condo, a cozy hammock, or a higher view cat tower. Catry has you and your cats covered!
Tall Cat Tower Entertainment Playground Furniture for Cats & Kittens – Multiple Colors (Brown)
The rich chocolate brown color of this fancy cat tree makes it an ideal choice for any living room upgrade.
Give your cats the perfect place to relax, explore, play and scratch with the MWPO 74.8-Inch fancy Cat Tree! This all-in-one cat activity center features 21 scratching posts lined with natural sisal ropes, perfect for keeping your cats active and entertained while developing positive scratching habits. Constructed with high quality natural particle boards, reinforced base plates, skin-friendly plush covering and natural sisal scratching posts, this cat tree is designed to provide a safe, sturdy and stable home and play area for your furry friends. Make this cat tree the ultimate spot for your kitties to lounge, leap and hone their expert hunting skills!
Cat Activity Center Play House/Grey
This luxurious cat tree tower is crafted with a CARB-certified P2-grade particle board that is highly durable and provides a safe and stable structure. The posts are wrapped in natural sisal, and a strip is provided to attach the cat tree to the wall to prevent it from tipping over. This multi-level tower is designed to accommodate more than one pet at a time, while offering plenty of area for climbing and exploration. Your cats will love the two cozy condos, three furry balls for interactive play, sisal rope coiled posts for scratching, and three plush perches for relaxing. All these features make this the perfect home for your kitties to play and entertain themselves!
AthLike 80″ XXXL Tall Multi-Level Cat Tree Tower
The 80" XXXL KING SIZE cat tree is designed to provide stability while accommodating 3-5 cats. It features 3 spacious platforms and can even support up to 50 lbs. The durable construction includes a 23.6"X23.6" bottom board with 0.67" thick boards and round angles to prevent any risk of injury to your cats or family. The cat condo is crafted with high-quality plush material for ultra comfort and a safety strap for secure wall attachment. The ultra-soft plush material offers a weight of 0.0007lbs/inch² and top perches to give cats the feeling of being on the top of the world.
Leisure Fancy Cat Trees for Large Cats
Upgrade your home decor with this modern cat tree! Its wooden style is chic and won't attract cat hair like other carpeted-covered cat trees. Not to mention, it's easy to clean and has anti-skid feet. This cat tower is also incredibly durable and long-lasting; its scratch-resistant posts are suitable for cats to take out their energy and claws. With four levels, a cozy sleeping house, perch, hammock, and a dangling furry ball for playtime, this cat tree will be your furry friend's favorite hang-out spot!
Mcombo Cat House with Scratcher, Wood Cat Condo Furniture for Indoor Cat, Cat Villa Enclosures
This durable cat tree is very modern, but also would look fantastic in a bohemian style living space. This fancy cat tree can upgrade any feline's lifestyle while adding a touch of unique class to your home look.
FEANDREA WhimsyWonders Cat Tree House
Add a splash of color to your cat-friendly home with this cat tree house. Your feline will love the plush carpet of the seat and platform. Adorable pompoms give kitties more playtime on their fancy cat tree.
Necoichi Cozy Cat Scratcher Bowl, 100% Recycled Paper, Chemical-Free Materials
This is so eco-smart!
This unique cat bed is perfect for your furry friend to curl up and relax in comfort! It comes with a reversible, replaceable scratching pad, stylishly designed with a cat's head silhouette. The scratching surface helps maintain your cat's claws and is made with 100% recycled paper and chemical-free materials.
Concluding Purrs
Barkitecture for cats is a trend that has become the new normal. Adding a fancy cat tree to your cat furniture selection will be a major upgrade. They come in all sorts of styles, colors and aesthetics making it super easy to incorporate into any style. Creating a cat-friendly home or even just one room can really make your cat 10x happier and you as well!
For designing with cat shelf ideas, check out our suggested reading list:
Cat Shelves With Feeding Stations: The Perfect Place To Feed Your Kitty Cat
How Biophilia Designing Can Improve Your Pet's Well-Being
Floating Cat Shelves: Elevating Your Feline's Comfort And Style!
Cat Window Perch Ideas Your Cat Will Obsess Over
Rock Your Cat's World: Curved Cat Shelves