If you're like me and adore those feisty Bengal Maine Coon mix kitties, you're in for a treat today. Not only are these feline hybrids a sight to behold, but they also bring heaps of joy to our lives. And what better way to celebrate our furry friends than with some purrfect gifts for both them and us, the proud cat parents? This blog post is all about Bengal Maine Coon cat mix gift ideas for cat owners.
In this blog post, I'll be your guide to finding the essential Bengal Maine Coon mix gift ideas that'll make your feline friend's tail twitch with delight.
So, grab a cup of your favorite brew, because we're diving into a world of cat-tastic presents!
In this blog post, you'll learn:
The coolest portraits of Bengal Maine Coon mixes that'll capture your heart.
How to adorn your walls with stunning cat-themed art.
Why coffee mugs make mornings better for both you and your cat.
The comfiest t-shirts and baseball caps for showing off your cat love.
1. Portraits That Steal Hearts 📷
Let's start with the real stars of the show: our Bengal Maine Coon mix cats! These unique feline hybrids deserve to be the center of attention. And what better way to do that than with a custom portrait? I recently got one of my own kitty, Finnegan, and it's become the centerpiece of my living room.
There are talented artists out there who specialize in pet portraits, and they can capture your cat's personality like no one else. From realistic to whimsical, you can choose the style that best represents your furry friend. Just imagine the look of sheer delight on your cat's face when they see themselves immortalized on canvas!
If you're a contemporary pet lover with a penchant for unique and heartfelt gifts, look no further than the talented artist known as "BZTAT," whose real name is Vicki Boatright. I have been connected and following Vicki for years. You definitely want to explore her unique talent!
She has earned a well-deserved reputation as the preeminent pet portrait artist, capturing the essence and personality of your beloved furry companions like no one else can.
In recent times, Vicki has dedicated her efforts to leading an arts studio and gallery catering to individuals with developmental disabilities. This demonstrates her commitment to inclusivity and the potential of art to bridge differences. Currently, she operates her own studio/gallery, providing workshops, mentoring, and individual instruction. What distinguishes her studio is her unwavering commitment to accommodating individuals with special needs, ensuring that all, regardless of their abilities, can explore their creativity.
Discover BZTAT Studios LLC situated within Canton, Ohio's lively arts district, precisely in the Canton Creator Space at 730 Market Ave. S, Suite 2. This collaborative space between BZTAT Studios and Canton Work Space offers gallery space, studios, and creative workspaces to nurture the talents of artists and creative entrepreneurs in Stark County, Ohio.
Vicki's affinity for animals extends beyond her art. She shares her life with four fabulous feline companions: Mia Meow, Ellie, Sky, and Antibes (Tibs), residing on a charming goat farm in Louisville, Ohio. Interestingly, these beloved cats and the resident goats often serve as subjects in her artwork, further deepening the connection between Vicki and her pets.
One of her cats, Tibs (short for Antibes), has even become a local celebrity in Canton. Tibs accompanies Vicki to the studio daily, captivating visitors and earning the title of Canton's favorite studio cat. Tibs adds an extra layer of charm and character to the already captivating atmosphere of BZTAT Studios.
If you're searching for a unique and meaningful gift to celebrate your cherished Bengal Maine Coon mix or any other beloved pet, consider commissioning a custom portrait by Vicki Boatright. With her exceptional talent and profound connection to animals, she can craft a work of art that captures the essence of your furry family member like no one else can.
Bengal Maine Coon Mix Cat Gift Ideas: Art and Photographs
Here are some other ways to find and purchase your Bengal Maine Coon cat gifts.
With your style and placement in mind, it's time to find and purchase your cat-themed art. Here's how to go about it, including the option to create your own cat shots:
Visit Local Art Galleries
Support local artists by visiting art galleries in your area. You might discover unique cat-themed pieces created by talented artists. Don't hesitate to ask the gallery staff for recommendations. If you can't find the perfect piece, consider commissioning a local artist to create something special based on your Bengal Maine Coon mix.
Explore Online Art Marketplaces
Online art marketplaces offer a vast selection of cat-themed art. Websites like Etsy, Society6, and Redbubble feature artwork from artists worldwide. You can browse by style, size, and price to find the perfect pieces. Additionally, some platforms allow artists to upload their own photographs, which means you might come across unique photographic prints taken by fellow cat enthusiasts.
Consider DIY Cat Art
For a truly personal touch, why not create your own cat-themed art? DIY cat shots featuring your Bengal Maine Coon mix can be a fun and rewarding project. Here's how:
Photograph the Feline
Grab your camera or smartphone and capture the Bengal Maine Coon mix in their element. Whether it's your cat's playful antics, their regal presence, or a candid moment of coziness, each photograph can tell a unique story.
Experiment with Different Styles
When DIYing your cat shots, consider experimenting with various styles to match your decor. For a modern living room, black and white cat photographs can add a touch of sophistication and elegance. Alternatively, if your style leans more toward bohemian chic, go for vibrant, colorful shots that reflect the playful spirit of your cat.
Print and Frame Your Masterpieces
After snapping those impeccable photos, contemplate presenting them as a gift to the Bengal Maine Coon mix cat owner. Opt for top-notch photo paper or canvas prints and select frames that align with their aesthetic preferences—be it a modern, understated look or a vintage, ornate style.
This customized cat artwork doesn't just spruce up their living area; it showcases your artistic talents and your fondness for their cherished Bengal Maine Coon mix. It's a considerate and sincere gesture that honors their unique connection with their feline companion.
RELATED: Bengal Maine Coon Cat Mix
By considering these options, whether through local galleries, online marketplaces, or your own photography skills, you can adorn your walls with cat-themed art that truly resonates with your benefactor's decor and style.
Bengal Maine Coon Mix Photo Resource Guide
When hunting for the purr-fect gift for a Bengal Maine Coon mix cat aficionado, think about the enchanting appeal of a coffee table book. Before you hand over this fantastic gift, why not elevate it with a sprinkle of feline flair? Seek out wrapping paper adorned with frisky cat patterns, stylish kitty designs, or even artwork that pays homage to the Bengal Maine Coon mix.
The selection of wrapping paper doesn't just amp up the presentation; it showcases your keen eye for detail and your grasp of their deep affection for their furry friend. So, go ahead and make your gift-giving the cat's meow!
"Pet Photography: From Snapshots to Great Shots"
This book provides practical advice on photographing pets, offering tips and techniques for capturing their unique personalities and behaviors. It covers everything from camera settings to composition.
Remember that practice makes perfect, so don't hesitate to experiment and learn from your own experiences while using these books as valuable references. Happy pet photography!
Wall Art That Speaks to Your Soul 🎨
Now that you've got your cat's portrait, it's time to spruce up your living space with some cat-themed wall art. Whether you prefer watercolors, illustrations, or photographs, there's a vast selection of cat art to choose from. It's an excellent way to show off your Bengal Maine Coon mix pride while adding a touch of elegance to your home.
Transforming your living space into a feline paradise with stunning cat-themed art is a breeze with this step-by-step guide.
First, choose your preferred cat art style, whether it's realistic portraits, whimsical abstracts, or photographic prints.
Then, determine the ideal size and placement of your art pieces by measuring your wall space and creating a layout plan.
Next, find and purchase your cat art by visiting local art galleries, exploring online art marketplaces, or considering custom artwork.
Once you have your art in hand, frame and hang it using suitable frames and proper hanging techniques. Finally, step back and enjoy your cat-themed sanctuary, knowing your home is now a haven for cat lovers and art enthusiasts alike. Get ready to revel in the purrfect ambiance! 🎨🐱
3. Morning Bliss with Cat Coffee Mugs ☕
Who doesn't love a cozy cup of coffee in the morning? Well, your Bengal Maine Coon mix might not be sipping java, but you can share the experience with them using a cat-themed coffee mug. These mugs are not only adorable but also practical. I have one that features a cute paw design, and it makes my coffee breaks even more enjoyable.
Plus, it's a subtle way to let your coworkers know that you're a proud cat parent. It's like a secret handshake for cat lovers!
4. Cat Lover Fashion Statements 🧢👕
Last but not least, let's talk fashion. There's no shortage of cat-themed t-shirts and baseball caps out there. I've got a collection of both, and I can't tell you how many conversations they've sparked. It's an instant icebreaker with fellow cat enthusiasts!
You can find designs that range from cute and playful to chic and stylish. They're perfect for casual outings, lounging at home, or even cat-themed events. And let's not forget how comfy they are – just like your cat's warm embrace!
So there you have it, fellow cat aficionados – a curated list of essential Bengal Maine Coon mix gift ideas that'll make both you and your feline friend feel on top of the world. Whether you go for a custom portrait, deck out your walls with cat art, sip coffee from a cat mug, or rock cat-themed fashion, you're bound to share more purrfect moments with your beloved furball.
What's your favorite way to celebrate your Bengal Maine Coon mix? Share your thoughts in the comments below, and let's keep the cat-loving conversation going! 🐾
Lisa Illman is the Founder of Kritter Kommunity, LLC. She has a tuxedo adult cat and has had him since he was a baby kitten. Before her cat Finnegan, Lisa had had two FIV-positive cats for over a decade. They inspired Lisa to invent a cat enclosure and a portable catio so they could safely sit outside and enjoy fresh air and sunshine. Lisa had a Poodle and a parakeet growing up. She currently loves to pet-sit for her neighbors' dogs and cats.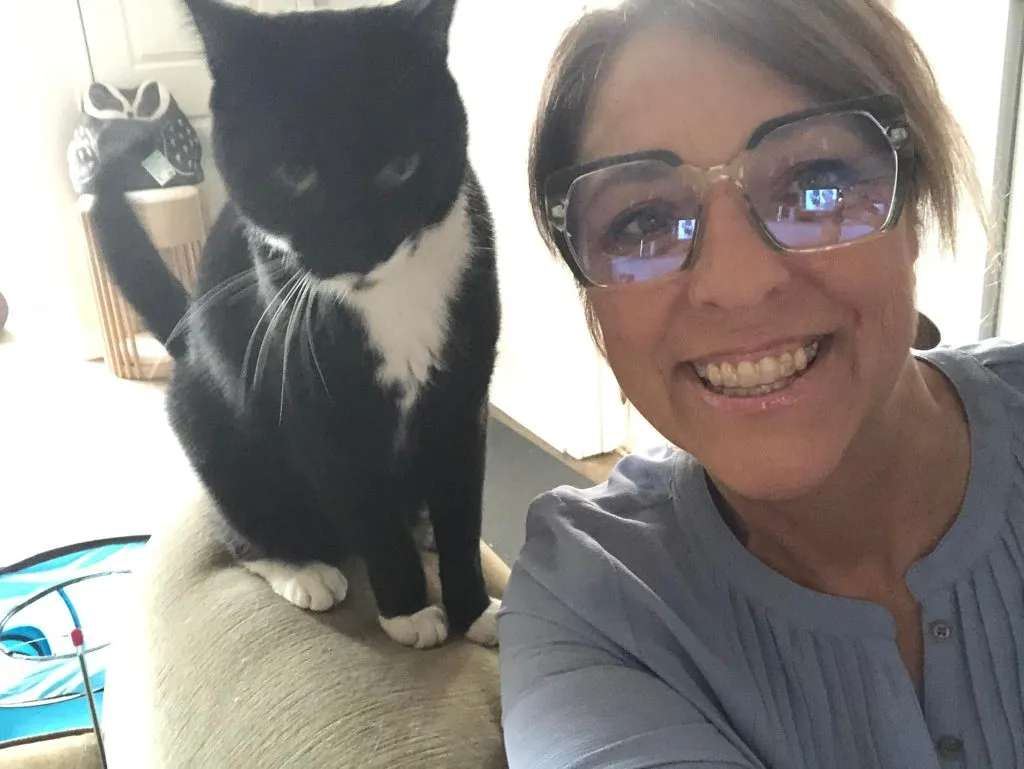 Why is Kritter Kommunity Your Trusted Partner?
Our mission at Kritter Kommunity is to promote happy and healthy lives for pets and their owners. We specialize in Barkitecture and designing tips for pet-friendly homes, utilizing the natural instincts of cats, dogs, and small critters to create a home life that pets and people love. From tips on pet care to reviews on pet toys and furniture, we are a go-to source for all things cats, dogs and small critters. Join us in celebrating the joys of pet ownership and providing the best possible lives for our furry friends.