One cat breed that has always fascinated me is the Applehead Siamese. With their distinctive appearance and charming personality, Applehead Siamese cats have become a popular choice among cat lovers. If you have been coming to this blog before, you know that my Grandmother had two Siamese cats. I learned a lot about what great pets they are, and much about their unique personalities. But are Applehead Siamese cats family-friendly pets? In this blog post, we'll take a closer look at these beautiful felines to find out.
In this blog post you can expect to learn:
The Allure of Applehead Siamese Cats
The Family-Friendly Factor
Considerations to Keep in Mind
In Conclusion
The Allure of Applehead Siamese Cats
Before diving into their family-friendliness, let's first understand what makes Applehead Siamese cats so special.
Distinctive Appearance: Applehead Siamese cats are known for their striking looks. They have almond-shaped blue eyes that seem to hold all the mysteries of the universe, and their short, sleek coat comes in a variety of color points, including seal, chocolate, blue, and lilac. But what truly sets them apart is their distinct "apple-shaped" head, hence the name.
Charming Personalities: Beyond their looks, Applehead Siamese cats have equally captivating personalities. They are vocal, affectionate, and incredibly social. These cats love to be the center of attention and will happily follow you around the house, participate in your conversations, and even "help" you with your daily tasks.
Playful and Energetic: Siamese cats, including the Appleheads, are known for their playful nature. They have a youthful spirit that lasts well into adulthood. This means you can expect a lively companion who's always up for a game of fetch or a chase with a feather toy.
RELATED: From Temperament To Care: A Comprehensive Applehead Siamese Cat Guide
The Family-Friendly Factor
Now, let's address the burning question: Are Applehead Siamese cats family-friendly?
1. Social Butterflies: Applehead Siamese cats thrive on human interaction. They love to be with their families and are generally good with children, making them a great choice for a family pet. Their talkative nature means they'll often "chat" with you and your kids, adding an extra layer of interaction and fun to your household.
2. Playful and Energetic: If you have active children, an Applehead Siamese cat can be the perfect playmate. Their playful disposition means they'll happily engage in games and keep your kids entertained for hours. Just make sure to provide them with enough toys to keep their agile minds and bodies occupied.
3. Low Grooming Needs: One less thing to worry about with Applehead Siamese cats is grooming. Their short coats require minimal maintenance, which is a blessing for busy families. Brushing them once a week to remove loose hair and keep their coat shiny is typically sufficient.
4. Attention Seekers: These cats love attention and affection. If you have family members who are more than willing to give love and cuddles, your Applehead Siamese will thrive. They often form strong bonds with their human family members and enjoy snuggling up at bedtime.
5. Training Potential: Applehead Siamese cats are intelligent and can be trained to follow basic commands and use a litter box with ease. This makes them easier to integrate into a family environment.
However, there are some considerations to keep in mind:
Separation Anxiety: Applehead Siamese cats can be prone to separation anxiety. If your family is out of the house frequently, consider getting a second cat for companionship or providing plenty of stimulating toys to keep your Siamese cat occupied.
Vocal Nature: Their talkative nature can be charming, but it might be overwhelming for some. Be prepared for a chatty companion and ensure your family is comfortable with the constant "conversations."
Allergies: As with any pet, some family members may have allergies to cats. Make sure no one in the family is allergic before bringing an Applehead Siamese home.
In conclusion, Applehead Siamese cats can be a wonderful addition to a family, especially if you have active, engaged children and a lot of love to give. Their playful nature, sociable personalities, and low grooming requirements make them an excellent choice for families looking for a feline companion. Just be aware of their need for attention and the potential for separation anxiety. If you're ready to commit to these beautiful cats, you're likely to find a loyal, loving, and family-friendly companion in the Applehead Siamese.
Sure, here's a catchy poem about Applehead Siamese cats for you:
In a world of felines, so sleek and cool,
The Applehead Siamese, they truly rule.
With almond eyes that gleam like the moon,
Their elegance and charm make us swoon.
Their coats, a canvas of colors so bright,
From seal to lilac, they're a stunning sight.
Their tails are long, their ears so big,
In the world of cats, they're a distinctive gig.
They're chatty and social, always a delight,
They'll chat with you from morning to night.
Playful and agile, they'll chase a string,
With an Applehead Siamese, joy will surely sing.
With love to give and a heart so warm,
In their presence, you'll feel no harm.
So, if you seek a companion that's grand,
Choose an Applehead Siamese to rule your land!
Lisa Illman is the Founder of Kritter Kommunity, LLC. She has a tuxedo adult cat and has had him since he was a baby kitten. Before her cat Finnegan, Lisa had had two FIV-positive cats for over a decade. They inspired Lisa to invent a cat enclosure and a portable catio so they could safely sit outside and enjoy fresh air and sunshine. Lisa had a Poodle and a parakeet growing up. She currently loves to pet-sit for her neighbors' dogs and cats.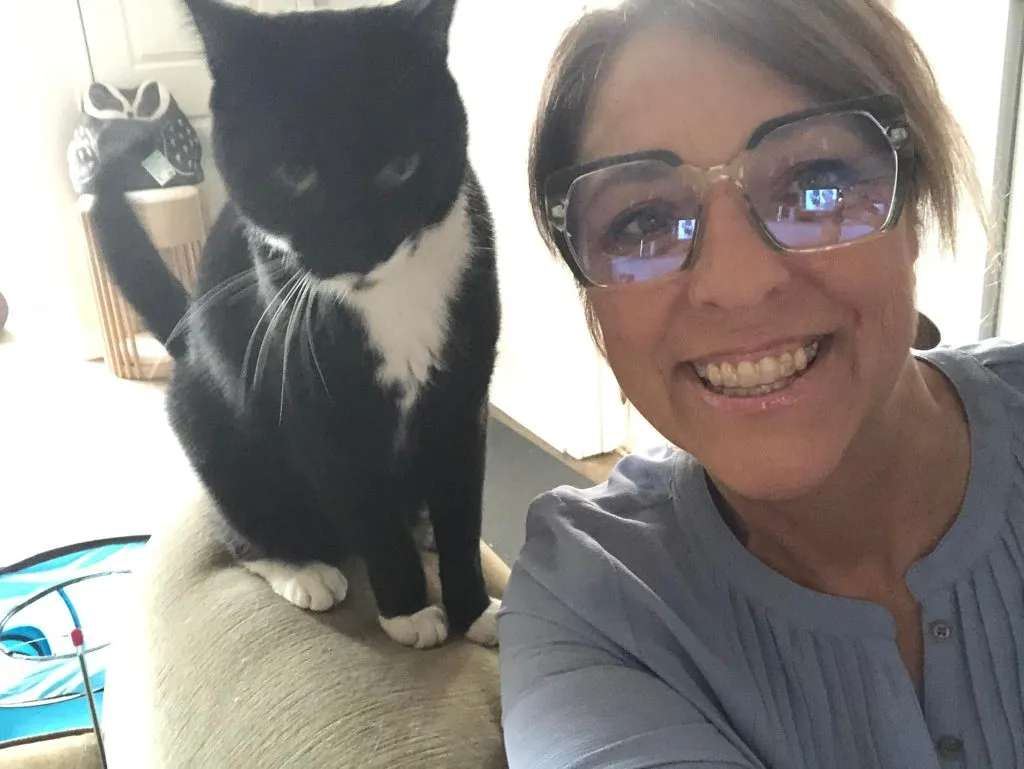 Why is Kritter Kommunity Your Trusted Partner?
Our mission at Kritter Kommunity is to promote happy and healthy lives for pets and their owners. We specialize in Barkitecture and designing tips for pet-friendly homes, utilizing the natural instincts of cats, dogs, and small critters to create a home life that pets and people love. From tips on pet care to reviews on pet toys and furniture, we are a go-to source for all things cats, dogs and small critters. Join us in celebrating the joys of pet ownership and providing the best possible lives for our furry friends.