If you talk to any Sphynx cat lover, they will tell you why adopting a hairless cat started as a companion journey, then quickly became a passion. This post is all about 8 unique gifts on Etsy for Sphynx cat lovers.
When shopping for any naked cat lover, it may seem at first like a super easy way to find the ideal gift. But in reality, you will quickly find the spynx cat owner already owns a lot of practical and even not so practical sphynx cat essentials.
So what do you get the bald cat owner whose greatest pride and joy is an adorable, large-eared hairless little bundle of energy, that slightly resembles E.T.?
Below we have rounded up 8 ideas that are sure to show your thoughtfulness while bringing your gift receiver a ton of joy. These ideas include cat lover gifts for new Sphynx kitten adopters too. In fact most of these ideas work well for all of the hairless cat breeds.
Even better, I found all of these ideas on one of my favorite shopping sites; Etsy.
If you haven't had a chance to browse the kitty cat sections yet, do yourself a favor and make it a relaxation priority. Some of the craftiest and thoughtful cat supplies fill the pages.
RELEVANT: Is A Sphynx Cat A Good Pet?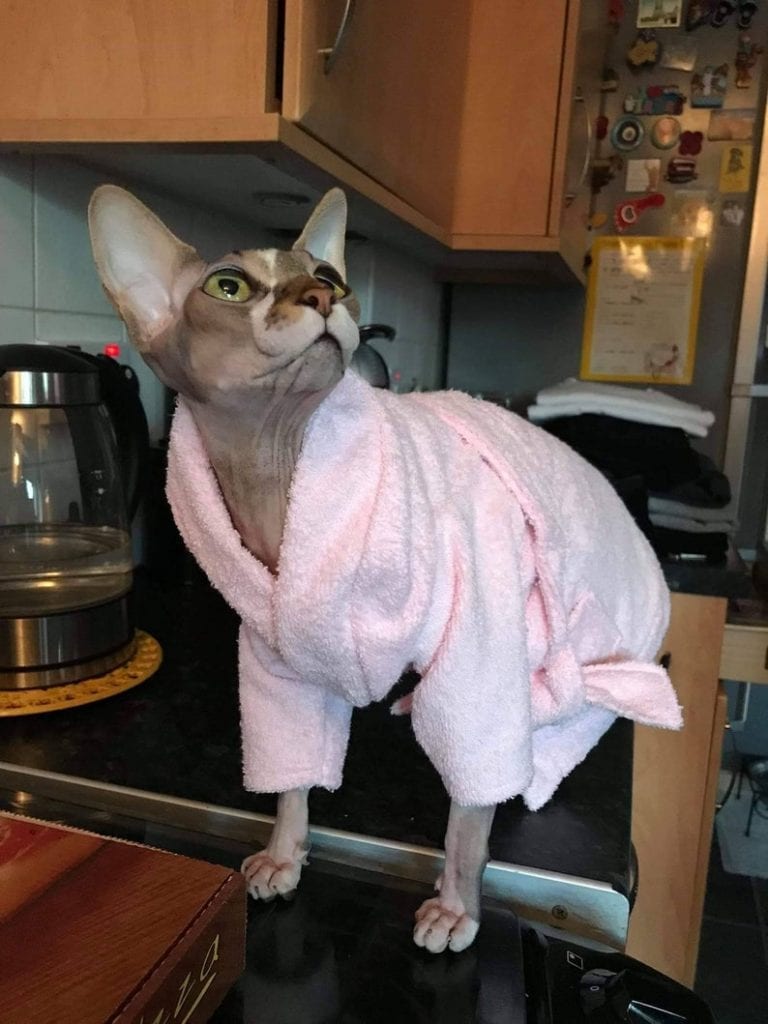 Sphynx Cat Robe – Sphynxclothes – Etsy Seller – $39.13
For beginner Sphynx cat parents who are eager to get their little bundles of joy home, already have bunches of sweaters laid out and ready for use, we present you with a bath robe. Yes, every Sphynx cat needs his own bathrobe and a new owner may have overlooked this.
The common cat supplies are sweaters for hairless cats so in an attempt to be prepared with clothes, the beginner may not have a robe on the need to get list.
For more information on naked cat essentials, check out our post Your Essential Checklist For Bringing Home Your New Sphynx Cat.
Starter Kit – 4Hairless Pets – Etsy – $42.00
Another great gift for beginners on this unique journey is a starter kit designed specifically for hairless cats. The products are obviously well thought out. Ideal for the 'all natural' cat lover, as their description reads:
"ReNewedPet® grooming and health products are Holistic Vet Approved, and each made with only 100% natural, non-gmo, and organic ingredients. We use only the finest sourced ingredients which help extend health and longevity to your pets along with health-promoting, earth friendly ingredients, and packaging."

4-Hairless Pets
The reviews for this starter kit are top notch so you have some great feedback to feel confident in this purchase. What I love the most is that it includes not only shampoo, conditioner and a host of other cleaning products, also included is booty wash! Yes, Sphynx kitty cats need their booty wiped and this article will help you understand why: Are Sphynx Cat Butts Sticky?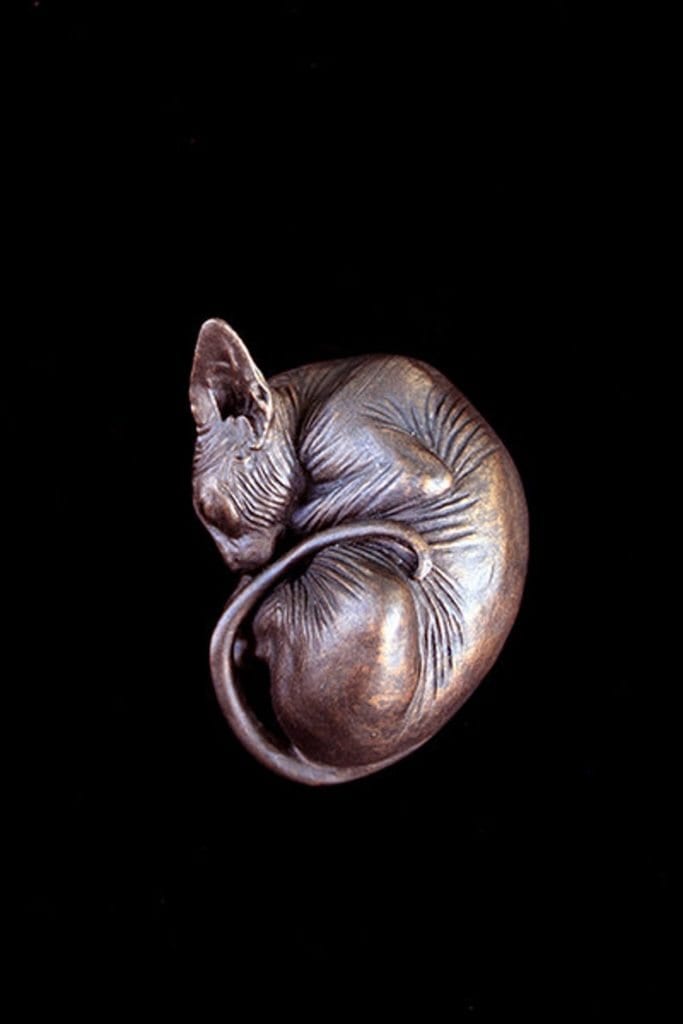 Bronzed Sphynx Cat Figurine – Deborah McDermott – Etsy – $49.00
Adorable, unique and just so sweet! This bronze figurine is a non-practical gift that hits the thoughtful spot perfectly. I love how the wrinkles are captured in this sleepy little meowster.
Gift wrapping for this precious gem is available but you might want to hold it and check him out up close before handing it over. Either way, check out the reviews for this one. They are positive with lots of good details.
Backpack – Latto Valera – Etsy – $74.00
A backpack is ideal for any student going back to school. Leaving the adored pet behind can be one of the hardest challenges when leaving home for a new journey. What better way to send off a student then with her favorite BFF artistically reflected, front and center, on her book bag.
This quirky yet appropriate art represents the youthful side of cat lovers. A younger, or younger-at-heart, Sphynx cat owner might especially appreciate this one! Check out this store, it has lots of cool and unique products that may help you with all types of gifts.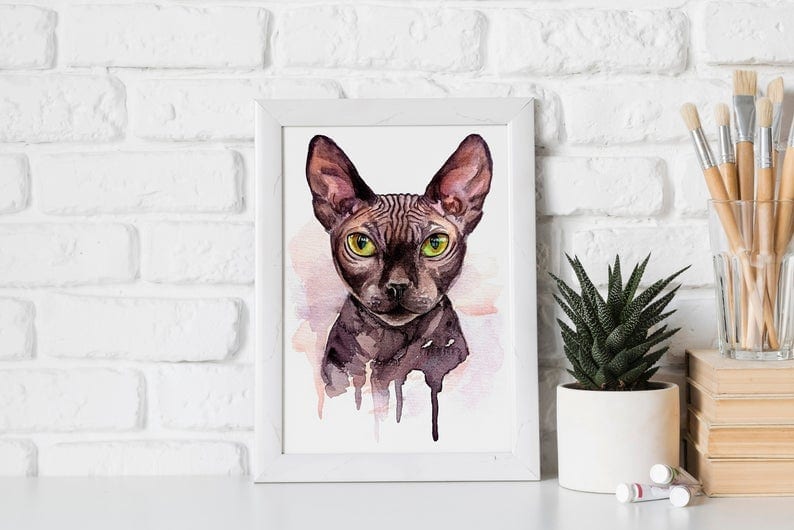 Custom Watercolor Portrait – TwoCats – Etsy – $57.00
Any custom gift gives the vibe you really wanted to go all out for this person. If your cat owner enjoys art, chances are a custom watercolor of their favorite kitty cat will be a pleaser. Not only will she be able to admire the artwork herself, a custom portrait makes a good conversation piece. Be sure to consider the colors that the cat owner would want in their home. A few articles on our site might help:
Creating A Cozy Home With Cat Themed Decor And Furniture
7 Types Of Dreamy Hammocks For Your Kitty To Crash In
How To Beautify Your Home With Modern Cat Furniture and Decor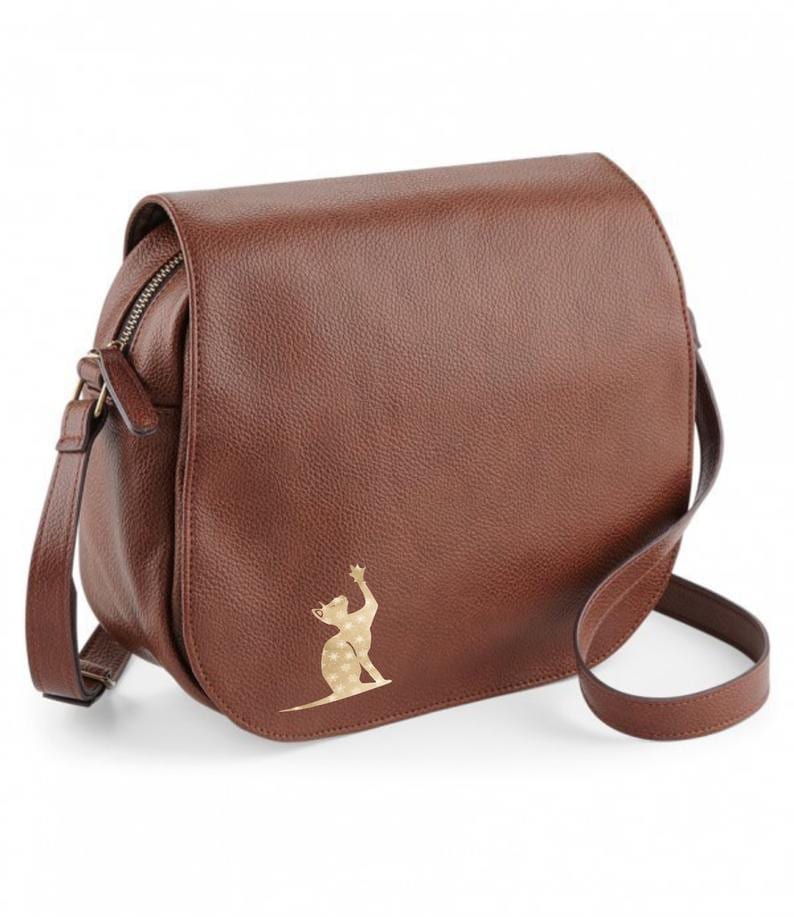 Handbag – Gifts and Garments Shop – Etsy – $38.32
This stunning handbag with a small Sphynx cat in the corner is subtle, yet effective. I consider this a statement accessory for a cat lover! The ears and paw are shaped ideally; representing a Sphynx kitty cat. This handbag is a good choice for when you are not completely sure what the cat lover's style is. Not only will this bag go with anything, it is reasonable priced, just below $40.00.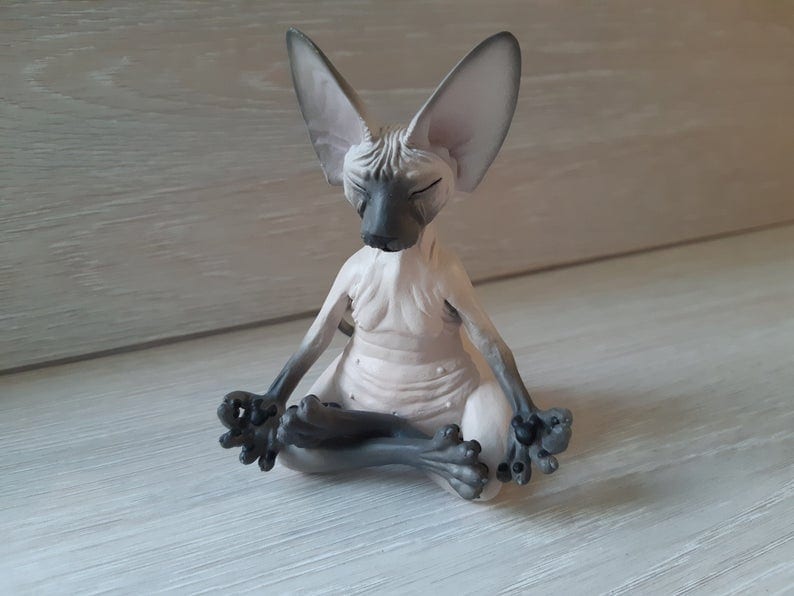 Yoga Sphynx Cat Sculpture – Crazy Rabbit Art Studio – Etsy – $100.00
Many cat lovers are also Yoga enthusiasts. If your nude kitty owner loves her yoga workouts, consider this super cute kitty sculpture.
The ears crack me up!
Any zen cat lover who owns a Sphynx will appreciate this figurine. And if you have a special occasion you want to emphasize, they will add on elements for a small fee. Perhaps your friend had a Sphynx that recently passed away, ordering angel wings can be a nice touch. In addition to extra elements, Crazy Rabbit Art Studio will custom make any color you would like. Ideal for black Sphynx cat owners!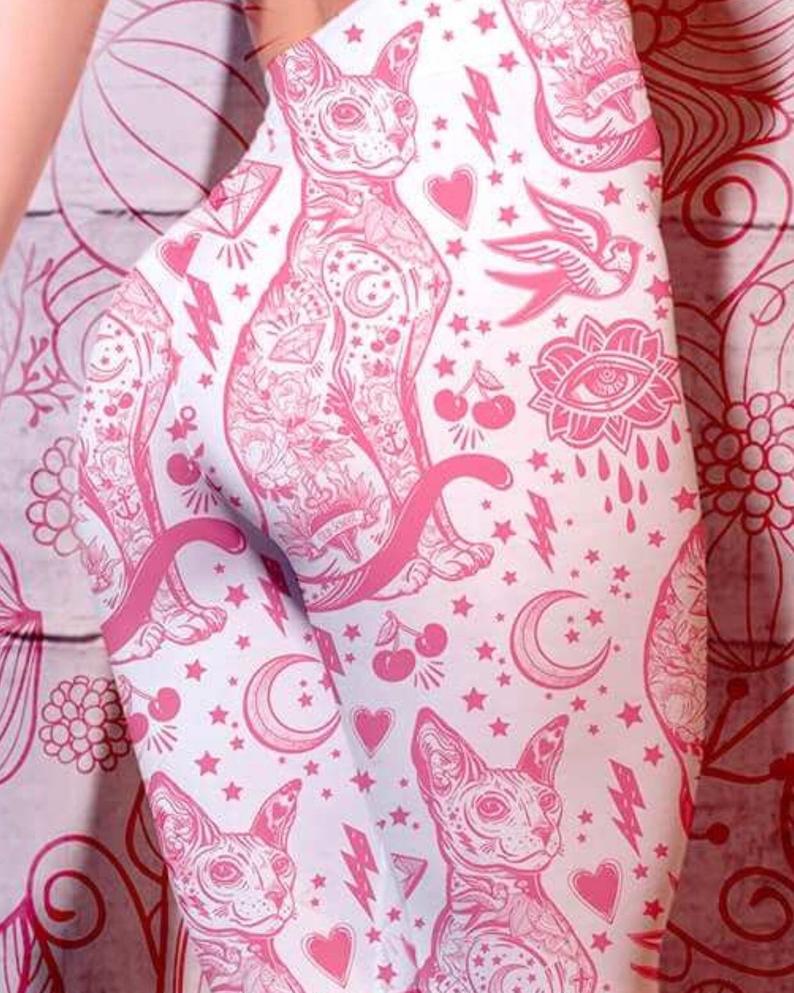 Leggings – Gone Girl Designs – Etsy – $59.46
Why not add on a pair of yoga pants to your zen cat lover order? These gothic pink are fun and fabulous. They are definitely a conversation piece at yoga class! But these leggings can also be worn with a shirtdress, sweatshirt or simply paired with a comfy T-shirt. Hand-made of polyester and spandex, I bet they are flattering and comfortable (a combination hard to come by!)
If you send your yoga loving friend an E-card, include a link to this cute video. She will love it!
For other Sphynx cat related topics, these are also on our blog:
What Type Of Health Problems Do Sphynx Cats Have?
7 Common Questions About Sphynx Cats; Answered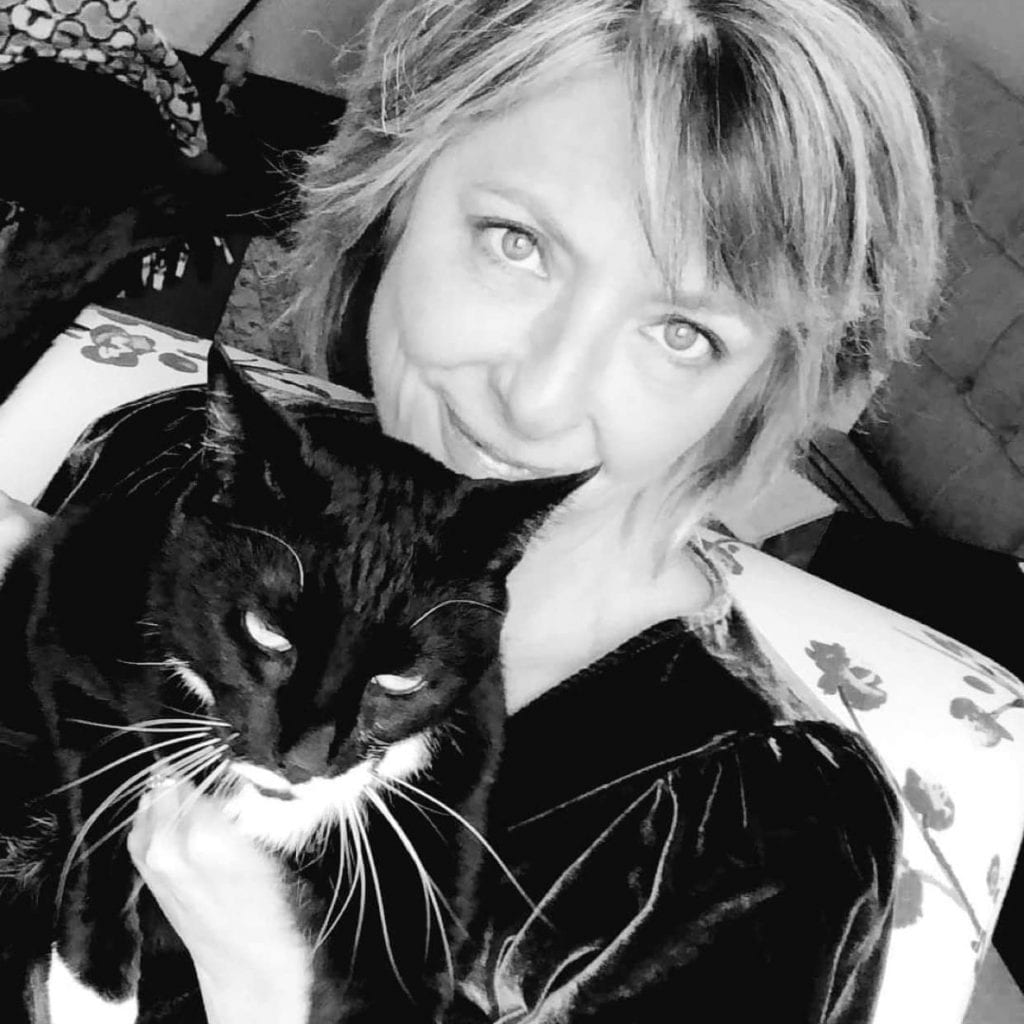 Lisa is the Founder of Kritter Kommunity and the Inventor of the Kritter Kondo, an outdoor portable catio. She also designed the Pet Lodge, an outdoor pet pen for traveling cats and dogs. Lisa writes for Kritter Kommunity and is also a regular contributor at Catington Post. Lisa has a Tuxedo male cat named Finnegan who has his own Facebook.