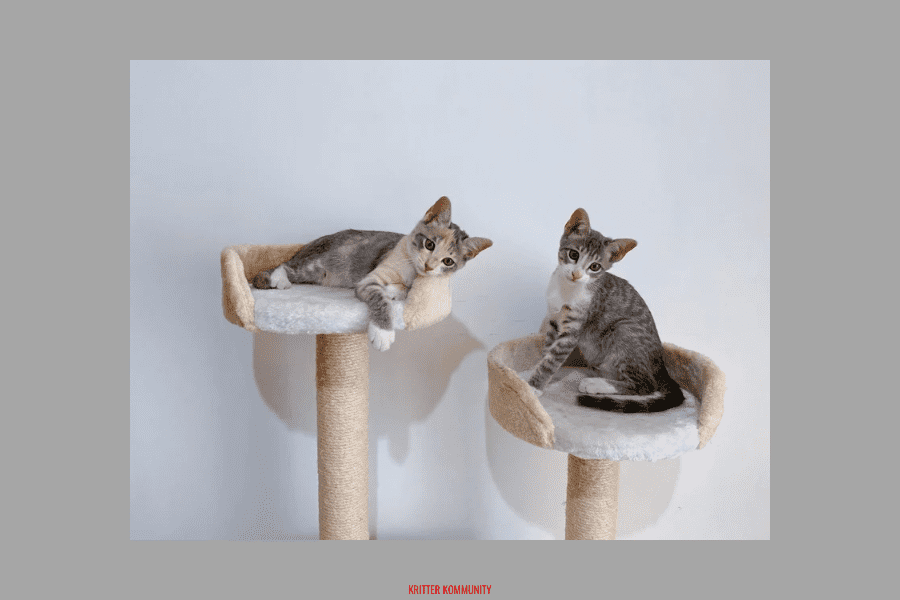 As a cat lover, I understand the importance of providing our feline friends with the best possible environment to thrive in. That's why I was thrilled to discover the world of modern cat trees and luxury cat furniture. These innovative pieces not only serve as a stylish addition to any home, but they also fulfill our cats' natural instincts and provide them with much-needed enrichment. This post is all about the best modern cat trees for your purr baby.
From climbing and scratching to lounging and playing, modern cat trees offer a wide range of activities for indoor cats. And with the variety of designs and materials available, there's a perfect option for every cat and every home. Is it time to join the trend and give your kitty the gift of a modern cat tree? Sign up for the Mewsletter and discover the world of luxury cat furniture today.
Cat Enrichment with a Modern Cat Tree
Investing in a modern cat tree is an excellent way to provide your feline friend with a space of their own. These cat trees are designed to be both functional and stylish, making them a great addition to any home.
Modern cat trees offer a variety of benefits for your cat, including:
Play: Modern cat trees provide a space for your cat to play and explore. The different levels and platforms allow your cat to climb, jump, and stretch, providing them with much-needed exercise and entertainment.
Toys: Many modern cat trees come with built-in toys, such as hanging toys, rope toys, and ball toys. These toys provide your cat with endless entertainment and stimulation.
Multiple Cats: If you have more than one cat, a modern cat tree can provide them with a space to play and interact with each other. Look for a cat tree with multiple levels and hiding spots to accommodate all of your furry friends.
Scratching: Modern cat trees also serve as a scratching post, saving your furniture from your cat's claws. Look for a cat tree with a scratching post made of sisal rope or another durable material.
Overall, a modern cat tree is a great way to enrich your cat's life and provide them with a space of their own. Whether your cat loves to play, stretch, or nap, there's a modern cat tree out there that's perfect for them.
A Modern Cat Tree to Fulfill Your Feline's Natural Cat Instincts
Cats have natural instincts to climb, scratch, and lounge. A modern cat tree is an excellent way to fulfill these instincts while providing your feline friend with a comfortable and stylish place to relax.
The Tuft and Paw brand offers a range of modern cat trees with features that will make your cat's life heaven. These cat trees include:
Scratching posts wrapped in sisal to satisfy your cat's scratching needs.
Padded perches and hammocks for lounging and napping.
Ramps, ladders, and swing for climbing and playing.
Cubbies, hidey-holes, and scratch pads for hiding and scratching.
Sisal-wrapped scratching posts to satisfy your cat's natural instincts.
All of the modern cat trees from Tuft and Paw are designed to make a statement in your modern cat home. They are not only functional but also stylish and aesthetically pleasing.
Investing in a modern cat tree is a great way to keep your cat happy and healthy while adding a unique touch to your home decor.
Modern Cat Trees
Contemporary cat trees offer an excellent means for your feline companions to remain physically active and engaged, concurrently elevating the modern aesthetic of your living space. These cat trees are available in an array of sizes and designs, simplifying the process of discovering one that aligns seamlessly with your cat's preferences and harmonizes with your home's decor. Allow me to present some of the finest modern cat trees currently accessible in the market:
Milo Modern Cat Tree: This cat tree offers multiple levels, including two treehouses and perches, and two scratching posts made of durable carpet fiber. It's perfect for multiple cats and is safe and secure for your pets. The price for this tree is $999.00. Suppose you want an elevated platform for your feline companion. In that case, these modern cat trees will make life heaven for your kitty.
Torre Modern Cat Tree: This cat tree has a modern style that will fit in perfectly with your home's décor. It offers a step-up and step-down design that will keep your cat in shape. The perch can also double as a cat bed. The price for this tree is $899.
Alberge Modern Cat Tree: This unique square cat tree comes in a taller version as well. Both versions are eye-catching and can be placed among other modern furniture. The taller version offers a special stretching area built right on the side. This tower of feline fun has a multitude of options for assembly, making it perfect for smaller cats or more daring felines. The compartments are ample for hide and seek and will help your cat's problem-solving skills. The price for this tree is $499.
Marvin Cat Tree: This vertical and sleek cat tree has top areas for your cat to hang out and enjoy heights. The middle tube is encased with cat-attracting scratch material for your cat's paw pleasure. The price for this tree is $169.
Ozzy Cat Tree: This cat tree is perfect for the kitty who likes to sit and gaze at their surroundings. It also has a cat bed for snoozing. The price for this tree is $199.
Cat Teepee: This modern take on a classic cat accessory is a cozy arch-style cat tree that your cat will love. The price for this tree is $129.
Star Cat Wheel: This exercise wheel is modern and sophisticated, encouraging your cat to scratch and grip, which causes the wheel to turn. It's unique and perfect for your modern home. The price for this wheel is $399.
Modern cat trees offer a variety of functions and styles to fit your cat's needs and your home's décor. With multiple levels, platforms, and scratching posts, your cat will stay entertained and mentally stimulated.
Luxury Cat Furniture
Cat furniture has come a long way in recent years. No longer just a simple scratching post, modern cat trees can be a stylish and functional addition to any home. As a cat owner, I know the importance of providing my furry friends with a comfortable and safe place to play and rest. Here are some of the key features to look for when shopping for luxury cat furniture:
RELATED: modern cat furniture that make a major statement
Quality and durable materials: Look for furniture made from solid wood, engineered wood, plywood, or particleboard. These materials are strong and stable, and can withstand the wear and tear of daily use. Faux fur, faux fleece, and other synthetic fibers are also great options for a plush and comfortable feel.
Sleek and modern design: Aesthetically pleasing cat furniture can enhance the look of your room decor. Choose a design that complements your existing furniture and reflects your personal style.
Stability and sturdiness: Make sure your cat tree is stable and won't wobble or tip over when your cat jumps on it. A stable base and sturdy construction are essential for your cat's safety.
Machine washable: Look for furniture with removable and washable covers for easy cleaning and maintenance.
RELATED: The Best And Cutest Cat Toys Your Cat Will Love
Some of the best luxury cat trees on the market today include the Vesper Cat Furniture, the Armarkat Cat Tree, and the Go Pet Club Cat Tree. These products are designed with cats' unique needs in mind, and offer a variety of features such as scratching posts, lounging beds, and lookout perches. With so many options available, you're sure to find the perfect cat furniture to suit your feline family members needs and your cat's personality.
RELATED: Cat Furniture Your Feline Friendly Home Can't Do Without
Concluding Purrs
In conclusion, investing in a cat tree is a great way to provide your feline friend with a cozy and comfortable space to play, climb, and scratch. Whether you are looking for a budget-friendly option or a luxurious one, there are plenty of choices available in the market.
If you are on a tight budget, the Amazon Basics Cat Tree is a great option, starting at just $29.99. For those looking for the best overall option, the Trixie Baza Cat Tree offers a modern design and multiple levels for your cat to explore. The Flower Collapsible Cat Tower is the best modern option, with its fun and whimsical design.
If you have multiple cats, the Go Pet Club Cat Tree is a great choice, with multiple levels and spacious perches. For senior cats, the 32 Inch Sleeping Tray offers a comfortable and low-to-the-ground option for napping and lounging.
If you are looking for a luxurious option, the 68 inch Sky House Cat Tree offers a spacious and stylish design, while the Assembly Cat Tree by CatsPlay is a great choice for those looking for a unique and customizable option.
In summary, with so many options available, there is a cat tree out there for every feline friend. Don't forget to include scratching posts and toys to make it a complete and enjoyable experience for your cat.
The Sisal Cat Shop: Every Cat's Dream Come True
Cat Shelves With Feeding Stations: The Perfect Place To Feed Your Kitty Cat
How Biophilia Designing Can Improve Your Pet's Well-Being
Floating Cat Shelves: Elevating Your Feline's Comfort And Style!
Cat Window Perch Ideas Your Cat Will Obsess Over
Rock Your Cat's World: Curved Cat Shelves
Meow-velous: Making Your Home Cat-Friendly
Can I Have A Cat In A Small Apartment?
10 Design Ideas For Cat Owners In Small Places
Get Ready for Luxury: 8 Best Fancy Cat Trees
<
NEW ON THE KRITTER KOMMUNITY BLOG