Get familiar with these 7 types of cat hammocks. Your kitty will love crashing out for his cat naps in these dreamy hammocks. We also did a round up of a few of the best cat hammocks you can literally buy right now. This post is all about 7 types of dreamy cat hammocks for your kitty to crash in.
Do cats like hammocks?
Yes! Kitty cats love hammocks. There are a variety to choose from including window, low rising and wall hammocks. The key to finding the right one is determining which style and fit will work best with your cat. Some cats love to perch from high places, some enjoy watching butterflies all day and others just don't jump! Pick the one (or more) that fit your cat's needs.
Eat, play, rest and repeat– it's a standard routine for a feline!
Before I invested in a cat hammock, my polydactyl Tabby, Bullet, had a habit of transforming flower pots, cardboard boxes, and our grandpa's old recliner into his personal rest sanctuaries. Not only has having his own cat hammock given Bullet enough personal space to catch some z's and loaf around, it has also minimized excess dirt in my home and saved my favorite furniture.
If you're looking to create a purrfect place where your cat can relax in between playtime and lunchtime, here at Kritter Kommunity we've compiled a list featuring 7 types of the best cat hammocks that can be installed in seconds!
RELEVANT: Why Do Cats Purr? What Is It A Sign Of?
What are the different types of cat hammocks?
Window Hammocks for the Wondrous Gazer
If your cat is a little darling daydreamer, Window Hammocks are a unique option. Secure this type of hammock on a large window adjacent to your garden so your kitty can enjoy the lovely view of the rustling leaves, flying birds, and bumbling insects that make their daily rounds into your greenery.
Even if you don't have a picturesque garden space, Window Hammocks are great for apartments, too. If you live in a tight studio, Window Hammocks are a fool proof way to accommodate your kitty and save floor space.
Hang your window hammock facing the main street to entertain your cat with passing cars, dog walkers, and the daily motions of outside life. It's no surprise that a cat hammock is essential for keeping a bird obsessed cat out of trouble! Much like cat shelves, hammocks also save precious real estate by utilizing on wall/window space as the actual furniture foundation.
This window kitty hammock on Etsy is absolutely adorable! What we love even more are all the rave reviews this window hammock is getting. This definitely looks like something your feline friend will purr over.
"This fits our rv window purrfectly! (sorry for the pun). We absolutely love it and it shipped super-fast! So easy to install also! Would definitely buy from this seller again."

Kitty Cot Original Testimonial, Etsy Seller
Chair Hammocks for the Devoted Companion
My Russian Blue, Nelly is my most affectionate cat who feels better being by my side. Chair Hammocks are ideal for cats like her who feel most comfortable sticking close to their mamas and papas. Chair Hammocks can either be secured on the legs of chairs or on the seat of the chair.
The accessibility of a Chair Hammock gives your cat a feeling closeness to you while you're close by cooking in the kitchen or doing some work in the office. This is a great option for remote workers like me, who don't want their kitty sending accidental emails and leaving paw prints all over our notes!
If you are a crafty cat owner, you might even try a DIY cat hammock! This video will walk you through step by step how to make a macrame swing hammock. Oh and that feline friend in the swing is super cute to watch!
"Hammocks stay cooler than regular beds, because they allow air to move beneath them. Make Fluffy her own kitty hammock by attaching a piece of material to the legs of a table or coffee table. Instant happy cat!"

HERON LAKES ANIMAL HOSPITAL
If you are anything like me, and not so crafty, Etsy has the purrrfect cat hammocks!
The ones I spotted are purrfect for the non-DIY cat lady who wants something that looks less commercialized. I absolutely love this one by CraftTastic Handmade for a very reasonable $18.43.
Bed Hammocks for the Cuddle Bugs
Bed Hammocks are plush, cozy, and comfortable enough for even the most spoiled sleeping cattoisseur. And if you have more than one cat, Bed Hammocks are cozy enough to fit two snuggling BFFs close together. Because of their durability, bed Hammocks are great options for heavier cats or queens nursing kittens. If the thought of assembling an intricate hammock seems daunting to you, a bed hammock is a quick assembly option and their portability makes them easy for your furry friends to follow you from room to room, letting your cats join you for movie night or bed time.
This one from Hatata Pets on Etsy totally caught my eye.
The cushion looks so soft, I want to take a nap in it! This one sells fro $41.50 and can be purrrchased on Etsy.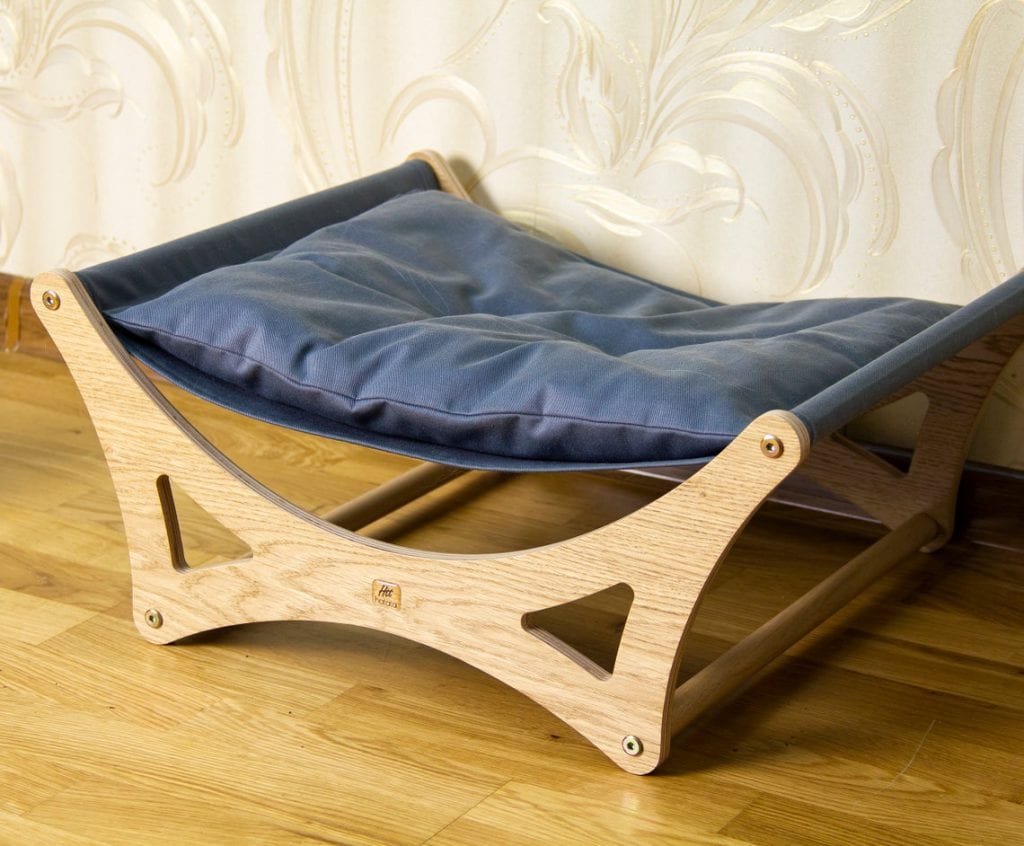 Wall Hammocks for the Adventurer
Many times we hear feline fanatics ask, "do cats like wall hammocks". The answer is most definite yes! They love to be up high to monitor the peasants below and a wall hammock is the perfect piece of cat furniture for supervising the kingdom.
RELATED: 7 Fabulous Wall Items Every Cat Owner Needs
Naturally, being at a high view position allows cats to purrvey their territory, escape from predators and safely scan the ground for prey. Thats why you'll find that your kitty will climb atop bookshelves, cat trees, or even your fridge!
Wall Hammocks are a subtle way to entertain your adventurous climber. Consider the tip of securing your wall hammock in the living room to the side of the TV since cats loved to be directly faced and given plenty of attention!
Like window hammocks, wall hammocks are essential for pet owners with smaller homes. Place your wall hammock by a window so your kitty can bask in the delight of sunshine!
CatsPlay Cat Furniture has a bunch of wall hammocks to choose from, and they are all eye-candy. I couldn't choose so here is a gallery for you to browse!
Low Rising Hammocks for Easy Access
My long haired Nebelung beauty Olive (I have 6 cats, please don't judge me!)is the oldest of the bunch. Currently, she is experiencing stomach sickness and has been resting a lot more than usual. A low rising Cat Hammock is perfect for older cats who like to be close to the ground.
Low Rising Hammocks are sturdy and easy to get in and out of and are low impact on a lethargic kitty's body. If you have had a cat that is disabled, recently injured, or is experiencing joint pain, low rising hammocks are a great option for easy accessibility, comfort, and relaxation.
Relaxing is a feline's natural position!
Kitties who do not jump will also love a hammock closer to the floor. One breed that does not jump is the Himalayan kitty cat. For more information on this breed you can read our blog 10 Things To Know Before Bringing Home Your New Himalayan Cat. If you are looking for a gift for a Himalayan cat birthday party, check out the low rise hammock!
Swing Hammocks for the Pets of Zen
With their tranquil swaying, swing hammocks are the most peaceful option. Additionally, if your kitty is an athlete who is blessed with those jumper legs, consider investing in a Swing Hammock. Not only are Swing Hammocks comfortable, their California cool look make them the trendiest cat hammock option. This modern boho trend can help add style to any living space. Whats the coolest part about swing hammocks? They can be used indoors and outdoors!
There are DIY macrame kitty cat hammocks for those who are inclined to create one from love and your own two hands. This video tutorial rocks, so we are posting it here!
Car Window Hammocks for the Traveler
The safest way to take your cat along for a car ride is to have a car window hammock. Unlike a portable cage or kennel, this hammock is often open which gives your kitten more comfort. Car Window Hammocks are like little cat car seats that elevate your kitty so she can peek out the window.
Your kitty can be safely harnessed in to keep her from slipping while the car is in motion. Cat car windows include adjustable straps for stability and can be easily washed in washing machines.
Whether your cat loves long rides down the open backroads or is merely accompanying you for a trip to the local drive-thru, a car window hammock is a great way to spend more quality time with your precious co-pilot kitty.
RELATED: Car Traveling With Cats: How To Make It Fun
Cat Hammocks Takeaway
Cat hammocks are a great way to provide your feline friend with a comfortable place to rest and relax. However, when shopping for a cat hammock, there are several important questions to consider. Here are some questions to ask yourself when shopping for a cat hammock:
How safe does my cat feel elevated?
Some cats enjoy being high up, while others do not. If your cat does not like to be levitated, a floor hammock might be a better option. It's important to prioritize your cat's safety and comfort.
How much does my cat weigh?
The size of the hammock you choose will depend on your cat's weight. Make sure to choose a hammock that is sturdy enough to support your cat's weight.
Is my cat a snuggle bunny or sprawler?
Consider your cat's sleeping habits when choosing a hammock. If your cat likes to snuggle, a smaller hammock might be better. If your cat is a sprawler, a larger hammock might be more comfortable.
Does my cat like to window watch?
In addition to resting, many cats enjoy gazing out the window. If your cat likes to window watch, a window hammock might be a great option. This will give your cat a comfortable place to rest while enjoying the view.
Overall, it's important to find a cat hammock that fits your cat's temperament, physical abilities, and energy levels.
By prioritizing your cat's comfort and safety, you can ensure that your feline friend is happy and healthy. Cat lovers know that their pets deserve the best, and a good quality cat hammock is a great investment.
If you enjoyed this, you may also like our other blog posts:
Furniture Solutions For Cats In Small Apartments
BOHO Cat Furniture On Amazon You Will Love
Cat Furniture Your Feline Friendly Home Can't Do Without
How To Beautify Your Home With Modern Cat Furniture: Scratchers And Shelves
Why Is Kritter Kommunity Your Trusted Pet Partner?
Lisa Illman is the Founder of Kritter Kommunity, LLC. She has a tuxedo male adult cat currently and she has had him since he was a baby kitten; so Lisa knows well the kitten lifecycle, the teenage cat lifecycle and the adult cat lifecycle (he is currently 11 years old). Prior to her cat Finnegan, Lisa had two FIV positive cats for a decade. They inspired Lisa to invent a cat enclosure so they could safely sit outside and enjoy fresh air and sunshine. She brought the product to market and eventually designed a line of portable catios; they sold on Amazon, Skymall Catalogue, Wayfair and countless other websites. Her experience being a cat parent coupled with her business development and product management experience make her a trusted cat enthusiast partner. She and Finnegan (her tuxedo cat) test, research and review pet products to give readers the best feedback possible.
Amanda Mansoorbakht is the proud cat mom to a Russian Blue breed cat, plus a rescue kitten. Amanda frequently writes for pet blogs and does product reviews with as her pets are the chief supervisors!
Amanda Mansoorbakht
Kitty Cat Contributor
Amanda Mansoorbakht is a freelance writer from El Monte, California. She lives with her two year old Russian Blue, Nelly and her baby kitten Nina. In her free time she enjoys running, rollerblading, and fostering newborn kittens.