Updated and edited January 2023.
Designing a furniture cat wall is a wonderful to be a cat parent yet not sacrifice your own home style.
This post is all about what products to use when designing an awesome furniture cat wall.
A cat wall will provide your feline with some mental stimulation and exercise, while also giving your home an aesthetic boost. With the right setup, you can create a unique playground for your cat to explore and enjoy.
Cat shelves and furniture are great for giving your cat a place to rest and relax, as well as providing a great way to display your favorite pieces. Cat trees and perches provide a great way for cats to get up high and watch over their domain. Cat bridges are also a great addition to any cat wall, as they allow cats to move around and explore different levels.
Benefits of a Cat Wall
The benefits of a furniture cat wall are numerous. By giving your cat different levels to explore, you are providing them with lifestyle enrichment apparatus plus a fun place to exercise. It also allows cats to express their natural instinct to climb and explore, which can prevent boredom and behavior issues. Additionally, the visual appeal of the cat wall will add a unique touch to your home.
Designing with a furniture cat wall is an easy and fun way to give your cat a safe playground. With the right setup, you can create an exciting amusement park for your cat to explore and enjoy; all while saving precious floor space!
Every kitty parent has a home full of cat stuff (some useful, some not so much) that takes up precious real estate by using floorspace. Cat shelves and climbing walls are becoming the rage because they are so purrrfect for any kitty cat owner. Not only will you appreciate the extra floor space by transferring cat furniture to your walls, your cats will love their new jungle gyms. Climbing is one of a feline's favorite activities and these cat products will certainly satisfy that need.
Tips for Designing a Cat Wall
Designing a wall with cat furniture can be a fun and modern way to provide your cat with a great place to play and explore. Here are a few tips to help you create a fun and functional wall of cat furniture:
Choose wall shelves with a variety of heights and widths. This will give your cat plenty of room to roam and explore. You can also use modular shelves to create interesting shapes and levels.
Add a few shelves that are specifically designed for cats, such as a scratching post or a perch. This will give your cat somewhere safe to play and lounge while they're off the ground.
Consider incorporating cat-friendly materials, such as carpet-covered shelves or sisal rope. This will give your cat a place to scratch and keep their nails healthy.
Place a few toys and treats on the shelves to keep your cat entertained. This will make the wall of cat furniture even more fun and inviting.
Don't forget to make sure the shelves are secure and stable. This way, you can rest assured that your cat will be safe while exploring.
Creating a wall of cat furniture is a great way to add a fun and modern element to your home. With a few well-thought-out designs and materials, you can create a space that will keep your cat entertained for hours.
Tips for Blending Your Current Style with New Feline Furniture
If you are looking to blend your current home decor and furniture with a new furniture cat wall or just new feline furniture overall, we have got you totally covered in cat hair for that too!
I don't know about you, but it seems overwhelming to me to think I about.
Not knowing where to start can be intimidating. Here are some tips for creating a stylish and functional space for your fur baby.
Step One
Think about colors
Begin by looking at the colors and fabrics of the existing furniture and decor in the space. If you have neutral colors, such as white, gray, and beige, you can easily add pops of brighter colors in the cat wall furniture. For example, add a bright, playful yellow scratching post or a bright red cat perch. If you have bold, bright colors already in the room, adding furniture with neutral tones would be a great way to balance out the space.
Step Two
Consider the style.
When picking out wall furniture for your cat wall, (such as wall mounted cat shelves) consider the style of the room. If your home is decorated in a bohemian style, choose wall mounted cat wall shelves with natural materials and earthy colors. If your home is more modern, look for sleek, geometric shapes with solid colors and textures. For an eclectic room, mix and match furniture pieces that have different shapes, styles, and colors. Fun shapes can be used as a cat shelf or cat perch.
These insanely gorgeous and unique cat shelves will make a great addition to just about any stile home. For modern homes, I would stick with the colors black, grey and even pink/reds. For bohemian anything that is a natural tone like off white, grey and tan are and ideal cat shelf choice.
The shape of these unique masterpieces makes them purrrfect for eclectic homes too!
What a fun addition these are!
These two steps alone will provide space cats lover; while considering your own taste and style.
But wait, there is another tip for cat owners looking to design with cat furniture.
This is the tips your feline friend will love!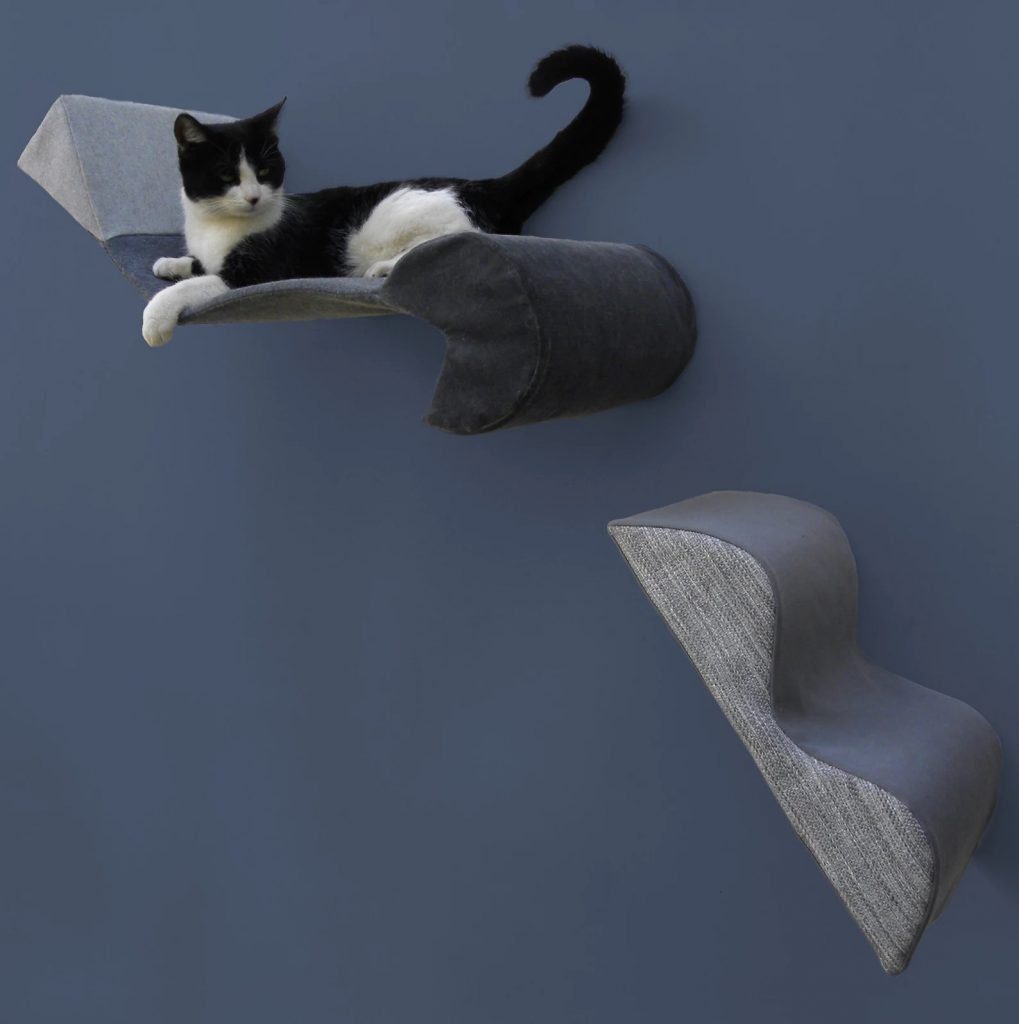 Step Three
Determine must have furniture pieces, like cat shelves, wall mounted cat trees and cat perches.
No matter what style you choose, there are some must-have items for your cat wall. Cat shelves and perches are essential for your kitty to climb, rest, and play. Cat bridges are also fun for cats to explore and can help create a visual interest on the wall. And, of course, you need at least one scratching post to keep your furniture safe from your feline's claws!
With a little bit of creativity and planning, you can create an amazing cat wall that perfectly blends with your home decor and furniture.
If you made it this far, your feline friend is probably ecstatic with your plans!
Pet Fusion's activity wall is a hit among felines. The multi-layer pieces give your kitty the angle she needs to stretch, climb and move about.
RELATED: 7 Dreamy Cat Hammocks For Your Cat To Crash In
This sisal step up cat hammock is perfect for your little tiger to rise above the living room chaos and nestle in her own wall hammock.
Another fun addition!
Step up, step down; this kitty climber won't let your paws hit the ground!
This step ladder doesn't require storage, or assembly every time your favorite feline wants to use it. This step ladder displays beautifully on your wall. The steps are wrapped in sisal for your cat's paw pleasure. This can be used as a stand alone piece of furniture or combined with other wall accessories such as a hammock.
This hammock is the perfect add on to the step ladders right above. Your kitty will love basking above you, watching your every move from her peaceful perch.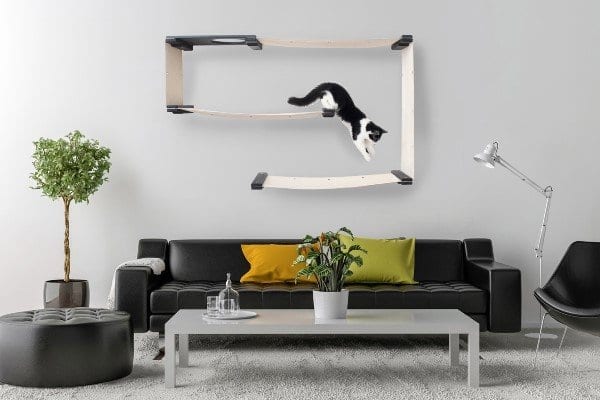 Gorgeous addition to any living room, plus your feline will be thrilled to pieces! This climber is versatile, aesthetically pleasing and functional. A shelf on steroids!
Wall Mounted Cat Furniture
Wall mounted cat furniture does not just include shelves.
A purrfect example is a cat tree.
The wall mounted cat tree from Calmbee is the perfect combination of form and function. It features a sturdy structure that mounts securely to the wall, allowing your cats to have their own vertical space in the home without taking up much room. Plus, it features two scratching posts, two perches and two cubby holes for your cats to explore and play. The sisal posts are perfect for scratching, giving your cats an outlet to express their natural behavior while also protecting your furniture.
The wall mounted cat tree also provides a great opportunity to give your cats the mental stimulation they need. Cats are naturally curious creatures and having vertical space to explore can help keep them entertained and engaged. Plus, having the wall mounted cat tree can be a great way to keep your cats away from other furniture and give them a designated place to scratch and explore.
Overall, the wall mounted cat tree from Calmbee is an excellent way to give your cats the vertical space they crave without taking up too much room in your home. Its sturdy design and sisal posts provide your cats with a safe, secure place to scratch and explore, while also keeping your furniture safe from damage. And its modern design makes it a great addition to any home. So, if you're looking for an efficient and stylish way to give your cats the vertical space they need, the wall mounted cat tree from Calmbee is the perfect solution.
Having pets can be one of the most fulfilling activities a person can give themselves. If your pet is happy, you will be even happier. With more and more people adopting animals, having great products too is a trend we will see more of. May you embrace it, love and enjoy!
Lisa Illman is the Founder of Kritter Kommunity, LLC. She has a tuxedo adult cat and has had him since he was a baby kitten. Before her cat Finnegan, Lisa had had two FIV-positive cats for over a decade. They inspired Lisa to invent a cat enclosure and a portable catio so they could safely sit outside and enjoy fresh air and sunshine. Lisa had a Poodle and a parakeet growing up. She currently loves to pet-sit for her neighbors' dogs and cats.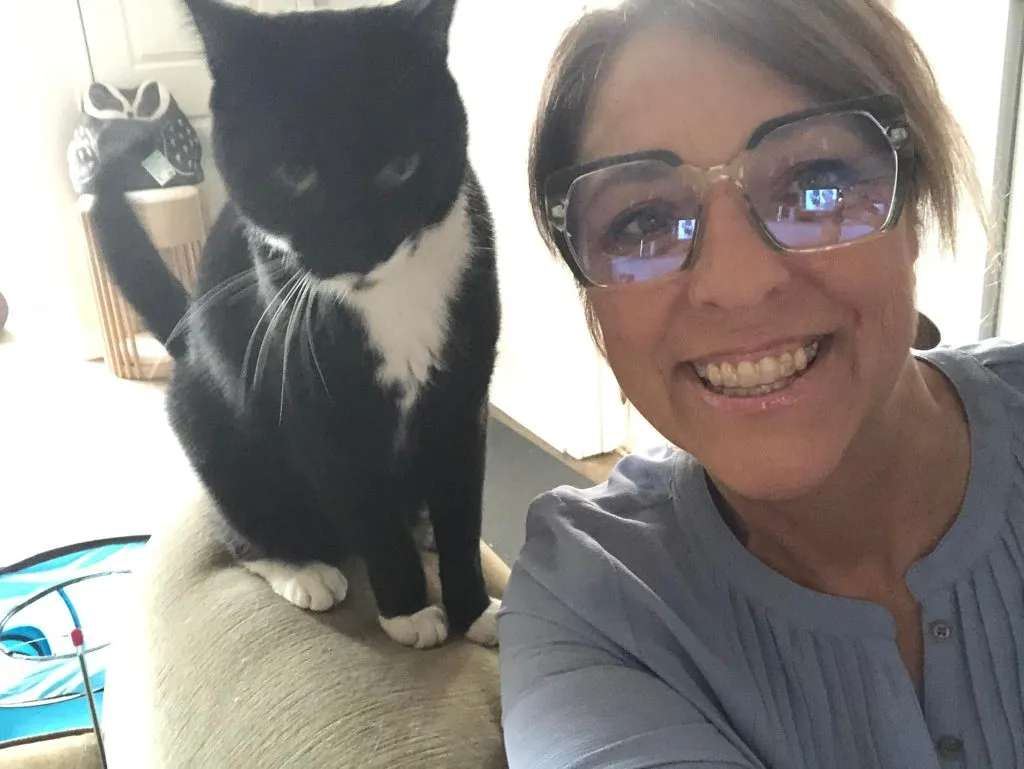 Why is Kritter Kommunity Your Trusted Partner?
Our mission at Kritter Kommunity is to promote happy and healthy lives for pets and their owners. We specialize in Barkitecture and designing tips for pet-friendly homes, utilizing the natural instincts of cats, dogs, and small critters to create a home life that pets and people love. From tips on pet care to reviews on pet toys and furniture, we are a go-to source for all things cats, dogs and small critters. Join us in celebrating the joys of pet ownership and providing the best possible lives for our furry friends.
ADDITIONAL INFORMATION
For designing with cat shelf ideas, check out our suggested reading list:
Cat Shelves With Feeding Stations: The Perfect Place To Feed Your Kitty Cat
How Biophilia Designing Can Improve Your Pet's Well-Being
Floating Cat Shelves: Elevating Your Feline's Comfort And Style!
Cat Window Perch Ideas Your Cat Will Obsess Over
Rock Your Cat's World: Curved Cat Shelves
The Prettiest Macrame Cat Hammocks I Have Ever Seen
<
<