Every kitty parent has a home full of cat stuff (some useful, some not so much) that takes up precious real estate by using floorspace. Cat shelves and climbing walls are becoming the rage because they are so purrrfect for any kitty cat owner. Not only will you appreciate the extra floor space by transferring cat furniture to your walls, your cats will love their new jungle gyms. Climbing is one of a feline's favorite activities and these cat products will certainly satisfy that need.
Pet Fusion Activity Wall – Buy Now
Pet Fusion's activity wall is a hit among felines. The multi-layer pieces give your kitty the angle she needs to stretch, climb and move about.
RELATED: 7 Dreamy Cat Hammocks For Your Cat To Crash In
7 Ruby Road Cat Hammock Climber – Buy Now
This sisal step up cat hammock is perfect for your little tiger to rise above the living room chaos and nestle in her own wall hammock.
Step up, step down; this kitty climber won't let your paws hit the ground!
SmartCat Multi – Level Wall Climber
Lovt Step Ladder For Cats – Buy Now
This step ladder doesn't require storage, or assembly every time your favorite feline wants to use it. This step ladder displays beautifully on your wall. The steps are wrapped in sisal for your cat's paw pleasure. This can be used as a stand alone piece of furniture or combined with other wall accessories such as a hammock.
Fukumaru Cat Hammock – Buy Now
This hammock is the perfect add on to the step ladders right above. Your kitty will love basking above you, watching your every move from her peaceful perch.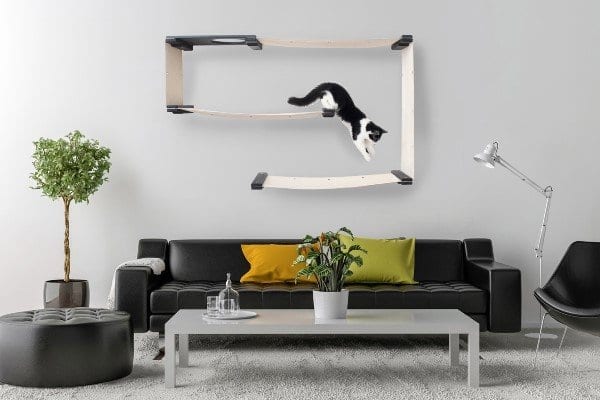 Gorgeous addition to any living room, plus your feline will be thrilled to pieces! This climber is versatile, aesthetically pleasing and functional.
Having pets can be one of the most fulfilling activities a person can give themselves. If your pet is happy, you will be even happier. With more and more people adopting animals, having great products too is a trend we will see more of. May you embrace it, love and enjoy!
Kritter Kommunity Contributor