As a cat lover, I'm always looking for ways to celebrate my feline friends. Whether it's their birthday, Gotcha Day, or just a fun gathering with fellow cat enthusiasts, a cat party is a perfect way to show our love for our furry companions. I have had a few kitty cat lover gatherings, and it is has been a hoot!
RELEVANT: How To Have A Wow-Worthy Party For Your Cat
In this post you'll get ideas for:
Cat party accessory ideas
And without further ado, let's pounce in to explore the fun ideas for your next cat bash!
Cat Party Name Ideas
From puns to pop culture references, these cat party names are purrfect for any occasion. Whether you're throwing a small gathering for your own cats or hosting a larger event for fellow cat lovers, these names are sure to get everyone in the mood to celebrate.
Be sure to include your cat party name on your invitations. Include a little information about what your guests can expect. Do you plan to actually have people bring their cats? Pictures of their cats? Will your cats be running around enjoying the festivities? Encourage guests to take pictures while they are at the event.
Coming up with a catchy name for a cat party can be a challenge. That's why I've compiled a list of 100 catchy names for a cat party that are sure to make your event a hit!
Purrfect Party
Meow Mixer
Kitty Carnival
Feline Fiesta
Catnip Celebration
Whisker Wonderland
Paw-ty Time
Kitten Kaboodle
Furry Fête
Pawsitively Purrfect
Cat-tastic Celebration
Furball Fest
Claw-some Party
Purrr-ty Time
Catty Corner
Purr-ty in Pink
Meow Madness
Kitty Krush
Feline Funhouse
Cat Chat
Purr-fection Party
Purr-ty Princess
Kitten Craze
Whisker Wishes
Catnip Craze
Purr-ty Palace
Purr-ty Playtime
Kitty Kingdom
Feline Frenzy
Cat-tastic Time
Purrfectly Pawsome
Meow Mania
Kitten Kapers
Catnip Capers
Purr-ty in Pastels
Whisker Whimsy
Feline Fantasyland
Claw-some Chaos
Purr-ty Party Animals
Catnip Chaos
Purr-ty in Purple
Meow Mixer Madness
Kitten Kaboodle Kapers
Whisker Wonderland Wonders
Catnip Carnival
Purrfectly Pink Party
Feline Fashionista
Pawsitively Playful
Purrfectly Polka-Dotted
Meow Mayhem
Kitten Krazy
Catnip Craze Crazy
Purr-ty in Polka Dots
Whisker Whirlwind
Feline Fairytale
Claw-some Capers
Purrfectly Plaid
Catnip Craziness
Purrfectly Princessy
Meow Madness Mayhem
Kitten Khaos
Whisker Wonders
Feline Folly
Paws
Why Throw a Cat Party?
As a cat lover, I'm always looking for ways to celebrate my feline friends. That's why I love the idea of throwing a cat party! Here are a few reasons why you might want to consider hosting your own:
Celebrate a special occasion. Maybe it's your cat's birthday, or you just adopted a new kitten. Whatever the reason, a cat party is a fun way to mark the occasion and make some memories with your furry friend.
Connect with other cat lovers. If you have friends or family members who are also cat lovers, a cat party is a great way to bring everyone together. You can swap stories, share tips, and bond over your mutual love of cats.
Have some fun. Let's face it, cats are hilarious. Watching them play and interact with each other is endlessly entertaining. A cat party is a great excuse to let loose and have some fun with your furry friends. This is only for kittens and cats you know get along. Obviously, most cats are not ideal guests for an actual party.
The key to any eye-catching cat party is coming up with a catchy name. That's why I've put together a list of 100 ideas to inspire you. Whether you're planning a small gathering or a full-blown cat extravaganza, there's sure to be a name on this list that will make your party purrfect.
Setting the Mood
As a cat lover, I know how important it is to make sure every detail of a cat party is purrfect. One of the most important aspects of any party is the atmosphere, and that's where setting the mood comes in. Here are a few tips on how to create the perfect ambiance for your cat party.
Choosing the Theme
The first step in setting the mood for your cat party is choosing the right theme. Whether you want to go with a specific color scheme, a holiday theme, or a fun pun, there are endless possibilities. Some popular cat party themes include:
Meow-lentine's Day Cat Party Idea
As a self-proclaimed cat enthusiast, I couldn't resist the opportunity to write about a meow-lentine's day party for felines and fellow cat lovers.
The key to any successful party is having the right decorations and accessories, and for this occasion, it's all about the color red.
From red cat toys to a red cat-shaped cake, the possibilities are endless.
But let's not forget about the guests. Red cat ears are a must-have for anyone attending the party, whether they're a cat or a human. And if your cat is joining in on the festivities, a red heart bandanna will make them the center of attention.
Photo ops are a crucial part of any party, and a cat party is no exception. Consider setting up a fun backdrop for guests to take pictures in front of. A heart-shaped balloon display or a wall of red roses would make the perfect backdrop for your cat party.
Remember, a cat party isn't just for cats. It's a chance for cat lovers to come together and celebrate their mutual appreciation for these furry creatures. So, gather your fellow cat enthusiasts, and make this meow-lentine's day one to remember.
Cat-oween
How fun a Halloween cat theme party would be!
Whether you're throwing a party for your own cat or hosting a gathering for fellow cat lovers, there are plenty of fun ideas to make the event a purr-fect success.
First things first, let's talk decorations. I love to create a festive atmosphere by decorating with black cat and pumpkin themed items. Balloons, streamers, and tablecloths in these designs can really set the tone for the party. For an extra spooky touch, consider adding some fake spider webs or hanging bats to create a haunted house feel.
Even if actual kitty cats do not attend the Halloween bash, be sure to make up little gift bags. Your cat parent attendees can take them home. How sweet is that!
Now onto the food!
While our cats may not be able to indulge in human treats, we can definitely make some cat-friendly snacks.
Treat your furry guests to some homemade tuna or chicken flavored treats, or set out bowls of their favorite wet food.
For the humans, consider making some Halloween-themed goodies like pumpkin-shaped cookies or black and orange cupcakes.
Of course, no cat party is complete without some fun activities. Consider setting up a cat photo booth with Halloween props for some memorable snapshots. You could also organize a cat costume contest with prizes for the best dressed feline. And don't forget to have plenty of cat toys on hand for some lively playtime.
With these fun ideas, you're sure to have a Halloween party that's a hit with all the cat lovers in your life. Happy celebrating!
Purrfectly Pink
Send out pink invitations, with lots of kitty cats of course!
Let your guests know they should were pink; cat themed inspired outfits.
Decorate with pink cat decorations.
Have goody bags with pink cat toys and treats for your guests to take home to their felines.
Furrst Birthday Bash
Do everything above, but for kittens!
Make the colors of your decorations baby blue, light green or pink.
Encourage others to bring their kittens for a playdate.
Have the kitten bowl on television.
Decorations
Decorations are key to creating the right atmosphere for your cat party. Here are a few ideas to get you started:
Balloons: Get some cat-shaped balloons or ones in your theme colors to add some fun to the party.
Tableware: Use cat-themed plates, cups, and napkins to tie everything together.
Cat Toys: Set out some cat toys for your furry friends to play with.
Photo Booth: Set up a photo booth with cat ears and whiskers for your guests to take pictures.
Remember, the decorations don't have to break the bank. You can find inexpensive decorations at your local party store or better yet, make your own.
With these tips, you'll be well on your way to creating the perfect atmosphere for your cat party. Happy planning!
Lisa Illman is the Founder of Kritter Kommunity, LLC. She has a tuxedo adult cat and has had him since he was a baby kitten. Before her cat Finnegan, Lisa had had two FIV-positive cats for over a decade. They inspired Lisa to invent a cat enclosure and a portable catio so they could safely sit outside and enjoy fresh air and sunshine. Lisa had a Poodle and a parakeet growing up. She currently loves to pet-sit for her neighbors' dogs and cats.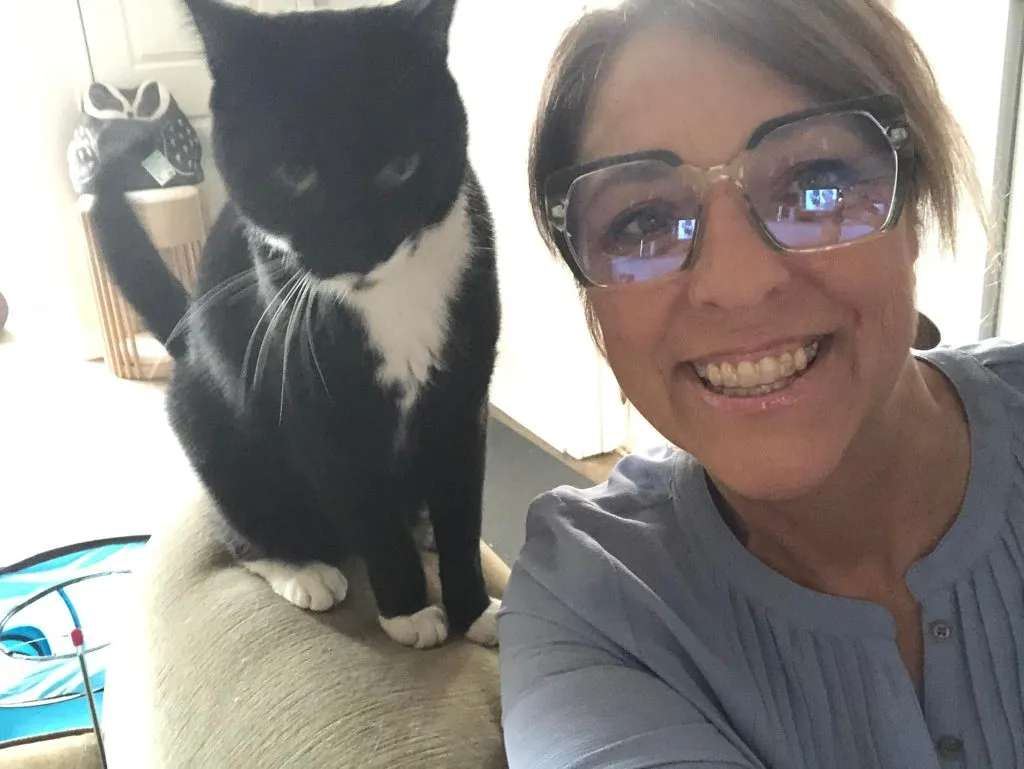 Why is Kritter Kommunity Your Trusted Partner?
Our mission at Kritter Kommunity is to promote happy and healthy lives for pets and their owners. We specialize in Barkitecture and designing tips for pet-friendly homes, utilizing the natural instincts of cats, dogs, and small critters to create a home life that pets and people love. From tips on pet care to reviews on pet toys and furniture, we are a go-to source for all things cats, dogs and small critters. Join us in celebrating the joys of pet ownership and providing the best possible lives for our furry friends.