Cats are known for their love of sleeping, often spending up to 16 hours a day snoozing. But have you ever wondered why your feline friend sleeps so much? There are several reasons why cats are such sleepy creatures. Our dear feline friends can be the strangest of creatures, exhibiting weird behaviors we can't just help but marvel at. One of these behaviors is their desire for sleep. This post is all about why your cat sleeps so much.
Cats in general love to sleep and it's something they're very good at.
If you own a cat, you must have noticed how much time she spends sleeping a day.
Studies have shown that young cats spend an average of 15 hours a day resting. And older cats may even take it a bit further, sleeping for 20 hours a day.
Sometimes, the long hours a cat spends sleeping may cause a worry or two in cat owners, but it's mostly nothing to be worried about, except maybe your cat sleeps all day long. So, is there a reason why cats sleep so much?
Reasons Your Cat Sleeps So Much
Cats Used to be Hunters
Cats are predators, and hunting requires a lot of energy. Sleeping allows cats to conserve energy and be ready for their next hunting session. Additionally, cats are always on high alert and sleeping helps them to recharge their senses.
Before cats were domesticated they roamed the wild in search of prey just as their distant cousins still do. It's in the genes of cats who are natural night hunters to spend most of the day light hours asleep and the night hours prowling their surrounding in search of prey. Now our furry friends may have been domesticated, but sleeping still comes natural to them.
Cats are carnivores by nature and need to hunt before they can eat, and hunting is one serious work. So they try as much to rest after consuming meals to conserve energy for the next hunt.
Housecats may have been heavily domesticated, but this inborn instinct still guides them. Your cat may not have to hunt her meals, but she still thinks she needs to conserve energy for the supposed next hunt. That explains why she sleeps an awful lot.
They Aren't Always Deeply Asleep
Your kitty may lay curled up with her eyes closed, but that doesn't mean she's in deep asleep. Most of the time, she's only snoozing – a state where she's still very much alert to her surroundings. Cats aren't like humans who have to work or think, their days are usually filled with little or no activity to engage in so they spend a great deal of their time dozing out of pure enjoyment for the stress-free life they have.
Studies have shown that the weather plays a huge role in determining how much time a feline spends sleeping. During rainy days, cats are inclined to spend more time sleeping. This trait can also be noticed in humans who tend to be more active when the sun is out, and physically drained during grey and rainy days.
Creatures of Comfort
Cats are creatures of comfort. They like to find warm and cozy spots to sleep in, which is why you might find them curled up on your bed or in a sunny spot by the window. Sleeping is also a natural stress reliever for cats, helping them to feel more relaxed and at ease.
As Cats Get Older They Need More Sleep
While it's the case that younger cats sleep between 12-14 hours a day, older cats need no less than 20 hours of sleep a day. This is because older cats as older humans take longer periods of time to recover lost energy. They aren't as strong as they used to be and their body isn't as active as it used to be when they were younger, so this causes them to engage in fewer activities and sleep more.
The reasons outlined above explain why cats are prone to spend longer hours sleeping than humans do. In the case where you notice your cat spends less time or more time sleeping than is normal for her age, it may be a sign that your kitty has a health challenge. We really hope this information helped out.
Lisa Illman is the Founder of Kritter Kommunity, LLC. She has a tuxedo adult cat and has had him since he was a baby kitten. Before her cat Finnegan, Lisa had had two FIV-positive cats for over a decade. They inspired Lisa to invent a cat enclosure and a portable catio so they could safely sit outside and enjoy fresh air and sunshine. Lisa had a Poodle and a parakeet growing up. She currently loves to pet-sit for her neighbors' dogs and cats.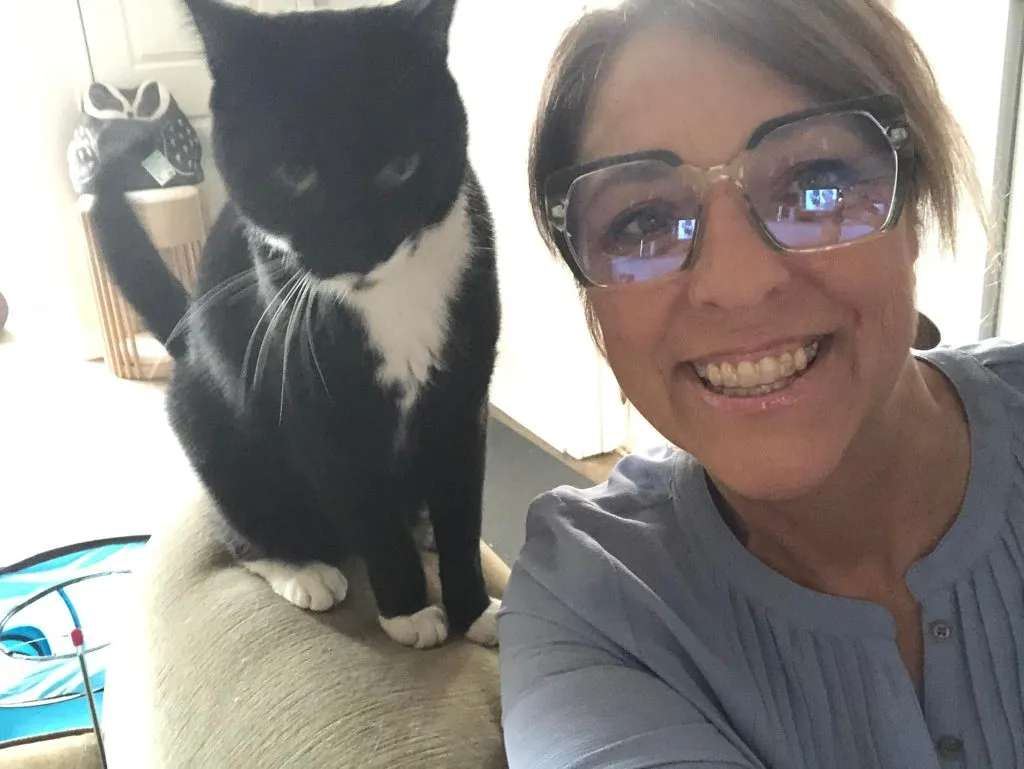 Why is Kritter Kommunity Your Trusted Partner?
Our mission at Kritter Kommunity is to promote happy and healthy lives for pets and their owners. We specialize in Barkitecture and designing tips for pet-friendly homes, utilizing the natural instincts of cats, dogs, and small critters to create a home life that pets and people love. From tips on pet care to reviews on pet toys and furniture, we are a go-to source for all things cats, dogs and small critters. Join us in celebrating the joys of pet ownership and providing the best possible lives for our furry friends.