It's time to get creative with your cat by making your own litter box for your furry friend. Here are 5 DIY litter boxes that anyone can make. And why stop there? Read on for some extra hints on how to make your own homemade litter.
These project ideas can be simple, fancy or a work of art if you really want to make a litter box that is maybe Instagram-worthy.
How to Make Homemade Cat Litter for Your Feline Friend
One aspect of a feline's well-being is providing them with a clean and comfortable litter box. However, store-bought cat litter can be expensive and harmful to the environment. The good news is that you can make your own homemade cat litter using simple and sustainable materials such as sand and shredded paper.
To make homemade cat litter, you can start by gathering materials that are safe for your feline friend. Sand is an excellent option as it is absorbent and easy to clean. You can also use shredded paper, which is biodegradable and can be easily composted. Avoid using materials such as clay or scented products as they can be harmful to your cat's health.
Sand Homemade Cat Litter
To make sand-based homemade cat litter, start by choosing a fine-grained sand that is free of debris. You can sterilize the sand by baking it in the oven at 200°F for 15 minutes. Once cooled, you can fill your litter box with the sand and scoop out any waste as needed. You may need to replace the litter every few weeks depending on the frequency of use.
Shredded Paper Homemade Cat Litter
If you prefer a more eco-friendly option, shredded paper can make a great homemade kitten litter.
This is my favorite option and I have tried it before, using shredded paper from my office shredder. I honestly don't think my cat Finnegan would use it, but when I had Abigail, she did appease me.
Simply shred paper into thin strips and place them in the litter box. You can add baking soda to help control odors. When the litter box is full, you can compost the paper or dispose of it in the trash.
Making homemade cat litter is a sustainable and cost-effective solution for cat owners. With the use of materials such as sand and shredded paper, you can provide your feline friend with a clean and healthy litter box. Remember to choose materials that are safe for your cat and avoid using harmful products. Your cat will thank you for it!
The Basic Box
A cardboard box lined with plastic and filled with litter is the most basic cat litter box that anyone can make. This one is easy, affordable and mostly recyclable.
The Every Day Box
A plastic box filled with litter is another basic idea that can be cleaned and reused for a long time. Buy several if you want to make life even easier for your pet kitten or cat.
RELEVANT: 9 Insanely Cute Cardboard Cat Houses
The Recycled Cupboard Box
This is a cool and funky idea that can be completed after a bit of roaming around local secondhand stores or garage sales. Find an old small cupboard that is big enough to fit a plastic or cardboard box inside. Get creative with painting, sanding and revamping the cupboard, put the enclosure inside and fill up the litter. Keep the doors open all the time and you have a recycled, stylish cupboard cat box so kitty can do poops in private.
The Lit Litter Box
Buy a nice wooden box and stencil some cool text on the side of it to make your cat a personalized litter box that will make all the other cat owners in your neighborhood envious. Text could be your cat's name or simply the word "cat" on the side. Line it with heavy duty plastic and add the litter.
If you have some skills in the carpentry department and also an artistic streak, then you could build your cat a litter box that is truly a work of art. And here the DIY possibilities are endless. You can make an enclosed box and put the enclosure inside. Our favorite one is this version with a cat head cut out of the door. You can get step by step instructions with photos at the link in the title above.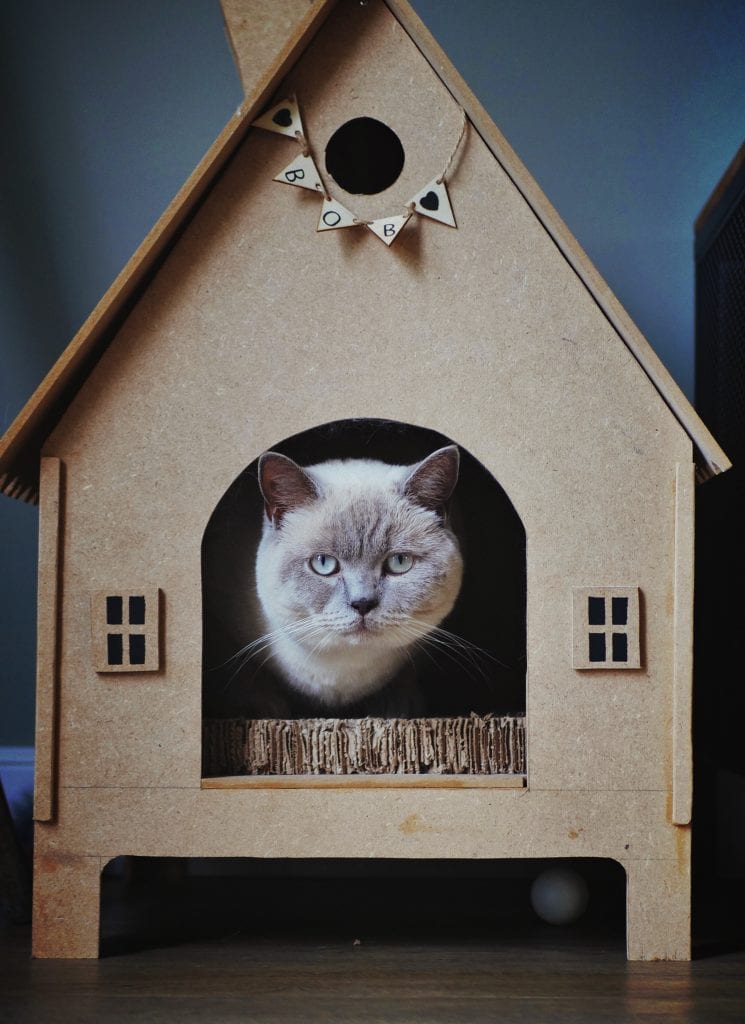 There you have it – 5 DIY litter box ideas anyone can make.
Effort levels range from low to high depending on how fancy you want to be. Have fun creating your cats new litter box and here are some homemade litter recipes if you want to make your own.
Mix newspaper, water, dish soap and baking soda. Shred the paper and add the water and dish soap. Drain it, rinse and add the baking soda, then crumble and dry.
Alternatives that are cheap and effective in hiding the ammonia smell that comes from the cat's urine are wood shavings, sawdust, sand or soil.
This post is all about DIY cat litter boxes and homemade cat litter.
RELEVANT: Literally The Cheapest Cardboard Cat Scratchers You Can Buy On Amazon Right Now
MORE POSTS YOU MIGHT LOVE!!!